Ultralight Hiking:
See also:
NEW MOBILE FRIENDLY SITE: THE ULTRALIGHT HIKER
<![if !vml]>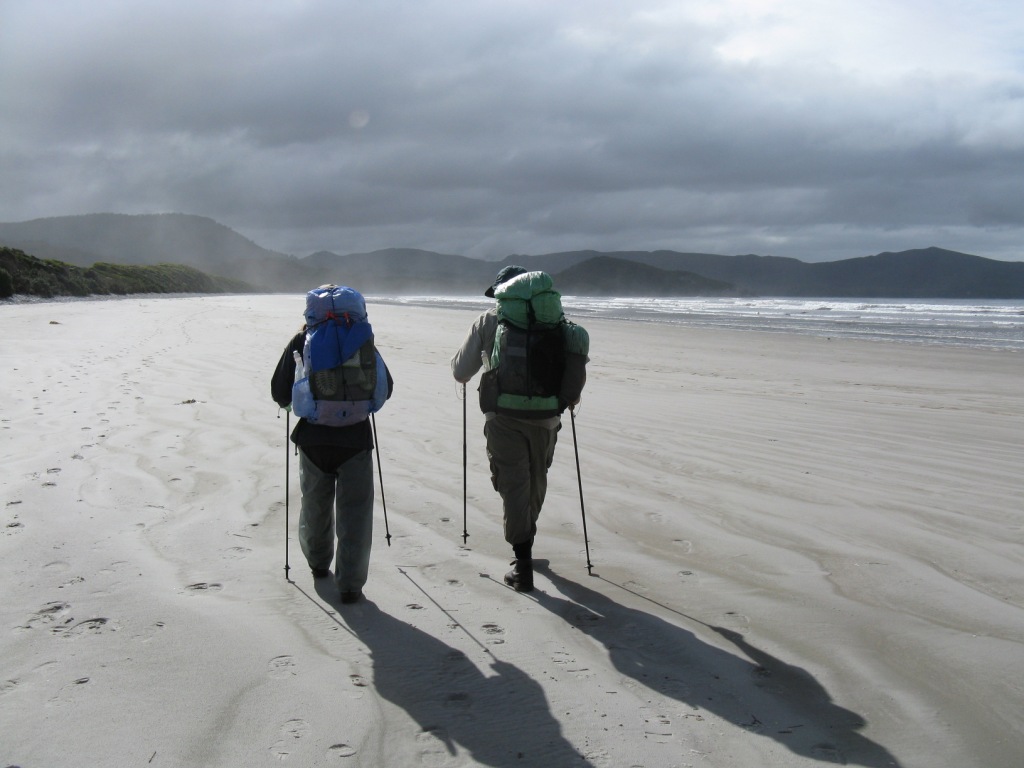 <![endif]>
Della & I (combined age then 120) heading off from Freney Lagoon on the second day of our walk across Tasmania in 2011. We took seven days. Between us we were carrying @ 20 kilos & enough food (& booze!) for 10 days. These zpacks 'Blast' packs are 52 litres including pockets. Today we would be carrying several kilos LESS.
All about light weight, ultra light hiking, backpacking, bushwalking, hunting, tracks, trails, adventures, gear, reviews…
I have been hiking/hunting now for over sixty years, a little more slowly than I once did, walking in the Victorian Alps & elsewhere often in winter and in all weathers. I have camped out a lot, more than two years of my life in toto. I have seen the failure of just about every type of gear, and experienced most disasters which can befall you in the wilderness, and survived. So, if you dream of doing a bit of camping/hiking, maybe I can offer some useful advice?
This is a 'work in progress'. I will be adding to it on a regular basis adding new photos, adventures, product/ideas, suggestions, etc. You should also look at HIKING ADVICE also a section of gear advice for my son written in 2011 WORLD TRAVEL KIT FOR SON. You can also see my older posts here: Hiking 2014.htm & Hiking 2013 & Earlier. Hope you find something interesting.
PS: UPPER YARRA TRACK: I have recently created this site The Upper Yarra Walking Track Australia's oldest (& best), an approx. 10-14 day walk with numerous resupply points, plentiful water and camping spots now extending from Moe railway Station @ 150 kilometres up the Latrobe, Tyers & Thomson River valleys, via Yallourn North, Erica & Walhalla, across the Baw Baw Plateau, along the Upper Thomson River, past the Yarra Falls & Mt Horsefall, along the Little Ada, Ada and Yarra valleys via Warburton to Lilydale Railway Station. Now, complete with Track Instructions
30/12/2015: Fire watch: Fire season again and we are once again endangered by two kinds of maniacs: second: those poor benighted imbeciles who light fires on total fire ban days (and who are not permanently locked up or executed for their misguided efforts); and firstly: the crazy leftist bureaucrats and eco-nuts who (in a misguided attempt to 'save' all our native bush) lock it away beyond all rational use or management, ban any controlled fuel reduction burns, then blame 'global warming' when it all disappears in a gigantic puff of smoke on the first really hot, windy day. What else was Wye River really expecting? Why, Wye? You just can't build houses in the forest like that without their all being destroyed betimes. What a pity the rest of us have to subsidise their replacement through our bloated insurance levies! We await such days (the next is this Friday), here at Jeeralang Junction with more than a little trepidation; there have already been two unsuccessful attempts to burn us out this summer: http://quadrant.org.au/opinion/doomed-planet/2015/12/green-burnt-red/ & http://quadrant.org.au/opinion/doomed-planet/2015/12/academias-flaming-nincompoops/ & http://quadrant.org.au/opinion/doomed-planet/2015/12/old-firefighters-sorry-saga/
29/12/2015: The Battle of the Bulge, Xmas 1944: the Japanese battalion was sent there especially for a 'rest' after their devastating endeavours in the Vosges mountains (https://en.wikipedia.org/wiki/Lost_Battalion_%28Europe,_World_War_II%29) rescuing the 'Lost Battalion'. If you think your Xmas was a bit ordinary give a thought to this generation who gave us so much:  https://www.youtube.com/watch?v=IbIaI15Mio4 We have been watching Ken Burns' amazing Documentary, 'The War' (about WW2). What an astonishing programme, available here: https://kat.cr/ken-burns-all-historical-documentaries-t5683701.html
25/12/2015: Up Into the Singing Mountains:
Our family celebrate Xmas tomorrow (due to work commitments), so what better day to continue our exploration of the 'closed track' which used to link Downey (North of  Tanjil Bren) with Newlands Rd (Baw Baw Plateau)? We are hoping that this track will complete our 'Winter Route' of The Upper Yarra Track (http://www.finnsheep.com/THE%20UPPER%20YARRA%20WALKING%20TRACK.htm) . It has been very hard going, so we might have to find an alternative track up the ridge from Strahan (North West of Tanjil Bren) to the Block 10 Road.This track crosses the West Tanjil River just below Downey, follows it upstream on the true right bank for a couple of kms then heads up a ridge towards the plateau.
<![if !vml]>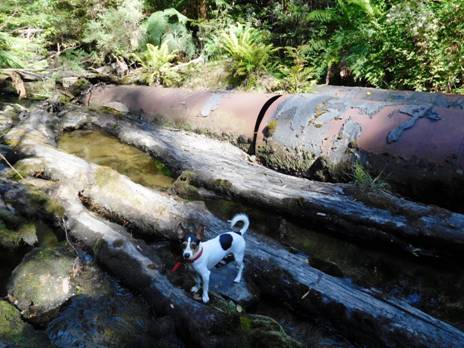 <![endif]>
Spot is an expert at these river crossings, well practiced in keeping his paws dry. These huge iron pipes used to form an immense culvert.
<![if !vml]>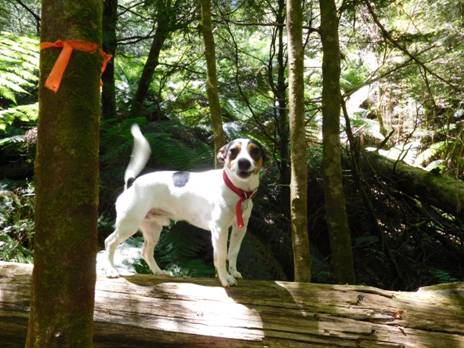 <![endif]>
He loves to lead the way; having a good time, I'd say! We are marking the track with tape as we go.
<![if !vml]>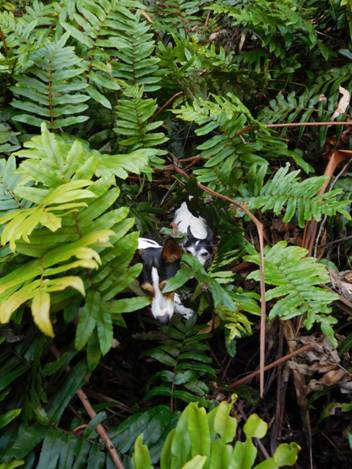 <![endif]>
Sometimes it is hard going for the dogs (as well as the people)! This herringbone fern is particularly awkward to navigate.
<![if !vml]>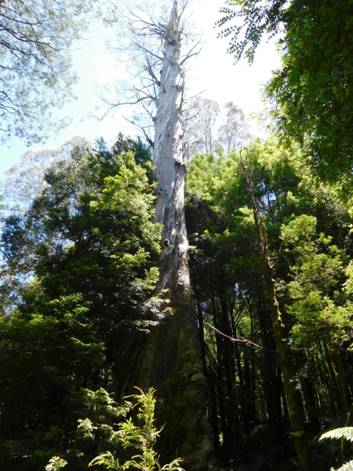 <![endif]>
Sometimes you come across the ruins of a forest giant. Who knows how tall this one was before its top broke off? Remember, these were the world's largest trees - up to 120 metres tall!
<![if !vml]>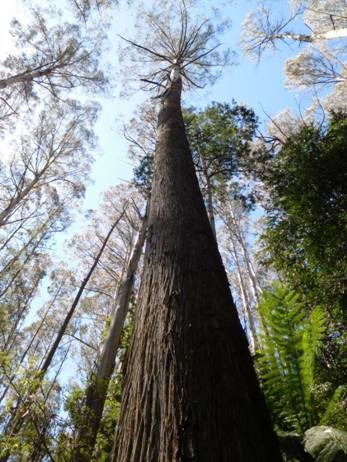 <![endif]>
This younger tree is vying for the record.
<![if !vml]>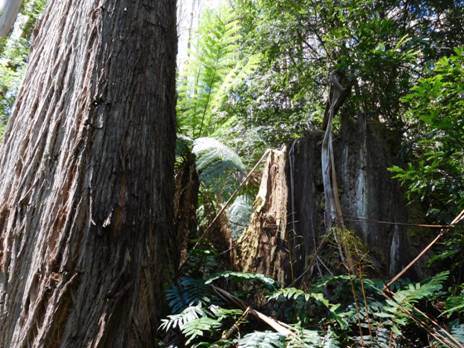 <![endif]>
It has come up right next to the stump of its parent tree. The younger tree is more than 3 metres diameter at its base; The stump larger still.
<![if !vml]>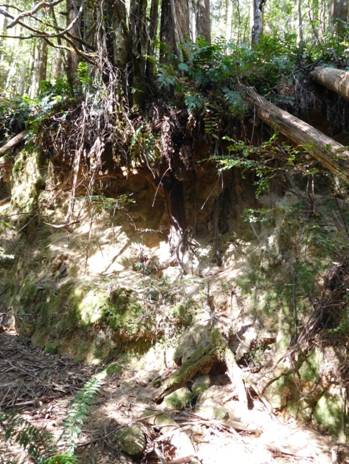 <![endif]>
It was quite a substantial road once. This cutting is over 5 metres deep. 2-3 semis could easily pass on it. Such a pity such tracks were not retained for land management and recreational purposes.
<![if !vml]>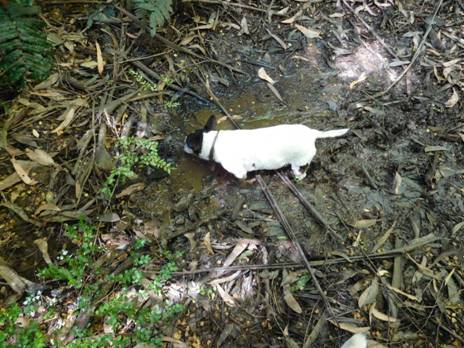 <![endif]>
Tiny just can't help but drink from every deer wallow! There was plenty of good deer sign, but the area must be well-nigh impossible to hunt.
<![if !vml]>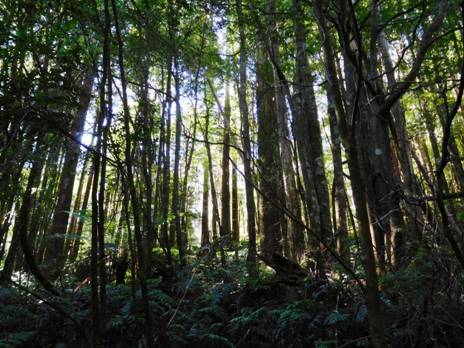 <![endif]>
Everywhere along the way are scenes of great beauty.
<![if !vml]>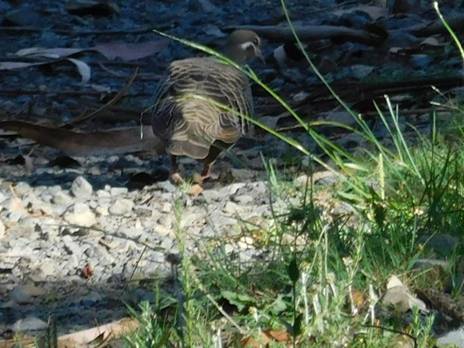 <![endif]>
And interesting wildlife: this pigeon was almost as tame as Della's! Gippsland is wonderful!
Unfortunately we made it only about half way to the top. We may try coming down from Newlands Rd next time to see how far you can get that way. Hope you all had just as wonderful a Xmas day!
Even though the forecast was for 35C yesterday, at Mt Baw Baw and Tanjil Bren it only reached 21C! 14 degrees difference! We are so lucky to have these mountain areas (relatively) so close by. Wonderful for cool summer hikes. The Upper Yarra Track traverses the outstanding Baw Baw Plateau with many camping and scenic attractions. The Mt Darling- Snowy Bluff wilderness is also only a couple of hours away and (also) being around 1.5km in elevation is much cooler in the summer months. Of course, check the weather outlook. It can snow at any time of the year at these elevations - and there is always the risk of bushfire in very dry conditions. After rain is always nice, as everything will be cool and freshened up.
See also: http://www.theultralighthiker.com/spots-hunting-adventures-1-mystery-river/
http://www.theultralighthiker.com/not-quite-alone-in-the-wilderness/
http://www.theultralighthiker.com/camping-by-the-moroka-river/
http://www.theultralighthiker.com/snowy-bluff-mt-darling-wilderness/
http://www.finnsheep.com/THE%20UPPER%20YARRA%20WALKING%20TRACK.htm
http://www.theultralighthiker.com/upper-yarra-track-update-section-one-moe-yallourn-rail-trail/
23/12/2015: Early Visits to Yarra Falls:
The Argus Melbourne Wednesday 21 December 1904:
UPPER YARRA FALLS,
<![if !vml]>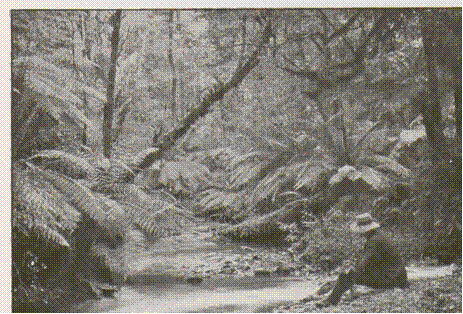 <![endif]>
A.J.Campbell Junction of Yarra and Falls Creek (1905)
Interesting but rarelv visited scenes are to be found at the upper sources of the Yarra between Mount Baw Baw and the main Dividing Range The locality has never been completely surveyed and many of the contour lines shown on the map of Victoria are guesswork. Within the last few weeks Yarra Falls, as they are termed, were visited by an exploring party consisting of Mr. J. Walker and Mr.J.Fawkner, of the Lands department and Mr. A. J. Campbell and Mr. A. G. Campbell, field naturalists. They found the mountainous country above Walsh's Creek very difficult to traverse. Their packhorse twice lost its footing on the track and tumbled down the slope below it. Yarra Falls are situated, not on the main stream, but on a tributary to be henceforth known as Falls Creek. The height of the falls, which descend in a series of 6 leaps, was ascertained to be between 600ft. and 700ft. or 300ft. less than was reported according to previous rcports. An old mining track starting from Walsh's Creek passes the junction of the Upper Yarra and Falls Creek but it will have to be reformed for about 11 miles before any use can be made of it by ordinary tourists. The going is heavy, the gradients are difficult, and the timber obstructive. The exploring party had the assistance of a local guide.
The Argus Melbourne, Saturday 29 April 1905:
THE FAR UPPER YARRA. By A. J. CAMPBELL.
REMARKABLE FALLS.
Except to a few surveyors, occasional prospectors, tourists, or opossum hunters the region of the Upper Yarra is unknown. Hoddle surveyed the locality in 1843, and in 1890 the Mining department cut a track from Walsh's Creek along the river to Mount Baw Baw. Possibly that is all that has been done officially.
For years I had desired to ascend to the fountain-head of the Yarra, and the chance came recently, when a party of four consisting of a surveyor, a Gippsland bushman, a field naturalist, and a photographer, undertook the trip.
The junction of Walsh Creek with the Yarra, 67 miles from town, is easily reached by rail and coach in one day. We put up at McVeigh's Upper Yarra Hotel, on the direct road to Wood's Point, where it commands a view of a fine flat in the fork of the two streams, at an elevation of 1,000 ft. above sea level.
At 7 a.m. next day we leave McVeigh's, with an addition of two to our party- a pack-horse and his owner. We need the horse to carry a tent and provisions for a week, and the owner to look after it. The track leads along the South side of the river, and is high enough to enable us to look down on the stream, bordered with fine ferns, and running swiftly over a rocky bed. Heavily timbered ranges rise from the opposite side. On our side, on a narrow flat, are some whitegums, 200ft., by actual measurement, in height. At half-past 9, several miles from Walsh Creek we reach Contention Creek. Why so-called we could not ascertain. We unpack our camera to photograph "the highest habitation on the Yarra." There is a gold-mining claim, yielding payable gold.
The occupant of the hut welcomes us with bush hospitality, and the billy is soon on the fire. After an hours spell, we dive in single file into the forest. At first the way, although overgrown, is tolerably good, but when we descend into the gullies, and get enveloped in thick scrub, we find the going difficult. Our packhorse, save when bumping his load against a tree, or when grunting loudly on the steep pinches, be- haves splendidly, and mile by mile we move along the mountain sidelings, while the river is heard below, though lost to sight in thickets. Not only are we getting smothered in timber, but the mountains appear to be converging. On the opposite side occasionally a valley densely timbered, opens, denoting that some tributary comes down to join the main stream.
It is refreshing to descend, when we get a little warm, into the beds of rivulets, to rest under ferns, protected by groves of sassafras and beech. We slowly but surely forge our way along through the forest, enlivened by the voices of a few birds-lyre birds, cockatoos, and parrots. Three snakes are seen but only one is dispatched. We sight a blazed tree on a steep sideling. "Ah", says the pack horse owner, "this must be where the last party lost their packhorse. They said they blazed the place." We shudder when we gaze down and wonder what we should do should our horse topple over with tent and tucker, and disappear among the vegetation far below. Our experience came on the return journey, when our horse fell twice, and nearly rolled into the river.
Abut 4 o'clock, when getting weary, we break suddenly upon a splendid stream. It is Falls Creek, where we pitch our camp. We indulge in mutual congratulations over our safe arrival. A circular flat is selected for the camp - a most charming and picturesque spot, enclosed by tree ferns, presided over by stout stemmed beeches. Between tent and stream is just space for a table and a fireplace. Ferny beds are made, and we feel exceedingly happy and snug when enjoying our evening meal. High ranges, clothed with vegetation, wall us in completely. The world is shut out, and we are alone, with the silence broken only by the sound of the running waters, and the rustling of the leaves when they are stirred by wandering airs.
The business of next day is to explore the creek from its junction with the Yarra to the top of the falls. Where the junction occurs, a hundred yards below our camp, the Yarra comes in seven paces wide, from the eastward, and the Falls Creek, with one third less volume, from the southeast. Crystalline waters meet on a shingly bed, ferns lending charm to the scene, and we get a lovely picture for the camera. The height above sea level is approximately 1,770ft. Keeping to the rocky bed of the stream, which is choked with logs, we gradually ascend.
We arrive at a pretty vista, opened up by the fall of trees which have cleared an opening along the creek bed. On our left is a wall of vegetation, chiefly beech, gilded on top with sunshine. At 11 a.m., after rounding a bend, and brushing aside overhanging fronds, we catch a sight of the lowest fall. The water descends in a leap of about 70ft. and spray from it is wafted upon us like "scotch mist". It needs no small effort on our part to climb over friable earth and large flat stones to the head of the fall.
Shortly afterwards we catch sight of a second fall. Before we attempt to renew the climbing process we sit down in full view of an interesting scene to lunch. When again on the move upwards, we find the climbing harder work than ever. It may even be said to be dangerous. As soon as the second fall is conquered, a third appears, and beyond it a fourth. Perspiring freely, we climb on, laying hold of rocks, tree stems, and tufts of grass to pull our selves up. As we rise, we notice that the scrub is thinning, and that the big trees are eucalypts, sure signs that we are passing from the region of moisture on to comparably dry levels.
Near the top we encounter an outcrop of silurian rock, with all the slate-like strata vertical. Where the falling stream meets the rock it is diverted at right angles and drops50ft. down a gulch. We surmounted six falls in all, and were not sorry when we came to the uppermost for we found ourselves almost "played out". Though we started early in the morning, we did not reach the summit till late in the afternoon. At the sixth, or top fall the stream is divided by rocks. It descends for a little distance in two branches which eventually meet in the sasaffras below. Our aneroids indicate that we have seen 1,000ft. since the morning. Between the first fall and the last we jump 700ft. in about one-fifth of a mile, their length being all told.
Our surveyor picks up the old Baw Baw track, by which we descend the sharp spur dividing the Yarra proper from Falls Creek, and we arrive in camp in an hour. When the track from Contention Creek to Falls Creek, a distance of about 11 miles, is reopened, a new and interesting route will be available for tourists to one of the most romantic regions in Victoria, only two days traveling from Melbourne under present conditions.
AN UPLAND RAMBLE
On a subsequent day we explored the range above our camp. Starting early we ascended 1,000ft. by the track which had brought us down from the summit of the falls. The upper levels, above the scrub, were covered with big eucalypts and tall grass. We headed easterly, and soon got into beech timber, mixed with sassafras. The "forest floors" are carpeted with stiff Cape lomaria ferns, knee high, with fronds of sepia tint, very striking when seen against the sunlight streaming through the trees. We come to a huge dead eucalypt, with a hollow stem. The temptation to set it on fire is too great for the bushman, who puts a lighted match to a handful of dry ferns. With so much moisture and green vegetation everywhere there is no danger of starting a bush fire. The chimney immediately began to smoke and roar.
Our path is very scrubby and obscure in places, but the surveyor and bushman, who take the lead in turns, keep to it instinctively. Our traveling is slow-about a mile and a half an hour- through our having to step high over logs. Sometimes we brush through scrub bearing white star flowers, and the vegetable dust shaken off as we pass sets up irritating coughs. In a sunbeam we could distinctly see the dust when the scrub was shaken. The plant is called "choke" bush (Aster stellulatus). When we are fairly in the beech forest avenues of magnificent trees open up in every direction. Their stems are bedecked with moss and lichen, and they bear masses of dark green foliage. The track we are on cuts the line from Noojee to Aberfeldy, one of Whitelaw's early tracks; but we keep our own, passing a signboard on a tree marked "To the Yarra Head".
We come to a gumtree ridge, occupied with immense trees, and observe one or two black cockatoos, some gang-gang cockatoos, and a family of handsome King parrots. The scrub chiefly consists of a dwarf "Christmas" tree, or Prostanthera. Both flowers and foliage diffuse around a heavy perfume. Then we arrive at a tiny hill and an outcrop of granite, at an altitude of 2,000ft. above sea level. After that we pass through acres upon acres of fine, tall eucalypts, standing as close together as they can grow, straight stemmed, shooting skyward from 100ft. to 150ft. This wealth of timber is known to extend along the ridge for 10 or 11 miles. Once we are properly in the granite country the vegetation changes to acacias (silver wattle, &c.), pittosporum, native hazel, leatherwood, &c.
"Penny" Creek we so name because we drove a nail through a coin to fasten it to a hazel tree. At midday, about seven miles from camp, we strike the Yarra again. It is now only five paces wide, and eighteen inches deep, and it runs leisurely over a sandy bottom sparkling with specks of mica. The source of the stream is only five miles higher up, in a plateau. We are astonished to find a bridge, a tolerably substantial structure, too. Therefore we take a photograph, entitling it the "Highest Bridge Over The Yarra". At this Altitude (3,120ft. above the sea), our naturalist finds many interesting plants, including a white oxalis and a small Alpine lomaria.
While photographing and botanising were proceeding, the surveyor pushed along the "T" track, encountering much fallen timber, and reached the Tanjil track at over 4,000ft. Turning south-west along it, and passing the "14-mile tree", he struck the Yarra for the last time. Here at 3,160ft., it is only two paces wide, descending by a depression from the base of Mount Baw Baw, whose rounded crest could be plainly discerned three or four miles away, backed by a great billowy cloud, while above all was the ethereal blue. Following the stream down with difficulty for about two miles, the surveyor reached the bridge where we were, and we all returned to camp, which was reached about 6 o'clock.
The fewness of the birds surprised us. We neither heard nor saw magpies above Walsh Creek, and very few laughing jackasses. In the beech forest we heard the pretty rose-breasted and pink-breasted robins. We saw a few pairs of flame-breasted robins on the saddles of the range. A lyre-bird entertained us there, whistling near our camp. We noticed many lyre- bird dancing-grounds in the gullies and in the open scrub among the tall gums. There appear to be no fish in the streams.
Of plants we made an interesting collection, some 300 specimens, representing about half that number of species. A yellow flowering tree, Daviesia, attracted us much on the ridges. Near Walsh Creek we came across a patch of about five acres of boronia (B. pinnata), with small but sweetly-scented foliage and tiny pinkish flowers. Subsequently, on our submitting a sample of the shrub to a perfumory chemist, he reported that it yielded enough essential oil to have a commercial value.
We tried to find Hoddle's marked tree, "1843", near our camp, but failed. Wear and tear for well-nigh threescore years had no doubt obliterated it.
22/12/2015: Upper Yarra Track 1912 Victorian Railways Brochure: Picturesque Victoria and How to Get There: 'Click on 'The Warburton-Walhalla Trip Via the Yarra Falls and Mount Baw Baw': PS: It is in Pdf. I have tried and tried to convert this to Word so I can post it whole, but I have failed…There is an absolutely beautiful [c 1900] photo by A.J. Campbell of the junction of the Yarra and Falls Creek which I hope soon to emulate. The Upper yarra falls were originally called 'Campbell's Falls'. This man left a treasury of beautiful photos, many of which are in the Museum of Victoria collection. Here is one of them: http://handle.slv.vic.gov.au/10381/299535
<![if !vml]>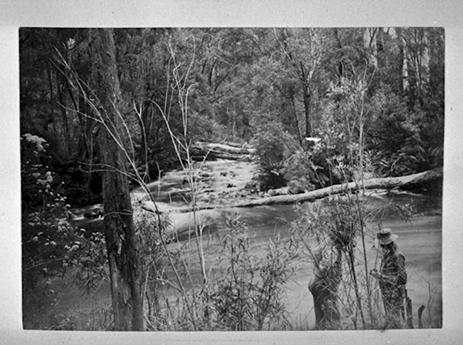 <![endif]>
21/12/2015: Upper Yarra Track Winter Route: Downey to Newlands: Last Monday we spent 'beating around the bush' near Downey (Tanjil Bren area). Downey is another one of those 'lost' towns of the Victorian mountains. Pretty much all that remains is this huge sawdust heap in the forest: how many woodland giants went to make it up I wonder? Mostly the trees milled here were fire killed mountain ash from the vast 'Black Friday' fires of 1939
<![if !vml]>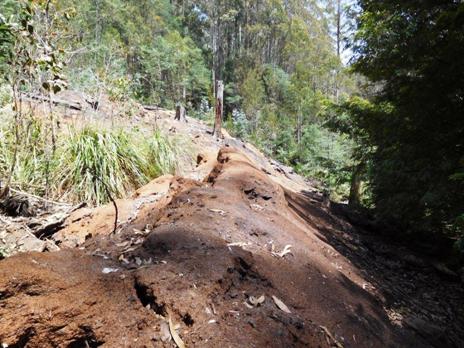 <![endif]>
We were looking for a 'closed road' which shows on the map Noojee North T8122—3-N. The GPS claimed it crossed the river around about here, but there was no sign of it.
<![if !vml]>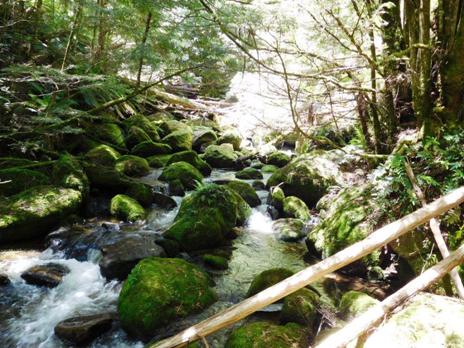 <![endif]>
West Tanjil River.
Turns out the GPS and map are seriously 'out of kilter' in this small area of map. I have found this before, eg on my walk to Mt Darling last year (http://www.theultralighthiker.com/snowy-bluff-mt-darling-wilderness/) I guess up to a km wrong! This meant I did a fair amount of bush bashing no doubt along what had once been old snig tracks etc, finding nothing but photo ops.
Finally we managed to locate the spot where the 'road' had crossed the river. Several huge pipes still lying in the river bed over which we were able to clamber without even getting our feet wet. This was on the way back actually. On the way across we took off our shoes and waded in our Crocs, as it did not appear we could make it dry-footed across the pipes. The water was so chill Della practically had a seizure. Sissy!
After we had crossed the old road was easy to see and we followed it a couple of kms up the mountain, but not quite as far as Newlands Rd. In places the way was unclear as it was very overgrown, whilst in others three semi-trailers could have passed easily. There were huge cuttings where there roar would have echoed mightily long ago.
<![if !vml]>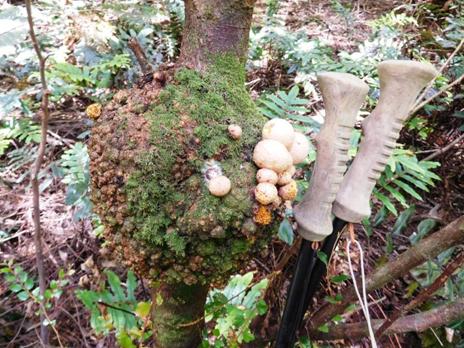 <![endif]>
Disease can sometimes look beautiful: observe this amazing gall.
Della has not quite recovered from her (second) eye operation, so we turned back without having found our way to Frangipani Saddle where this route meets the 'Upper Yarra Walking Track' thus completing our 'Winter Route'. There is always room for another adventure. It will most likely be a couple of weeks before we get back as we are working in the kids' store Xmas-New Year. We have cleared and marked the path (with blue tape) from the end of the driveable section of Saxtons Rd (which begins in Tanjil Bren), so you may have a chance to finish our exploration before we do. Be sure to also check out the 'Tramway Falls http://www.theultralighthiker.com/kirchubel-if-you-go-nowhere-else-in-the-world-at-least-go-here/ on the left fork (this one is the right fork: PS: the map is more or less correct; it is the GPS location which is wrong).
http://www.theultralighthiker.com/western-tyers-river-great-for-crays/
http://www.theultralighthiker.com/the-western-tyers/
http://www.finnsheep.com/THE%20UPPER%20YARRA%20WALKING%20TRACK.htm
http://www.theultralighthiker.com/upper-yarra-track-update-section-one-moe-yallourn-rail-trail/
http://www.theultralighthiker.com/upper-yarra-track-update-section-three-wirilda-to-moondarra/
http://www.theultralighthiker.com/upper-yarra-track-section-four-moondarra-to-erica/
http://www.theultralighthiker.com/upper-yarra-track-summary-cumulative-distancestimes/
http://www.theultralighthiker.com/upper-yarra-track-osheas-mill/
http://www.theultralighthiker.com/a-beautiful-world/
http://www.theultralighthiker.com/upper-yarra-track-winter-route-caringal-scout-camp-tyers-junction/
http://www.theultralighthiker.com/upper-yarra-track-winter-route-western-tyers-morgans-mill-skinners-camp/
http://www.theultralighthiker.com/upper-yarra-track-winter-route-western-tyers-to-tanjil-bren/
http://www.theultralighthiker.com/kirchubel-if-you-go-nowhere-else-in-the-world-at-least-go-here/
16/12/2015: Blossoms at last: Eight days have passed since I observed these in full flower in Melbourne (07/12/2015). Ours were just coming out here on Tuesday 15/12/2015 Agapanthus and Jacaranda. So much of 'global warming' is simply the 'Urban Heat Island' effect/local variations. I have many times observed that AGW is not present in the satellite records or in the more remote surface station records such as Cape Otway's http://www.bom.gov.au/jsp/ncc/cdio/weatherData/av?p_nccObsCode=36&p_display_type=dataFile&p_startYear=&p_stn_num=090015 ):
<![if !vml]>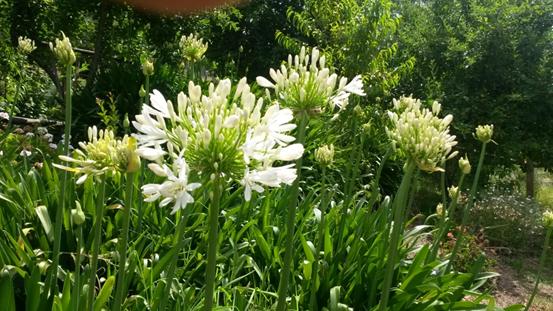 <![endif]><![if !vml]>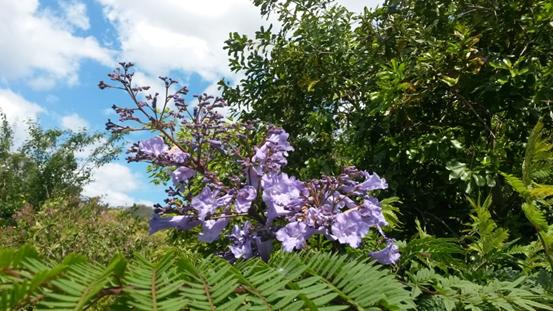 <![endif]>
16/12/2015: Water: Hiking Desalinator or Survival Still @10 grams that may save your life: I am just working on this idea. Here I have epoxied a copper flange to an old can of powdered milk and attached 1 metre of old silicone tube. I was catching the water in a Vargo 450 ml (cool lips) titanium mug. I was just cooling the steam with wetted down tea towels. I collected nearly 400 mls in an hour. I need to improve the steam condensation. I will purchase a Platypus hydration tube (as that is what I figure folks will carry (which is a much lighter weight 102 cm PU tubing) which will hopefully shed heat better.
I will also make up a trough so I can cool nearly all its length with water. I expect I will more than double its output. If you needed to do this in the wild (presumably by the sea) you could make a trough in the sand, line it with your raincoat and fill it with water. You could also bury the collection cup in wet sand and perhaps cover it with something else to prevent steam escaping. Doubling output would produce more than 2 litres in 3 hours – enough for a day of low activity – so certainly enough to save your life.
I am imagining adding the flange to your existing billy lid or placing it in an extension ring which sits between billy and lid. Such an extension ring, if I can figure out how to make it adjustable (and fit) would weigh only 15 grams or so and fit with your other cooking things in your billy or pot.
PS: I just made the flange from a piece of copper water pipe using a plumbing flaring tool. You could cut the flared end from a car's brake line obtained from an auto wreckers. I used a small piece of 'Dynasteel Epoxy Putty' [250C] to attach it.
See also:
http://www.theultralighthiker.com/sawyer-water-filter/
http://www.theultralighthiker.com/dehydrated-water/
http://www.theultralighthiker.com/water-filter/
http://www.theultralighthiker.com/rivers-in-the-sky-never-die-of-thirst/
http://www.theultralighthiker.com/survival-still/
<![if !vml]>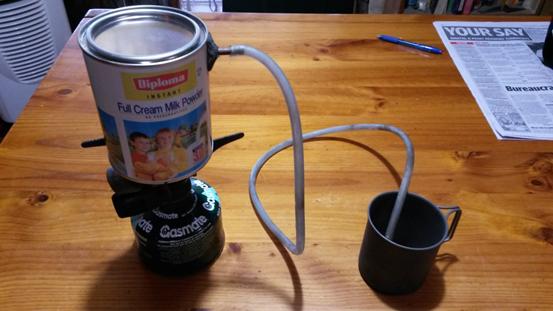 <![endif]>
14/12/2015: Super AAA Torch: You really could spotlight a fox with one of these beauties: 175 grams, 4 AAA batteries, 320 lumens. Approx $70: http://www.ledlenserusa.com/p7-2-348.html#start=1
13/12/2015: Some people are just tired of living: http://imgur.com/NbdNuql
13/12/2015: Leeches: In Australia (and elsewhere) it is quite common to encounter these beasties in the wetter areas. They avoid sunny patches. They do you no harm, though many (like me) have an allergic reaction to their 'bites', so it is good to avoid them as much as you can. I have already recommended 'Anthisan' antihistamine ointment to treat allergic reactions to bites http://www.theultralighthiker.com/insects-can-ruin-a-camping-trip/ (you will have to order it over from a NZ pharmacy) and the practice of using surface spray (eg on your calves), tucking your trousers into your socks and wearing long-sleeve shirts in 'leechy' spots such as rainforest areas http://www.theultralighthiker.com/ultralight-personal-hygiene/ .
When you put up your tent for the night you don't want to erect it on a hundred leeches and have them wriggling all over you all night. I have seen shady areas where when you wave your warm hand over the ground a hundred leeches will stand up and wave at you! You need to carry a small atomiser containing surface spray such as 'Baygon' (which can be bought from some supermarkets in bulk - ie not in spray cans) to suit such decanting. Atomisers of various sizes are available all over (try eBay). You will need to match the size to your need. You need to be able to spray the entire footprint of your tent plus an area say a metre around it. If/when you do have a leech attach to you, remember it will do you no harm (indeed they have been used for centuries for their supposed health benefits) and will eventually drop off. If you want to hurry that along a bit, a lighted cigarette or some salt will move them on mighty quickly.
If (like my wife) you don't like the idea of sleeping on surface spray, carry enough salt in a snap lock bag to sprinkle the same area. This will kill and keep leeches at bay too.
<![if !vml]>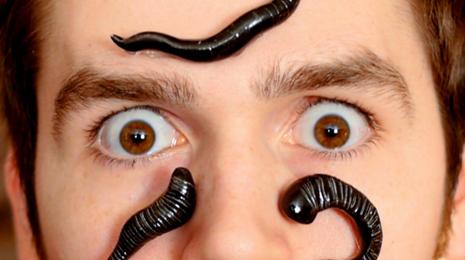 <![endif]>
12/12/2015: Leadbeater's Possums: Victoria's faunal emblem; a truly ancient relict marsupial. I love this snap of a pair carrying nesting materials in their prehensile tails. If you are vigilant you may see some of these as you walk the Upper Yarra Track, particularly along Newlands Rd, Toorongo Road and Forty Mile Break Road (if you go for a walk at night, anyway – always a worthwhile exploration). 'Several clusters of records were developed, particularly in the Toorongo Plateau/Noojee area…Leadbeater's Possums (were) detected across all age-classes of forest surveyed, with a similar proportion of records from 1939 and 1983 fire regrowth (25% and 27% of cameras, respectively) and a higher proportion of detections in regrowth forest from timber harvesting between 1978-2000 (38% of cameras). I notice that there were more of them where there had been recent timber harvesting - hardly an argument for a new National Park! Thanks to Tom Osburg for the snap and link, http://www.delwp.vic.gov.au/__data/assets/pdf_file/0016/316060/Targeted-survey-report-2015_final-7Oct15r.pdf https://en.wikipedia.org/wiki/Leadbeater's_possum Petition here: https://www.change.org/p/victorian-enviroment-minister-lisa-neville-victorian-premier-daniel-andrews-say-no-to-the-proposed-great-forest-national-park?recruiter=47734711&utm_source=share_petition&utm_medium=facebook&utm_campaign=autopublish&utm_term=mob-xs-share_petition-reason_msg&fb_ref=Default
<![if !vml]>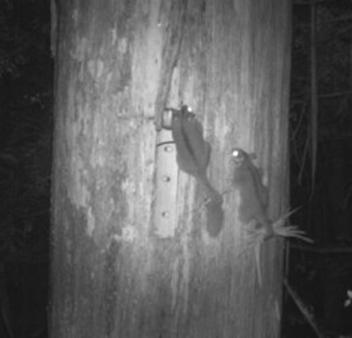 <![endif]>
11/12/2015: Kirchubel: If you go nowhere else in the world, at least go here. Just a few kms walk outside the small township of Tanjil Bren in Gippsland Victoria is the most beautiful place in the whole world! You go out along Saxtons Road beginning in the heart of Tanjil Bren.
<![if !vml]>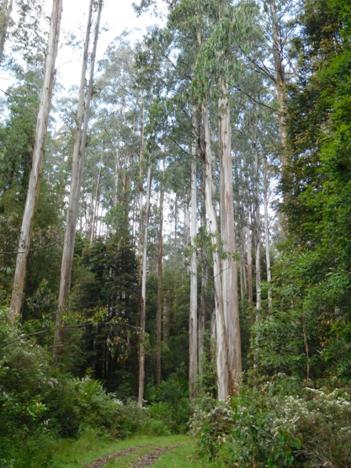 <![endif]>
Many beautiful wildflowers carpet the verges: buttercups,
<![if !vml]>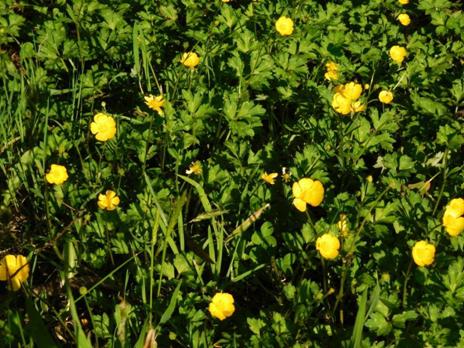 <![endif]>
And Alstromoerias.
<![if !vml]>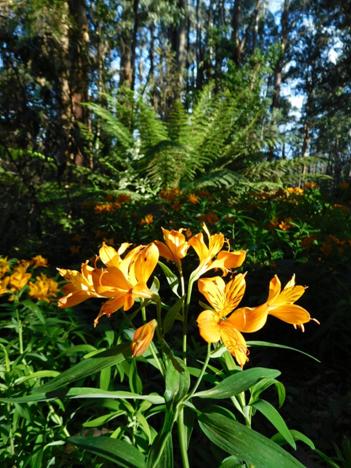 <![endif]>
Just before Downey you turn west onto the old tramway. Parts of it are Antarctic beech forest.
<![if !vml]>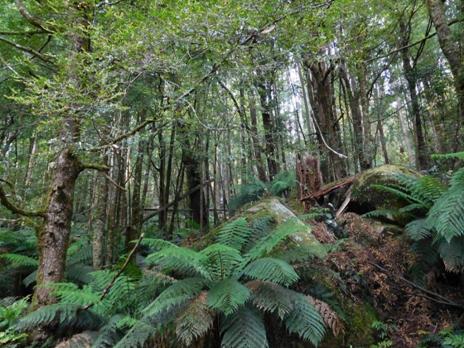 <![endif]>
It is so like Fiordland, New Zealand. Why travel?
<![if !vml]>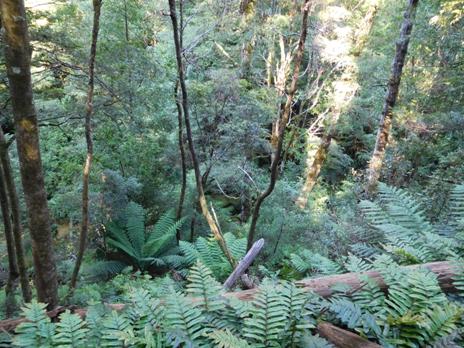 <![endif]>
The dogs enjoy the rich, earthy smells of the deep forest litter beneath the majestic gums.
<![if !vml]>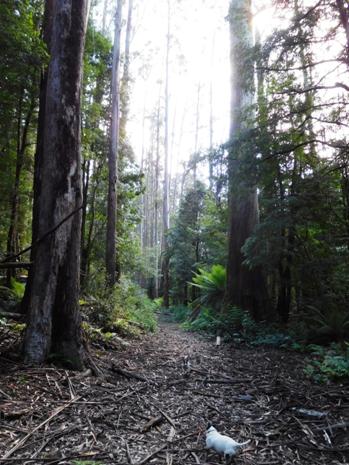 <![endif]>
An old (closed) bridge begins Kirchubel's Tramway, its exploration to be saved for another day. Maybe some of the 18 old timber bridges yet survive?
<![if !vml]>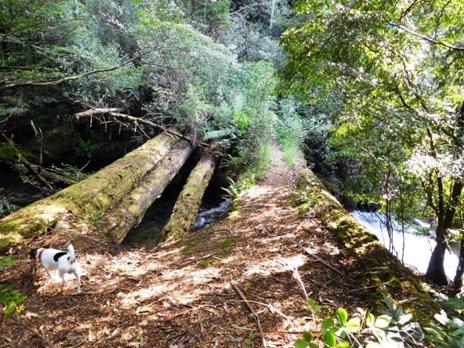 <![endif]>
The first of the Tramway Falls is magnificent.
<![if !vml]>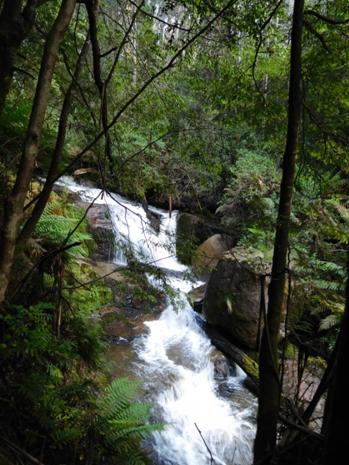 <![endif]>
There is a cast iron pipe at the top of the falls. Water supply to the lost township of Kirchubel, perhaps.
<![if !vml]>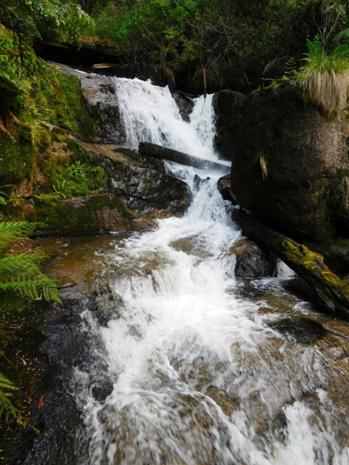 <![endif]>
Some recollections of this township (lost over 50 year ago) yet survive: Colin Bigwood  writes, 'In the early 40's my dad Roley Bigwood, my mum Elsie, and my younger Brother David and myself Colin went to Kirchubel's sawmill to live. My Dad worked mainly on the breaking down saw, and had a scar on his right upper-arm to show until he died where the saw grabbed his thumb while fitting a packing block to the leading edge of the bottom blade. He also was a leader in on one of the benches. When we first got there Mr. and Mrs. Ireland operated the boarding house (it was more of a mess house, because the single men's huts were a bit away from the boarding house) The men only came to have their meals. We lived in a newly built house next to Gill and Lorna Cooper south of the boarding house and north behind the single men huts. When Mrs. Ireland left ,my Mum Elsie Bigwood took over the running of the Boarding house and we moved from our house to live in the back of the B/house. We stayed until I was seven (1945) when the war ended and (we) returned to Tasmania. I can still remember the layout of Kirchubel's sawmill and little village, even down to where the Dug out in case of bush fires was. Later on this year I hope to revisit Tanjil Bren and to explore the remains.'
See also:
http://www.theultralighthiker.com/western-tyers-river-great-for-crays/
http://www.theultralighthiker.com/the-western-tyers/
http://www.finnsheep.com/THE%20UPPER%20YARRA%20WALKING%20TRACK.htm
http://www.theultralighthiker.com/upper-yarra-track-update-section-one-moe-yallourn-rail-trail/
http://www.theultralighthiker.com/upper-yarra-track-update-section-three-wirilda-to-moondarra/
http://www.theultralighthiker.com/upper-yarra-track-section-four-moondarra-to-erica/
http://www.theultralighthiker.com/upper-yarra-track-summary-cumulative-distancestimes/
http://www.theultralighthiker.com/upper-yarra-track-osheas-mill/
http://www.theultralighthiker.com/a-beautiful-world/
http://www.theultralighthiker.com/upper-yarra-track-winter-route-caringal-scout-camp-tyers-junction/
http://www.theultralighthiker.com/upper-yarra-track-winter-route-western-tyers-morgans-mill-skinners-camp/
http://www.theultralighthiker.com/upper-yarra-track-winter-route-western-tyers-to-tanjil-bren/

11/12/2015: Levitation brace gives users spring-loaded knees Whether they're playing sports or suffering from joint injuries, some people could definitely benefit from using a wearable assistive device. That's where Levitation comes in. It's a spring-loaded knee brace that augments the user's quadriceps. I may soon need a pair of these: http://www.gizmag.com/levitation-spring-loaded-knee-brace/40709/
<![if !vml]>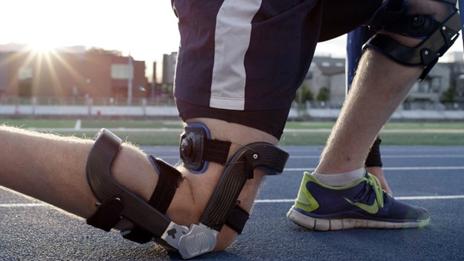 <![endif]>
10/12/2015: Upper Yarra Track Winter Route: Western Tyers to Tanjil Bren: After you have camped the night, cooked and eaten your trout &/or crayfish, walk West along the Tyers. The Western Tyers Road follows the course of the old timber tramline which carried the forest's products via Caringal to Collins Siding (Erica) and onwards to a wider market where they were used to construct houses and buildings elsewhere in Victoria – amnd sometimes much farther afield. In April Della and I walked the South Coast Track in Fiordland New Zealand. A feature of part of the track were huge trestle bridges which had been constructed from logs imported from Australia in the 1920s!
Percy Burn Viaduct, South Coast Track, Fiordland New Zealand.
<![if !vml]>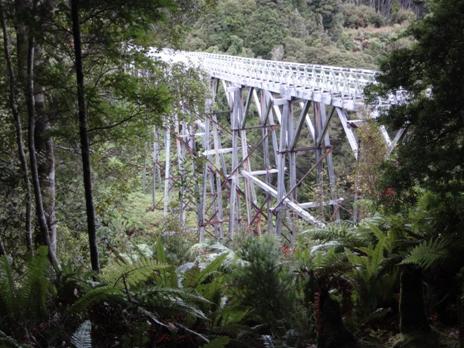 <![endif]>
There are a number of pleasant spots to camp along the way. I can't tell you how many times my kids played on this old log as they grew up. The oldest is now 34: she first went there when she was two! I have caught a couple of lovely crays or three underneath it.
<![if !vml]>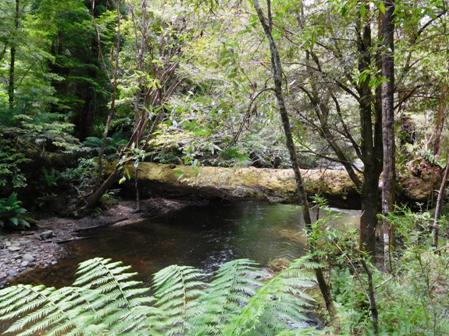 <![endif]>
There are two campsites at Palmers. This is the first.
<![if !vml]>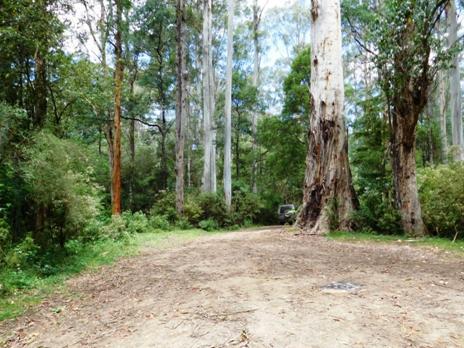 <![endif]>
The second one where the bridge used to cross the river is where the tramline carried on to Growlers. It is still possible to walk along it – and the more who do, the easier it will be. You can continue on along the road, but the views of the river and forest are better from the tramway. nowadays.
<![if !vml]>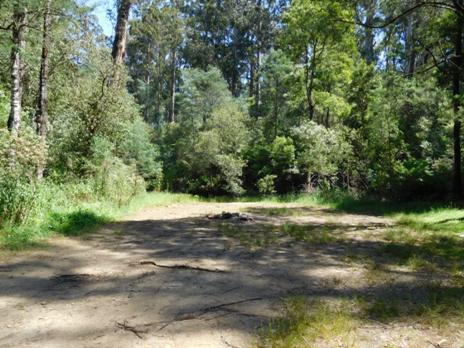 <![endif]>
A refreshing dip on a hot day will surprise you how very cold the water is on the South Face of the Baw Baw Plateau.
<![if !vml]>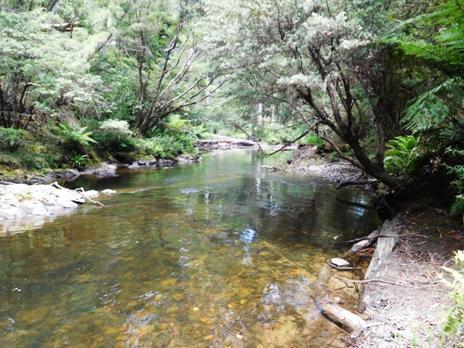 <![endif]>
There are some wonderful rapids in this section of the river I used to enjoy when I was suicidally young and ebullient! There is also great fishing. The 2-3 km of the old railway is quite flat – a serene & peaceful camp could be made here and there along it. There is also a single pleasant camp where it rejoins the road just below Growlers, and multiple sites a little over a km further at Growlers itself.
<![if !vml]>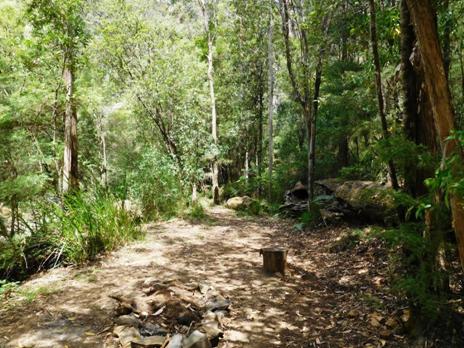 <![endif]>
The old railway is easy going in places at least.
<![if !vml]>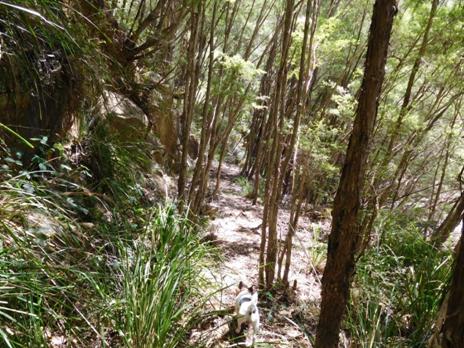 <![endif]>
With great views of the river.
<![if !vml]>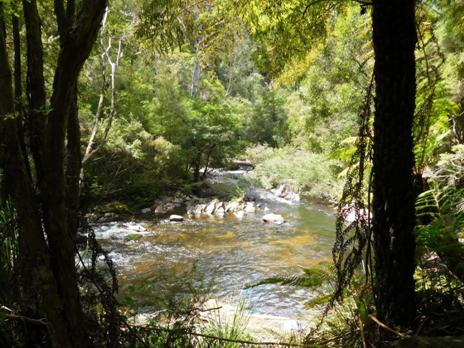 <![endif]>
And some amazing rapids.
<![if !vml]>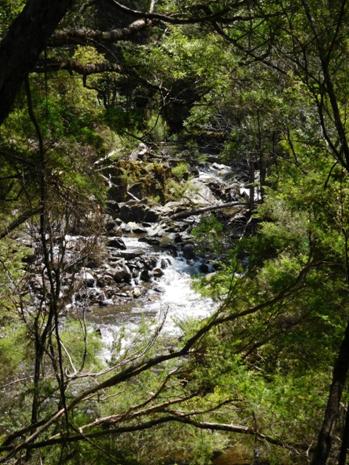 <![endif]>
You never tire of watching water flow over stone.
<![if !vml]>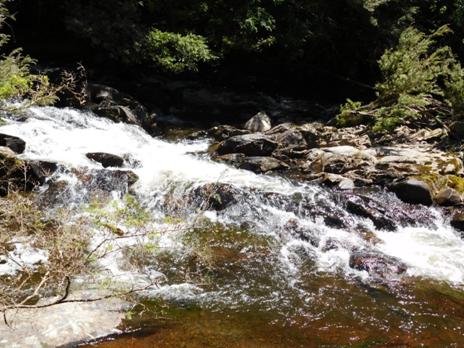 <![endif]>
Spot enjoys the view too.
<![if !vml]>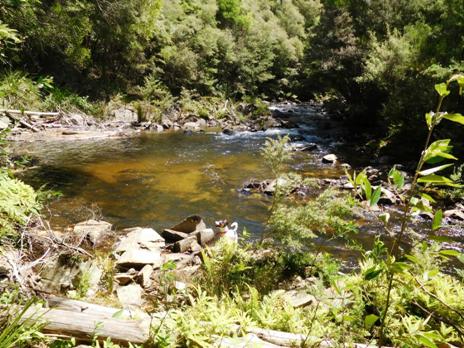 <![endif]>
The road carries on up the river to Growlers.
<![if !vml]>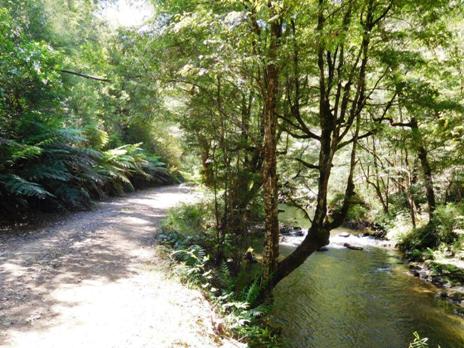 <![endif]>
There are many wonderful stands of ash regrowth.
<![if !vml]>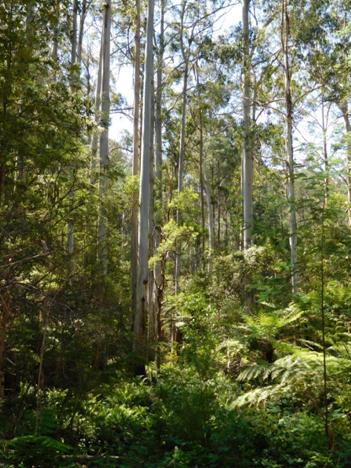 <![endif]>
Growlers is a pleasant camp.
<![if !vml]>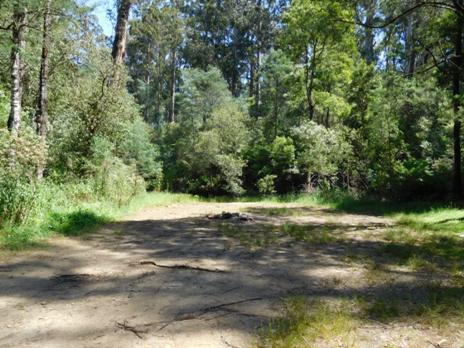 <![endif]>
A quarter century ago I used to walk across the bridge at Growlers and follow the road which has now disappeared into the forest a couple of kms downstream to where there were immense sawdust piles over 20 metres high scattered along the river flats. Who knows how many forest giants they represented? Their insulative ability and I guess decomposition in their depths made them magically warm spots in the forest where no frost or snow would linger. They were a favourite bedding spot for deer, for that reason. I often put up a fine stag here. The forest is probably far too thick for hunting.
After you come out on to the Tanjil Bren Rd it is only a few kms to the turn off to Christmas Creek, a very pretty camping spot where you may wish to spend a night a couple of kms off your main route.
<![if !vml]>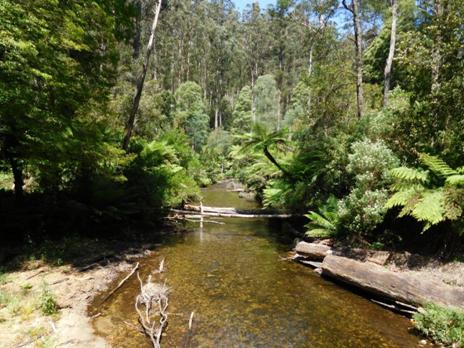 <![endif]>
You can imagine camping by the bridge at Christmas Creek for a couple of days.
<![if !vml]>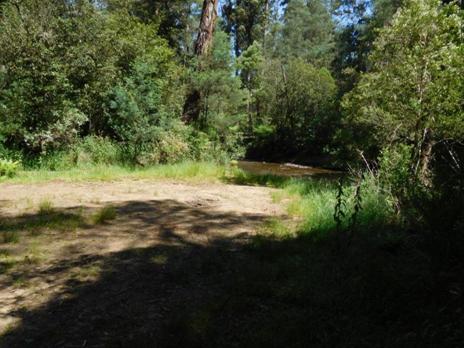 <![endif]>
You continue along the Tanjil Bren Road at least as far as Young's Track. Here you can choose to continue, or divert to the Tanjil River (campsites) which you cross, follow the Long Spur track until it joins Rowley's Hill Road. And then it  until you finally come to Tanjil Bren. There are toilets, a shelter house, water, accommodation – even some supplies in the ski season, though this is not certain. If you instead continue along the Tanjil Bren Rd (there is water from flowing streams every 2-3 kms), you will eventually come to the Baw Baw Rd. Turn West towards Tanjil Bren and continue on the tar road for about three kilometres until you come to the Big Tree Track. You can follow this to Saxton's Road where you can either turn to Tanjil Bren or go on to Downey to camp on the West Tanjil River.
<![if !vml]>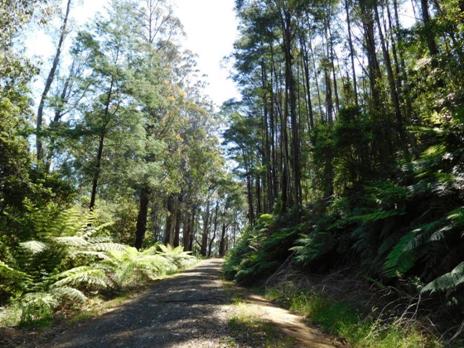 <![endif]>
After Tanjil Bren, a really beautiful side trip is to walk west along the West Tanjil River along the old tramline until you come to Tramway falls. The forest along the way is spectacular. There are vast stands of Antarctic Beech which will make you think you are in Fiordland, New Zealand. It is quite the most beautiful spot in the world. The falls too are quite lovely.
09/12/2015: Baw Baw Plateau: has to be THE most beautiful area in the world. We spent yesterday afternoon driving and walking around parts of its South Face working out possible winter routes for our Upper Yarra Track project, discovering mainly that we need to go back there for many awe-struck days yet. More pics and posts to follow but feast your eyes on these two gems: Sunset view towards the Strezeleckis from the South Face Rd; Alstroemerias in Saxtons Rd, Tanjil Bren.
<![if !vml]>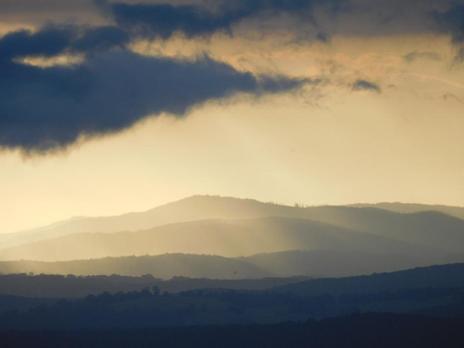 <![endif]>
<![if !vml]>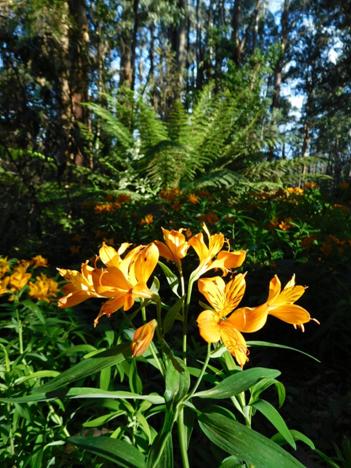 <![endif]>
http://www.theultralighthiker.com/western-tyers-river-great-for-crays/
http://www.theultralighthiker.com/the-western-tyers/
http://www.finnsheep.com/THE%20UPPER%20YARRA%20WALKING%20TRACK.htm
http://www.theultralighthiker.com/upper-yarra-track-update-section-one-moe-yallourn-rail-trail/
http://www.theultralighthiker.com/upper-yarra-track-update-section-three-wirilda-to-moondarra/
http://www.theultralighthiker.com/upper-yarra-track-section-four-moondarra-to-erica/
http://www.theultralighthiker.com/upper-yarra-track-summary-cumulative-distancestimes/
http://www.theultralighthiker.com/upper-yarra-track-osheas-mill/
http://www.theultralighthiker.com/a-beautiful-world/
http://www.theultralighthiker.com/upper-yarra-track-winter-route-caringal-scout-camp-tyers-junction/
http://www.theultralighthiker.com/upper-yarra-track-winter-route-western-tyers-morgans-mill-skinners-camp/
09/12/2015: We went for a fantastic afternoon walk on the Baw Baw plateau near Tanjil Bren yesterday. Wonderful waterfall and inspiring beech forest were just two of the photoworthy features! Steve and I have concluded that we are so lucky to live in Gippsland with boundless magical beauty surrounding us! Anywhere else in the world, these features would be crowded with tourists and hemmed in by fences and explanatory signs!
<![if !vml]>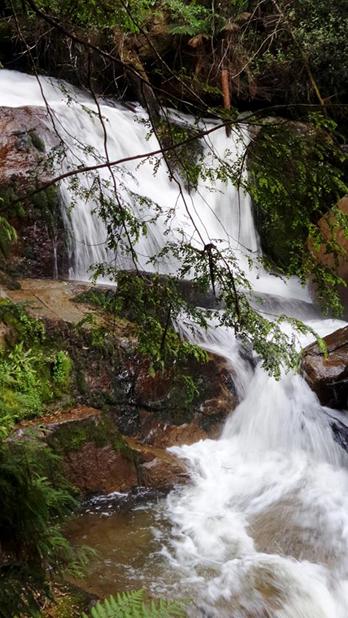 <![endif]>
<![if !vml]>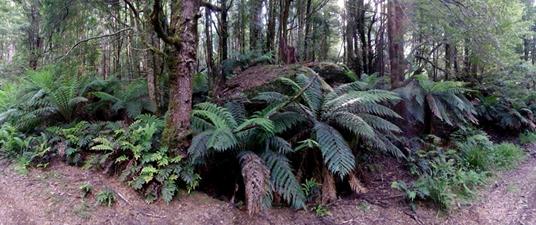 <![endif]>
07/12/2015: Kershaw Ken Onion Speedsafe Folders: If you need to get your knife open with one hand quickly, this range of knives may be right for you. The smallest (The Chive) weighs only 2 ounces, so may even fit with your ultralight hiking kit: https://www.youtube.com/watch?v=YRZNUioNPC4
<![if !vml]>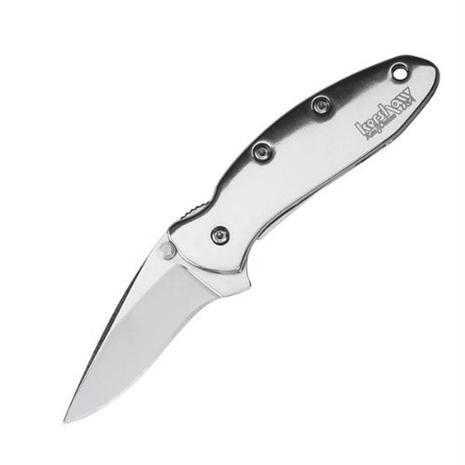 <![endif]>
06/12/2015: Jeeralang Sights: Right behind our home there are lots of forestry tracks where we usually go for a walk with the dogs of a late afternoon. This one (No 4 Road) is about 400 metres further up the mountain so it is much cooler on a 30C day like yesterday. Some shady spots we wondered whether we should have brought a jumper. Spot is always keen to lead the way:
<![if !vml]>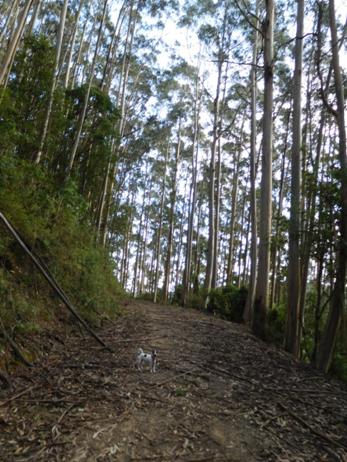 <![endif]>
Amid majestic blue gums and mountain ash. It is 50" rainfall country up here, just a couple of km behind us.
<![if !vml]>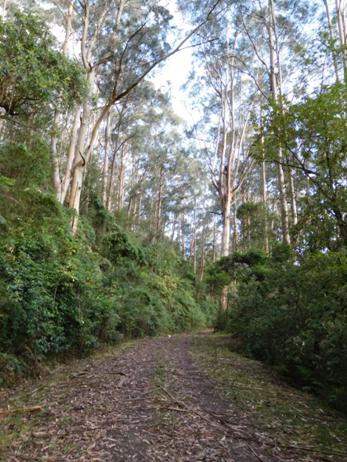 <![endif]>
He can get a long way ahead. He loves to flush the swamp wallabies. Fetch 'em up, Spot. There are lots of tree ferns…Tiny is becoming thirsty.
<![if !vml]>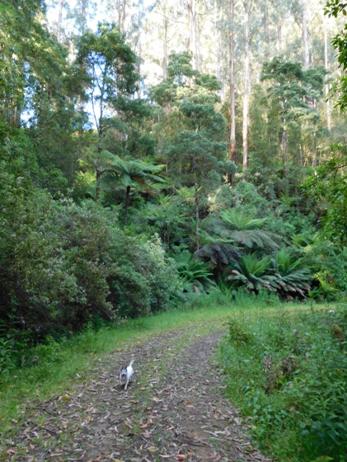 <![endif]>
Fortunately there are beautiful cool springs and runnels for the dogs (and us) to quench our thirst. Della leads the way.
<![if !vml]>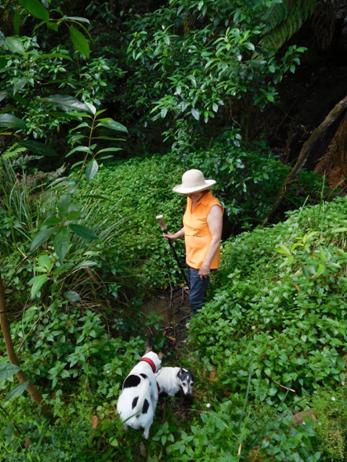 <![endif]>
There are some really beautiful sticks of timber. A couple of houses here.
<![if !vml]>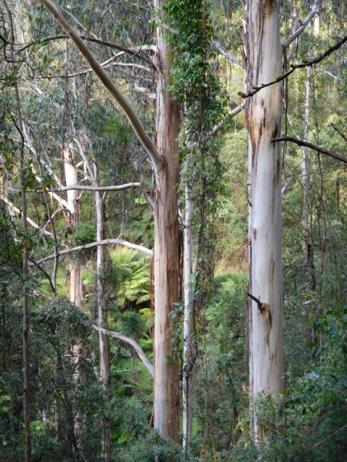 <![endif]>
Lots of wildflowers: daisies,
<![if !vml]>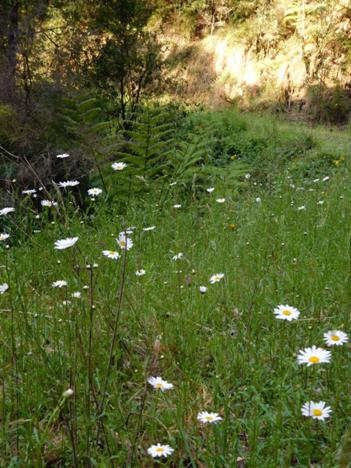 <![endif]>
And more daisies. These ones are so shiny, like they've just been painted.
<![if !vml]>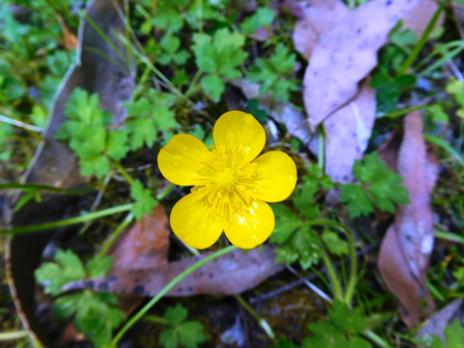 <![endif]>
Even common vetch has a beauty all its own.
<![if !vml]>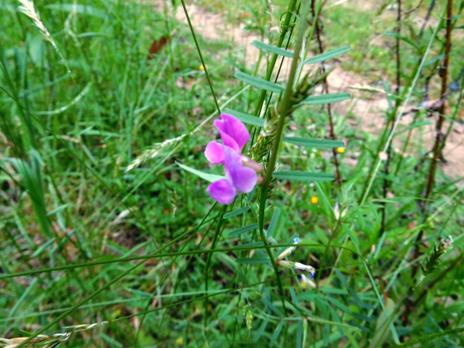 <![endif]>
Perhaps we will go for another walk this afternoon. It's very hard to decide…
05/12/2015: Some of Merrin's trees (which we planted just before this time last year) are doing well. Here her quince fruiting:
<![if !vml]>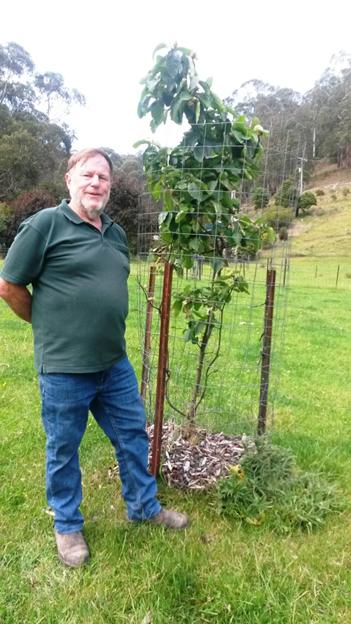 <![endif]>
03/12/2015: Shiftwear: E-ink sneakers: These people will make a fortune: Play the video, I dare you. It will soon move to clothes I'm sure. I am planning to have my entire skin replaced with E-ink so that I can display all manner of interesting perspectives of myself instantaneously, even in video: https://www.youtube.com/watch?v=O5XhzmjUVnk http://www.shiftwear.com/
<![if !vml]>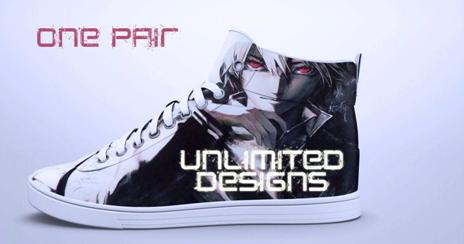 <![endif]>
03/12/2015: Moroka Gorge Falls: A friend sent me a digital copy of this C19th Von Guerard painting (below). I have lurked in the Mount Darling-Snowy Bluff Wilderness quite a lot…I though we had been to the Moroka Falls (twice -  eg http://www.theultralighthiker.com/camping-by-the-moroka-river/ )  but we had only been to the UPPER Falls - as the clip from Vicmap Moroka South T8223-2-S shows. This map plus the Avenza Pdf Maps App I have frequently mentioned (http://www.theultralighthiker.com/gps-phone-apps-25k-vicmaps/) should get us there (probably with a bit of bush bashing). Last time we were there we noticed no sign of the closed road or hiking trail to the lower falls. As well, if we wanted to stand in the same spot as Von Guerard it looks like we would have to come down from the Shanty Hollow track. As it is 1,000 metres higher than where we live (thus @ 8C cooler) we should find a day this summer to explore the area. Our friend will also want to be in on it! Of course the painting probably shows winter river flows:   http://www.australianmountains.com/morokagorge/
<![if !vml]>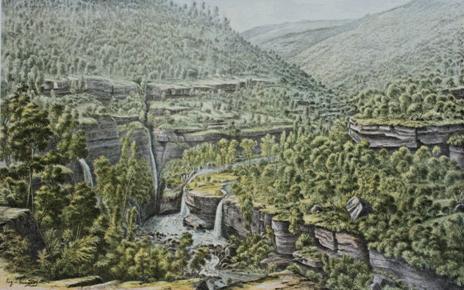 <![endif]>
<![if !vml]>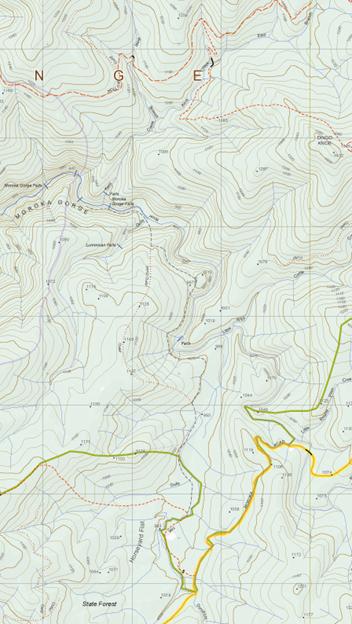 <![endif]>
02/12/2015: Upper Yarra Track: Winter Route: Western Tyers: Morgans Mill & Skinners Camp:
From Caringal you can journey to Western Tyers via Morgans Mill Rd (open forest) or Buckle Spur, cool wet forest tree ferns and mountain ash. Probably 2-3 hours either way. There used to be a walking track along the river which followed the old railway line all the way to Growlers, but it has grown over (we checked). It was really beautiful. A job of clearing for someone, but maybe not me.
<![if !vml]>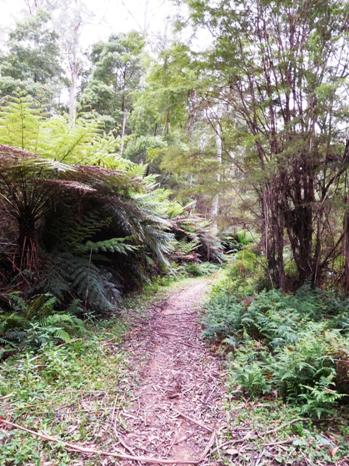 <![endif]>
Pitmans Creek Track.
If you come down the Pitmans Creek Track from Buckle Spur you will first encounter Skinners camp just before you get to the river. It used to be a beautiful well-maintained camping area with toilets, barbecue facilities, shelter, information boards, etc. The Government seems to have abandoned it. You can still camp there though, or you can carefully cross the bridge and camp on the South side of the river. There are lots of blackberries and a few old fruit trees about, so you might get a feed – apart from the abundant trout and freshwater crays in the river. There are rabbits about in the blackberries too, so if you have brought your sling (http://www.theultralighthiker.com/how-to-make-a-sling/ - plenty of stones in the river) , you might be in luck!
<![if !vml]>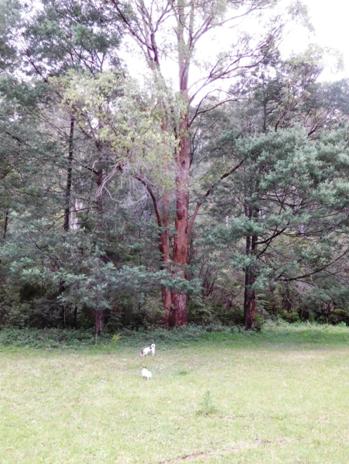 <![endif]>
Skinners camp.
<![if !vml]>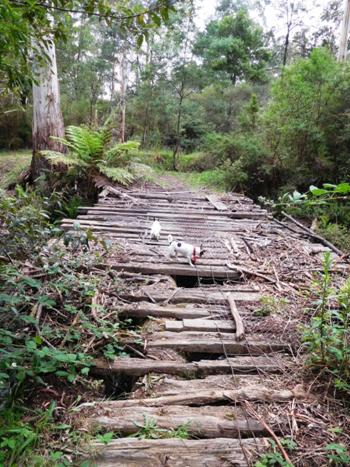 <![endif]>
The dogs managed the bridge - surely you can?
<![if !vml]>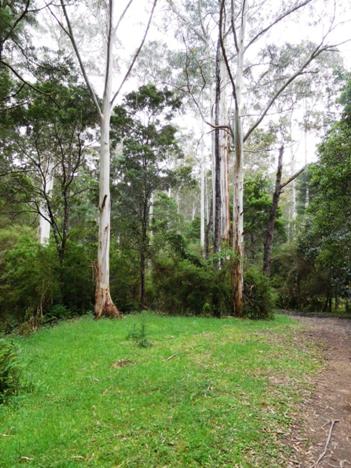 <![endif]>
Camp South side.
As you cross the river to the South bank there is a river heights gauge on your left. It was just below .2 metres yesterday and the river quite canoeable. If you walk East along the riverbank reserve about 200 metres, after crossing a small rivulet you will come to the abandoned chimney of Morgan's Mill which is on private land. There are two or three cottages about. It is worth a photo. https://en.wikipedia.org/wiki/Western_Tyers,_Victoria I believe there is a road easement through the two locked gates (you can step around them) on Morgan's Mill Road linking it to Western Tyers Road if you came that way, also a steel government footbridge across the rivulet. The remaining cottages and ruins are what remain of the timber-getting settlement of Morgans Mill. After it was abandoned as forestry it became a strata-title commune for many years, something like the 'New Australia' in Paraguay. Shares might still be available. The remaining members (who must be in their 70s and 80s) clearly still visit infrequently.
<![if !vml]>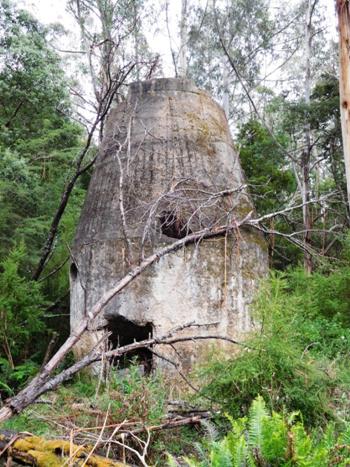 <![endif]>
Mill Chimney ruins.
<![if !vml]>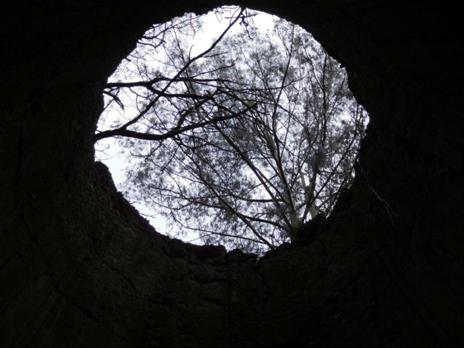 <![endif]>
Creates some interesting perspectives...
<![if !vml]>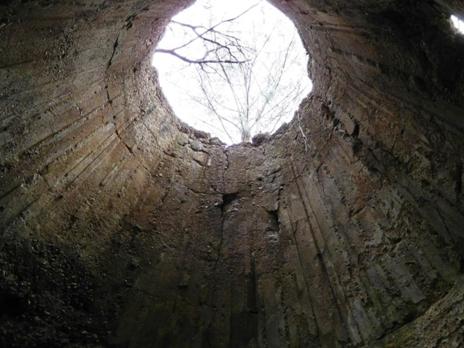 <![endif]>
There are a number of other pleasant spots to camp every km or so as you make your way to the West along the Western Tyers Road towards the Christmas Creek campsite. Our family has spent many pleasant holidays camped along this stretch of river. We have canoed it many times from Palmers to Skinners, even all the way down from Growlers, just below which there is a Grade 4 rapid, so check it out first. I have continued down it as far as Delpretes Rd. It needs a lot of clearing, but would make a wonderful little wilderness river for canoeing all the way to Wirilda, perhaps nearly a week (by water) away.
<![if !vml]>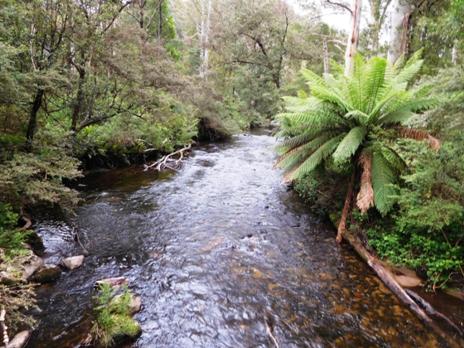 <![endif]>
Upstream from the bridge.
<![if !vml]>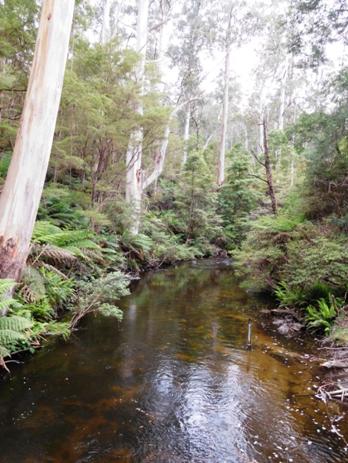 <![endif]>
Downstream from the bridge. Note gauge.
<![if !vml]>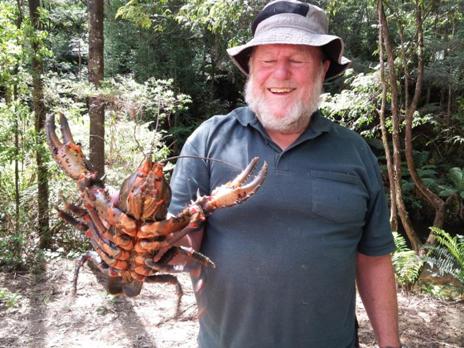 <![endif]>
A Note on Crays: These guys are not yabbies. As you can see they are as big as lobsters, and just as delicious! They are easily caught especially if you have some string and bait. Some spoiled meat or fish-heads perhaps. I would usually put out a number of baits along the river in likely spots (near logs, bank overhangs, deep holes, etc) tied to @ 2 metres of string (I find the coloured builder's line easiest to spot). As you come back to check them you will notice you 'have' a cray if the string is taut. Slowly pull it towards you, being sure not to jerk it and frighten HIM off. (Lady crays with babies are always out of season). A trout landing net is handy for scooping him up, or you can pin him with a forked stick, then step into the river and pick him up behind the claws. Don't let those claws bite: it is as bad as getting on the wrong side of a ferret! If you don't have any bait or string you can still pin them with a forked stick. A pair of polarised sunglasses will help you spot them on the river bottom where they are greenish rather than the red which is their cooked colour. When you cook them, you only need to wait until they change colour. A couple of minutes at most. If you haven't a billy large enough, you might need to kill them by plunging a knife through their brains, then breaking them into cookpot-sized pieces - or throw them on the hot coals for a couple of minutes. They are Della's favourite food!
<![if !vml]>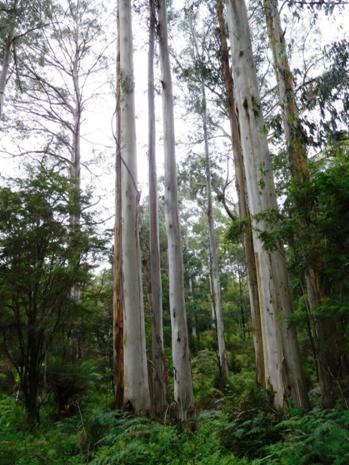 <![endif]>
Typical Mountain Ash and Beech forest.
<![if !vml]>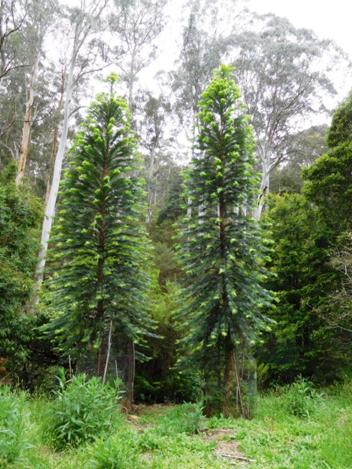 <![endif]>
Much less typical, but strikingly beautiful plantation trees: Norfolks?
See also:
http://www.theultralighthiker.com/western-tyers-river-great-for-crays/ http://www.theultralighthiker.com/the-western-tyers/
http://www.finnsheep.com/THE%20UPPER%20YARRA%20WALKING%20TRACK.htm
http://www.theultralighthiker.com/upper-yarra-track-update-section-one-moe-yallourn-rail-trail/
http://www.theultralighthiker.com/upper-yarra-track-update-section-three-wirilda-to-moondarra/
http://www.theultralighthiker.com/upper-yarra-track-section-four-moondarra-to-erica/
http://www.theultralighthiker.com/upper-yarra-track-summary-cumulative-distancestimes/
http://www.theultralighthiker.com/upper-yarra-track-osheas-mill/
http://www.theultralighthiker.com/a-beautiful-world/
http://www.theultralighthiker.com/upper-yarra-track-winter-route-caringal-scout-camp-tyers-junction/
 01/12/2015: Upper Yarra Track: Winter Route: Caringal Scout Camp: Tyers Junction
<![if !vml]>
<![endif]>
You might reach here by walking down the rail trail from Collins Siding (10 km – 2-3 hours), where the cottages are on the main Erica-Moe Rd at the Caringal turnoff. The trail runs along behind the cottage on the West side starting to the North of them. Or, you might came down the East Tyers Walking Track (I will check whether this is still open). We came along Finns Track from O'Shea's Mill via the South Face Rd, a pretty quiet forest path. All three routes are a similar distance (and time).
See: Tyers Junction Rail Trail: http://www.railtrails.org.au/component/railtrails/?view=trail&id=49&layout=print&tmpl=component
<![if !vml]>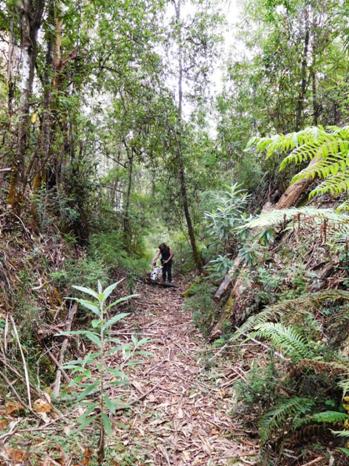 <![endif]>
Della, Spot, old railway cutting.
Caringal Webpage: http://www.vicscouts.com.au/caringal.html
There are both powered and unpowered campsites at the Scout camp. I notice other folk camp at the picnic area outside too, or on the roadside across the river. I imagine though a hot shower, proper toilet facilities, undercover cooking, maybe some company etc are worth the $12.
<![if !vml]>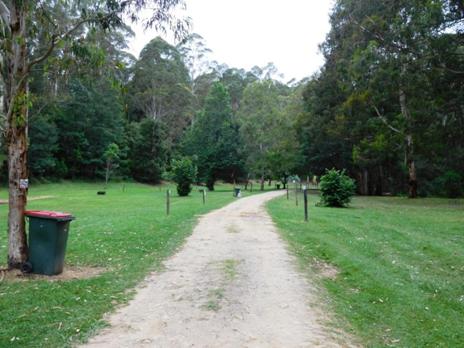 <![endif]>
<![if !vml]>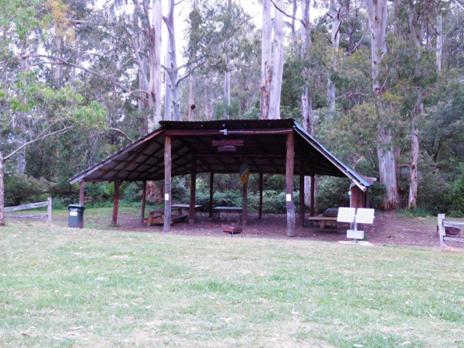 <![endif]>
They also have more motel-style accommodation for less intrepid, better-heeled adventurers. Of course there is similar paid lodging elsewhere on the trail, for example: Yallourn North, Erica, Rawson, Walhalla, Mushroom Rocks, Baw Baw, Tanjil Bren, Noojee…
<![if !vml]>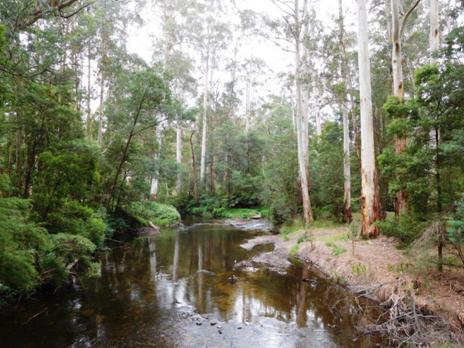 <![endif]>
It is a really beautiful spot where the waters of the East and West Tyers meet. The managed gardens meld into the natural forest of mountain ash and antarctic beech wonderfully. Lots of soft mown lawns to pitch your tent on. Crystal clear water (trout and crays) in the pristine streams.
<![if !vml]>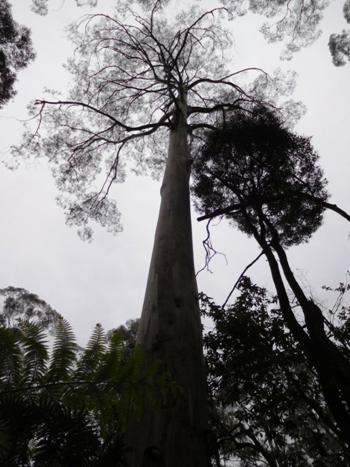 <![endif]>
From Caringal you can journey to Western Tyers via Morgans Mill Rd (open forest) or Buckle Spur, cool wet forest tree ferns and mountain ash. It will be no more than a further 2-3 hours. There used to be a walking track along the river which followed the old railway line all the way to Growlers, but it has grown over (we checked).
<![if !vml]>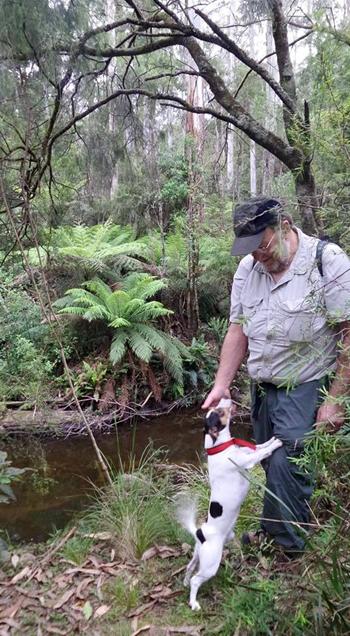 <![endif]>
It was really beautiful. A job of clearing for someone, but maybe not me. It is worth walking along it as far as the old washed out bridge. You might pick it up on the other side (and if you have your machete with you http://www.theultralighthiker.com/the-worlds-greatest-machete/ ) journey on to Western Tyers along it. There can be nothing unlawful about helping to keep a designated waling track clear, after all!
See also:
http://www.finnsheep.com/THE%20UPPER%20YARRA%20WALKING%20TRACK.htm
http://www.theultralighthiker.com/upper-yarra-track-update-section-one-moe-yallourn-rail-trail/
http://www.theultralighthiker.com/upper-yarra-track-update-section-three-wirilda-to-moondarra/
http://www.theultralighthiker.com/upper-yarra-track-section-four-moondarra-to-erica/
http://www.theultralighthiker.com/upper-yarra-track-summary-cumulative-distancestimes/
http://www.theultralighthiker.com/upper-yarra-track-osheas-mill/
http://www.theultralighthiker.com/a-beautiful-world/
30/11/2015: Upper Yarra Track: O'Shea's Mill: Now (also) called East Tyers Campground I see. This is the first major stop after you leave Walhalla (12.5km away), some of them fairly steep. As you can see it is where the Alpine Walking Track crosses the East Tyers River. Campsites, Water, Toilet available. You could have dropped by Rawson on the way here for supplies. It is also where you would turn off for the Winter Route to avoid snow/cold dangers on the Baw Baw Plateau. Several possible routes allow you to walk to Caringal (Tyers Junction) or Western Tyers. We chose Finns Track today, a very pleasant quiet bush track on a good grade through mostly peppermint gums. I have not yet checked out the East Tyers Walking Track. The Caringal caretaker 'thought' it was open still, but he was less well-informed about the Western Tyers Walking Track (which we found is NOT). It would descend along the river through beautiful fern gullies and mountain ash. It certainly exists at Caringal, but whether it still goes all the way to Monettes is not yet known. At Caringal Scout Camp there is camping for $12/night (with hot showers! And some other facilities eg Mess Hut, toilets, phone etc). It is a very beautiful spot amid giant mountain ash where the two branches of the Tyers River join.
<![if !vml]>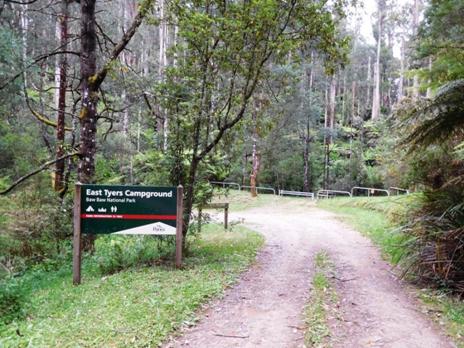 <![endif]>
O'Shea's Mill Camp Site.
<![if !vml]>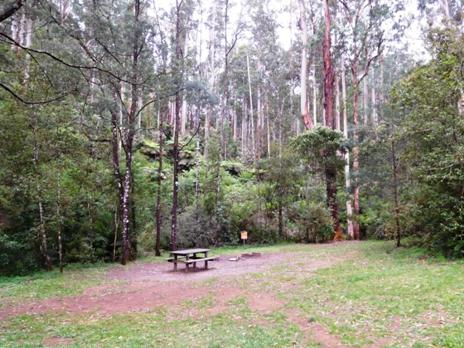 <![endif]>
Even a picnic table in a sunny clearing. Lots of grassy flat spots to pitch a tent.
<![if !vml]>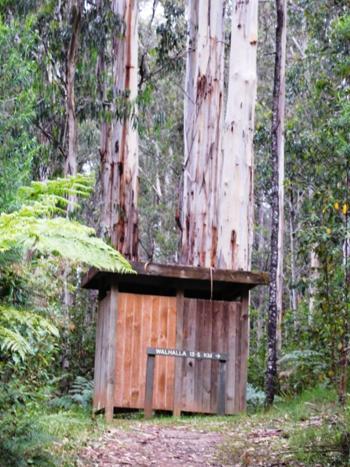 <![endif]>
Mountain Ash grow quickly. This one easily 2-2.5 metres diameter at the base is likely younger than me!
<![if !vml]>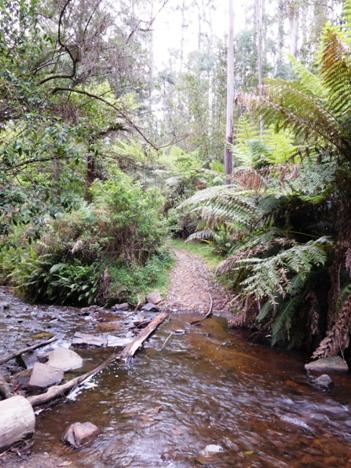 <![endif]>
Pristine water from the East Tyers River.
<![if !vml]>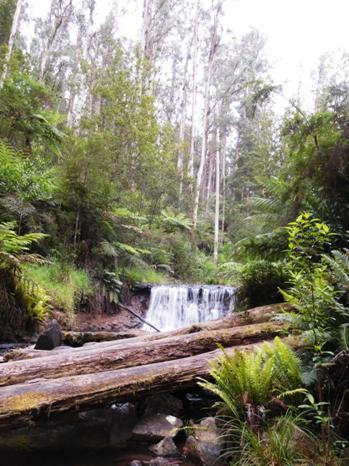 <![endif]>
Or a waterfall.
30/11/2015: A Beautiful World: We did a little afternoon excursion today to check on the existence of some old walking tracks around Erica. The first pic is of Steve Jones with Spot where the walking track disappears at Tyers Junction near the Caringal Scout Camp. It seems to be one of the 'roads less traveled' judging by the overgrowth of blackberries and abundance of fallen timber. I am sure that not too many feet have trodden that path since we walked along it a couple of years ago. This is notwithstanding the numerous scouts in the camp ground who obviously do other things than 'scout', it seems! The second pic is a quick shot as we drove home through Moe. If sunsets are beautiful, then the cooling tower of Yallourn Power Station in the sun's afterglow is nothing less than splendid! Lots to love less than an hour from home!
<![if !vml]>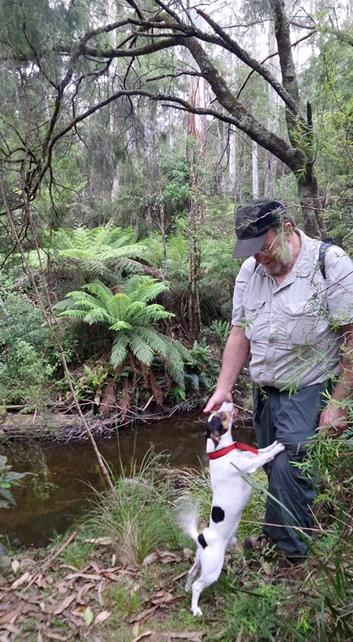 <![endif]>
<![if !vml]>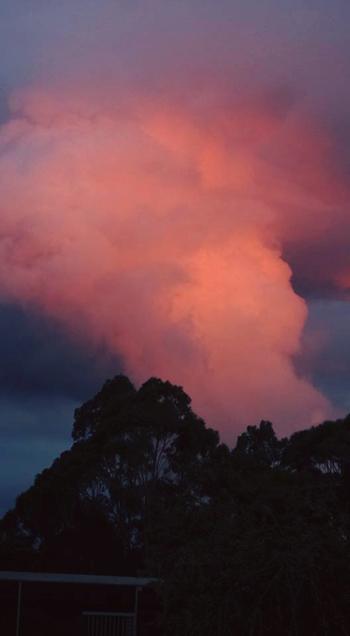 <![endif]>
29/11/2015: Jurassic Update: The Culprit: Caught in the act! You would think this blue tongue lizard would have a red tongue the number of strawberries he has eaten. He is trying to hurriedly make off, but in his haste he has tangled himself temporarily in the netting. He knows the way around it though. I just weeded that bed this morning. There were a few beauties I was drooling to devour myself tomorrow, but this little fella seems able to consume his own weight in srawbs daily. What to do? As you can see, the bed is netted against birds, but this bloke has an awesome network of tunnels extending more than twenty feet from the strawberry bed to the compost bins to a further system of tunnels underneath the greenhouse and old dairy nearby…Spot barks at him but he has been forbidden to bite him as anti-snake training; besides he might bite back. He can put on a fairly impressive open-mouth display. I am beginning to regret my many acts of kindness towards blue tongues over the years: rescuing them from roadways, removing ticks from their ears, etc. I could plant more strawberries but this little guy is no doubt working on planting more blue tongue lizards!
<![if !vml]>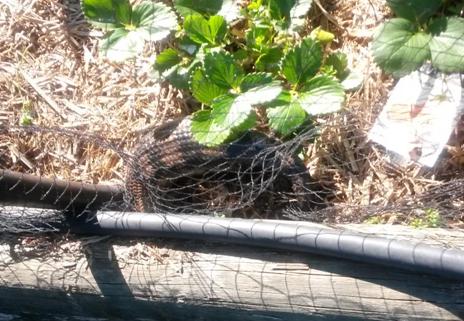 <![endif]>
28/11/2015: Anguish: Spotted at the National Gallery last week: What a moving painting: August Friedrich Albrecht Schenck: 'Anguish'. As a 'sheephusband' for over thirty years, how many times have I seen this? Sheep have a (measured) IQ of over 60 - more than many folks who are allowed to vote (for the Greens/Labor, I suspect)) – and crows too, I have no doubt are pretty smart. They have been recorded making TOOLS, for example. Yet we eat the former, and shoot the latter…The day they acquire guns will be our last!
<![if !vml]>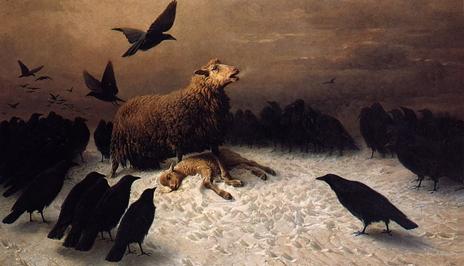 <![endif]>
27/11/2015: The Buggy Shed: An icon of our farm since 1924 has finally died. Strangely it did not happen in one of those big winds we have had. It just slowly grew older and tireder, settling ever closer to the ground, giving up its many years of faithful service with barely a sigh! We will replace it with a new vehicle shed (with a hoist for working on cars!) I wonder will IT last 91 years? I doubt I will be around to see!
<![if !vml]>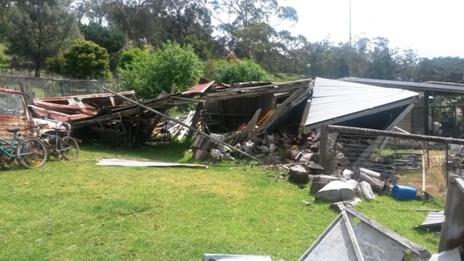 <![endif]>
27/11/2015: 'Life will find a way'…we have a blue tongue lizard (@30 cm) living in one of our compost bins (he has lots of tunnels) who lives on the strawberries in our vegie garden, it seems. At least something other than us is eating them - and we have not yet caught the mystery thief. They are netted. Who says the dinosaurs are extinct?
<![if !vml]>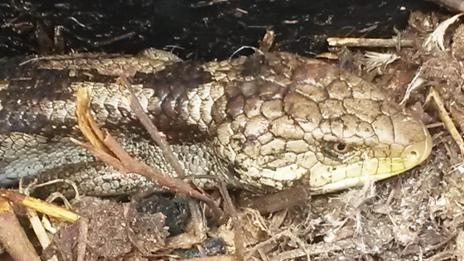 <![endif]>
<![if !vml]>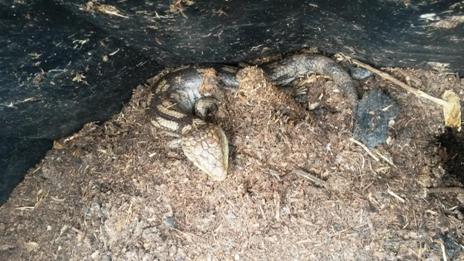 <![endif]>
24/11/2015: goTenna: 52 grams which keeps you in touch with other members of your party by texting with your phone, eg if they become separated. Works up to 6 kilometres even when there is no phone service. I think this would be a good option for Della and me when hiking just in case. We carry whistles, but whilst Della can here mine, I can't hear hers. It is much lighter also than carrying 2-way radios and messages are less garbled by text (when you are deaf like me)! Many have an epirb or satellite phone for emergencies, but this lightweight device would be useful if you just become separated where it is not an emergency. It would also be great for contacting each other (eg to save money, or if your are in a foreign city where you might not have a plan). Hunters (and others) might also find the device useful because it doesn't make any noise. Two for US$199: http://www.gotenna.com/index
<![if !vml]>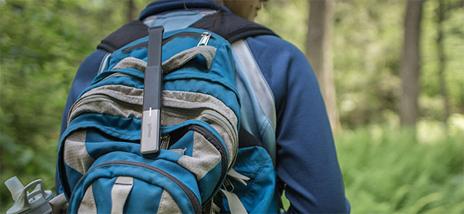 <![endif]>
23/11/2015: Upper Yarra Track: Section Four: Moondarra to Erica: 20 km - 5.5 hours
<![if !vml]>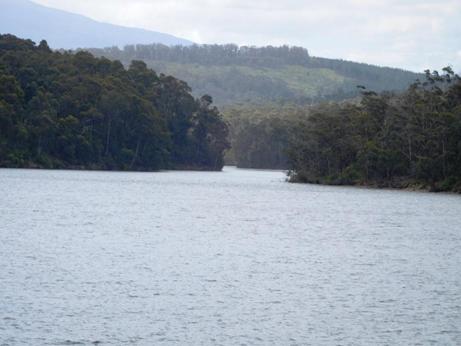 <![endif]>
Lake Moondarra
<![if !vml]>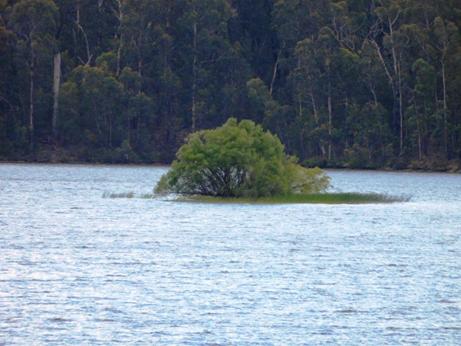 <![endif]>
<![if !vml]>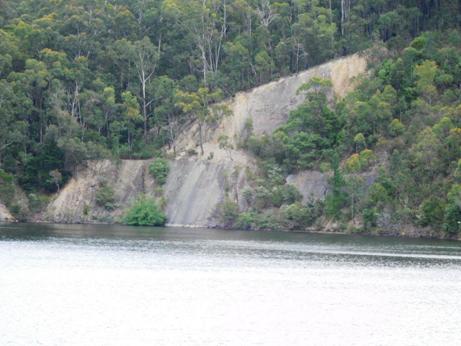 <![endif]>
When you come to the end of the walking track, our walk continues on East along the W18 through beautiful serene forest. The first suitable campsite, a really beautiful spot with water is when the trail crosses Jacob's Creek on the Old Traralgon 'Road'.
<![if !vml]>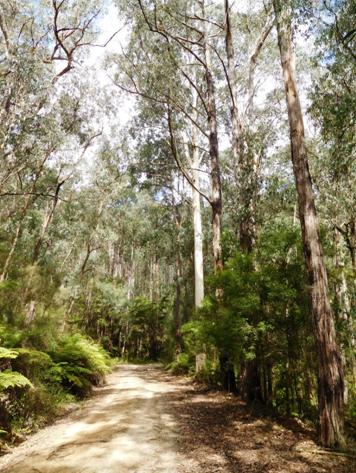 <![endif]>
It is about 11 km and 3 hours easy walking away. Follow the W 18 East 1.5 kms. You will see an old (closed) bush track exiting North. This loops back onto the W18 about 1km further along. It can be taken to provide scenic views of the dam, and a quieter walk (though the W18 track is never busy). It adds about 1.5 km to the trip. You could possibly camp along it and scramble down to the lake for water, but it is a fair way.
<![if !vml]>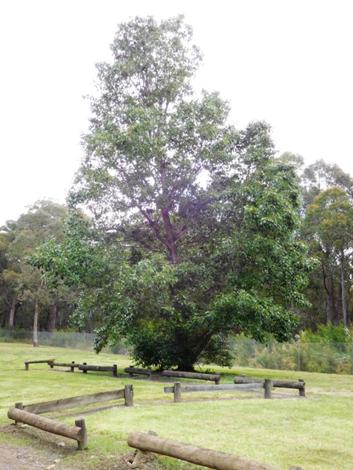 <![endif]>
Gardens at Lake Moondarra.
Otherwise you walk along the W18 for approx 3.5 km to just before the tar road (1-200 metres). You will see a motorcycle track join the W18 from the South and exit it to the North where it has more the appearance of a dirt road. This motorcycle track parallels the main road (about 100 metres inside the bush) all the way to the Old Traralgon Road and should be taken for a shorter, quieter walk. There are a number of spots where it crosses dirt tracks running roughly East-West.
<![if !vml]>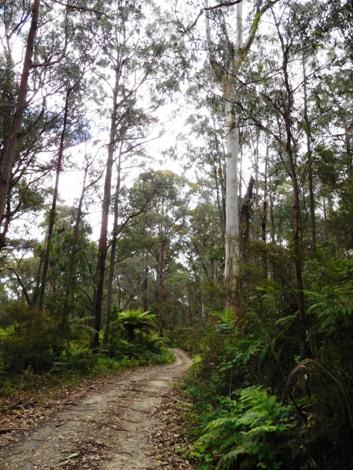 <![endif]>
If you are short of water you can take one of these and go out on to the main road (also not busy) as there are fire dams along it (at least ten of them!) every .5 km or so; the last being just after your turn-off at 'Conference Corner', where you would turn to go to Cowwarr Weir and Brunton's Bridge if you were heading that way. Each of these dams is set back 20-30 metres from the main road and surrounded by a grassy flat. I imagine you could find somewhere along here to camp if you needed to.
<![if !vml]>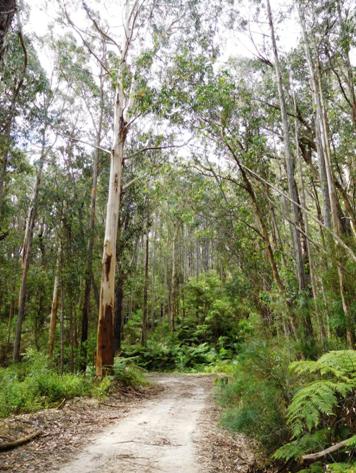 <![endif]>
It is approximately 5 km to the W2 Track or 'Old Traralgon Road' which runs to the West. Following the W2 2.5 km to the West you will come to the delightful campsite at Jacob's Creek amid majestic gums where you may catch a trout or a cray during you stay.
<![if !vml]>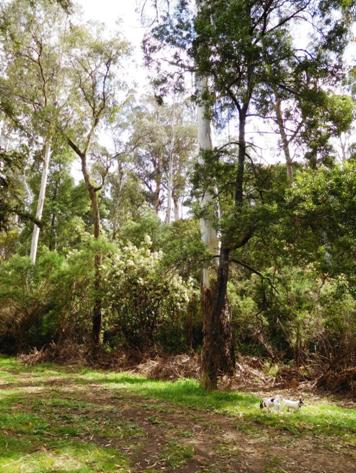 <![endif]>
Jacob's Creek to Erica: 9 km (2.5  hours) No water until you get to Erica.
<![if !vml]>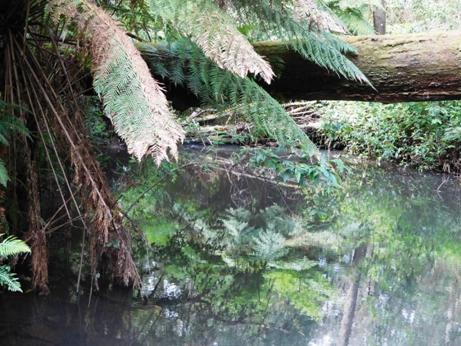 <![endif]>
Jacob's Creek.
Leaving this camp continue West on the Old Traralgon Road 1.5 km until you come to the Old Coach Rd then turn North. Follow it 1.5 km until you come to Bluff (or Jacob's Creek Rd) and turn West. If you are thirsty you can walk east on Bluff  Rd about 200 metres for a drink to where it crosses Jacob's Creek. A further 2 km West brings you out on to the main Moe-Erica Rd. You can walk along the power line track (North) just before it. The gravel road (an old railway easement) which parallels the main Rd criss-crosses it, (eg at Collins Siding - where the houses are at the Carringal or Tyers Junction turn-off (1.5 km) It is about 2.5 km from this turnoff in to Erica.
<![if !vml]>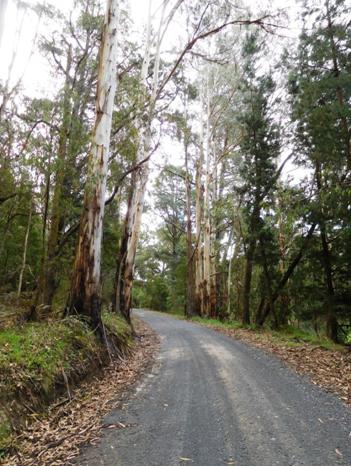 <![endif]>
Jacob's Creek Rd
As you come in to Erica there is a Hotel (which serves excellent meals) on the West side of the street and a Caravan Park/ camp ground opposite on the East side, just behind the recreation grounds (public toilets, water). The General Store is about .5 km further North up the street. The Erica-Walhalla Rail Trail begins at the end of the laneway (.5 km) on the North side of the caravan park. It is well signposted and marked. You can easily follow it all the way in to Walhalla (approx 12 km – 4 hours). You could drive a vehicle along it, but you may not.
<![if !vml]>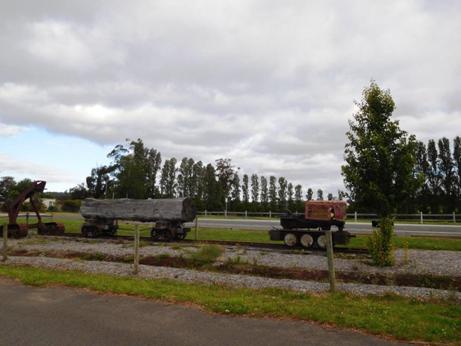 <![endif]>
Remnants of the old railway line in Erica.
<![if !vml]>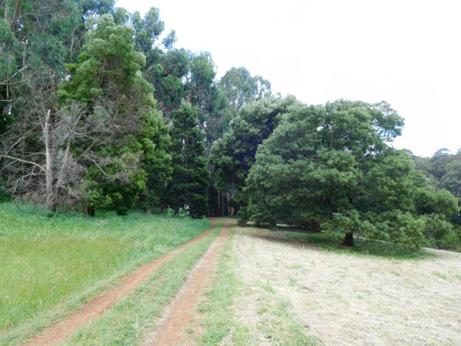 <![endif]>
The Erica Walhalla Rail Trail Begins: Only `12 km to go!
The Vicmaps for this section are Moe North T8121-1-N and Walhalla South T8122-2-S
See also: http://www.finnsheep.com/THE%20UPPER%20YARRA%20WALKING%20TRACK.htm
http://www.theultralighthiker.com/upper-yarra-track-update-section-one-moe-yallourn-rail-trail/
http://www.theultralighthiker.com/upper-yarra-track-update-section-two-yallourn-north-to-wirilda-park/
http://www.theultralighthiker.com/upper-yarra-track-update-section-three-wirilda-to-moondarra/
23/11/2015: Upper Yarra Track: Cumulative distances/Times:
<![if !vml]>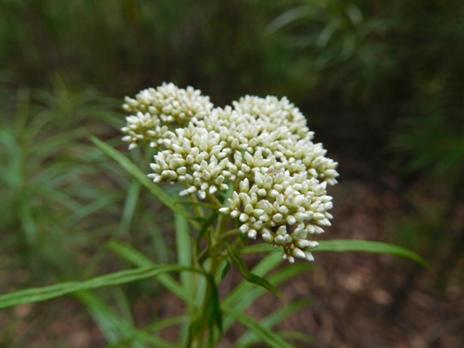 <![endif]>
NB: This is a summary. These are 'retiree' walking speeds. The distances are approximate. You may do the trip much faster, but what's the hurry? Moe-Walhalla will take 2-4 days. If you are young and fit you should be able to ride it on a mountain bike in about a day (approx 70km). There are many othe spots you can obtain water or camp. Find them in the detailed track notes (as I add them) NB. You can shorten the trip by catching a bus to Tyers/Yallourn North, or to Noojee, or to Mt Baw Baw (winter only). Recommended App: Avenza Pdf Maps plus the maps below from: http://services.land.vic.gov.au/maps/topo30maps.jsp Paper Maps: Rooftop's: Yarra Valley-West Gippsland Adventure Map, & Walhalla-Woods Point Adventure map.
Maps: Moe South Map T 8121-1-S:
Moe – Yallourn North (Water, Supplies, Camp) : 10 km – 2.5 hours
Yallourn North-Wirilda  (Water, Supplies, Camp): 15 km 3.5-4 hours ( 25 km -5 hours)
Maps: Moe South Map T 8121-1-S to Moe North T8121-1-N
Wirilda – W3 (Water, Camp): 7 km 2.5 hours (32 km - 7.5 hours)
W3 – Moondarra (Water, Camp):  – 7 km 3 hours (39 km - 10 hours)
Moondarra – Jacob's Creek (Water, Camp): 11 km - 3 hours (50 km - 13 hours)
Maps: Moe North T8121-1-N to Walhalls South T8122-2-S
Jacob's creek – Erica (Water, Supplies, Camp): 9 km – 2.5 hours (59 km - 15.5 hours)
Erica – Thomson Station (Water): 8 km – 2 hours (67 km - 17.5 hours)
Thomson Station – Walhalla (Water, Supplies, Camp): 4 km – 1 hour (71 km - 18.5 hours)
Walhalla – Poverty Point (Water): 7-8 km – 2-3 hours (79 km - 21 hours)
Poverty Point – O'Shea's Mill (Water, Camp): 6 km – 2-3 hours (85 km - 24 hours)
O'Shea's Mill to Mushroom Rocks Car Park (Water): 6-7 km- 2-3 hours (92 km - 27 hours) Walhalla South Map
Mushroom Rocks Car Park to Talbot Peak (Water, Camp): 3 km – 1.5-2 hours (95 km - 29 hours
Maps: Walhalls South T8122-2-S to Walhalla North T8122-2-N
Talbot Peak – Talhousie Glen (Below Mt St Gwinear Track Junction - Water, Camp): 7 km- 2-3  hours (102 km - 32 hours)
Talhousie Glen - Whitelaw's Hut Site (Water, Camp): 9 km- 3-4 hours (111 km - 36 hours)
Maps: Walhalla North T8122-2-N to Noojee North T8122-3-N
Whitelaw's Hut – Frangipani Saddle: 7 km - 2 hours (118 km - 38 hours) Add .5 hours to (Water, Camp)
Frangipani saddle - Newlands Rd camp (Water, Camp): 7 km – 2 hours (125 km - 40 hours)
Newlands Rd Camp to Toorongo Link Junction (Water, Camp): 9 km – 2-3 hours (134 km - 43 hours)
Toorongo (Link Junction) – Hill 956 (Falls): 7 km – 2 hours (141 km - 45 hours)
(Falls Return: 4 km – 4 hours)
Hill 956 – Fire Suppression Stream (3 x Water Camp) : 3 km - 1 hour (144 km - 46 hours)
(Fire Suppression Stream to Noojee = Water, Supplies, Camp @ 24 km – 6-8 hours = 54 hours =toMoe/30.5 =to Warburton. I will add intermediate route/water/camp points in to this short-cut later)
Suppression Stream - Mt Horsefall (Camp): 6 km - 2 hours (150 km - 48 hours)
(Mt Horesfall- Penny falls (Water Camp) 1 km - .5 hour each way)
Mt Horsefall - Davis No 2 Mill Site (Water): 4.5 – 1.5 hours ( 154.5 km - 49.5 hours)
Maps: Noojee North T8122-3-N to Neerim North TT8022-2-N:
Davis No 2 Mill Site - 7.5 North Loch Rd– 2 hours (162 km - 51.5 hours) (+1 km each way to (Water, Camp)
Maps: Neerim North TT8022-2-N:
North Loch Rd – Fire Dam (1 Km North of Track 14 near Hill 697 – Water, Camp) 9.5 km – 2.5 – 3 hours (171.5 km - 54.5 hours)
Fire dam –Mc Carthy Spur Track 8 km – 2 hours (179.5 km - 56.5 hours)
McCarthy Spur - Lashos Corner (Water.5 km South) : 6 km - 2 hours (185.5 km - 58.5 hours)
Lashos Corner - Ada Tree (Water, Camp): 5 km -1.5 hours (193.5 km - 60 hours)
Ada Tree – Starlings Gap (Water, Camp): 8 km – 3 hours (201.5 km - 63 hours)
Starlings Gap to Big Pats Picnic Area (Water): 9 km – 3.5 hours (210.5 km - 66.5 hours)
Big Pats Picnic Area – Warburton (Water, Supplies, Camp): 6-7 km – 2 hours (217.5 km - 68.5 hours)
Warburton – Lilydale (Water, Supplies, Camp) 40 km – 10 hours (247.5 km 2 80 hours) See: http://www.yarraranges.vic.gov.au/Lists/Parks-Facilities/Lilydale-to-Warburton-Rail-Trail
23/11/2015: Upper Yarra Track Update: Section Three: Wirilda to Moondarra
(@15 km – 6 hours) The track follows the true right bank (ie facing downstream) of the Tyers river until it crosses on an old pipeline. There are numerous spots where you could stop for a picnic, overnight or for a fish.
<![if !vml]>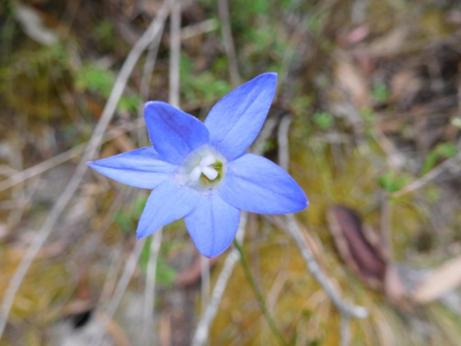 <![endif]>
There are many beautiful wildflowers.
<![if !vml]>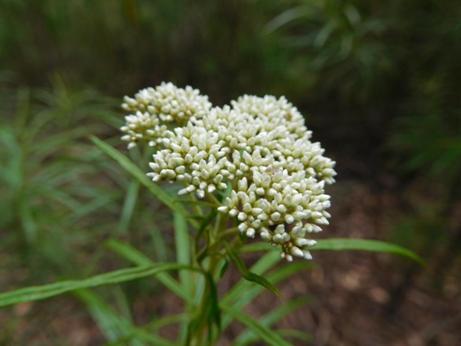 <![endif]>
I usually don't like dogwood, but it has its beauties...
The impressive cliffs below Peterson's lookout are a feature. Birdlife, wildlife and wild flowers abound. There are a number of side tracks which can be explored. Keep your eye out for signs of the old pipelines one of which was made of wood!
<![if !vml]>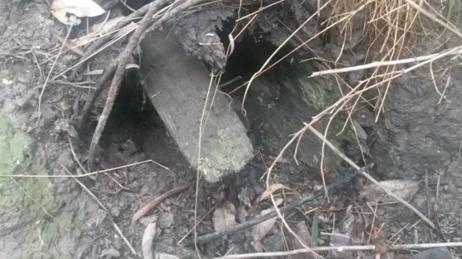 <![endif]>
Old wooden water supply pipe.
Parks Victoria reckon this section to be 18 km and to take 5-7 hours (see brochure) http://parkweb.vic.gov.au/__data/assets/pdf_file/0010/315766/Park-note-Tyers-Park.pdf
<![if !vml]>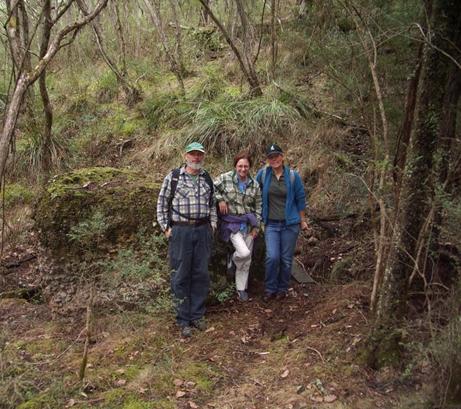 <![endif]>
Giant Tor along the way: wouldn't have want to be around when the Titans were playing marbles with these guys!
<![if !vml]>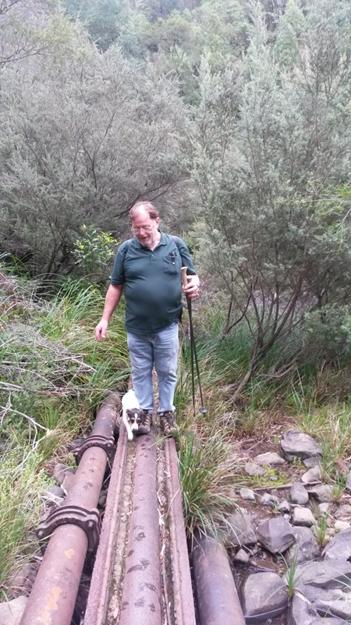 <![endif]>
Pipeline crossing just South of w3 track.
Park notes: 'The open forests are dominated by Yertchuk and Silvertop, with an understorey of wattles, tea trees, sedges and grasses. Along the ridges, an open forest of Silvertop and an understorey of Variable Sallow Wattle, Prickly Tea-tree, Bushy Needlewood and Common Heath flourish. Red Box and Apple Box thrive on the steep rocky slopes neighbouring Tyers Gorge. The park hosts over 30 species of orchid and a number of rare plants. Colourful wildflowers in spring feature Correas, Bush peas, Guineaflowers and wattles. Birdlife is found in abundance including Superb Lyrebirds, Yellow-tufted Honeyeaters, Rose Robins, Thornbills, Boobook Owls and Peregrine Falcons. Gippsland Water Dragons can often be seen basking in the sun on rocks along the Tyers River. The park is also home to the Common Wombat, Swamp Wallaby, Common Ringtail Possum, Sugar Glider, Short-beaked Echidna and Brown Antechinus.'
<![if !vml]>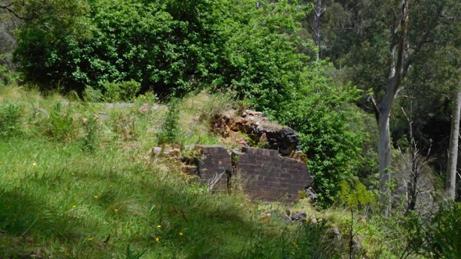 <![endif]>
Figure 1Old lime kilns on W3 track.
<![if !vml]>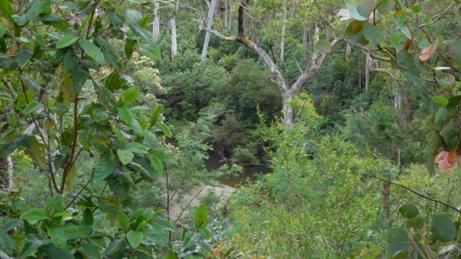 <![endif]>
Frequent glimpses of the river.
<![if !vml]>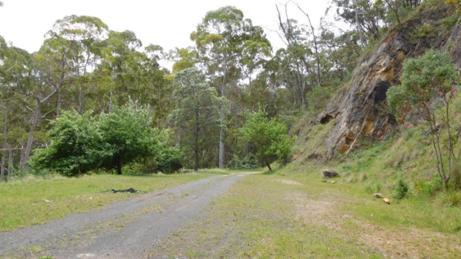 <![endif]>
Rock face just right for climbing.
It is approximately 2- 2.5 hours to two splendid camps on the W3 track. The first may need you to carry water 15 minutes from the pipeline crossing point (sometimes just under water) just below the W3. At the second camp where the old limestone kilns and some ancient apple trees can still be seen, water can easily be obtained from the river (100 metres). The cliff face opposite the kilns is popular for rock climbing practice. Don't! An alternative more private camp can be found earlier by turning towards and passing through the locked gate when you hit the W3 track, approx a further 1km along past it. Water is available from the river. There are many miles of locked roads in the Tyers State Park which you can walk along. This one will take you across a bridge over the Tyers, past Connan Scout camp (water) and link up again with the W12 track.
<![if !vml]>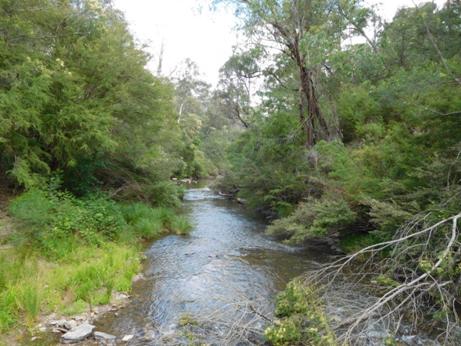 <![endif]>
It is a lovely little river.
<![if !vml]>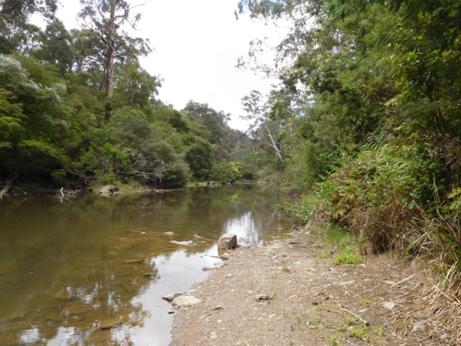 <![endif]>
So many pretty stretches.
The track descends from the W3 to Whites creek (water) then contours through fern groves until it meets a 4WD track which joins the W12. You follow the W12 downhill to the river. There is a camp 45 minutes along the track from the W3 just off the W12 track .5 km South of the bridge Just before you get to it you may notice another old picturesque water supply weir in the river.  From the W12 track it is approx 2 hours to the W18 track (Moondarra).
<![if !vml]>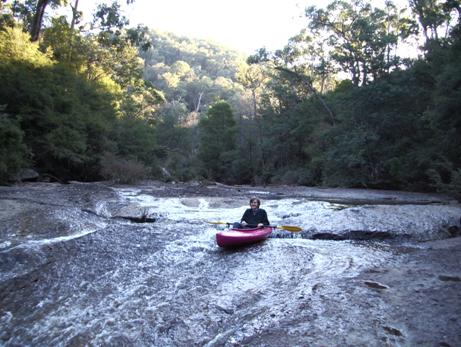 <![endif]>
The river is canoeable, but some places you can get stuck.
The river is canoeable for a very long way…You can probably start at Christmas Creek on the Western Tyers (certainly just below Growler's Track - I have) and canoe all the way to Wirilda. Many days. Unfortunately there are many logs and other obstacles you will have to contend with. If these were cleared it would be a wonderful trip. Clearly you can put in at the W3 track (4-5 hours paddling) or the W12 track (better to take two days) exiting at Wirilda. The river is suitable for packrafting due to the many walking/cycling tracks which give access.
<![if !vml]>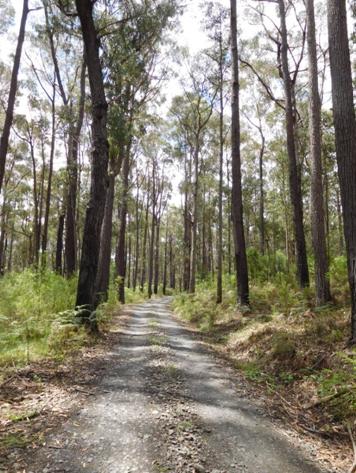 <![endif]>
A diverse range of different trees.
<![if !vml]>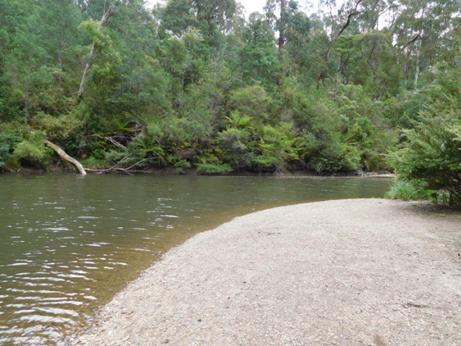 <![endif]>
Camping on the many sandbars is an option.
<![if !vml]>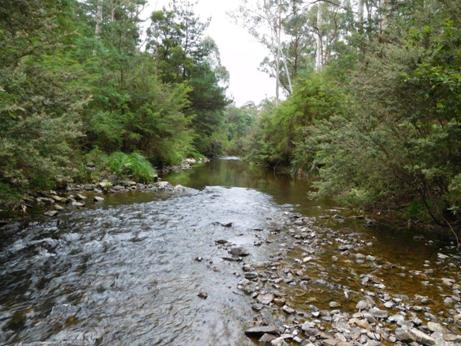 <![endif]>
The trout were rising here: fresh fish for supper!
After you leave the W12 the track crosses a minor stream (water) then zig zags upwards away from the river until it meets a 4WD track (the W18.2) which it follows for about a km, then it descends fairly steeply to the river once more. The track follows the river for the last kilometre or so and is mostly only 10-20 metres from it. You can be looking out for a spot along here to put up a small tent (even in the middle of the track would be fine); lots of spots. You can camp just before the Moondarra end of the track., just before the spillway viewing area (keep an eye out for it) , or near the bridge over the small stream about 200 metres from the W18 Track. The next good camp with water is about 3 hours further on…
<![if !vml]>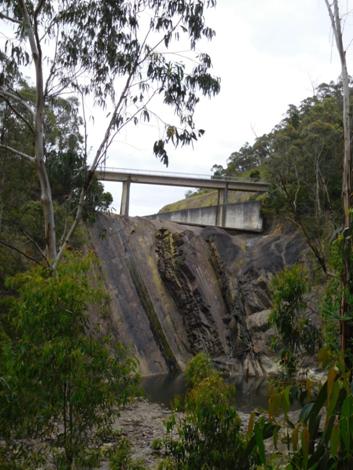 <![endif]>
Spillway from viewing area approx 300 metres from the end of this section.
<![if !vml]>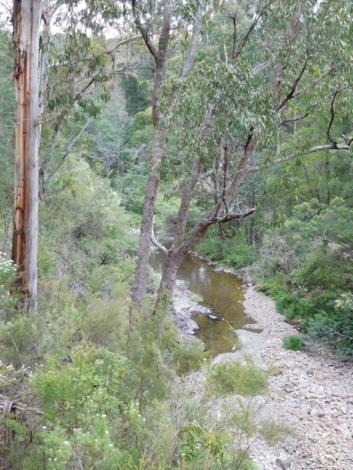 <![endif]>
View downstream from spillway.
When you come out onto the W18 track (which crosses the dam wall .5 km to your West – great views of the lake) you can also walk up to the gardens and recreation grounds a further 1 km beyond the dam viewing area where there is water and toilets and lot of mown grassy flats, as there is below the dam wall as well.
<![if !vml]>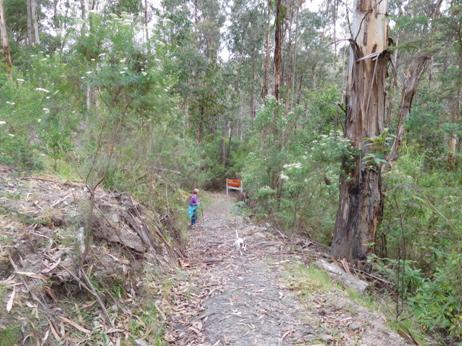 <![endif]>
Moondarra end of the track within site of the railing of the bridge across the spillway.
<![if !vml]>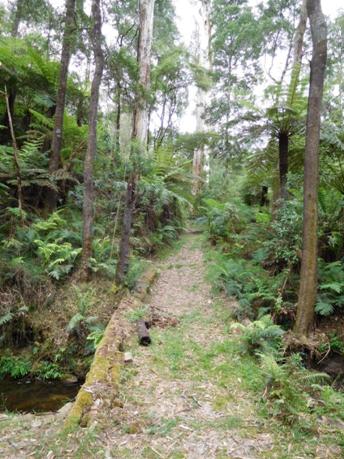 <![endif]>
This lovely stream: Last chance to camp.
The Vic map for this section is Moe North: T8121-1-N
See also: http://www.finnsheep.com/THE%20UPPER%20YARRA%20WALKING%20TRACK.htm
http://www.theultralighthiker.com/upper-yarra-track-update-section-one-moe-yallourn-rail-trail/
http://www.theultralighthiker.com/upper-yarra-track-update-section-two-yallourn-north-to-wirilda-park/
23/11/2015: Upper Yarra Track Update: Section Two: Yallourn North to Wirilda Park
(@15 km – 3.5-4 hours)
<![if !vml]>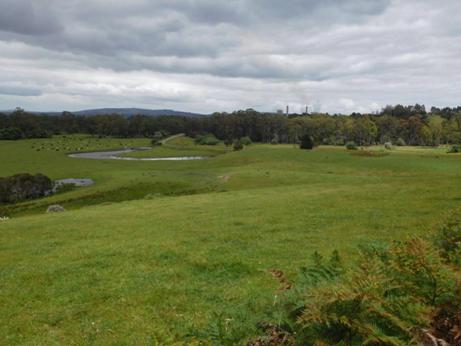 <![endif]>
Latrobe River flats; Yallourn Power Station beyond.
<![if !vml]>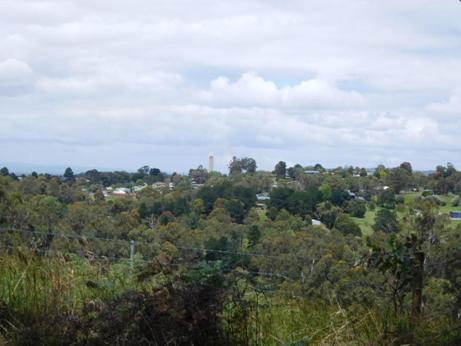 <![endif]>
Yallourn North nestled in its hills.
Latrobe Valley Bus Lines run regularly to Yallourn North and Tyers townships: http://ptv.vic.gov.au/route/view/8366 This can save you nearly a day's walk if you are pressed for time. Enquire if the bus will stop at Wirilda Park.
<![if !vml]>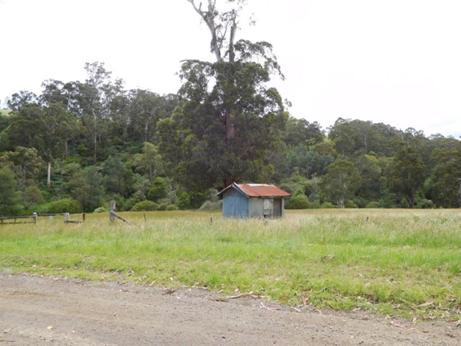 <![endif]>
Murray Rd
This section is easy going along quiet country lanes with lovely vistas and ample shady spots if you need a roadside rest to enjoy the view. You look out Southwards over the verdant Latrobe Valley towards the beautiful Strzelecki Ranges, a tongue of forest which extends all the way down to Wilsons Promontory.
<![if !vml]>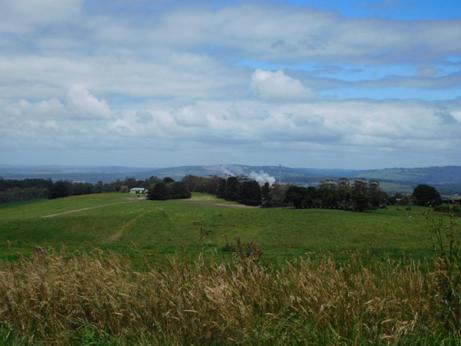 <![endif]>
Looking Back at Yallourn Power Station
<![if !vml]>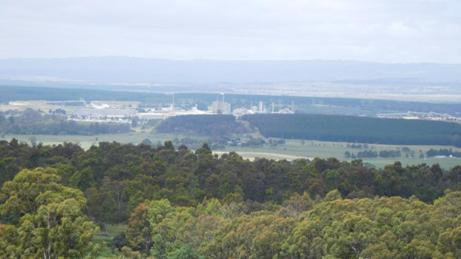 <![endif]>
Australian Paper refinery Maryvale; Strzelecki Ranges Beyond.
(There are also many great walks at Wilsons Prom http://parkweb.vic.gov.au/explore/parks/wilsons-promontory-national-park/things-to-do/southern-prom-overnight-hikes and just across the valley is the Grand Strzelecki Track with over 100 kms of trails: http://www.tourismwellington.com.au/balook-tarra-bulga/attractions/item/grand-strzelecki-walking-track .)
<![if !vml]>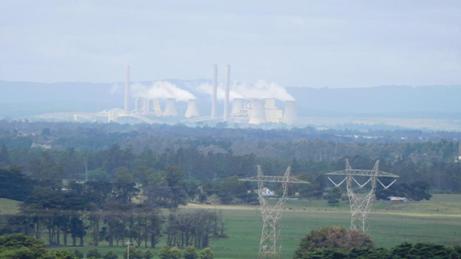 <![endif]>
Loy Yang Power station, Strzelecki Ranges Beyond
Once you leave the licenced Foodworks Supermarket, walk up the hill to your West (3/4km) and turn North down Baillie Street. Follow Baillie Street ¾ km till it joins Murray Rd. Turn East. Murray Rd become Saviges Rd.
<![if !vml]>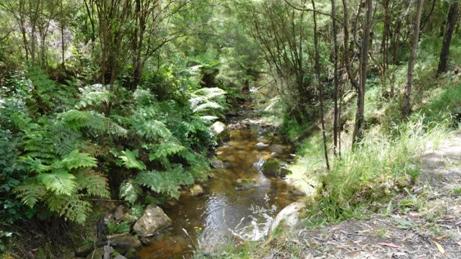 <![endif]>
Anderson Creek.
¾ km along Murray Rd you cross the very pretty Anderson Creek which is your last water for the next 12.5 km  (3 hours) except for numerous beautiful dams in farmer's paddocks (beware bulls if you need to jump a fence on a hot day!)
<![if !vml]>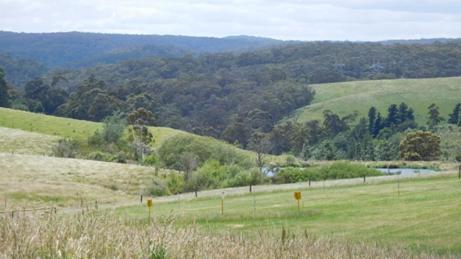 <![endif]>
When you reach Saviges Rd's intersection with Quarry Rd after 2.5 km, turn North and follow it (1.5 km) to Manuels Rd where you head East.
<![if !vml]>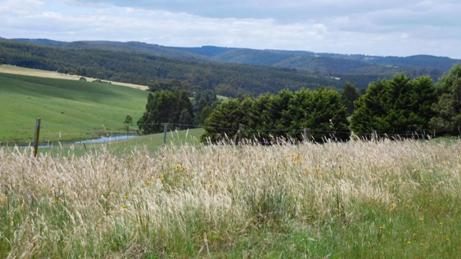 <![endif]>
Follow Manuels Rd (ignoring three turns to the North) to Barbour Rd (2.5 km) which (after 3.5 km) becomes Clarkes Rd. Follow this 1.75 km until you see the turn North to Wirilda Park just before you get to the Tyers River.
<![if !vml]>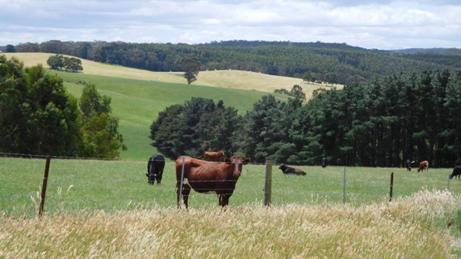 <![endif]>
From there it is about ¾ km to lovely shady flat campsites along the river near the weir (great swimming hole in hot weather). Toilets, seats and water available. The Wirilda Track begins here and is clearly signposted next to the Morwell Pumping Station building.
<![if !vml]>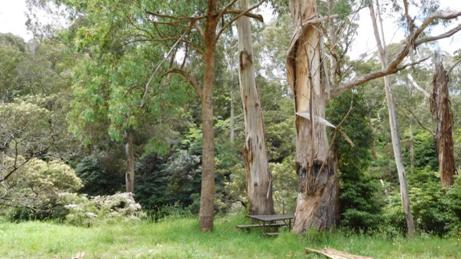 <![endif]>
Above & Below: Wirilda park - a lovely spot to camp.
<![if !vml]>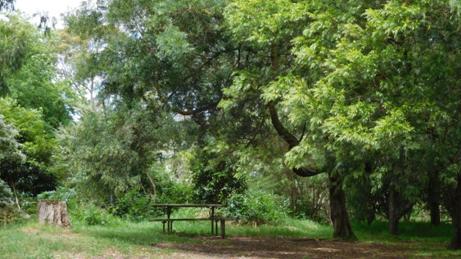 <![endif]>
You may happen to stay a few days at Wirilda: there are innumerable bush tracks and swimming holes to explore. The river abounds with trout, blackfish, spinyback crays (and unfortunately European carp) so a fishing licence is recommended.
<![if !vml]>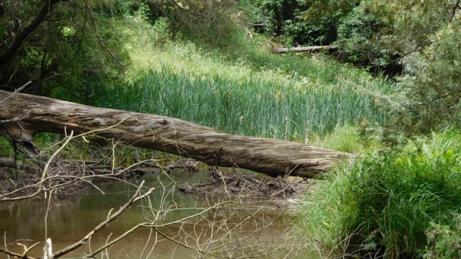 <![endif]>
Above & Below: Tyers River at Wirilda.
<![if !vml]>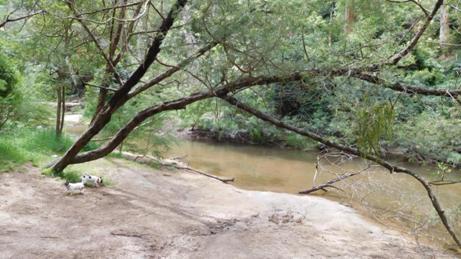 <![endif]>
It is 4.5 km walk East in to the township of Tyers along the main tar road (Brown Coalmine Rd on the map - follow the river downstream 3/4 km till you reach it). Tyers has toilets, water, a licenced general store with hot food and yummy cakes! You can replenish your supplies here. It is approx 1 ½ - 2 days to Erica where you can again purchase food, liquor etc in the main street. After Erica supplies (and liquor) can be bought at Rawson and Walhalla. The Rawson General Store is in the shopping centre in the main street. The hotel however is in the caravan park.  All the shops in Walhalla are in the main street. The Coopers Creek Hotel closed unfortunately in 2007. It was a great 'watering hole' between Erica and Walhalla on a hot day!
<![if !vml]>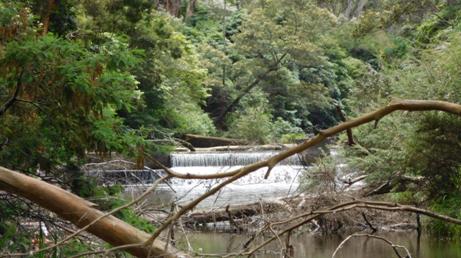 <![endif]>
Weir at Wirilda - a great swimming hole.
See also:
http://www.finnsheep.com/THE%20UPPER%20YARRA%20WALKING%20TRACK.htm
http://www.theultralighthiker.com/upper-yarra-track-update-section-one-moe-yallourn-rail-trail/
21/11/2015: He Hiked With a Falafel in His Hand: I already mentioned cooking falafel in the leftover fat from Chinese Sausages http://www.theultralighthiker.com/hiking-food-protein/ (the first for dinner, the second for breakfast), but you can carry a pack of falafel mix and approx 60 ml of eg olive oil in a small plastic bottle. A fry up will make about a dozen falafels from a 200 mg packet. . You could form the balls and place them on a tissue so that you would have your billy free to put them in as they came off the pan – or you could just place them in your mouth. You can manage to cook them with only your hiking spoon. You have to add 200ml of water to the dry mix at the start and leave it to stand for ten minutes. I have found you can just eat the prepared mix cold and uncooked too, but it is better cooked. The 200 grams of falafel mix is 1580 kj and the 60 ml of oil about 300 kj, making1880 kj or over 450 calories – quite an acceptable meal for a carry weight of 260 grams – and for an interesting change.
<![if !vml]>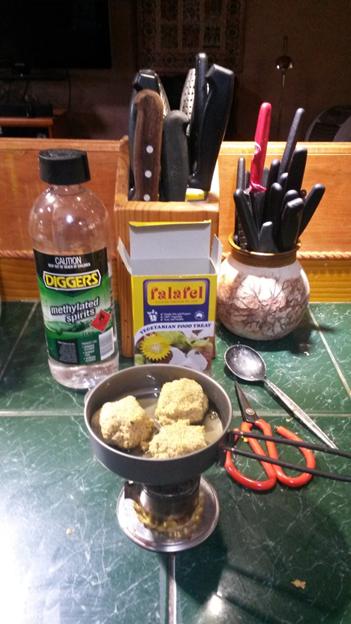 <![endif]>
Pictured Brasslite Turbo 1D Stove (47 grams) http://brasslite.com/ , Toaks Titanium 1100 ml pot lid – (156 grams pot+lid) https://www.traildesigns.com/
See also: http://www.theultralighthiker.com/?s=stove , http://www.theultralighthiker.com/alcohol-simmer-stoves/ & http://www.theultralighthiker.com/the-best-alcohol-stoves/
PS: For more like posts try a search (top right corner) for eg 'stove' as above, 'alcohol' 'food', etc…
20/11/2015: Ultralight Personal Hygiene: Some of these issues are a bit of a 'No No', but someone needs to bring them up. Personally I am particularly disgusted by folks who scatter personal hygiene products (and worse!) around in the bush. Please: bury, burn or carry out!
<![if !vml]>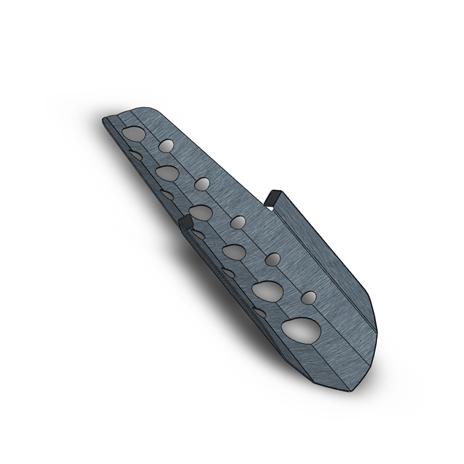 <![endif]>
Suluk Titanium Trowel = 15 grams.
BATHING: Another Sea to Summit product: an ultrasil camp shower which weighs about 120 grams (without its silly stuff sack), and gives a lovely shower with two billies of boiling water plus two of cold – obviously add the cold FIRST! http://www.seatosummit.com.au/products/leave-no-trace/pocket-shower/ Della usually favours a sponge bath from the billy – a strategy which weighs nearly nothing – and gives a quite satisfactory result. Of course a quick dip in an icy stream whilst very bracing will still get you quite adequately clean. Weight: 0 gram! For a neat way to hang your shower see this: http://www.theultralighthiker.com/bush-shower-mechanical-advantage/ this would also work well if you are hanging heavy game overnight & etc. We find these lightload towels great for drying off, as washable handkerchiefs, as sweat bands, etc: http://www.zpacks.com/accessories/towel.shtml Most hiking towels do not dry and cannot be squeezed out except the ones which feel a little like cardboard when dry.
TOILET rolls should be BANNED. I wonder really that our emerald agitators have not hit on this particular remedy for the woes of our troubled forests. Why, when we are hiking we manage to get by with (at most) 2-3 Kleenex tissues a day (Fold & fold & fold), which saves a lot on pack weight – and the handy purse-sized dispensers prevent the tissues from becoming saturated and unusable in the rain (which would happen to a toilet roll). But, think of the vast forests to be saved if everyone was FORCED to do this EVERY day. Why, we should never resile from the ability to use force on the citizenry – to make them better, of course!
I always carry a sachet of Kleenex anti-bacterial wipes too, though I have now reprised their weight http://www.theultralighthiker.com/dettol-hand-sanitising-wipes/ Just one of these will give a satisfactory APC (armpits & crutch) clean-up, eg after you have been to the toilet or at the end of the trail day (if you aren't going to bathe). Cleanliness in such areas may prevent some nasty (eg fungal) infections which will seriously slow you down.
I can usually manage to dig a hole with the heel of my boot, but this tool may be useful if the ground is hard (or for collecting fishing bait, etc): Ultralight titanium 'potty' trowels (15 grams): http://www.suluk46.com/products%20%20-%20P11%20Titanium%20Trowel.html  or http://gossamergear.com/deuce-of-spades.html at 17 grams. If you ever need to dig for water one of these might be a lifesaver. A sturdy metal tool would be preferable to a plastic pone which would not stand up to heavy use at need.
CHAFING: Prevent chafing by applying some moisturizer to the area each day before the day's hike. Likewise, heel balm all over the feet as an aid to preventing blisters or feet drying out and cracking. You can use a variety of strategies to prepare your feet in the couple of weeks leading up to a hike. Special attention to getting those toenails really short, & softening up the skin. Some recommend hardening the feet for a couple of weeks with alcohol. I have not tried this – seems like the wrong end to be putting the alcohol!
Microdripper bottles: http://gossamergear.com/mini-dropper-bottles.html These can be useful for storing small quantities (eg of wilderness wash, iodine, deodorant, insect repellent, etc – TIP: if you take the 'roller' off a roll-on, you will find it is a liquid which can be decanted into one of these). Drinking straws http://www.theultralighthiker.com/single-use-antibiotic-packs/ can also be made into useful containers.
For protection from insects and treatment of their bites, see: http://www.theultralighthiker.com/insects-can-ruin-a-camping-trip/ Leeches can be a problem too. Their bites can also be treated effectively with the antihistamine cream. For prevention of leech bites, make sure you tuck your trousers into your socks and your shirt into your trousers and wear long sleeves shirts in leech country. And keep an eye out for them. Some salt or a lighted cigarette will make them drop off. Spraying a surface spray such as Baygon is good for keeping them 'at bay' too. You might want to think about this for your whole tent footprint in heavily infested areas. Unlike ticks which usually brush off trees, leeches usually climb up from the ground, but can brush onto you in fern gullies, etc. A smaller quantity of surface spray for this purpose could be decanted into a small plastic atomiser bottle such as is used for perfume etc to save weight.
19/11/2015: The Baw Baw Frog: http://www.abc.net.au/news/2015-11-18/endangered-baw-baw-frog-to-be-celebrated-on-november-18/6951016?section=vic  
19/11/2015: Dual sim adapter for mobile phones http://www.magic-sim.com/ You can have a separate dedicated data account to your call account, or services with two different carriers for approx $37. Or have two sims active at the same time with this $84 device: http://www.magic-sim.com/product/id/44/GoodTalk_DUAL_SIM_DEVICE_-_2_SIMS_ACTIVE_AT_THE_SAME_TIME!.html Add one of these to this: http://www.theultralighthiker.com/cheapest-mobile-phone- <![if !vml]>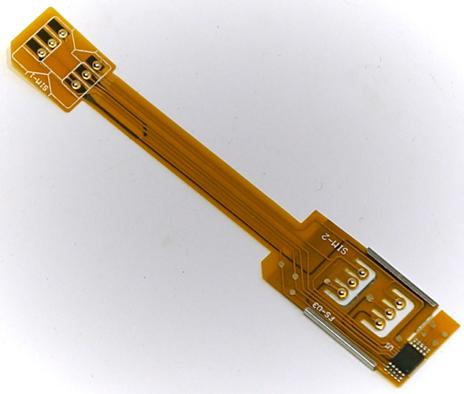 <![endif]>
18/11/2015: Why have a mobile phone plan when you can have a telephone number (with lots of calls for $5/month via Voip and can buy data for as little as $50/year for 5Gb? Add: Acrobits Softphone App (Play Store = $6.99); Plus: eg https://www.pennytel.com.au/personal-voip/plans/talk-till-you-drop $5/month includes DID phone number; Plus:https://www.telstra.com.au/tablets/prepaid-for-tablets $50/year for 5Gb. $140 for two years for 16Gb; Sim starter kit $2. All up less than $10/month. Compare that to your present plan! And did you know you could have a Telstra pre-paid mobile service for $70 per year? https://www.telstra.com.au/mobile-phones/prepaid-mobiles/offers-and-rates
<![if !vml]>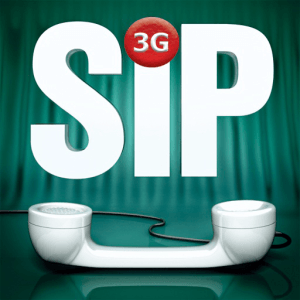 <![endif]>
18/11/2015: Upper Yarra Track Update:
<![if !vml]>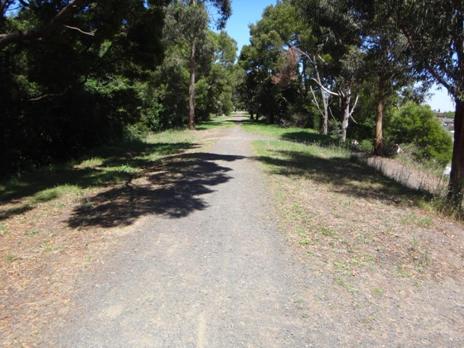 <![endif]>
The trail begins...
Section One: Moe-Yallourn Rail Trail:
The Vicmap for this section is Moe South: T8121-1-S
<![if !vml]>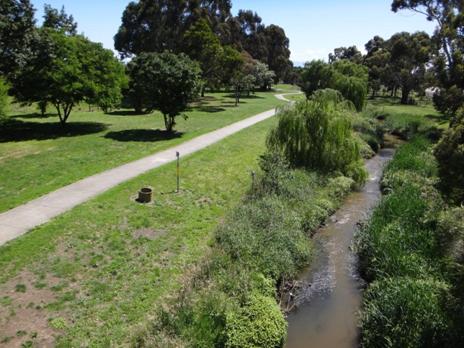 <![endif]>
This lovely @ 8km (2 hour) trail starts @ 200 metres East of Moe Railway Station (just past the two railway bridges you can see from the station) at the corner of Narracan Drive & Bennett St.
<![if !vml]>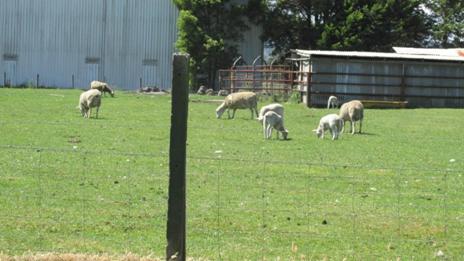 <![endif]>
Wiltshire Horn ewes and lambs no more than 200 metres from Moe Railway Station.
Within 100 metres you are in another world. On the right are the beautiful Moe Botanic Gardens; on the left a small paddock full of sheep – which is extraordinary.
<![if !vml]>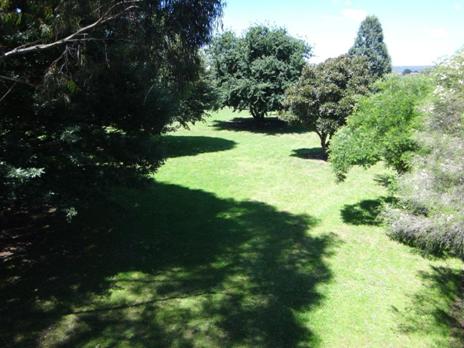 <![endif]>
Moe is a large country town (pop 15,000) a little over 1 hour by train with services approx hourly. You will be able to see a large Woolworths Supermarket on your left as you come up to the railway bridges. The shopping centre has at least one other supermarket and many other shops. The Botanic Gardens nestled along pretty Narracan Creek are worthy of a little exploration before you head off towards Walhalla. Then, on to the rail trail.
<![if !vml]>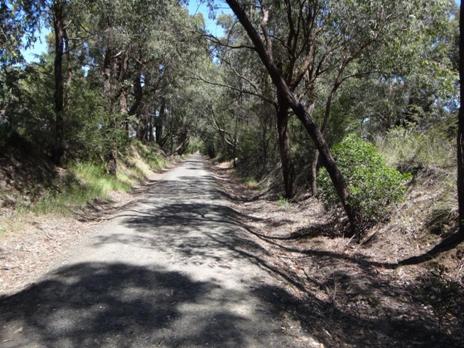 <![endif]>
<![if !vml]>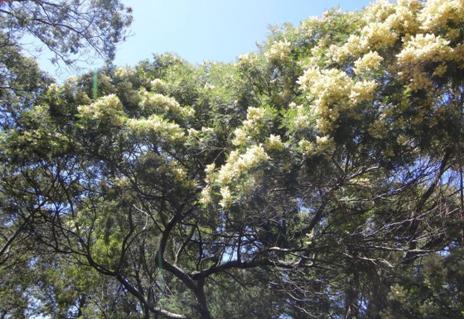 <![endif]>
Being an old railway line it is obviously dead flat all the way to the Yallourn Power Station on the beautiful Latrobe River. So very easy, pleasant walking. Two retirees can (& did) easily make it to Yallourn North in 2 ½ hours.
<![if !vml]>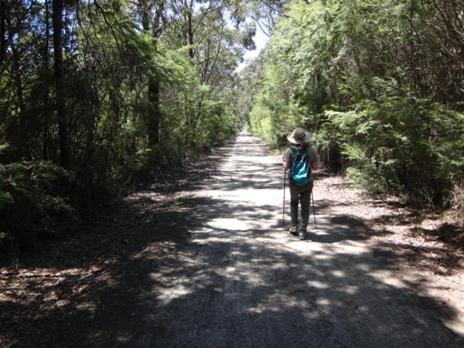 <![endif]>
Obviously there are toilets and water at the Railway Station before you set out, again in Sullivans Rd halfway to Yallourn PS (signposted), then at the picnic area behind it (signposted on the Yallourn North Rd Bridge crossing), and finally in the main street of Yallourn North.
<![if !vml]>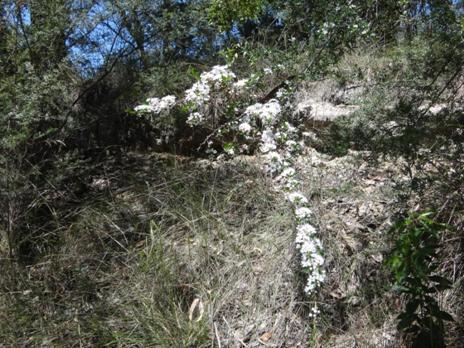 <![endif]>
<![if !vml]>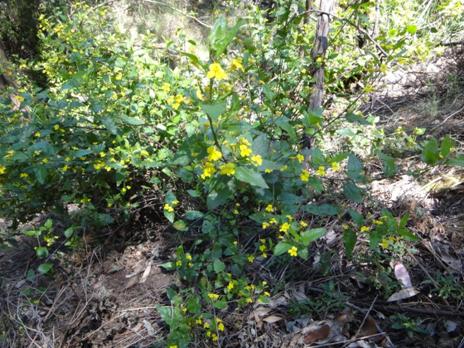 <![endif]>
<![if !vml]>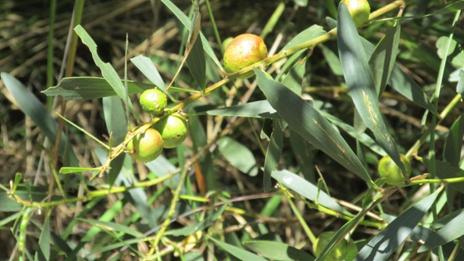 <![endif]>
The sights are varied. Surprisingly for almost the entire length of the walk to the power station you are enclosed in a curtain of native vegetation (of varying width) with abundant wildlife (birdlife especially). There are always some beautiful wildflowers in bloom.
<![if !vml]>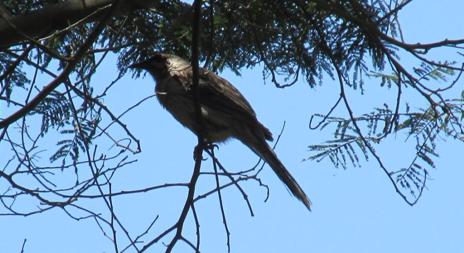 <![endif]>
Wattle Bird
<![if !vml]>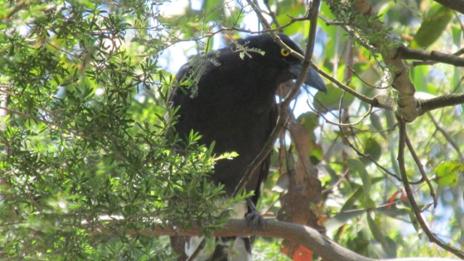 <![endif]>
Currawong
<![if !vml]>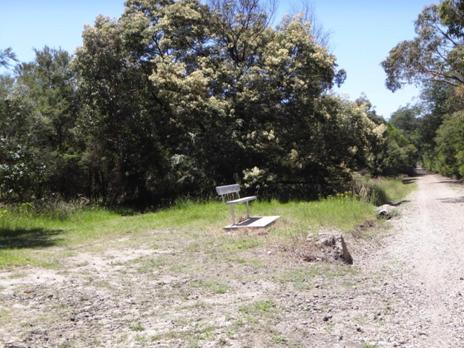 <![endif]>
The concrete foundations of the old railway telegraph poles make excellent seats every 50 metres or so. Just great for a picnic lunch – perhaps a sandwich and a glass of wine bought back before leaving Moe. Here and there park benches are thoughtfully provided as well. The track has distance markers (which can be used as references for making emergency calls). Telstra NextG works fine the full length of this section.
<![if !vml]>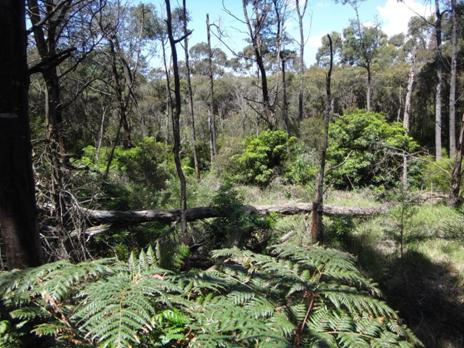 <![endif]>
In places the trail is fringed with forest.
<![if !vml]>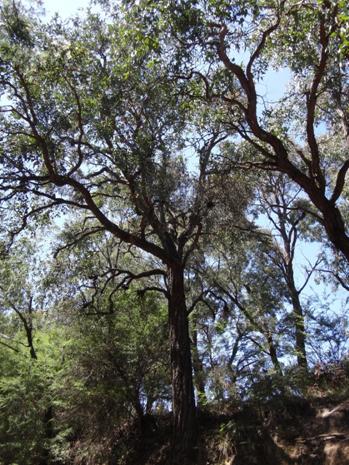 <![endif]>
Often there are glimpses of distant paddocks or beautiful Lake Narracan.
<![if !vml]>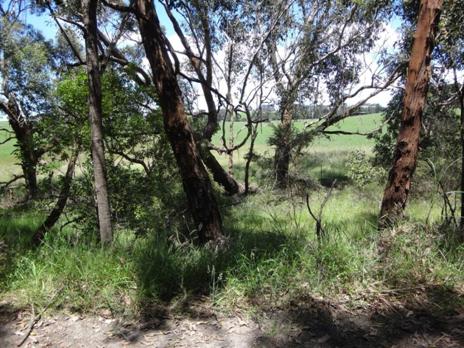 <![endif]>
I see no reason you could not camp along the sides of the track (there are little flat spots here and there a tent could be erected), or along the banks of the Latrobe or in Sir John Monash Reserve. You would have to carry any water needed to them.
<![if !vml]>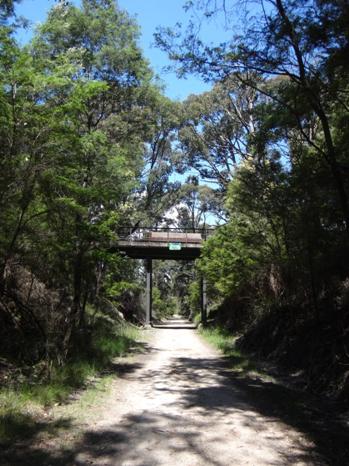 <![endif]>
After Petits Lane (above) there is the opportunity to divert to the left and walk along the banks of the Latrobe River to Sir John Monash Reserve opposite the awesomely beautiful cooling towers.
<![if !vml]>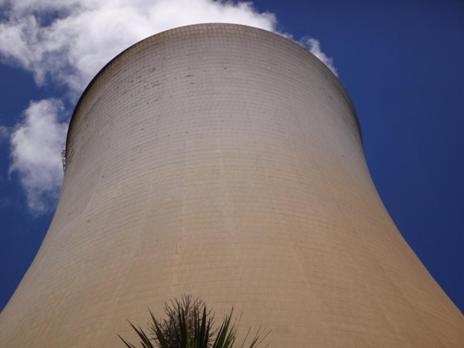 <![endif]>
The cooling towers are great works of art.
The diversion is worth it, what you are seeing is the lower reaches of Lake Narracan sometimes glimpsed earlier through the trees to the North, but it is also worth backtracking along the 'proper' route when you get there a bit and viewing the wonderful towers through the frame of the underneath of the Yallourn North Road Bridge.
<![if !vml]>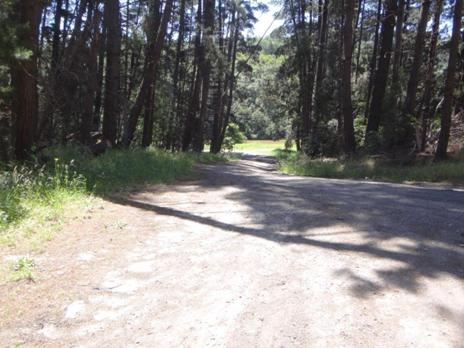 <![endif]>
Sir John Monash Reserve
From the ancient pines of Sir John Monash Reserve you can continue along 3-400 metres of riverbank track to the Latrobe River bridge. Thence it is an easy 2 km on grassy verges till you come into the township of Yalourn North (Reserve Rd on your left). The town has a café (pm), a small Foodworks supermarket (open every day from @8-9am till 7pm) visible at the end of the street, and a hotel with counter meals about 100 metres up the hill past the supermarket.
Next stop: Wirilda Wildlife Park at the delightful Tyers River Weir…
Announcing The Upper Yarra Cycling Track: Watch this space. As I noticed you could cycle the Moe-Yallourn Rail Trail, the idea also occurred to me that I could complement the Upper Yarra Walking Track with a cycling route which would share much of its route - except perhaps the Wirilda Track and the path along the Baw Baw Plateau and along the Ada and Little Ada valleys. I will give this some more thought, and will indicate it on the maps I will prepare shortly (I promise!) It will be able to share the same camping sites and water points, for example, but would take only 3-4 lovely days, I imagine – or one for the super-fit, I have no doubt!
I will also be doing a post soon about public transport to the track. For example, there is a regular weekday bus service to Noojee (about halfway), http://www.warragulbuslines.com.au/Timetables.htm#4 and obviously there are almost hourly trains/trams to Moe, Warburton and Lilydale. Mountain Top Experience provides a bus service from (eg Moe) to eg Walhalla/Mushroom Rocks Car Park etc, for those who might wish to shorten the trip a bit: http://www.mountaintopexperience.com/tours/
17/11/2015: How to make a Sling: What a useful instructable: http://www.instructables.com/id/how-to-make-a-sling/ A little more information on 'How To Use a Sling' (Numerous Youtubes available) and I would be on my way, but I will certainly give it a go! Should only weigh a few grams (and like a fishing line) could provide some useful protein (and a change of diet) on the trail: plenty of bunnies, birdies and beasties small enough to be tackled with a well-thrown stone. Do NOT try this with BEARS! See also: http://slinging.org/index.php?page=how-to-build-and-use-a-traditional-apache-sling---l-w-forsyth & etc…
<![if !vml]>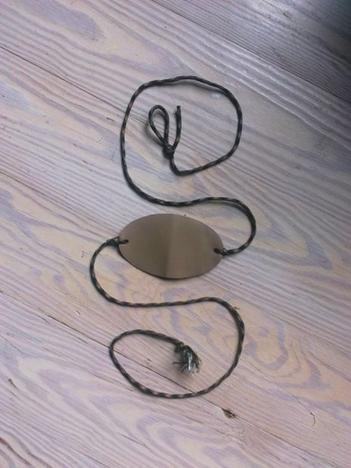 <![endif]>
16/11/2015: Boojums: I mostly think there ARE no ghosts, aliens, bigfeet, nessies, pixies, fairies, dragons, panthers, bunyips etc because now that everyone has a camera on their phone, still nonetheless no-one has a photo of one. Howsomever, I spent a good hour trying to get a good snap of one of these little fellas in the graden (I often see them). They just about glow like neon actually and are around an inch long. I came inside with dozens of snaps taken no more then 6" away from this lovely lady, yet every time she had managed to hide. Obviously gremlins, trolls, firebraces etc are even more camera-shy. PS: I was surprised to learn that they were actually wasps and dined exclusively on mole crickets, which is no doubt why one often finds the latter scurrying along the verandah, fleeing them no doubt. I had always thought them ants. I CAN be wrong, you see!
https://en.wikipedia.org/wiki/Blue_ant
<![if !vml]>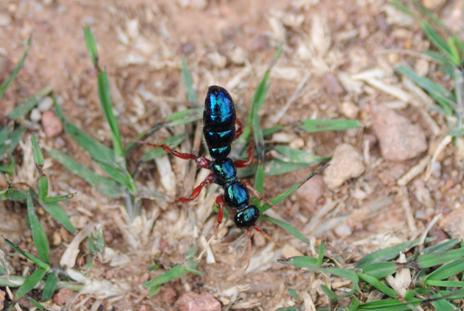 <![endif]>
Bluebottle
15/11/2015: Bananas, Australian Pygmies etc: Hundreds of these guys were measured at 4'6"-5' (men) and 6"-1' less (women) which IS tiny. You can clearly see that they were a negroid people not unlike the African pygmies with their short, curly hair, and quite unlike the 'typical aboriginal' found most other places on the mainland. Truganini (Tasmanians generally) had similar hair and shorter stature too. This is quite a remarkable revelation, as I said in my earlier post (8/11), and their stature was suggested by the size of the banana leaves. Bananas? Aren't they introduced? Not so. They originated in New Guinea and Cape York. On the high plateau which stretches for 150 km along the Cape, and is 1.5 km high, there probably are many cool season types of wild bananas which might be attractive additions to our southern gardens. This plateau contains vast cloud forests, home to over 50% of many Australian birds, reptiles, amphibians etc. A 'must-see' for me. I will be going back, perhaps next winter. Back to the pygmies: the folks in this photo appear to diplay an interesting fat build-up on their tummies (probably also on their derrieres – a feature also of the African pygmies). Such a pity that they were 'allowed' to die out, (or were 'bred out'), interestingly enough not as a result of 'European Australia's' policies, but rather 'black Australia's'! There you go! https://quadrant.org.au/opinion/history-wars/2002/06/the-extinction-of-the-australian-pygmies/
<![if !vml]>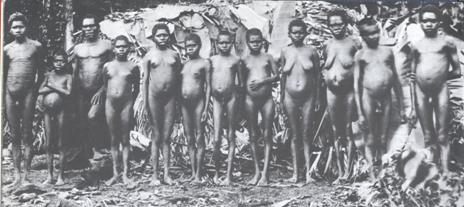 <![endif]>
Aboriginal encampment in rainforest behind Cairns, 1890. This is the photograph (attributed to A. Atkinson) found by Norman Tindale in 1938, which sent him and Joseph Birdsell in search of the people depicted. He identified the location by the wild banana leaves on the roof.
15/11/2015: Instant Archways: I just love star posts, cable ties and weldmesh. There are so many things you can do with them. These arches are soon going to be festooned with pumpkins and melons.
<![if !vml]>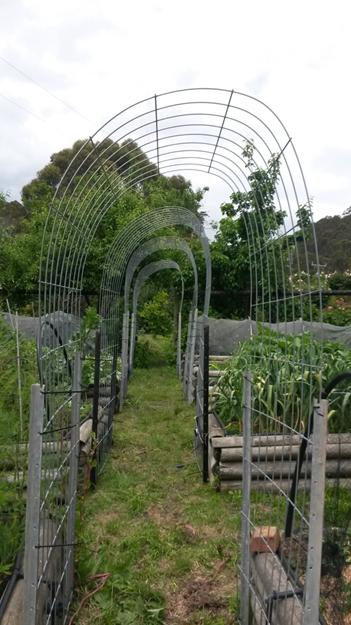 <![endif]>
Meanwhile, we have our first zucchinis already, started in the $60 Mitre 10 greenhouse:
<![if !vml]>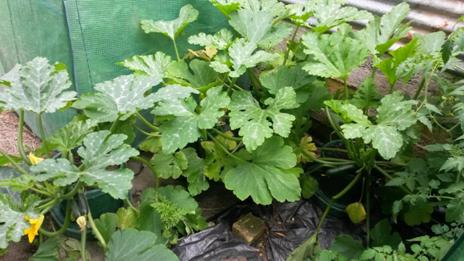 <![endif]>
These tomatoes though, seem to have gotten away from me somewhat!
<![if !vml]>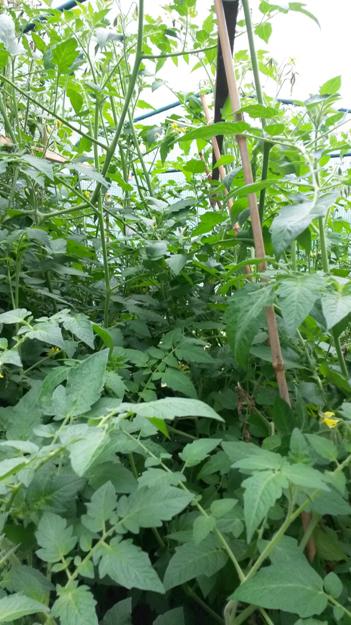 <![endif]>
14/11/2015: Emergency, Dial: 112. This is good advice. You will connect through whatever carrier is available, even if your own is not. You will also bump others users off the cell as emergency numbers have priority. So you will be much more likely to get through. You will NOT get through if there is no coverage though. For this you need a satellite phone, a UHF radio or an epirb. http://www.theultralighthiker.com/emergency-cb-radios/ See Snopes: 'Calling 112 on your cell phone will (in some parts of the world, primarily Europe) connect you to local emergency services, even if you are outside your provider's service area (i.e., even if you are not authorized to relay signals through the cell tower that handles your call), and many cell phones allow the user to place 112 calls even if the phone lacks a SIM card or its keypad is locked. However, the 112 number does not have (as is sometimes claimed) special properties that enable callers to use it in areas where all cellular signals are blocked (or otherwise unavailable).' http://www.snopes.com/inboxer/household/cellphones.asp You may be able to extend battery life as an an option available on some brands of cell phone (such as Nokia) for Half Rate Codec, which provides about 30% more talk time on a battery charge at the expense of lower sound quality. This option is enabled by pressing the sequence *#4720#. A far better plan to conserve battery life is to put your phone on Flight Mode, or switch it off! It will last for MANY days.
<![if !vml]>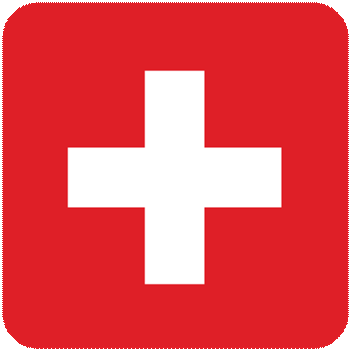 <![endif]>
13/11/2015: If this man's incredible voyage proves true, he will have smashed the records of those other great survivors: Poon Lim, Louis Zamperini ('Unbroken'), the USS 'Indianapolis' (http://www.ussindianapolis.org/story.htm) etc: http://www.news.com.au/lifestyle/real-life/jose-salvador-alvarenga-recounts-438-days-drifting-at-sea-and-the-day-he-was-saved/story-fnq2o7dd-1227606015987 See also: http://listverse.com/2012/02/16/top-10-sea-survivors/
13/11/2015: Cyclone Chair: https://www.bigagnes.com/Products/Detail/Accessory/CycloneSLChairKit I thought I had posted about this wonder long ago, but apparently not. I always carry one of these. You can make a comfy chair with it out of just about any pad. (I use the Thermarest Neoair X-lite Womens myself). The specs say it weighs 180 grams but I'm sure mine is about 15 grams less than that. It helps to give structure to a frameless pack such as Gossamer Gear's G4 (along with an Airbeam pad http://www.theultralighthiker.com/klymit-air-beam-inflatable-pack-frame-update/), it provides a dry seat which supports your (tired) back at the end of a long day and gets you 5-6" off the ground. I have spent many hours sitting on mine eg in front of a cheery fire in my Tyvek shelter: http://www.theultralighthiker.com/tyvek-solo-fire-shelter/
<![if !vml]>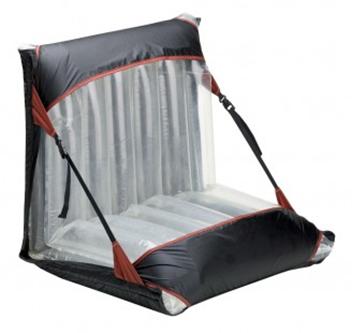 <![endif]>
12/11/2015: Thrilling Tales: Lewis & Clark, A Film by Ken Burns 1997. About the first crossing of the American continent (by Europeans) in 1804-6. We have spent the last two nights simply mesmerised by this amazing documentary. Ken Burns is always such a treat! The scenery and photography were superb. It has hard to credit that there are/remain places of such astounding beauty in the world/America. That is aside from the gripping tale of achievement and heroism incredibly well told by compelling narrators/commentators. If you love the wilderness, do acquire a copy of it; I'm sure you will find it as much a treat as we did. It can be downloaded here: https://kat.cr/pbs-lewis-and-clark-a-film-by-ken-burns-1997-1x1-720p-mvgroup-t7654424.html & https://kat.cr/pbs-lewis-and-clark-a-film-by-ken-burns-1997-2of2-720p-x264-aac-t7662036.html Other lessons from the film: early on in their journey (within the first month), Lewis had cause to have a small number of the party (which numbered three dozen men including one African American, and later one woman!) punished by lashing. One man, guilty of a capital crime (lying down and falling asleep on watch ie endangering the lives of the entire expedition) lashed 100 times! No other punishments were needed throughout the ensuing three years. Indeed the group was enormously cohesive and successful. Only one died (a victim of a disease which could not be treated in Washington either). Many (like the famous John Colter – the first 'mountain man') returned to the wilderness afterwards. Today we expend huge funds and manpower on the 'justice system' without any such positive results. See also: http://www.theultralighthiker.com/john-colter/ & http://www.theultralighthiker.com/the-far-horizons-1955/
<![if !vml]>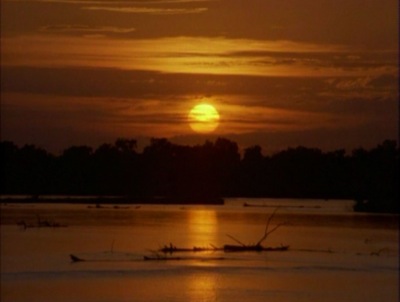 <![endif]>
11/11/2015: Emergency CB Radios: Lots of folk carry an Epirb. Some (like me) carry a Satellite Phone. Big bucks, but when your life/safety are the issue…If you are on a budget you might consider a Dual-band CB radio such as the Baofeng which can be bought for less than A$50 including a battery pack, which takes 6 x AAs – in addition to its lithium battery (or you might power/charge it with something else you already carry). Around 200 grams, I know but you get (receive only) FM radio (For weather forecasts etc), a UHF radio with duplex which can access the Channel 5 emergency frequency (you can be pretty sure someone will be listening anywhere in Victoria at least - http://uhfcb.com.au/40-Channel-UHF-Infomation.php), and HF (ham radio) as well (for which you should have a licence) but which propagates wonderfully from more remote locations. It would be a good tool also for keeping in touch with other users on the trail. You can also buy a higher gain antenna for a few dollars more. A car kit is also available. Available for example: http://www.amazon.com/BaoFeng-UV-5R-Dual-Radio-Black/dp/B007H4VT7A or http://www.ebay.com/itm/BAOFENG-UV-5R-CTCSS-Dual-Band-Radio-Walkie-Talkies-Original-AA-Battery-Case-pack-/391219854780?hash=item5b16853dbc (NB: I have been advised that this radio might not be Australian compliant, so it is your risk to use (many do). I use a (legal) GME (the last Australian produced radio) which handles the 40 legal Australian UHF channels (includes duplex), but costs a lot more.)
<![if !vml]>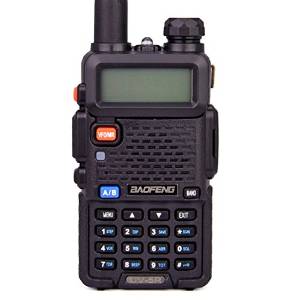 <![endif]>
10/11/2015: Perennial Vegetables: You could buy the book, or use his lists and Wikipedia as a guide. Some interesting suggestions here. We are always thinking about adding new useful plants to our farm/garden. The American Groundnut (Apios Americana) is a case in point (with yields of 30 tonnes/hectare growing as a weed! As is Udo (Aralia cordata). It is easy to see how one can add 100 perennial vegetables to the garden, and at least that many unusual fruits:  http://perennialvegetables.org/  Udo can grow to 9' - seen here growing in Scotland.
<![if !vml]>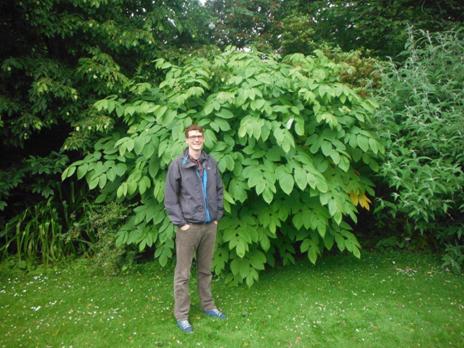 <![endif]>
10/11/2015: Interesting wet weather fire starter: Permanganate and Glycerine http://survive-prepare.com/2013/01/04/hyper-golic-fire/
<![if !vml]>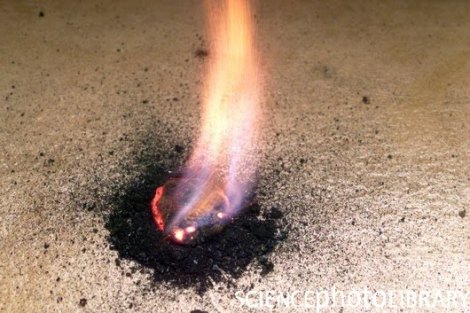 <![endif]>
09/11/2015: Handy DIY Greenhouse: https://thinmac.wordpress.com/2008/11/06/hello-world/
<![if !vml]>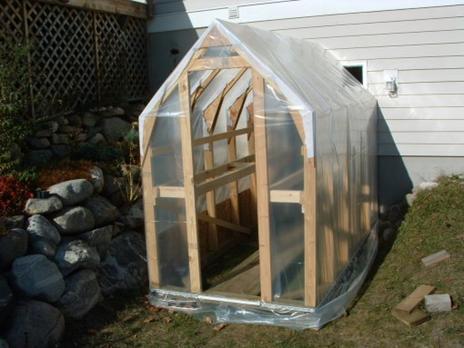 <![endif]>
09/11/2015: What a useful article: http://preppingfortheworst.blogspot.com/2012/10/personal-defense-how-to-make-stun-gun.html
<![if !vml]>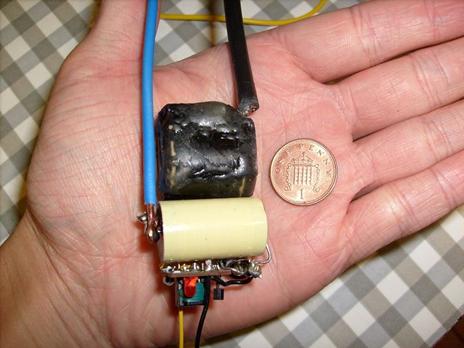 <![endif]>
08/11/2015: If your caravan won't quite make it there, you can bring it with you: http://www.rvshadeandcovers.com.au/
<![if !vml]>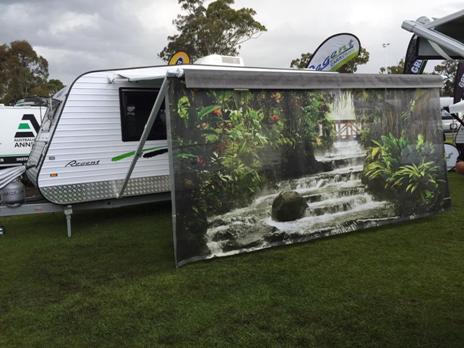 <![endif]> 
08/11/2015: Dettol Hand Sanitising Wipes vs Kleenex Anti-Bacterial Wipes: Dettol are 20cmx15cm. Kleenex are 20cm x 13.9cm. Dettol come in a 10 pack = 48 grams (4.8 grams/wipe) ; Kleenex in a 15 pack = 79 grams (5.2 grams/wipe). The pack is more compact too. If you are only going to use say 2 wipes/day, you save 39 grams in your pack for a five day trip. It all adds up! This is about a muesli bar's worth of food. Ten savings like this and you have an extra day's food! Update: Woolworths Select Brand 15 pack = 61 grams (somewhat smaller 4.06 grams/wipe) in a very compact pack may also  be worth consideration.
<![if !vml]>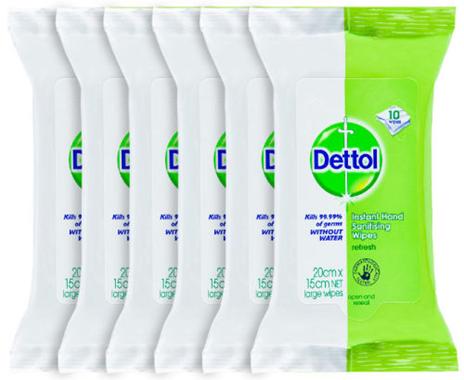 <![endif]>
07/11/2015: Thomson River Canoe Trip: Here (as promised: http://www.theultralighthiker.com/canoeing-the-thomson-river-gippsland-victoria/) is the video I shot of Steve Cleaver and I canoeing the Thomson River Gippsland Victoria Australia circa 2006. What a great trip! Click to open and play. Got to Youtube for full screen. This is the raw, unedited footage and soundtrack just as I shot it. These are 12′ Nylex 'Pioneer' Canadian canoes which Della has made some press-studded covers for supported by 3/8″ fibreglass electric fence posts. They have worked quite well enough for thirty years now! See also: http://www.theultralighthiker.com/canoeing-the-thomson-river-gippsland-victoria/
<![if !vml]>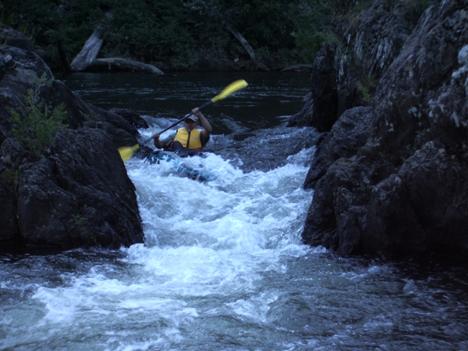 <![endif]>
Gorge: Steve Cleaver
06/11/2015: How to treat a Gunshot Wound: I found this article (and its forerunner) very helpful. It certainly had me downloading a First Aid App for one thing (https://play.google.com/store/apps/details?id=com.cube.gdpc.aus) and reassessing my First Aid kit…PLEASE NOTE that this article contains graphic and disturbing images: http://guncarrier.com/how-to-treat-a-gunshot-wound-2/ Such an injury (which can cause catastrophic blood loss) need not be caused by weapons, whether accidentally discharged or not. One can imagine similar horrid events being precipitated by car accidents, chainsaws, agricultural and DIY machinery, etc. Being able to stabilise the catastrophic blood loss, deal with ruptured organs, and most important call for assistance is so important. This is when a satellite phone, epirb, UHF radio or external antennae for your mobile is so important, but two-way communication will more likely save a life as compared the passive epirb: http://www.theultralighthiker.com/mobile-phone-antennae/
<![if !vml]>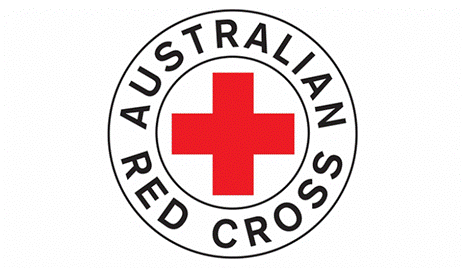 <![endif]> 
05/11/2015: Canoeing the Thomson River, Gippsland, Victoria:
<![if !vml]>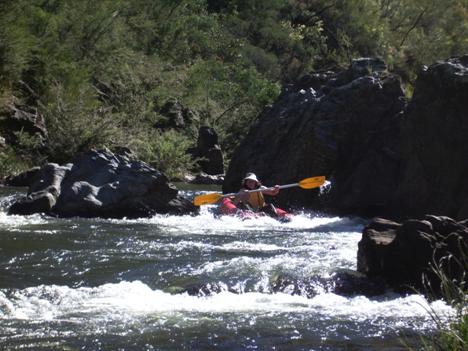 <![endif]>
Mini Gorge: Della Jones
I have canoed this wonderful river so many times over more than thirty years, from the Thomson Dam to Cowwarr Weir. Much of the water in the section from the dam to the Walhalla Rd Bridge was stolen by Melbourne Water nearly twenty years ago, so it is rare nowadays to be able to canoe it – and if you find enough water you will likely find it rather choked with logs. You can put in at the Narrows Gauge if you just want a short trip on a hot day; this also avoids the chute and 3 metre waterfall immediately below the Low Saddle Track which many find somewhat intimidating. I have seen others come to grief there. One would certainly have died had I not been there. And I dropped and spilled my beer when rescuing him. Damn it! I doubt his life was worth one cold beer. Is anyone's? It is about five hours from the dam, about two from the Narrows Gauge. Best height this section is above .5 metres at the Narrows Gauge. From the Walhalla Rd Bridge to Coopers Creek the river diverts through a tunnel so there is a long portage - meaning most folks avoid this section.
<![if !vml]>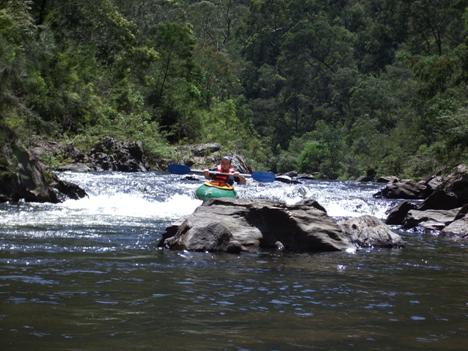 <![endif]>
Fun below the Gorge, Bryn Jones
The best section today is a two day trip from Bruntons Bridge to Cowwarr Weir. You can convert this into a very leisurely three day trip in hot weather by putting in at Coopers Creek, which adds about three hours to the trip. When the water level is high, ie .3-.5 metres as measured at the Coopers Creek Gauge - See: http://www.bom.gov.au/cgi-bin/wrap_fwo.pl?IDV60154.html) it can be canoed in a very hectic single day if you start very early. Typical water levels are more likely .2-.25 metres at Coopers Creek which makes it almost impossible to complete the trip in a single day. Most canoe books recommend a minimum height of .3 metres, but if you waited for that you would likely never canoe the river in the warmer months. I have come down it at a gauge height of .18 metres which required me to drag my boat across about a dozen pebble races, but still a lovely trip and great fun. The river can be quite dangerous over .5 metres. I know intrepid paddlers who would wait until it was .8 or even 1 metre, but it would not be me – or you either, if you want to live through it!
<![if !vml]>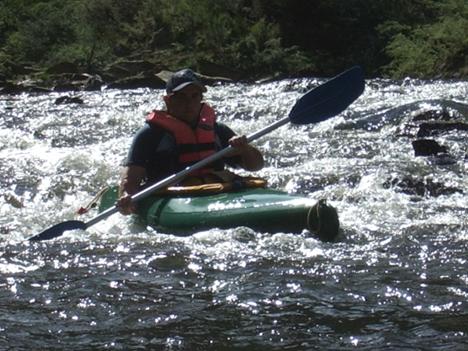 <![endif]>
Lovely water: Bryn Jones
The best thing about the two canoeable sections above Bruntons Bridge (for me) was that I could canoe them alone just using a mountain bike to get back to my canoe at the beginning of the trip – and I often did, back in the 80s and early 90s. Beautiful bike rides and a few hours of great canoeing. The section below Bruntons really needs a motorbike as well as a car (if you are going to canoe it alone) as it is quite a long ride from Cowwarr to Bruntons.
<![if !vml]>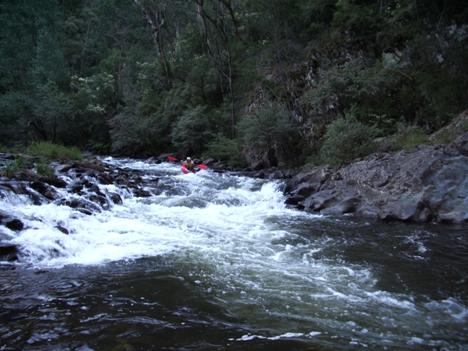 <![endif]>
Lots of Grade 2 rapids
Above Bruntons Bridge the river is darker, shadier – and there are many more leeches! Below Bruntons it opens out a lot. It is warmer and sunnier with plenty of opportunities for swimming. In warm weather you can spend many lazy days slowly descending the river which otherwise takes about two 6-7 hour days. You can troll a lure many places and catch a feed of fresh trout for tea every night which taste delicious roasted in some Alfoil in the hot coals with some potatoes. Don't forget some butter, salt and lemon. Trolling works much better at about .3 metres height as you will snag a lot when it is shallower, but lures are cheap – and can be made from ring-pulls & etc. Otherwise you can bait or fly fish when you camp – or go for a swim with a hand spear. There are seldom many policemen about! There are however many large freshwater crays!
<![if !vml]>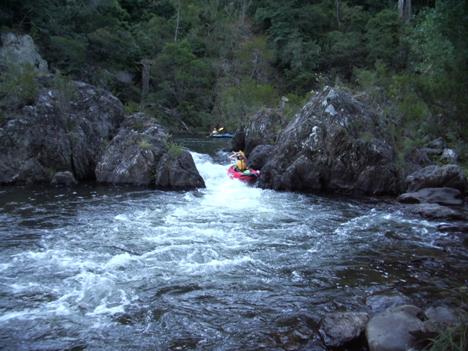 <![endif]>
Marble Quarry Chute
<![if !vml]>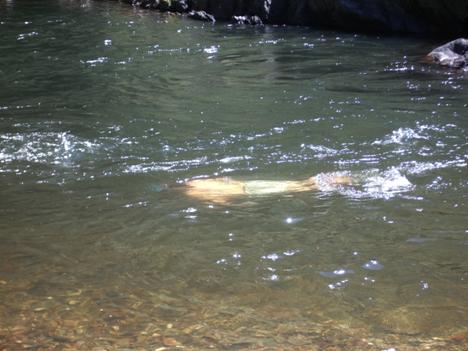 <![endif]>
Bryn Jones Swimming
There are many spots along the way you can camp, particularly below the Gorge. Be warned, however: there is about a week in summer when they let out a heap of water from the dam as an 'environmental flow'. This can put the height up overnight eg from .25 metres to .5 metres, so be sure your camp is a bit higher than this and that your canoes are dragged up well clear of the water – otherwise you may be in for a nasty shock. I have asked those in authority to post this as a warning on the BOM River Heights Page, but as is usual with public servants, no-one is responsible, or willing to do any work! Pretty much the only spot you cannot camp is at the 'designated camp spot just below the end of the T9 track which became overgrown twenty years ago! There is a small spot just upstream of there. There is another spot just before the Gorge. You cannot camp in the Gorge. You can walk out up the T9 track from the camp I mentioned: there is a large tree on the right bank with the number 20 painted on it at the 'designated camp site'.  (It is only 100 metes to the T9 track) and a much easier walk than the 'designated escape route' up onto the Marble Quarry Track, a very steep climb of about a km.
<![if !vml]>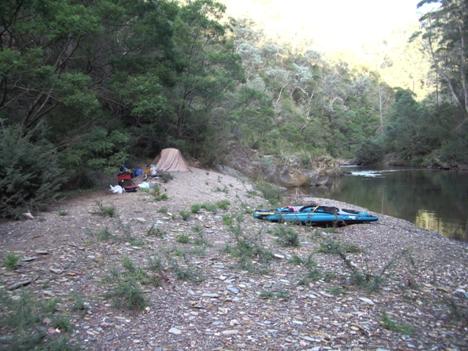 <![endif]>
Camp at T9 Track
You can put in for a day trip too at the end of the T9 track, now officially closed – but who cares? I had a walking track extending upstream and down from its end but it is no doubt overgrown somewhat now. Feel free to clear it again though. You need a (good) 4WD for the last approx 1 km on the T9 and there is very limited room to perform a six-point turn. Be warned. It is a good place to put in for a day's pack rafting though, as you can easily walk down. Another good spot to put in for a day trip (before the fire) used to be off the end of the Mitchell Creek No X Track where a walking track to a campsite by the river used to exist, a spot I have always called 'The Poplars' as will be obvious to you when you get there. It would be nice to restore this too! You can also enjoy a day's packrafting by accessing the river from the T6 track off the Stony Creek Rd.
<![if !vml]>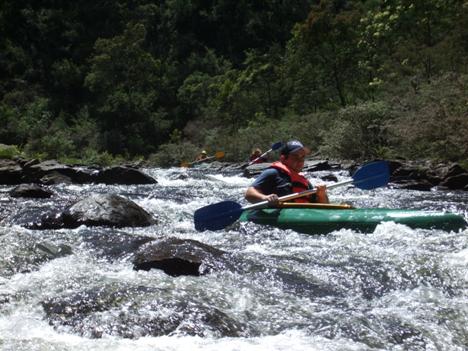 <![endif]>
Bryn Jones
From the weir to Marble Quarry Track there are many entertaining Grade 2 rapids which may be somewhat more difficult to negotiate at lower water levels. After Marble Quarry there is a minor gorge section which is very pretty. The first chute rapid after Marble Quarry has a boulder in it near the bottom which can tip you over to your right. Beware of doing so and hitting your head. I usually stop for a cold drink at the base of the ridge off the Marble Quarry Track where there used to be an excellent camp site constructed by some miners who used to drive down the ridge from the B3.1 track. Feel free to clear that track too.
<![if !vml]>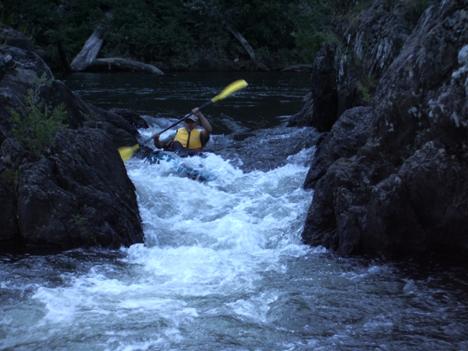 <![endif]>
Gorge: Steve Cleaver
It is quite pleasant to walk up some of the beautiful creeks which enter the Thomson in this section, particularly Lammers and Deep Creek. Both can hold excellent blackfish in deep pools. You can walk all the way up Deep Creek, climb the ridge where it splits in two (you will find an old track there) and exit at Binns Junction. It is an excellent day or overnight walk. Very private now too since our 'masters' have closed all the access tracks to Deep Creek (T10, D1 & 2 etc). If you are quiet you are likely to see a deer or two. There are some pleasant little flats to camp on bends in the stream. It is an astonishingly beautiful valley! You can walk down the (closed) T10 track from the Stony Creek Rd to gain vehicular access – or feel free to bring the chainsaw and open it again! It is on the West side of the Stony Creek Rd opposite the only fire dam.
<![if !vml]>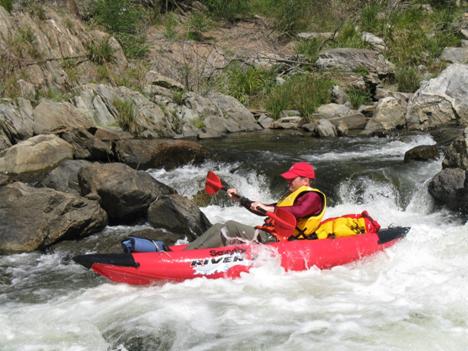 <![endif]>
Mini Gorge: Brett Irving
The Gorge is the section which most daunts Della now she has lost so much of her eyesight, and I don't wonder. If I had less than 50% sight it would daunt me too. It is such a shame though that she can no longer canoe the Thomson because of this, as it is an astonishingly beautiful (and varied) river. It takes about an hour to get through the Gorge which begins about a quarter hour below the 20 km Tree. There is not much stopping; it can be difficult to find a spot to empty your boat if it becomes swamped particularly above .3, or .5 metres. Last time I was down the river there was a quite dangerous log jam towards the end – which would be a very dangerous trap for unwary players. Watch out for it. You could stop just before it (on the right) and walk around. There are some wonderful camps starting below the Gorge. You don't need to stop at the very first one (on the left) which is very nice as there are lots more!
<![if !vml]>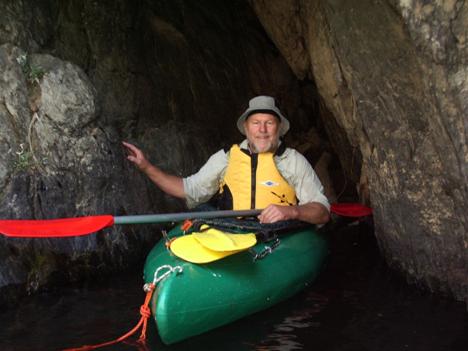 <![endif]>
Gorge: Steve Jones
<![if !vml]>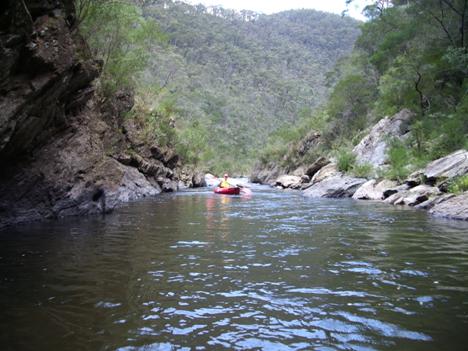 <![endif]>
Gorge: Alan Hall.
Below the Gorge (and elsewhere) there are delightful flat, placid sections where you can just about go to sleep in the boat.
<![if !vml]>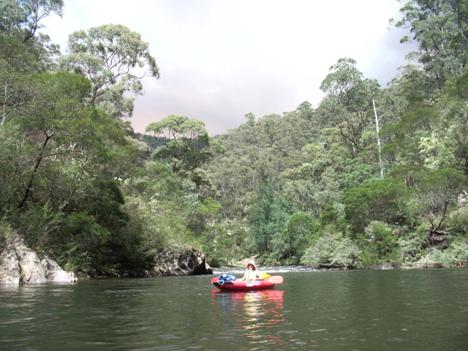 <![endif]>
Della loves these clear, quiet sections.
<![if !vml]>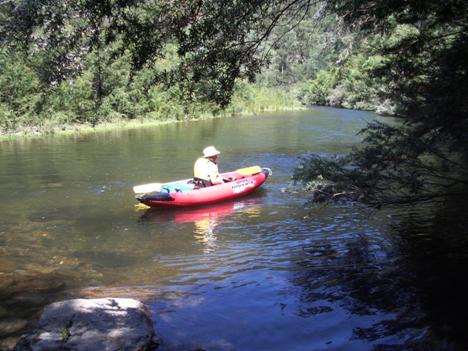 <![endif]>
Della Jones: asleep?
<![if !vml]>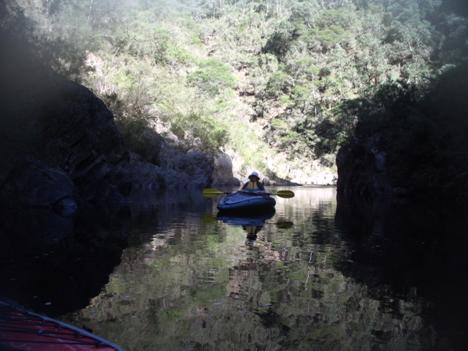 <![endif]>
Della Jones
About a half hour below 'The Poplars' you come to 'The Triple Stager'. It is certainly a Grade Three rapid! You should not be asleep then; I once was – a very dangerous descent of the left hand channel (Don't!) suddenly sans canoe! Fortunately I was wearing a life jacket else I would not be here to tell the tale! It is on a left hand bend. The river forks. Take the right fork. There are three distinct drops. It may be a good idea to get out on the right bank before the first and reconnoitre. You can carry your boat all the way to the bottom of the third drop (about 100 metres of rock hopping) if you so desire. Or, you can carefully descend each in turn, choosing to portage the third if your courage or foolhardiness is not up to it! The first two are best approached on the right side of the river, and you can finish each in a small still pool. To shoot the third you need to start on the left side of the river, then cross to the right as you enter it. There is a large boulder just left of centre which needs to be passed on the right. It can tip you our very nastily! Here is a photo of Della descending the Third Stage backwards, as it turns out – a very dangerous practice, but we have had lots of practice at being dangerous!
<![if !vml]>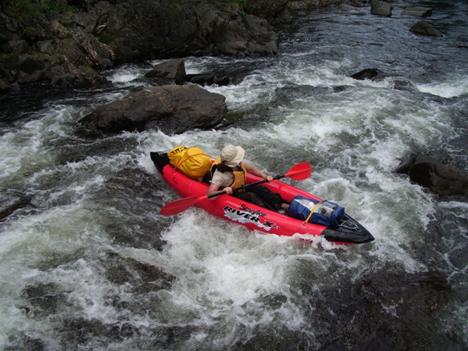 <![endif]>
Della Jones: Triple Stager: Third Stage.
<![if !vml]>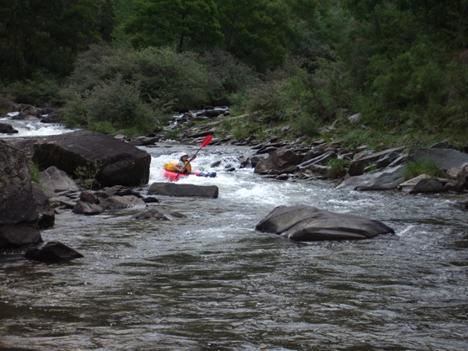 <![endif]>
Della Jones: Triple Stager: 1st and 2nd stages.
The next Grade Three rapid is the Boulder Rapid which comes after about a half hour of a wonderful downhill section. It is a huge boulder which just about completely blocks the river – but that is not he worst bit of it. You should pull out on the left bank and inspect this rapid. If you have any doubt about it, drag your boat right around it on the left hand side. I have thought about clearing a complete new route around the right hand side of this rapid but I fear it is probably too much hard lifting for my back now. Otherwise there is a very sharp left turn followed very abruptly by a right turn, then you must go down the exact correct (centre) chute or you will be on the rocks and may break your arm. Be warned! That being said, it is a wonderful fun rapid and I have sometimes dragged my boat back up it to have a second go! Some of us are mad!  Might not now I am nearly 70. I hope to see again this summer though!
<![if !vml]>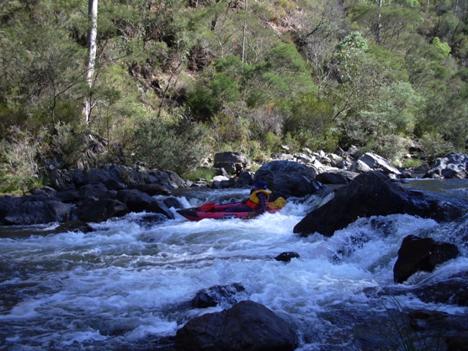 <![endif]>
Below the Gorge: Fred Bowman
<![if !vml]>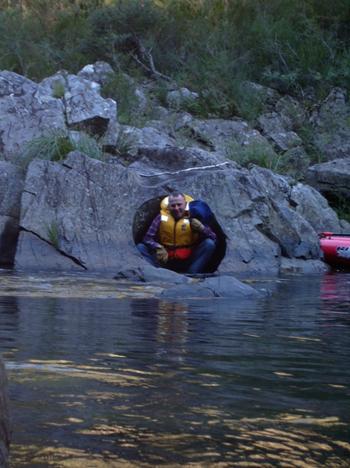 <![endif]>
Strange things the river has wrought: Fred Bowman
<![if !vml]>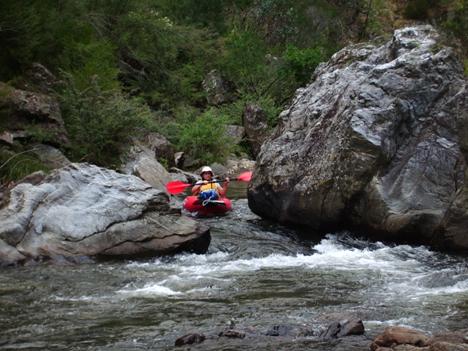 <![endif]>
Boulder Rapid: Della Jones
<![if !vml]>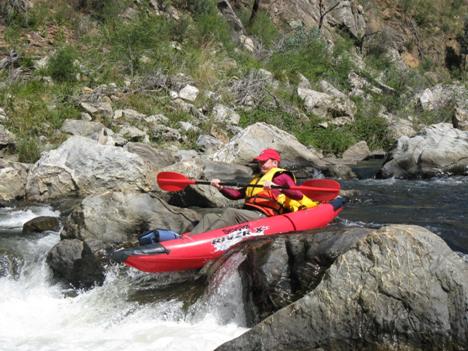 <![endif]>
Boulder Rapid: Brett Irving
The last Grade 3 rapid is less than another half hour downriver and is called 'The Chute'. The whole river goes through a narrow cut less than six foot wide. It goes through very fast I can tell you, so you had better be lined up dead square or you will think you have just been through a washing machine. If your boat gets side on to it, it will snap it in two in a trice and plough you straight through it to boot. Lined up straight, it is a doddle. You may not see it coming, (though there is a steel ladder on your left just before it gives access to the gauge there). Keep to the right in the pool above it from where you will be able to spot it OK and line yourself up. You can drive down to it in a decent 4WD. It is the T2 track off the Stony Creek Rd. It is quite a popular swimming hole where suicidal youths jump off the rocks allowing themselves to be deliberately sucked through it. Some will not live long!
<![if !vml]>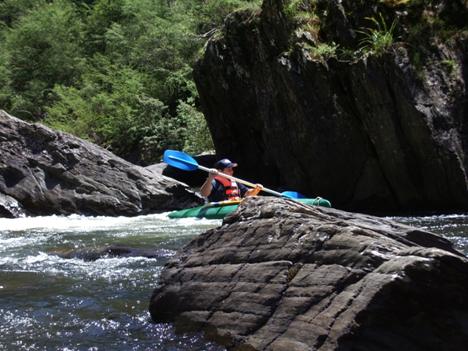 <![endif]>
Bryn Jones
About a km above 'The Chute' there is a much more daunting rapid (I think) which I call 'Crocodile Falls' on account of finding once a toy crocodile there. It is on a right hand bend below a substantial still pool. The river runs rapidly downhill for perhaps 200 metres over quite broken rocks. It is much worse at low water levels such as you are liable to find there now. I have spent a number of hours moving large rocks there trying to make the run safer, but it needs more work. Feel free. If you come out near the top (likely) you will tumble over a lot of rocks before you get to the bottom. It can be portaged on the left hand side but there are many blackberries.
<![if !vml]>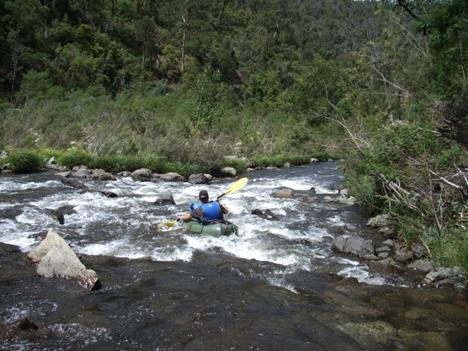 <![endif]>
Crocodile Falls: Simon Schutte
After the chute there are a number of small entertaining drops, but soon you are in the backwaters of the weir and if the wind is blowing upriver (it almost always is) it can be a substantial paddle the last half hour or so. I usually aim for the point on the far left hand side at the weir where the old (closed) bridge shortcut to Stony Creek Road is to be found. Do not walk barefoot in the weir. Many idiots over the years have smashed glass bottles there!
<![if !vml]>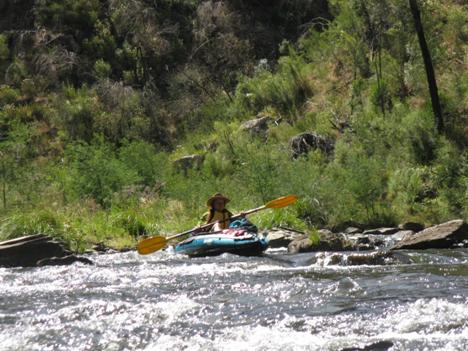 <![endif]>
Nearly there: Della Jones
STAY TUNED: I filmed a one hour video of myself and Steve Cleaver canoeing the Thomson in 2008. I WILL figure out how to post it soon, I promise!
05/11/2015: Some things (plants for eg) are very patient (unlike myself). I certainly wouldn't hang around in the Atacama Desert waiting for this to happen, but I am not a mallow: http://www.smithsonianmag.com/smart-news/world-driest-desert-breathtaking-bloom-atacama-180957104/?no-ist
<![if !vml]>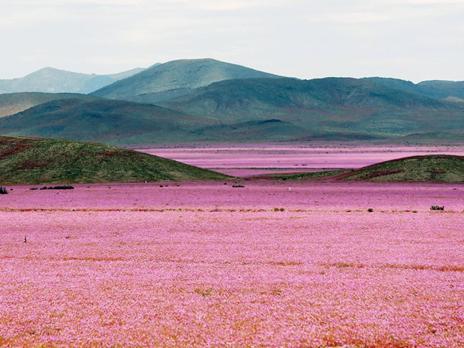 <![endif]>
04/11/2015: Swallows: This pair of swallows has nested in our garage for maybe twenty years. Once again this year they have raised four young. Other descendants nest in other sheds, in the old dog-houses on the hill, under the verandah, in an under-road stream pipe below the house & etc. Every year they go away, maybe all the way to Siberia, and return. They are such welcome visitors despite messing the car up a little.
<![if !vml]>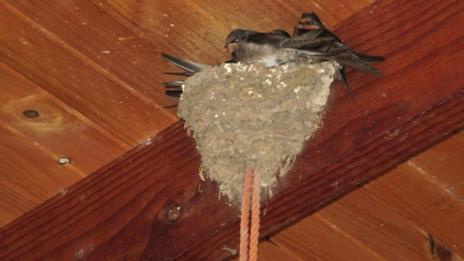 <![endif]>
<![if !vml]>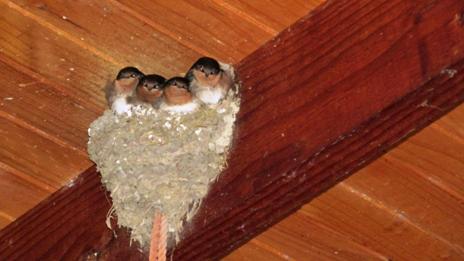 <![endif]>
<![if !vml]>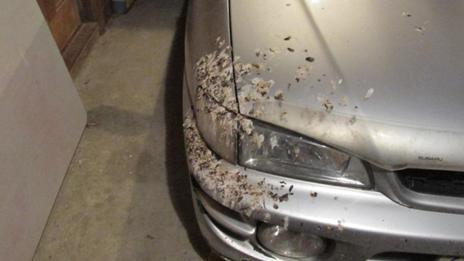 <![endif]>
03/11/2015: Osprey Ultralight Stuff Pack: Great new hiking day pack: 18 litres, three compartments, water bottle pocket, 90 grams assorted colours, available: http://www.backpackinglight.com.au/ I think you could squeeze an overnight trip into it. Worth a try anyway. Add it to the suggestions here: http://www.theultralighthiker.com/hunting-daypack/
<![if !vml]>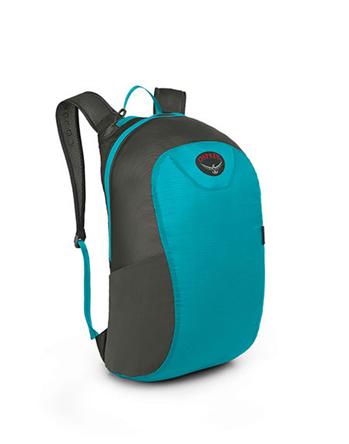 <![endif]>
02/11/2015: Let There Be Light #2: At last, a replacement for the 100 watt incandescent globe: Phillips 18 watt 2000 lumen (!) That is 130 watt incandescent equivalent, so soon our lounge room will be back to the 'good old days' when we could SEE! Bulbs now available at Bunnings. They have smashed the 100 lumens per watt barrier by more than 10%. http://www.philips.com.au/c-p/8718696482926/led-bulb See also: http://www.theultralighthiker.com/let-there-be-light/
<![if !vml]>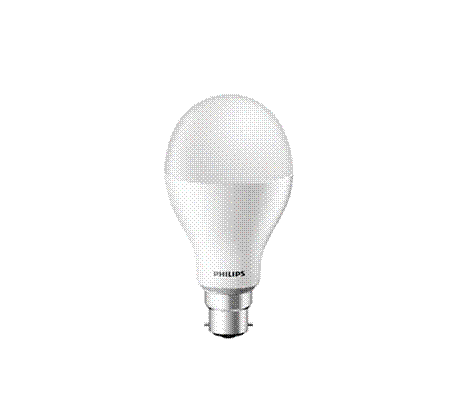 <![endif]>
02/11/2015: Eneloop Pro AAA Battery: Things just keep getting better…This is an improvement to their white 750 mAh battery (Recharge 1,000 times). This one is 950 mAh, is still 85% after one year and recharges 500+ times, but it is nearly one-third more available energy! Available Dick Smith, etc.
See also: http://www.theultralighthiker.com/eneloops-rechargeable-batteries /   & http://www.theultralighthiker.com/mini-super-torch-a-weeks-light-weighs-50-grams/
<![if !vml]>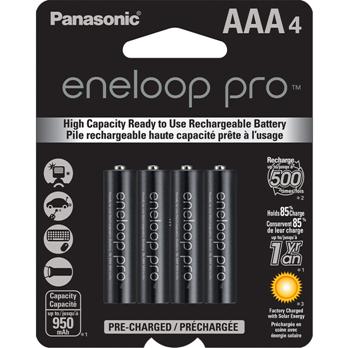 <![endif]>
01/11/2015: Pen Fishing Rods: These are tiny: I bought mine from this guy but I see you can get what seems like the same thing on eBay out of China for @ $10, so…My rod weighs 64 grams and the reel (spooled) 142 grams – and you certainly can cast it and catch fish on it (I have), if you are careful. Apparently you can spool the fly reel with a special line too: http://penfishingrods.com/shop/index.php
<![if !vml]>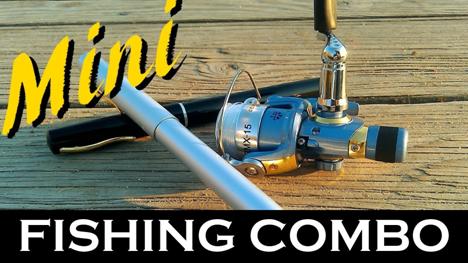 <![endif]>
30/10/2015: Dino Paleo Diet: Supposing that the science of 'Jurassic Park' becomes a reality (or time travel, 'The Lost World', etc – all this is imminent, surely?) we WILL need to face the important practical and ethical issues of killing and eating dinosaurs. Folk will definitely have to do some hard practice at the Range to ensure their accuracy, as Dino's vulnerable spots are likely quite hard targets. Your normal .30 calibre hunting rifle (even a .457 magnum really) will just punch pin-prick holes in one of these vast beasties, mostly just drawing its attention to you and making it angry. Though a heart shot might cause it to bleed to death eventually, the fact that its heart is likely larger than a bullock will mean that it will have eaten/trampled you before its demise. A brain shot is best, but its brain is likely about the size of your fist and is WAY up there, surrounded by bone, so shoot carefully. After you have decked it (just supposing) the vital ethical issues arise: Is it halal or kosher? Can you eat it during Lent, Fridays? Dinosaurs lack the necessary cloven hooves to be amongst the kosher herbivores and even if considered as distant relatives of the birds they lack the extra toe. Similarly aquatic plesiosaurs etc would surely be deemed 'fish without scales' & etc. That's surely a lot of meat going to waste, right there. Leviticus might need to be rewritten (well, anyway!), AND you might need to raise the height of your lounge room, as that trophy is going to be really BIG! Anyway, 'Happy Hunting!' http://gawker.com/steven-spielberg-exposed-as-inhumane-dinosaur-hunting-1603549847
<![if !vml]>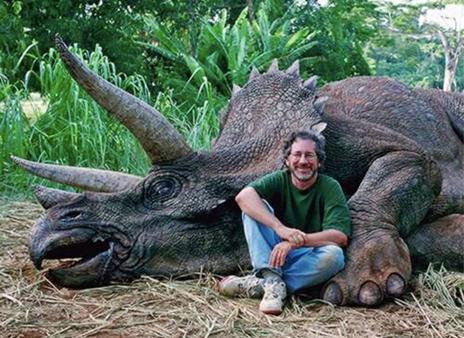 <![endif]>
28/10/2015: Escape Ring: I am not much into jewellery, but I might make an exception for this piece: this one contains a saw and handcuff shim pick combination tool which is completely hidden from view when worn. http://www.uniquetitanium.com/Titanium-Escape-Ring_p_493.html
<![if !vml]>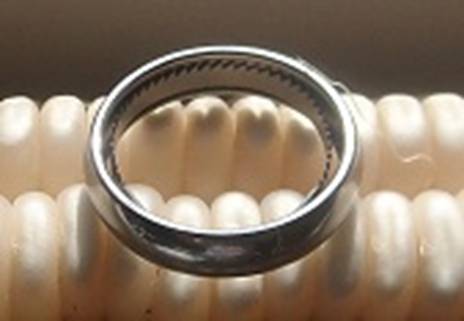 <![endif]>
27/10/2015: Modernized Phonographs: These are nice:  http://www.trendhunter.com/slideshow/modernized-phonographs  & https://www.restorationhardware.com/catalog/product/product.jsp?productId=prod2320166
27/10/2015: Segmented: Stuff Sack Organizes Your Gear: The SegSac has internal dividers to keep clothes and gear from floating around in your pack or luggage. http://gearjunkie.com/segsac-stuff-sack See also: http://gobigear.com/products/the-hoboroll-pinyon-pine
<![if !vml]>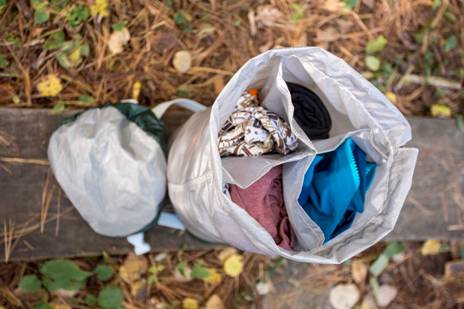 <![endif]>
26/10/2015: Tyers River: Has so many magical spots. This is Peterson's Lookout just outside the township of Tyers on the Rawson Road, a popular spot to jump! We started off Sunday afternoon to walk the East Tyers Walking Track from Tyers Junction (Carringal) to O'Shea's Camp where it links with the Upper Yarra/Alpine Walking Tracks), but experienced car troubles so this is as far as we got. I am thinking of compiling an alternative (Winter Route) for the Upper Yarra Track along the South Face of the Baw Baw Plateau for when snow blocks (or makes dangerous) the route along the tops. There used also to be a walking track from Tyers Junction to Western Tyers (but it has been neglected/overgrown (a project for YOU, perhaps?) so the alternative route along the Buckle Spur jeep track must be taken (still very nice). There is a fine camp at O'Shea's, then again at Carringal, Skinner's camp at Western Tyers and many smaller spots further along the river (eg Palmers & Growlers, then Christmas Creek). There used also to be a walking track between these two (following the old tramline) but it would take some bush-bashing now I imagine (but worthwhile no doubt for the views & and the fishing!) You would then continue on towards Tanjil Bren (a very quiet pretty back-road). From the Baw Baw rd Junction you might head back up to Newlands Rd along a closed track, or via Tanjil Bren (store now closed) up the Link Rd to Toorongo where you might either continue on to the Forty Mile Break Rd (thence the Upper Yarra Falls) or drop down Munjic Rd and via a closed track just before the Cone Hill Quarry to the Toorongo Falls and into Noojee - if you needed supplies. From Noojee you can make your way back up to the Ada Tree via quiet 4WD tracks (eg Bennies Creek Rd) , then continue on into Warburton. There are just so many quiet, beautiful tracks in the area. Vicmaps Walhalla South (25K) T8222-1-S and Avenza Pdf maps is the way to go.
<![if !vml]>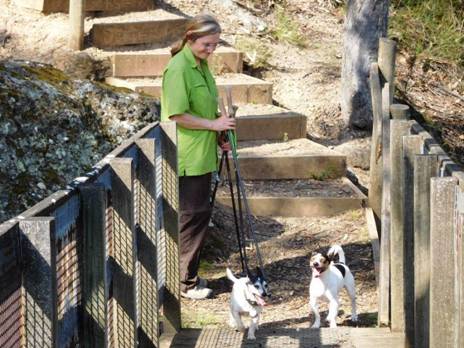 <![endif]>
It was a hot day, the dogs were thirsty though they appear to be smiling – Tyers State Park is another spot they are forbidden to be; they seem unconcerned.
<![if !vml]>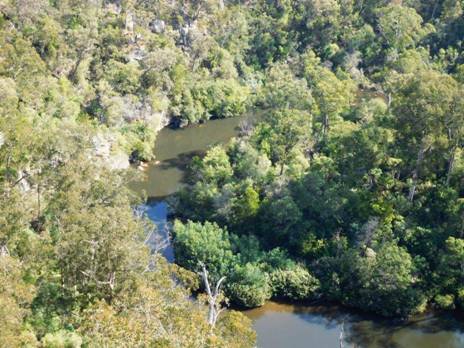 <![endif]>
The Wirilda Track is down there on the other side of the river; some good swimming holes.
<![if !vml]>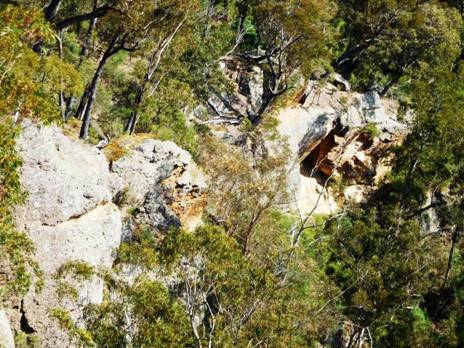 <![endif]>
Wonderful jumping opportunities.
26/10/2015: Hiking Apps: This review is a good start to exploring Apps which can help with your Outdoors activities. I would certainly agree with their recommendations about Backcountry Navigator for example which is wonderful in NZ (in association with the fre NZ Topo Maps). The First Aid App could come in handy, but I hope it won't - as could the SAS Survival App. Maybe you can have fun with Star Chart? I also have installed Pdf Maps which is great (in association with Vicmaps) for navigating in the bush in Victoria, Cool Reader which has brought me many hours of pleasure. I also have a Music and Video App for entertainment in the wild: http://www.australiangeographic.com.au/travel/destinations/2014/08/best-hiking-and-camping-apps-of-2014/
<![if !vml]>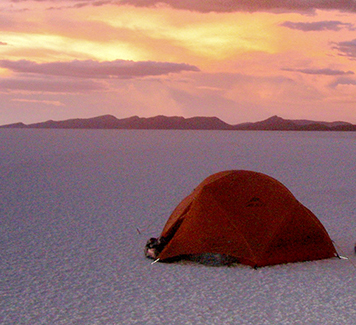 <![endif]> 
25/10/2015: Warranties: Some great warranties on Outdoor Gear: For example, Darn Tough Vermont Socks: The brand dares you to wear them out. If you can, you get a new pair. 'Free of charge. No questions asked. For life.' And L.L. Bean: If you're ever unsatisfied, they give your money back: http://gearjunkie.com/warranties-outdoor-gear-brands
<![if !vml]>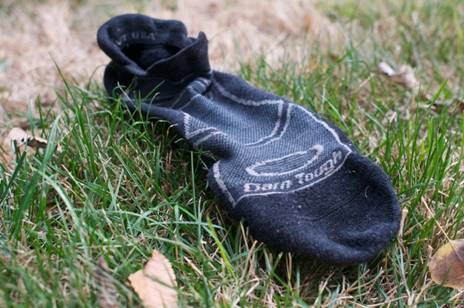 <![endif]>
24/10/2015: Klymit Air Beam Inflatable Pack Frame Update: After initially failing to inflate the pad from totally flat by mouth, I staggered to the incorrect conclusion that I needed some artificial means of inflation - hence the post about making an adapter for a Platypus bottle (which would work). Somewhere in there I bought a pack of Pope 4mm Sealing Plugs (possibly .1 grams each!) and decided to have another go. The inflation difficulty is caused by some narrow air channels along the top of the pad. You can easily infate the larger tube on the side. When you do that you can squeeze the air around these narrow channels after which the pad infates easily by mouth. Conclusion: you do not need to carry the pad inflater bulb, a saving of one ounce (28 grams – a Muesli bar or spare phone camera, etc). The pad tapers from 1 ½" (40mm) high to 1" (25mm). I tried lying on it as an extension of my ¾ length Neoair pad (230 grams) and it was fine. I will make an arrangement up so they can be hooked together using these stick on patches from http://www.zpacks.com/accessories/tape.shtml  So, a pack frame and 110 gram lighter sleeping arrangement for a weight investment of around 14 grams. Pictured the inflated pad having been plugged overnight, the discarded bulb inflater, the pack of Pope fittings, Zpack patches, etc: 71-2 grams in this format.
<![if !vml]>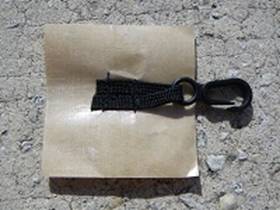 <![endif]> <![if !vml]>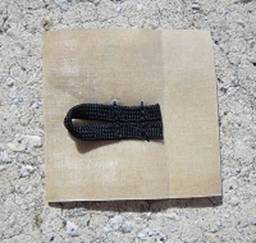 <![endif]>
<![if !vml]>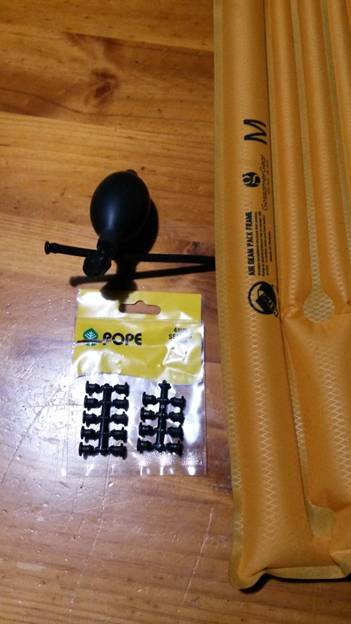 <![endif]>
24/10/2015: Why Carry a Gun: 'Police protection is an oxymoron: Free citizens must protect themselves because police do not protect you from crime; they just investigate the crime after it happens and then call someone in to clean up the mess.' http://maggiesfarm.anotherdotcom.com/archives/27062-Why-Carry-a-Gun.html The ongoing Kelly-esque search for the Stoccos underlines this point. Police seem entirely unable to cordon any area where these folk might be lurking (indeed they appear to be easily able to lurk off somewhere 400 kilometres away overnight!) Police have been as inept as they were in the hunt for rapist/killer Malcom Naiden a few years back. Both stories (Stoccos/Naiden) would make awesome blockbuster films incidentally - if you don't mind films which glorify the 'baddies'. Whilst this manhunt continues we are in 'lock-down' here. A variety of guns (pump actions loaded with SSGs, my trusty .308s etc) are ever to hand. We have no interest at all in becoming victims. Meanwhile, the police's 'solution' to the threat of such scumbags is to further DISARM ordinary citizens. I think not! If a locked gate and a sign which says, 'Trespassers SHOT!' does not discourage evil vermin, I expect a volley of 12 gauge solids to the general region of their upper bodies might!
23/10/2015: Air Beam Pad: I have always used Gossamer' Gear's 'Sitlight' pad as padding and partial load transfer in my GG and Zpacks packs. This new pad beats them hands down for comfort and getting that weight down onto your hips where it belongs. The pad itself (12" x19" x ¾") weighs 68 grams compared to the 'Sitlight' @ 49 grams. Unfortunately the pump weighs 29 grams. The pad is quite difficult to blow up by mouth (but on most trips re-inflation should not be necessary). I am working on plugging the ¼" inflation tube with a ¼" irrigation plug(or similar). I also hope to be able to modify a drinking bottle cap with a 1/4" irrigation fitting and some glue – somethig like my post here: http://www.theultralighthiker.com/sawyer-water-filter/) so I can blow the pad up (if necessary) with my Platypus/Sawyer drinking bottle. The pad can also be used to extend the length of a 3/4 length sleeping pad (eg Thermarest Neo – 230 grams), so the extra 12 grams can be seen as a saving of 98 grams as compared with carrying the Thermarest Neo Xlight Womens which I normally use: http://gossamergear.com/gg-airbeam-pack-frame.html See also: http://www.theultralighthiker.com/ultralight-pack/ & http://www.theultralighthiker.com/hunting-daypack/ & http://www.theultralighthiker.com/the-ideal-pack/<![if !vml]>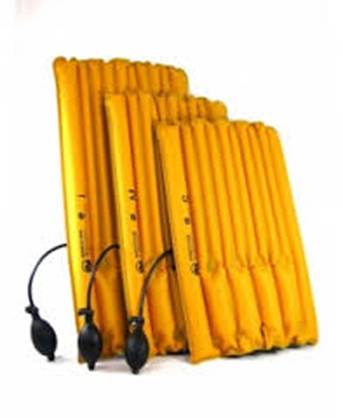 <![endif]>
22/10/2015: Hoverboard anyone: Canadian inventor tests new prototype of record-setting hoverboard: http://www.cbc.ca/news/technology/hoverboard-duru-1.3270569
<![if !vml]>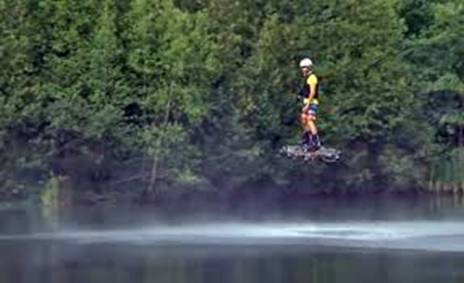 <![endif]>
21/10/2015: Sawyer water Filter: 2 gram back flush for Sawyer Squeeze Water Filter: I imagine this would work with the Sawyer Mini (40 grams) too, only a smaller hole would need to be drilled: http://www.backpackinglight.com/cgi-bin/backpackinglight/forums/thread_display.html?forum_thread_id=78861
<![if !vml]>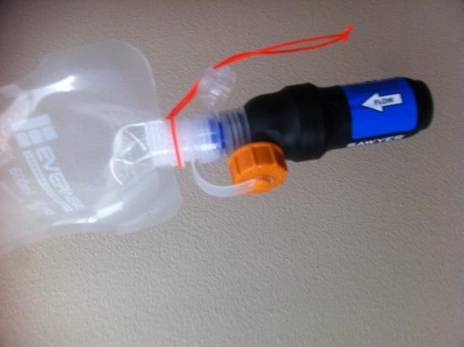 <![endif]>
20/10/2015: Telomeres: Abolishing the diseases that are old age and death: Good Luck with that project Dr Fossell, and don't take too long: http://www.rationaloptimist.com/blog/curing-old-age/
20/10/2015: Wireless Extension Cords: What a great idea, 'we've beamed power over 300 feet!' (100 metres!): http://www.thinkgeek.com/stuff/41/wec.shtml
<![if !vml]>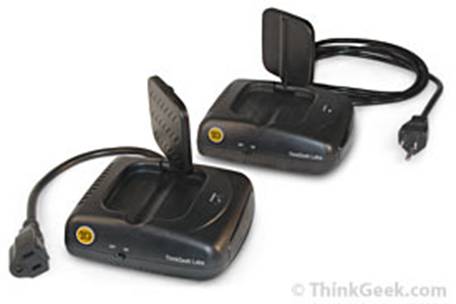 <![endif]>
19/10/2015: Useful Gear List, much of which I would have recommended too, particularly Zpacks gear, Therm-a-Rest NeoAir XLite Women's Sleeping Pad, & Trail Designs Caldera Cone Stove Set: http://www.walkingwithwired.com/2015/10/wireds-2015-comprehensive-gear-review.html
<![if !vml]>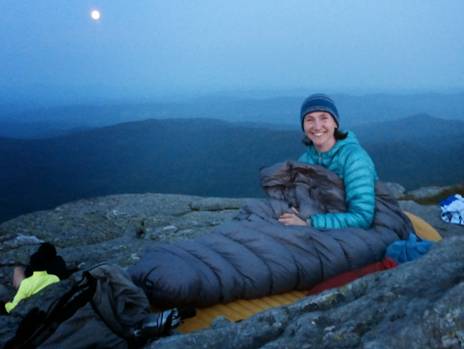 <![endif]>
18/10/2015: Bush Shower: This is an excellent idea: it would work well with a solar shower or camp shower too such as this one sold by Sea to Summit which weighs about 100 grams (if you ditch the stuff sack). I find two 1300 ml billies of cold water (add FIRST!) + 2 of boiling water gives a perfect shower in the woods: http://www.seatosummit.com/product/?item=Pocket+Shower&o1=0&o2=0&o3=195
<![if !vml]>

<![endif]>
17/10/2015: Sounds Good: Hillwalking across Scotland: https://www.washingtonpost.com/lifestyle/travel/from-sea-to-sea-across-scotland-on-foot/2015/09/24/1c712ffe-4aa4-11e5-8ab4-c73967a143d3_story.html
<![if !vml]>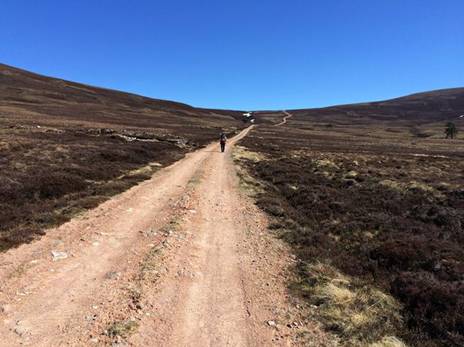 <![endif]>
17/10/2015: Pumps Woes: The last several days have been marred by these, as this Indian Summer accelerates our preparations for the advancing summer. Gradually getting on top of them I think …
16/10/2015: Spudzookas: These look like great fun: https://en.wikipedia.org/wiki/Spud_gun
<![if !vml]>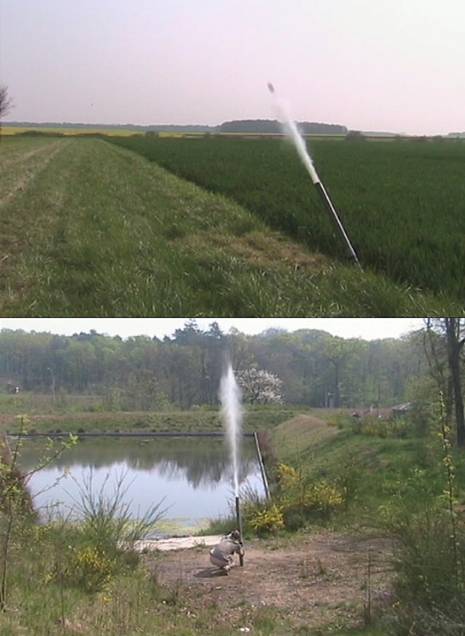 <![endif]>
16/10/2015: IPVanish: You probably heard the Australian Government started tracking all your internet/phone use yesterday. You need a VPN. We connected with these folk: hasn't slowed the internet down a bit. Other things you can try:  https://www.ipvanish.com/ & https://www.torproject.org/ & https://en.wikipedia.org/wiki/Dark_Web & http://www.flashrouters.com/ddwrt-router-information
<![if !vml]>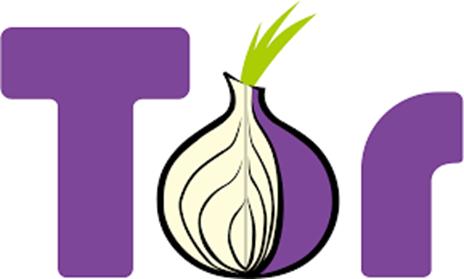 <![endif]>
16/10/2015: 'We Have No Right to Happiness': C.S. Lewis. Read this article to the end; it is well worth it: http://www.generationcedar.com/main/2009/09/we-have-no-right-to-happiness-c-s-lewis.html
15/10/2015: Posterior Vitreous Detachment: Life doesn't come with a 'user's manual', and likely we wouldn't read it even if it did – truth is there are just so many (sometimes bizarre) things can befall you. For me, yesterday it was this. The Vitreous section of my eye detached from my retina giving me lots of interesting flashes of light and dark patches something like spiders' webs floating by the vision in my right eye. Have to admit we are both so caught up in Della's vision problems (and mine has always been indecently excellent) I did not 'see' this coming, even though it apparently happens to the majority of 'elderly' men (& women) – and there we have it, the truth at last: old age! No doubt it has other interesting surprises in store apart from wrinkles and arthritis (Do I really want to know?) Old age is clearly NOT for the faint-hearted. And, Oh, in case you were worried: this condition is nothing; it will pass without any fuss, though I admit to a few anxious moments yesterday!
15/10/2015: Internet Speeds: We have been experiencing a variety of strange internet speed phenomena here lately, which our ISP (and electrical stores, even Google) have been quite hopeless about. I have struggled away with it, sometimes doubting my own sanity (a separate issue really!), and had finally come to the conclusion that I had radio interference with my wireless internet connections. This was finally confirmed by recourse to the excellent Adam Broadbent, who should really been my first port of call I realise now, as he knew all about it, and has been able to give me encyclopaedic advice in how to fix it. In brief: we had such strange things as quite intermittent speeds, varying oddly over different devices, including dropouts, and so on. Most modems/routers operate on the 2.4 gigahertz frequency. So do a lot of other gadgets (including Bluetooth devices, including hearing aid controllers) such as microwave ovens and wireless phones. If you have two routers (as we have (one for wireless NBN, the other for a DSL connection) they MUST be separated by preferably at least 5 metres. If some of your wireless computers (etc) are old(ish) they will be unable to connect at some NBN speeds, so the router will throttle back for them, affecting other newer devices. There are a variety of standards here (a,b,g, n etc). 'N' is good. Or can get at least 50 megs speed from such devices but NOT if you also have a slower device connected wirelessly. Some computers you can alter the Advanced Configuration settings of the wireless adapters (eg to switch to 'n', or 'tweak' in other ways); some you will have to switch the wireless card (because they do not even have 'G' – and 'A/B' will not get you beyond about 10 Megs) or plug in a USB wireless card. If all your devices have 'N', then if there is no other interference the router should switch to this mode and send and transmit at NBN speeds (in our case about 50 down and 25 up!) We have had to separate the modems, buy new phones (which run on 1.8/9 Gigs – fortunately these are usually cheaper than the 2.4 models!), and we need to be VERY careful about what other wireless/Bluetooth devices we have. Also important: the channels on the two routers need to be set as far apart as possible: 1&5 or 6&11 as the radio signals can 'blur' over from one close channel to another. I hope this info helps. Adam would be able to explain it better, but there doesn't seem to be much other help out there otherwise. NB: a 5 Gig router might overcome some of these problems but apparently this frequency does not propagate well, so your range will be quite limited – it might not go from your lounge room to your kitchen, for example. Apparently those devices which re-transmit (eg television signals) can also cause internet mayhem. Most important: keep transmitters a goodly distance apart, and on different frequencies – have as little stuff on 2.4 Gigs as possible. You might be chucking quite a lot of electronic stuff!
<![if !vml]>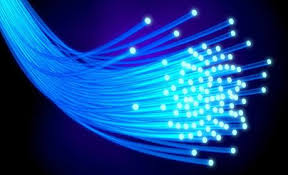 <![endif]>
14/10/2015: Inflatable Space Blanket Quilt: I applaud this chap's ingenuity. I have purchased two space blankets and some 'Gel Grip' contact adhesive (works well on mylar) and a baby food juice container for the valve and intend (time permitting) to construct an inflatable space blanket which should weigh about 120 grams and help one survive down to sub-zero temperatures providing you can construct some ground insulation (Neoair or pile of ferns, grass leaves, etc):  http://www.instructables.com/id/Survive-without-style-the-ultimate-garbage-bag-she/
<![if !vml]>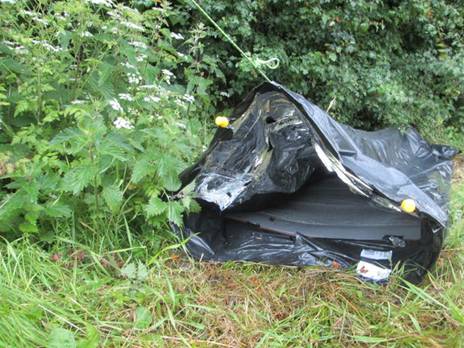 <![endif]>
12/10/2015: This is my 500th post here on http://www.theultralighthiker.com/  I have still maybe a hundred posts to carry over from my old website, and many more which need editing, photographs etc. Some of you will be pleased to know I also still have many ideas for future posts, and future adventures! So, I hope you keep on coming back, 'like' my page on Facebook (https://www.facebook.com/theultralighthiker?ref=aymt_homepage_panel)  and recommend it to your friends. There are also now nearly 400 pages of Hiking/Camping advice here: http://finnsheep.com/HIKING.htm  so maybe you need a quiet afternoon to do a bit of reading! Hope you continue to enjoy.
<![if !vml]>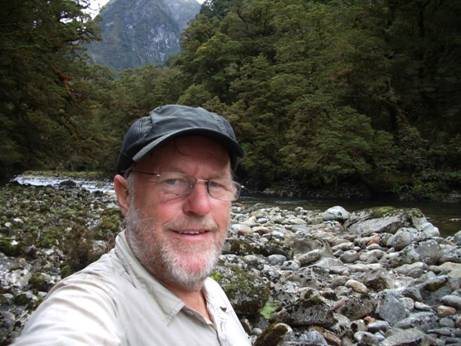 <![endif]>
Seaforth River, Dusky Track, Fiordland, New Zealand, between Loch Marie and Kintail; Tripod Hill in background (2006).
12/10/2015: Correction: I recently posted that REAL butter no longer comes in tubs. I was mistaken. A desperate search of our own supermarket's lugubrious shelves revealed most manufacturers do seem to have suddenly eschewed this most practical of container latterly, but amid the plethora of faux butters laced with who knows what dire concoction of homogenised pigs' trotters and other nasties, there is this GEM: Mainland Buttersoft. It IS a real butter, quite delicious, and comes spreadable straight from the fridge, so: HIGHLY RECOMMENDED!
11/10/2015: Surprising Discovery: My own inner political correctness: I was just as surprised as you…I was chatting with a friend of Merrin's at her soiree yesterday afternoon, sticking carefully to uncontentious topics (as you do) in this case gardening, something we have done wince we were married (in 1973) when we dug up the tiny pocket-handkerchief front garden at our first home, 33 Chelmsford St Newtown to grow cabbages, peas & etc. Part of the 'etc' were some "lobelia' as I remember, a favourite food of mountain gorillas, yet we were never troubled by them as I observed at the time…I was drinking a smoothie the friend had made for me from Della's raspberries (delicious!)…Anyway, I was somewhat taken aback when my observation that we have been feasting on our own seasonal fruits: tamarillos, pepinos etc was greeted with the riposte that it was so 'good' to be 'sustainable'. I have certainly never intended our horticulture to be politically correct. 'Virtue is its own reward' I have always thought. Note to self: Need to make more of an effort to shock!
<![if !vml]>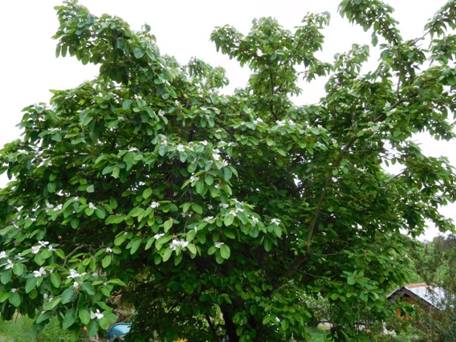 <![endif]>
Our beautiful quince I planted a generation ago will give someone a tonne of fruit annually for centuries.
<![if !vml]>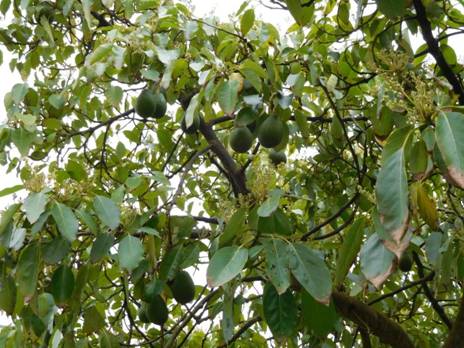 <![endif]>
Our avocado (likewise) is laden: must pick some today!
11/10/2015: Very interesting internet security device; add this to your VPN: http://mashable.com/2013/01/08/itwin-connect/#d8rUNq8tsPqq
<![if !vml]>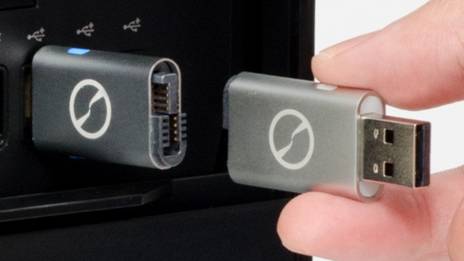 <![endif]>
10/10/2015: Perhaps you don't need a 3D printed gun, so what about going fishing: http://www.instructables.com/id/3D-Printed-Pocket-Fishing-Rod/
<![if !vml]>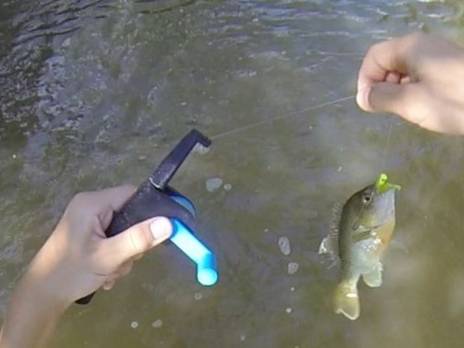 <![endif]>
09/10/2015: Phone case multi-tools: various people are making these, eg: http://www.thetasklab.com/task-one-multi-tool-case
<![if !vml]>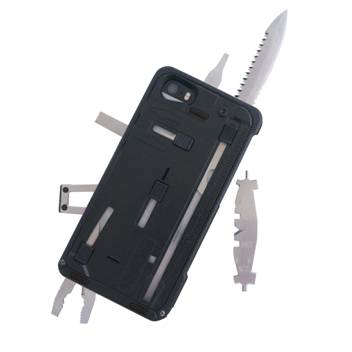 <![endif]>
07/10/2015: This is our creek. The trees are Blue Gums (Eucalyptus Globulus) reputed to be a local variant peculiar to the Jeeralangs where we live. Up in the top of the one on the left this morning was this little fellow, again common to this area (and also reputed to be a peculiar local variant of koala. You may not realise that I have always called these critters 'coal-a' bears having been taught to do so by an old family friend, Max Saunders when I was very young. I still see his point. They are not so numerous around here that they have eaten out all the gums as happened at Cape Otway. Prior to 1914 they were harvested for their fine skins until they were quite rare. Today they cannot be culled no matter what happens to their populations. They are/were starving alarmingly at Cape Otway last time I was there (2013). You rarely notice them, as they are hard to spot up a tree and usually move around after dark. My attention was drawn to this one this morning when I was checking a pump, as he was roaring: they have a surprisingly loud call which carries for hundreds of yards, sounding something like a camel in rut which no doubt you are more familiar with!
<![if !vml]>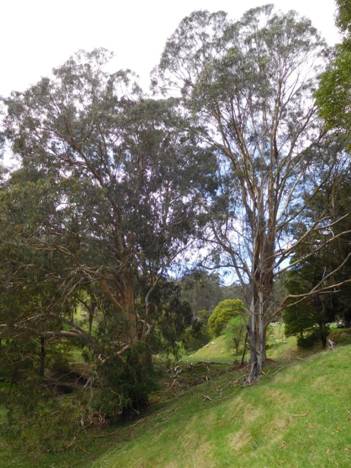 <![endif]>
<![if !vml]>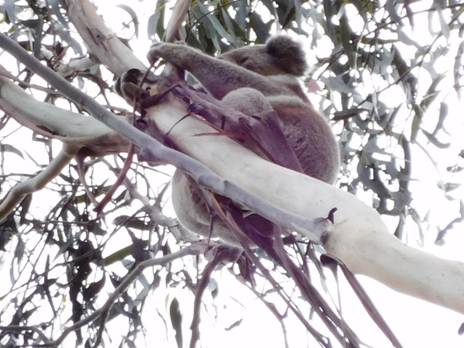 <![endif]>
04/10/2015: Venus Bay No 4 Beach, Gippsland Victoria:
I must go down to the seas again, to the lonely sea and the sky,
And all I ask is a tall ship and a star to steer her by;
And the wheel's kick and the wind's song and the white sail's shaking,
And a grey mist on the sea's face, and a grey dawn breaking.
I must go down to the seas again, for the call of the running tide
Is a wild call and a clear call that may not be denied;
And all I ask is a windy day with the white clouds flying,
And the flung spray and the blown spume, and the sea-gulls crying.
I must go down to the seas again, to the vagrant gypsy life,
To the gull's way and the whale's way where the wind's like a whetted knife;
And all I ask is a merry yarn from a laughing fellow-rover,
And quiet sleep and a sweet dream when the long trick's over.

<![if !supportLineBreakNewLine]>
<![endif]>
(Sea Fever By John Masefield)
<![if !vml]>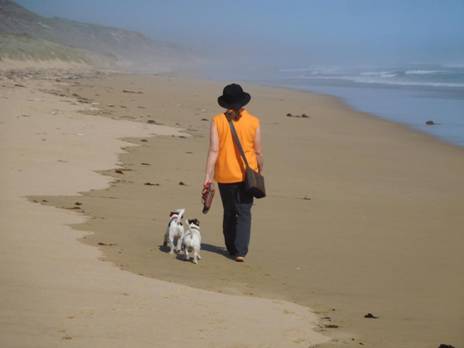 <![endif]>
<![if !vml]>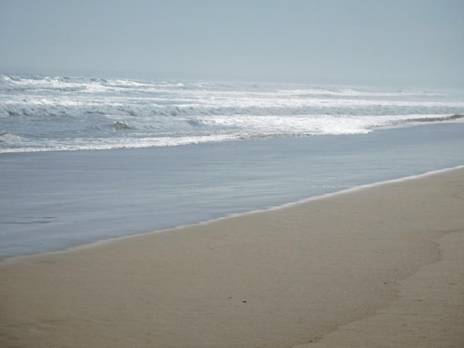 <![endif]>
<![if !vml]>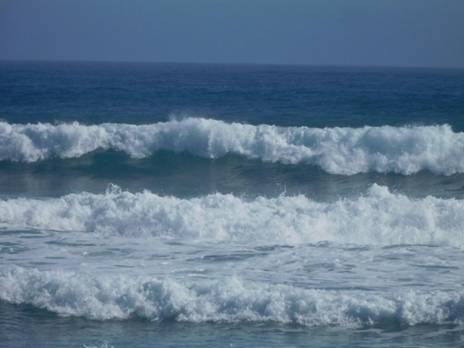 <![endif]>
<![if !vml]>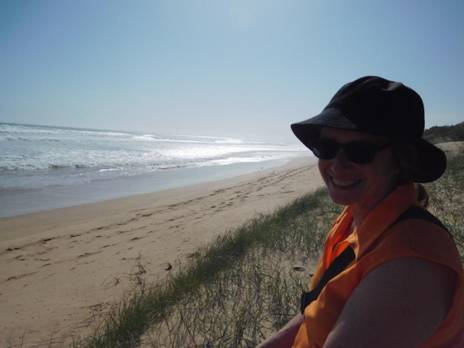 <![endif]>
<![if !vml]>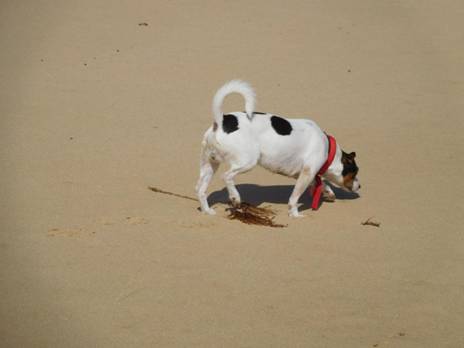 <![endif]>
<![if !vml]>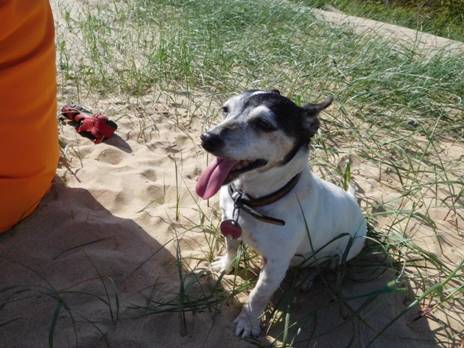 <![endif]>
<![if !vml]>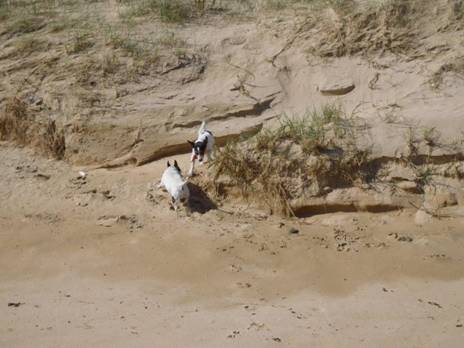 <![endif]>
<![if !vml]>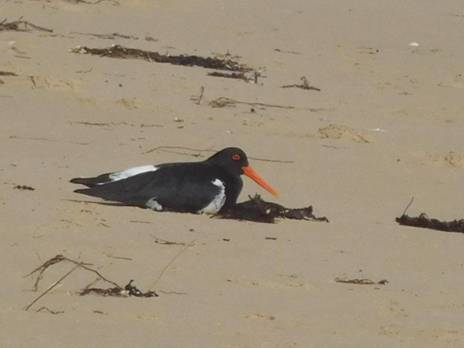 <![endif]>
Red-billed shearwater.
03/10/2015: Bore Sight: This is just about the best $20 I have ever spent. All my rifles were just a little bit 'out'. My 22 Magnum was way out. Foxes around here will now have to watch out. Thanks eBay:
 <![if !vml]>

<![endif]><![if !vml]>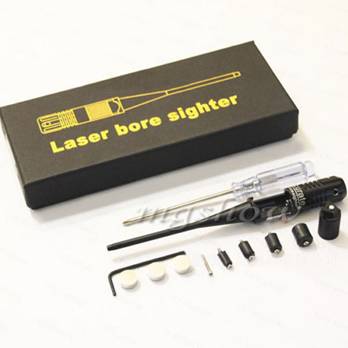 <![endif]>
02/10/2015: Here is a useful site for installing handy Apps for your new computer/tablet. They are already virus free: https://ninite.com/ I received a new Asus Transformer Book for Fathers' Day. I thought it would be handy during the interminable doctor's visits with Della – and just in case we ever get to go caravanning…It cost me about a week of my life setting it up and getting it to work, (Be warned!) Windows 8/10 is a nightmare – but there is no going back, unfortunately. An interesting glitch it came with: the Bluetooth Mouse I need (because of my arthritis) INTERFERED with my home wifi internet system in a chaotic way! This was only one of MANY problems. It came pre-installed with viruses and malware. Yes! Absolutely the first thing you need to do if you should buy one is install and run Norton & Malwarebytes, otherwise it will just get worse and worse. You will almost certainly have to reinstall Windows 8.1. Whatever you do, do NOT upgrade to Windows 10. (It doesn't work) – and there is no going back to 8 once you have, even though it promises this will not be so. Beware computers bringing promises!
01/10/2015: Rokon Scout, a 2WD motorbike. I like the green colour. If you find muscle power alone won't get you where you want to go any more. You might try one of these: https://www.rokon.com/bikes/scout Would be a fitting accompaniment to your Mokai: http://www.theultralighthiker.com/?s=mokai
<![if !vml]>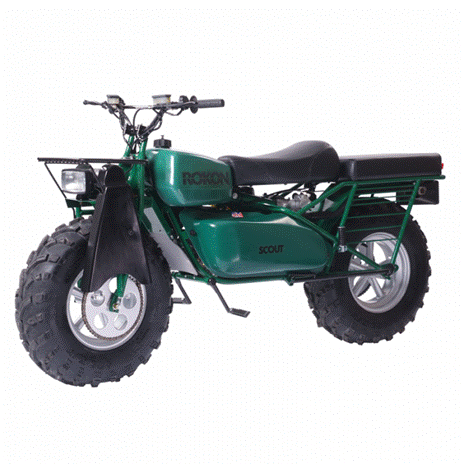 <![endif]>
01/10/2015: Swallows nesting here at Jeeralang Junction: 'We take the fall and spring migrations for granted, but they are in fact miraculous feats and remarkable adaptations to the climate changes of the ice age era (which we are still in today - and have been for 2.6 million years with lulls and expansions of northern hemisphere ice. If you can apply "normal"; this planet normally has no ice).' (Bird Dog)
30/09/2015: Not Quite Alone in the Wilderness:
I faced a week of enforced bachelorhood anyway (as Della is craftily away) so I decided to take the pups for a week's walk…Four hour's driving later including a couple on bumpy 4WD tracks we gazed up a river somewhere, wondering…
<![if !vml]>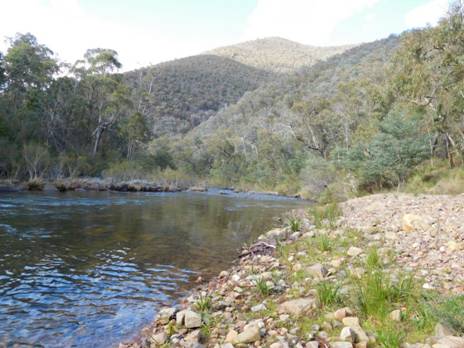 <![endif]>
Who knows what wonders lie around the river's bend? Delightfully there are a number of Victorian wilderness rivers whose entire catchment has only one (or NO) vehicular access point eg the Wellington, Avon, Moroka (none of which THIS is…)
Sometimes I have to get myself and the two dogs across. You need to find a shallower spot (this looks good). Tiny fits in my daypack worn backwards on my chest. Spot has perfected his trick of standing on my shoulders. Away we go:
<![if !vml]>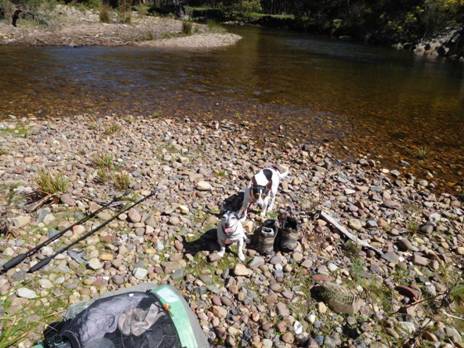 <![endif]>
A few hours' later we are at one of my old camps:
<![if !vml]>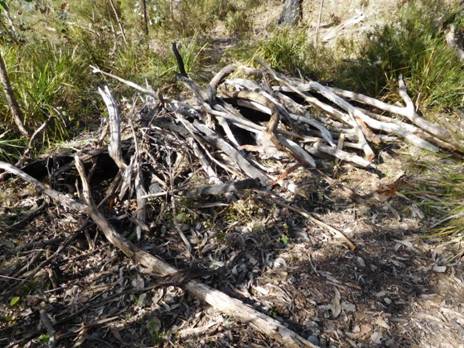 <![endif]>
Against late arrival I always leave a cache of firewood at my campsites.
<![if !vml]>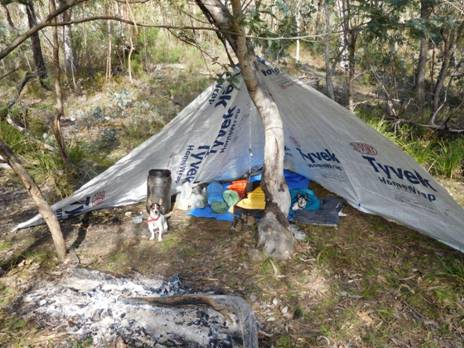 <![endif]>
My first Tyvek bivi design provides luxury accommodation for 2-3 at least. It clearly has the JR's tick of approval. It is a triangle with base 32' and height 10' (the roll width). Pitched thus it forms a triangular shelter approx 8' deep and 16' on a side. The two 'wings' can be swung inwards to provide more shelter from rain (or smoke) if the wind shifts. I have spent at least 100 dry nights camping thus.
<![if !vml]>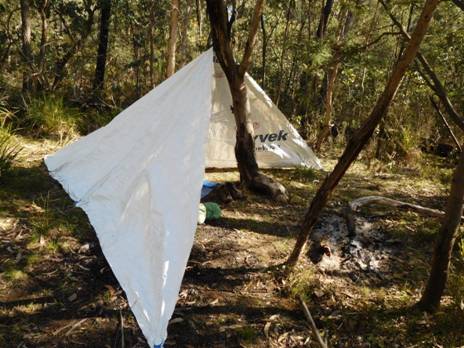 <![endif]>
Side view: I like an open shelter, because you have a greater sense of freedom, a better view, and access to the warmth of a cheery fire.
<![if !vml]>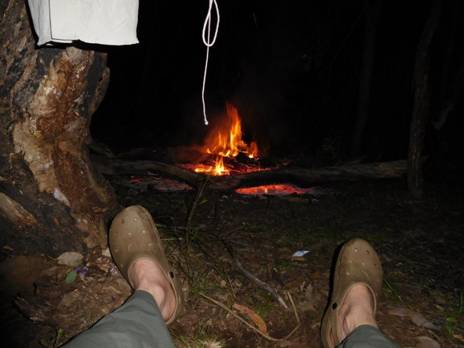 <![endif]>
Like this: It's great to be putting my feet up at day's end.
<![if !vml]>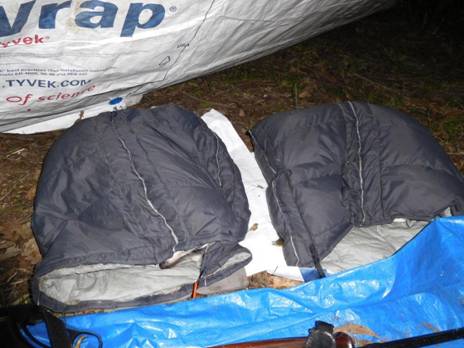 <![endif]>
The modified 200 gram dog beds worked a treat down to 0 C
<![if !vml]>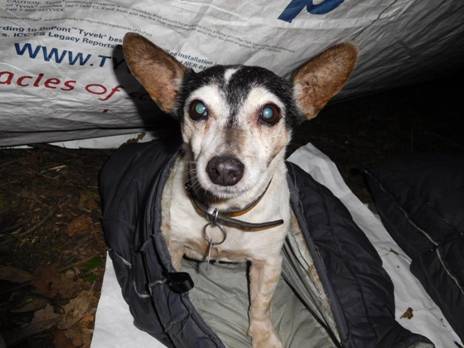 <![endif]>
Tiny agrees. I have ordered materials to make the dogs new beds at approx 100 grams each. I will post the design when they are done. They would scale up for larger dogs, though why you need larger I cannot imagine…
<![if !vml]>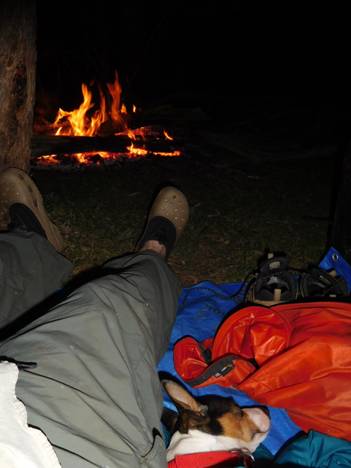 <![endif]>
Spot actually prefers my sleeping bag.
<![if !vml]>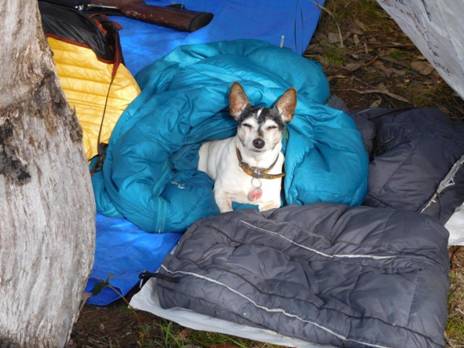 <![endif]>
Tiny agrees.
<![if !vml]>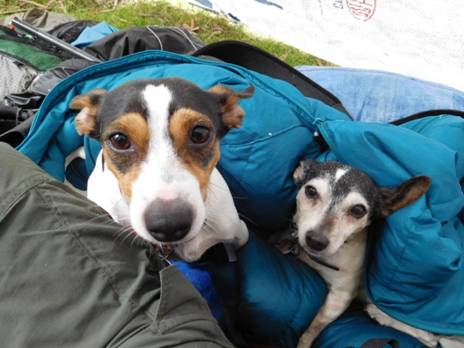 <![endif]>
Perhaps both could fit?
<![if !vml]>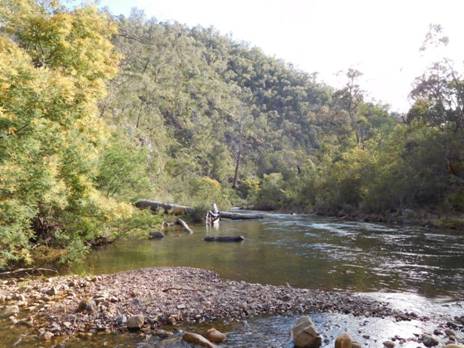 <![endif]>
Next morning, how's this for a kitchen sink?
<![if !vml]>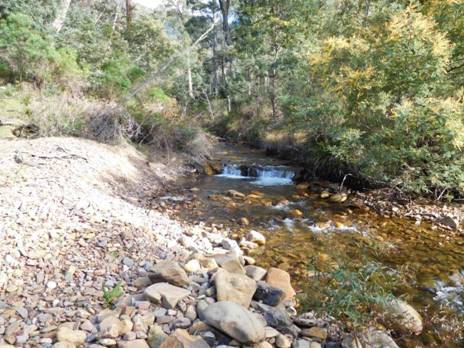 <![endif]>
There are so many beautiful side streams to explore. Another time for this one which rises many miles away…
<![if !vml]>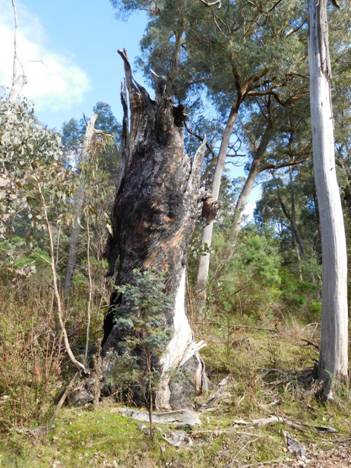 <![endif]>
Forest 'renewal'. The bush is slowly recovering from the wildfires nearly a decade ago now…
Of course it is Spring. The bush is alive with wildflowers. The dreadful prickly Hakea is ablaze with colour. There are always Erica festooned with tiny bells. Many wattle species yet shed their gold along the river…
<![if !vml]>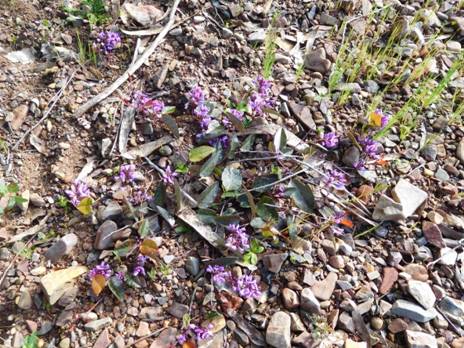 <![endif]>
Traveller's Joy lies ever beneath my feet.
<![if !vml]>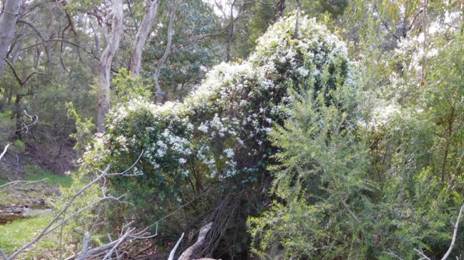 <![endif]>
Everywhere clematis clads with snow plants it holds in wild embrace.
<![if !vml]>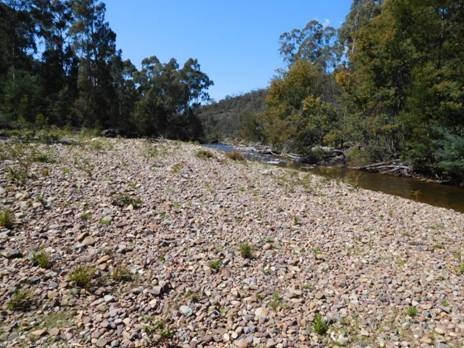 <![endif]>
The road goes ever on and on...
<![if !vml]>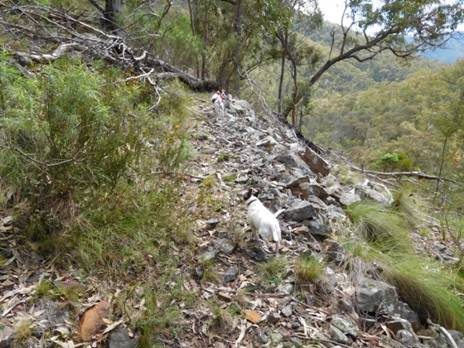 <![endif]>
Secret pioneer pack tracks provide access yet to many wild places.
<![if !vml]>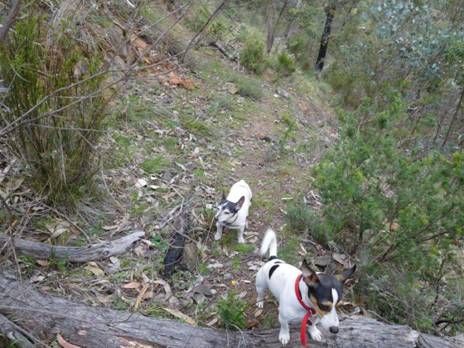 <![endif]>
So much work went into their construction. So much work (by me) too went into (re)discovering them and clearing them twice or three times over the last 10-15 years. This one is nearly 30 km long! Here the Gerber Brush Thinner machete (http://www.theultralighthiker.com/?s=machete) is an excellent tool. Of course where I led others certainly have followed, but when I first ventured here, no-one had journeyed along this river for many years. There were thickets hundreds of yards long along the river not even deer could force their way through. Deer were as tame as sheep. Fortunately the deer have worked alongside me, keeping the path largely open.
<![if !vml]>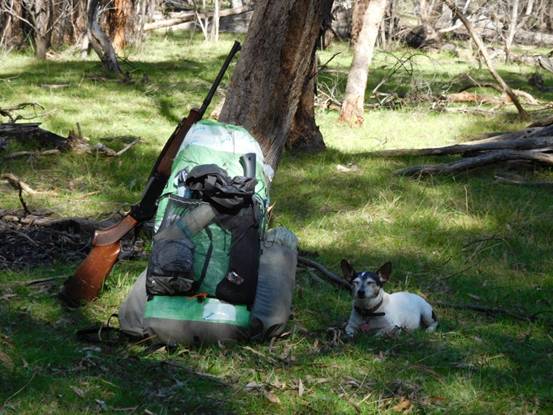 <![endif]>
Another day over, Tiny remembers this is a fine place for a camp.
<![if !vml]>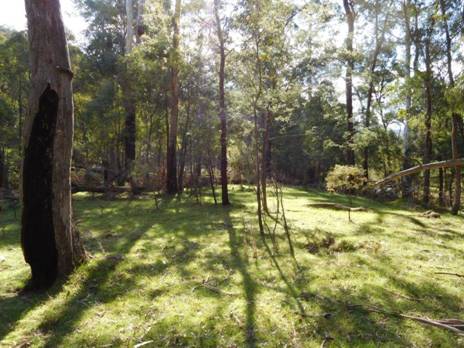 <![endif]>
Herbivores are wonderful. They maintain so many beautiful park-like clearings along the river flats.
<![if !vml]>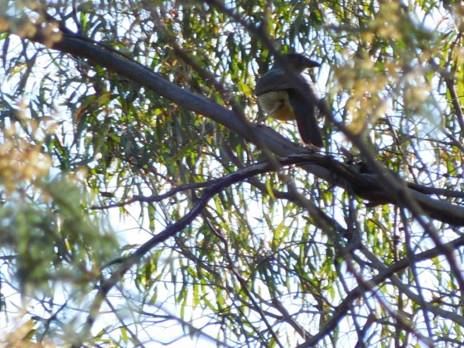 <![endif]>
The birds are slowly returning: pallid cuckoo. I tried and tried to get more bird photos, but they are so quick. There are now many warblers, sitellas, wrens, honeyeaters, kingfishers, parrots… By day along the river there is much wondrous birdsong, but yet nowhere near the cacophony of old. The evening chorus is muted yet…
<![if !vml]>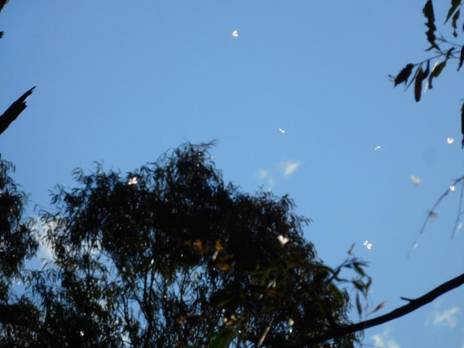 <![endif]>
There is beauty everywhere: afternoon white ant flight.
<![if !vml]>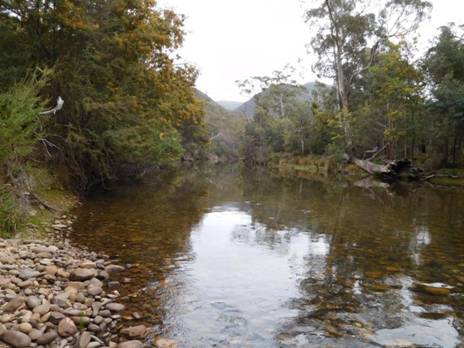 <![endif]>
The trout agree they are beautiful as they hunt them down…
<![if !vml]>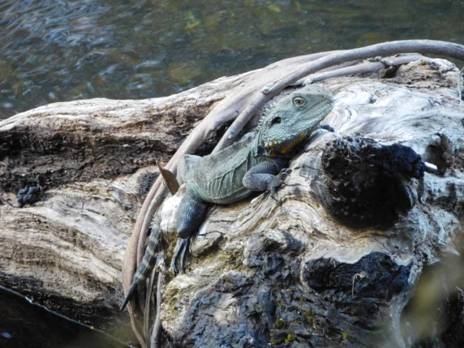 <![endif]>
Here too there be dragons...
Very warm weather arriving and forecast to continue, worsen even, I decided we might canoe out:
<![if !vml]>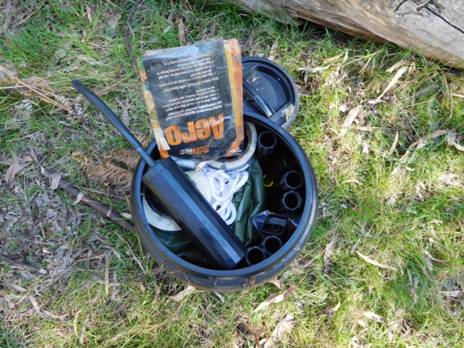 <![endif]>
Faux packraft cache, complete with an Aerovest for emergency life jacket: http://www.theultralighthiker.com/home-made-pack-raft/
<![if !vml]>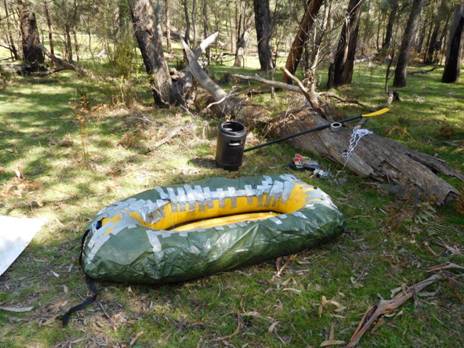 <![endif]>
Duct tape is SO versatile. You can also use polystyrene balls for tie outs. http://www.theultralighthiker.com/worlds-lightest-tarp-clip/
<![if !vml]>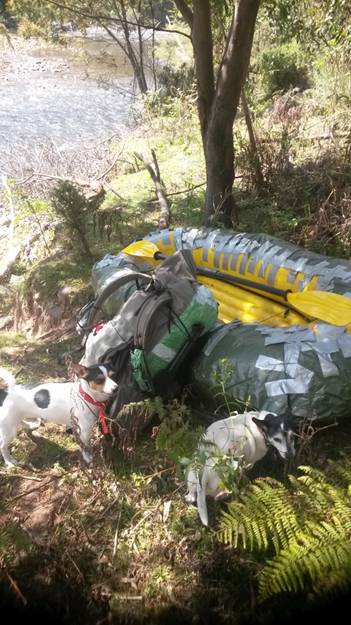 <![endif]>
Ready to set sail.
Unfortunately we didn't get far. Two dogs and a heavy(ish) pack meant that this wasn't going to be much fun for the dogs, particularly Tiny. One dog is one thing, two quite another. Tiny at 15 ½ is getting a little beyond some of these trips. My intended morning and evening hunts were much curtailed by her indeterminacy. She just could not decide whether to stay in camp or follow, and being partially sighted and deaf, it was quite uncertain whether she would find me if she set out later. I had to be sure to return along exactly the same route, could not cross the river in case I lost her & etc. I guess this must be nearing her last long wilderness trip. Bittersweet. Her balance in a canoe is not what it was either, so that after a couple of spills which she didn't enjoy, I backtracked, repacked the raft and decided to hike out again.
I had 'picked' a poor time for a hunt (though a good time for a walk). The Spring growth, the warm weather, the full moon all meant that the deer were very seldom down along the river during daylight hours (much moreso in winter when feed is scarcer). Of course they can see excellently in moonlight. Every night they visited us in our camps, honking constantly to keep us wake. I could have shot a number of fine stags by torchlight. http://www.theultralighthiker.com/mini-super-torch-a-weeks-light-weighs-50-grams/ I'm sure others would have. Who, but for conscience is to know?
<![if !vml]>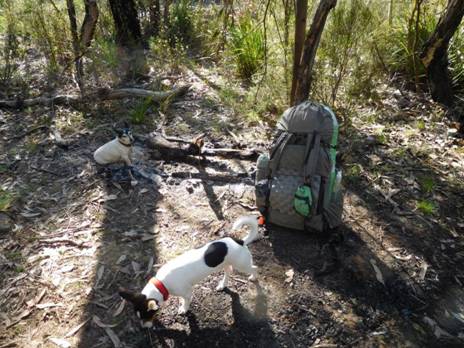 <![endif]>
Drying out: a little warmth from last night's fire yet lingers.
<![if !vml]>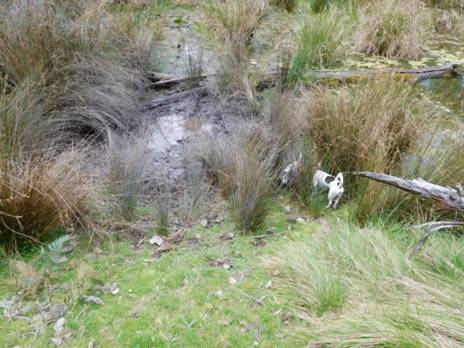 <![endif]>
Tiny is such a grub: she loves a wallow, and needed a good wash (which she resented) in the river every time after we passed one.
<![if !vml]>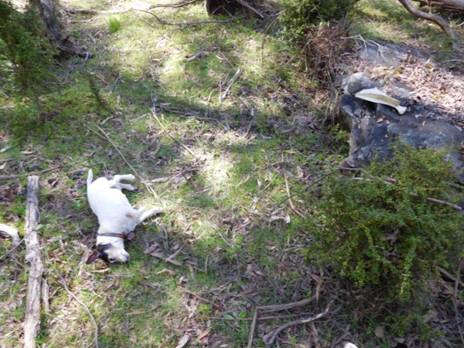 <![endif]>
The bone reminds me: Steve once shot a deer for me right here. It lay here just like this:
<![if !vml]>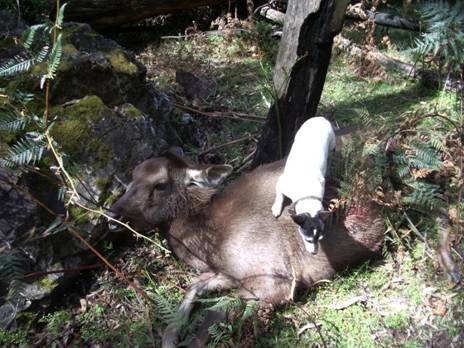 <![endif]>
I can still see it in my mind's eye
<![if !vml]>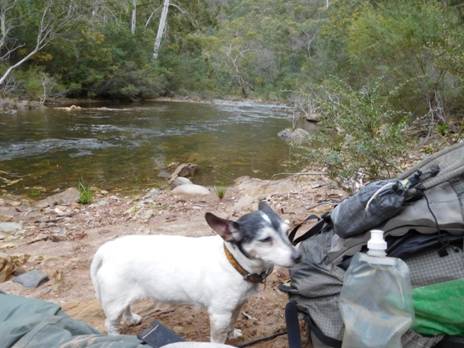 <![endif]>
And he shot a lovely stag just for me just around that bend past those leaning trees. Ah, memories...
<![if !vml]>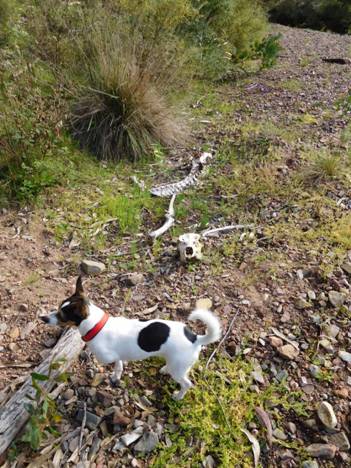 <![endif]>
There remain other mementoes of past hunts.
<![if !vml]>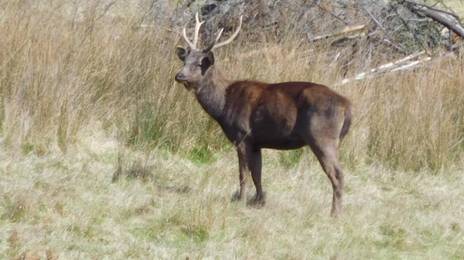 <![endif]>
Perhaps after all though they look better here than on the wall?
See also: http://www.theultralighthiker.com/sambar-stalking-101/
25/09/2015: Four Gram Fishing Handlines: Found these 100mm x 12 mm screw cap aluminium canisters in the shed. Room inside each for a few hooks, sinkers, spinners, a needle etc. So I have ditched the 15 gram dental floss, and my 10 gram BCB fishing kits. This Dyneema line will suit well enough for fishing, repairs, first aid etc. My whole fishing kit is now less than 2 oz (50 grams). I used to figure 150 grams for a fishing kit was justified if I landed the odd 250 gram fish (I frequently did). This is even better. I am heading off soon for a wilderness trip for a week with my two JRs. They deserve to enjoy our wonderful National Parks they pay so much in taxes for! Whilst I was shaving down my fishing kit, I also shaved 834 grams from my pack weight in toto – which I find hard to believe, as I have gone through it so many times before. If I had a little more time (I leave tomorrow) I figure I could find another 200 grams. Soon my pack will be carrying me! I regret that the material I ordered for my new JR beds has not arrived yet, as the new ones will weigh 100 grams each (with a waterproof bottom), as compared with 200 grams for their (remodeled) old ones. I think I have a really good design for a dog bed now. I will let you know what the dogs thought of them when I return. Of course, I have dehydrated a week's rations for them too!
<![if !vml]>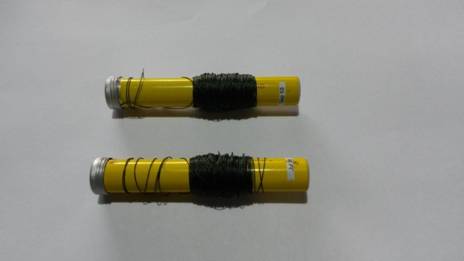 <![endif]>
24/09/2015: Paw Paw: There is a North American variety which should grow in Southern Victoria. You can get seeds here (I have) : http://www.ebay.com.au/itm/Annona-Custard-apple-fruit-tree-types-Many-Rare-Yummy-Easy-grow-U-pick-Seeds-/231692684797?var=&hash=item35f1f5cdfd Other sub-tropical fruit which are thriving in our garden: Black Sapote, Mountain Paw Paw, Guavas (Cherry, Coastal, Chilean), cold climate Bananas (eg Lady's Fingers), Monstera Deliciosa, Avocado…we aim to eventually have representatives of every edible and useful plant that will grow in Southern Victoria – but now, off to the garden!
<![if !vml]>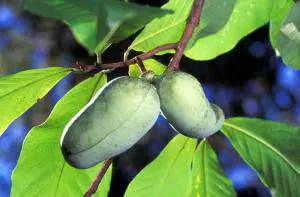 <![endif]>
23/09/2015: Ultralight Pack: It is quite difficult to buy a sub-600 gram pack (@55 litre) 'off the shelf' for reasonable money. I have tried a number over the years and would not carry anything else. The 'list' below is not exhaustive but intended as a good starting point:
Gossamer Gear's (now 54 litre http://gossamergear.com/g4-ultralight-backpack-all-bundle.html) 'tried and true' G4 lead the field (576 grams inc hip belt) US$150 and was my first 'ultralight' pack; (You can sew in some pieces of webbing to enclose carbon fibre arrow shafts for load transfer or,  I find Big Agnes' 'Cyclone Chair' underneath the 'Sitlight' pad works quite well).
<![if !vml]>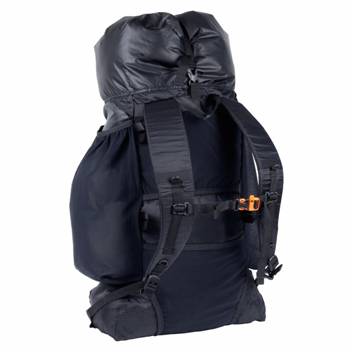 <![endif]>
Mountain Laurel Designs have an excellent contender with their Exodus pack (485 grams http://www.mountainlaureldesigns.com/shop/product_info.php?cPath=25&products_id=103) at US$195. Certainly the lightest and most rugged 'off the shelf' model. I'm sure Ron will sew in a couple of pad holders or webbing tubes for carbon fibre arrow shafts if needed for a custom charge. I might also option the pockets in solid Dyneema as I have found the netting which many manufacturers use for their pockets to not like blackberries overmuch, but Ron has at least made the critical wear surfaces of these from Dyneema!
<![if !vml]>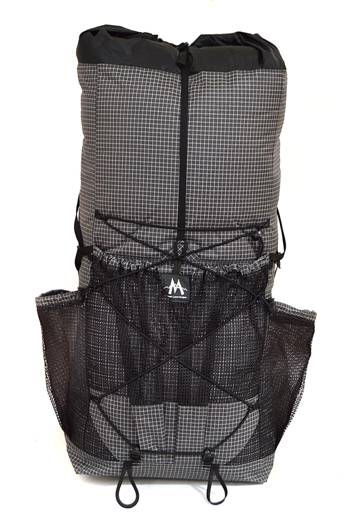 <![endif]>
Granite Gear's Virga 2 (54 Litre) 540 grams http://www.granitegear.com/virga-2.html US$139 is another fine option.
<![if !vml]>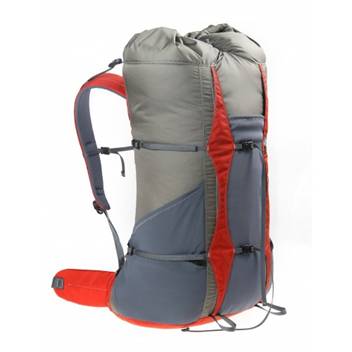 <![endif]>
Terra Nova's Quasar 55 is another option at 436 grams http://www.terra-nova.co.uk/packs-rucksacks-poles/all-packs/quasar-55-pack/ and US$320
<![if !vml]>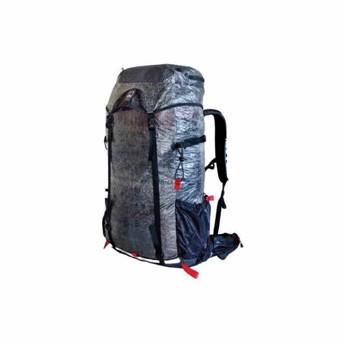 <![endif]>
Zpacks Arc Blast 52 litres (595 grams http://www.zpacks.com/backpacks/arc_blast.shtml) $US315 looks a beauty and is pretty much the only one with load transfer, though I query if you are carrying less than 10 kilograms you need much load transfer. You can upscale to their Arc Haul in Dyneema (680 grams for 60 litres) if you want something completely bulletproof.
<![if !vml]>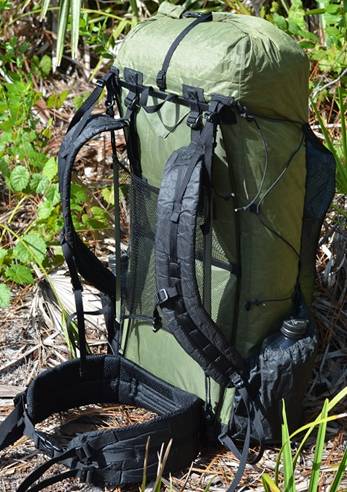 <![endif]>
Joe will still make you one of his 'Blast' packs (optioned from his 'Zero' range)  - try the 'Wayback Machine' (https://archive.org/web/) to see what these were like. In 1.43oz/yd2 cuben a 58 litre 'Blast' weighs 235 grams approx $200 (Yes!); 339 grams in 2.9oz/yd2 'Hybrid' cuben material; & probably around 420 grams in 4.8oz/yd2 Dyneema. I can't see how you can go past that 339 grams. Della is still using her 235 gram model, but mine needed quite a lot of repair tape: I am rougher on my packs than she is, and mine has had a lot more use. The original Blast in Hybrid/Dyneema with Pad sleeves for my chair and Sitlight pad is my choice. I option an oversize pocket one side for my tent.
<![if !vml]>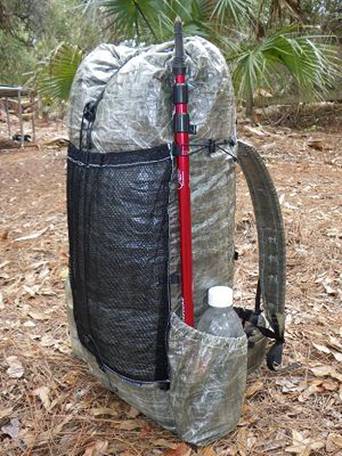 <![endif]>
21/09/2015: Dyneema Braid: Most fisherman already know this stuff is around and is replacing nylon monofilament, but you may not. I bought this .34mm lineit to make a method of securing my hearing aids against loss. (See: http://www.theultralighthiker.com/securing-hearing-aids/ & http://www.theultralighthiker.com/spots-hunting-adventures-mystery-river-3/) I may well restring my 10 gram handline with it, as its 50 lb breaking strength will make it more suitable for many uses: emergency guylines, repairs etc, and dipped in some Methylated spirits it will no doubt still work well for first aid: http://www.theultralighthiker.com/bcb-fishing-kit-as-good-as-it-gets/
<![if !vml]>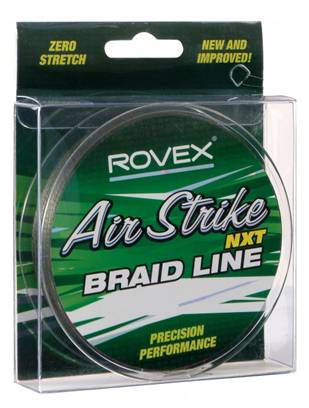 <![endif]>
<![if !vml]>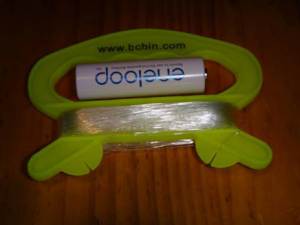 <![endif]>
20/09/2015: Woven Dyneema: new fabric for hiking packs etc. This stuff should be ultra tough yet very light. It will be difficult to even cut it with a knife! So far these folks seem to be the first to make it into a pack, but I'm sure more will follow. I am hoping that it will also come in grey or green further down the track. I was going to order a new (Dyneema Ripstop) pack from zpacks for Xmas, but I may hold off until this stuff is available. http://www.cilogear.com/dyneema60.html
<![if !vml]>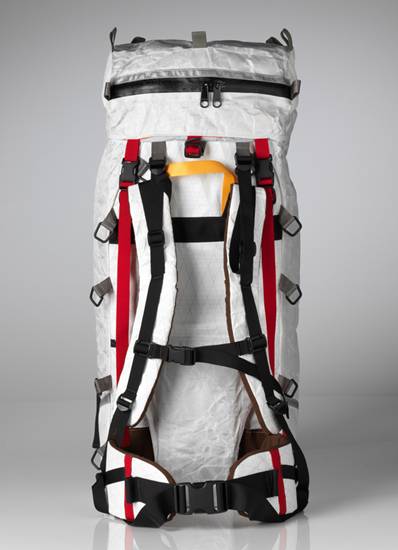 <![endif]>
Cilo 60L Worksack
19/09/2015: More Emergency Boats: The Tarp Boat: This demonstration leads me more and more to the inescapable conclusion that it would be possible to make a canoe using a poncho as the skin. More about that later: http://willowhavenoutdoor.com/general-survival/improvised-tarp-boat/
<![if !vml]>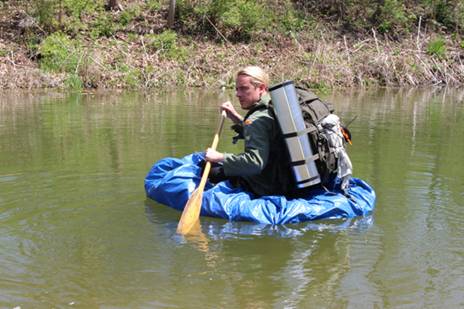 <![endif]>
18/09/2015: Improvised Bow Saw: You can make an improvised bow saw from a bent branch and a couple of large key rings (or similar) I noticed Erin & Hig used small carabiners in Ben Fogle's New Lives in the Wild Episode 2: https://www.youtube.com/watch?v=jOUcDt96IrU Since a bow saw blade itself only weighs 50-100 grams, this could be a useful addition to a wilderness camp. Many areas in the Victorian bush are a bit light on short pieces of firewood since the bushfires cleared much of this debris. By the same token those same fires have killed and brought down so many trees, there is an ample supply of longer pieces of firewood. This cooked hardwood burns more like pine though, so be warned you need at least twice as much of it as unburned wood. For other info see: http://willowhavenoutdoor.com/featured-wilderness-survival-blog-entries/fat-guys-in-the-woods-blog-skill-series-make-an-improvised-bow-saw/ & http://rockymountainbushcraft.blogspot.com.au/2012/05/how-to-make-primitive-bow-saw-in.html
<![if !vml]>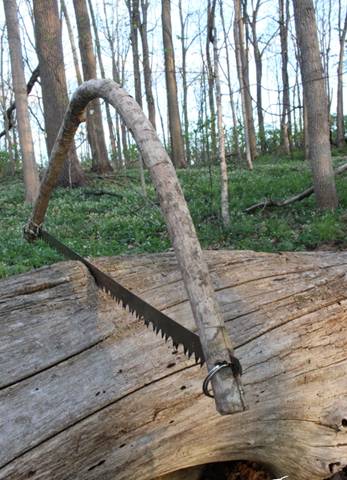 <![endif]>
17/09/2015: Surprising Treasure Hidden Within A Nine Volt Battery: 6 x AAAA batteries: http://survivaltek.com/?p=4535
<![if !vml]>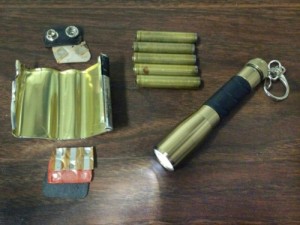 <![endif]>
16/09/2015: Cotton Reels: Did you realise the end caps come off Gutermann 100 metre thread reels (7 grams) so you can wrap the end of your thread around it... or that you can store a needle inside the reel? There is quite a wide choice of different threads for various purposes (including a transparent one). If stored in a small snap-lock bag to keep it clean, it could easily be dipped in some methylated spirits to sterilise it for sewing up wounds. Of course it is great for rep[airs to clothing, gear, etc. The stronger threads would be useful in an emergency for catching small fish. You could sharpen a stick and force it on the lid end to make a small caster. (Some hooks etc would also store in the middle- you may want to tape the end a little more securely though. The paper end sticker may come off.)
<![if !vml]>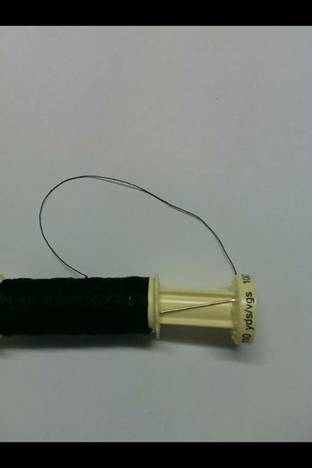 <![endif]>
15/09/2015: Mokai Jet: You are going to want one of these modular jet-powered canoes with a draft of 100mm (4") powered by a Subaru engine. 8-10 hours cruising at 15-20 knots.  US$5,400. That would have to get you effortlessly to some interesting places, up or downriver (over 100 km round trip; some great places await!): https://www.youtube.com/watch?t=48&v=HfmWzP_FSqk & http://www.mokai.com/the-mokai-es-kape/
<![if !vml]>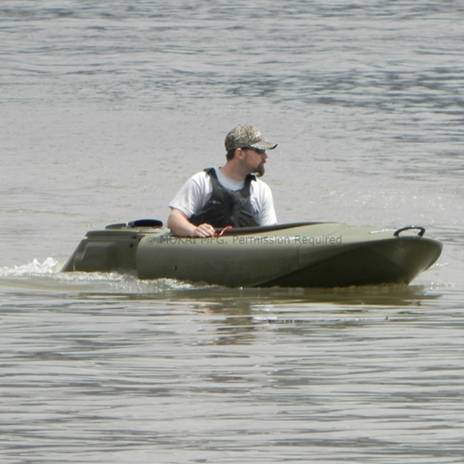 <![endif]>
15/09/2015: Something else new under the sun. Move over sheep: http://www.inspirationgreen.com/suzanne-lee-kombucha-fabric.html
14/09/2015: Sale Common: After we closed the shop at lunchtime we went across to Sale and spent the afternoon walking along some of its dozens of kilometres of amazing wetland walking paths which would take days to fully explore:  Gippsland's 'Everglades'! What a gem, whose existence is almost certainly a secret to most people. You should give it a try on a couple of beautiful days like today; take a picnic lunch and a bottle of wine…there are innumerable great places to sit and wonder at the area's delightful natural beauty and astonishing wildlife!
<![if !vml]>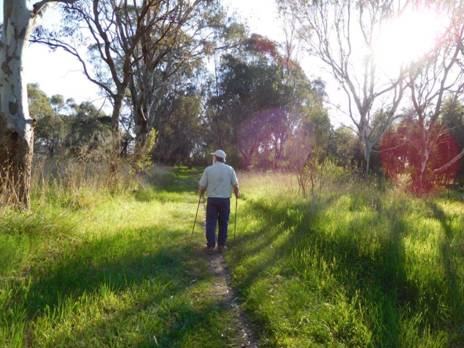 <![endif]>
There are miles and miles of beautiful walking paths
<![if !vml]>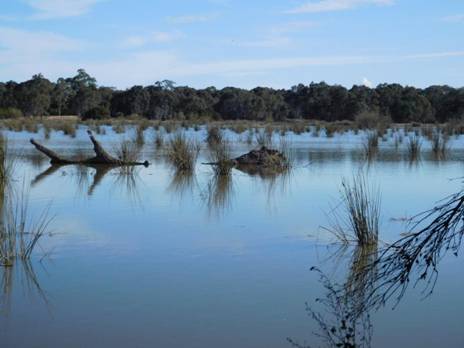 <![endif]>
Vast wetlands.
<![if !vml]>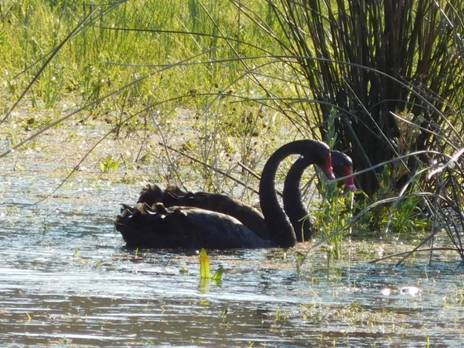 <![endif]>
Beautiful birdlife
<![if !vml]>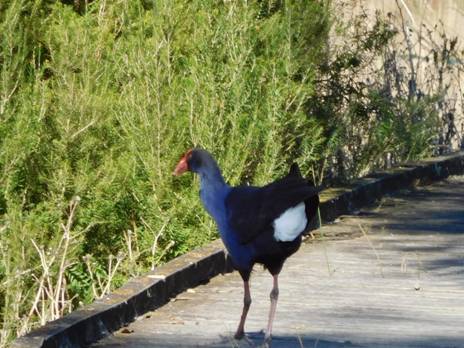 <![endif]>
Astonishing colours
<![if !vml]>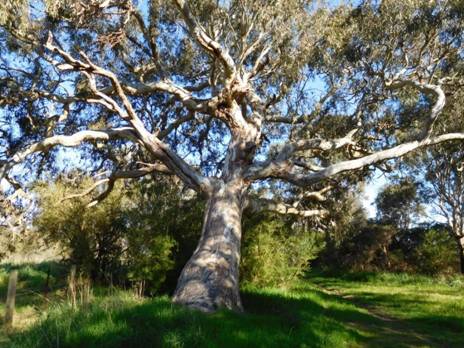 <![endif]>
Majestic river red gums.
13/09/2015: Securing Hearing Aids: Having nearly lost one of my Siemens Aquaris Hearing Aids during my recent walk (http://www.theultralighthiker.com/spots-hunting-adventures-mystery-river-3/) I have had some feedback from a reader who has managed over time to lose three of them, all covered by insurance at the time, but he has now been refused insurance, as the bastards do! Given that most Oz audiologists want @A$7000ea for them; these folks http://www.hearingsavers.com.au/ A$4200 and these folk http://www.thehearingcompany.com/ US$1595 (= A$2248!) you wouldn't want to lose/destroy too many of them, which is why I opted for this model – the world's only WATERPROOF hearing aid, as I had previously had lots of issues with my older aids getting wet/dying etc. You CAN get a 'Sports Clip' for the Aquaris (http://precisehearing.com/hearing-aid-accessories/siemens-aquaris-optional-sports-clip) which has a covered bendable wire which additionally secures the aid below the ear. Also Siemens have a 'Concha Lock' for RIC hearing aids (comes standard with Aquaris) which do help a bit. My reader has decided to have his ears pierced and to connect the aids to studs in his ears - which is going a bit far to me (do not like cicatrices anyway!), but reasonable in view of his insurance situation. I notice the 'Life Tubes' on the Aquaris, the clear bit that go down into your ear, has a hole drilled in it to which you could attach a split ring or cord. A cord could attach the two together around the back of your head (so that you would lose both at once!) You could continue the cord around your forehead and tighten it with a micro cord lock. You could also slip the arms of your glasses through the split rings then link the arms with one of those neoprene or etc glasses 'keepers' so that you don't lose both. I will be pursuing one/other of these measures to ensure I don't lose my aids hiking/canoeing etc as I am not, (contrary to rumour) made of money!
<![if !vml]>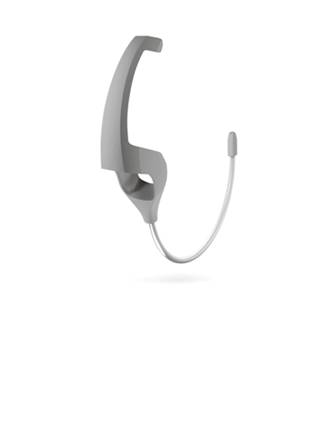 <![endif]>
Sports Clip: The plastic bit clips over the BTE aid and the wire bends underneath the ear.
12/09/2015: Spot's Hunting Adventures: Mystery River #3: Despite having a cold developing, I decided to take a couple of  days off from my weed spraying, fencing, tree planting, sheep husbandry etc and head back to the 'Mystery River'. While I live I can yet journey on, one step after another – unlike my schoolboy friend, news of whose unpleasant death reached me as I was about to set out. The pleasures of my latest hiking adventure were somewhat muted eg as I listened to the Seekers sing 'The Last Goodbye' on my smart phone whilst reading Conan Doyle's 'the Lost World' – none of these coincidences planned…I'm sure he would have preferred to be with me.
I spent the afternoon of the first day exploring some country upriver where there are some beautiful flats and clearings – unfortunately they do not join up easily with the flats where we camped. I essayed a riverbank approach but was continually bluffed out till I gave up. There is a lengthy traverse across the top of a promising grassy gully to get there, which would be difficult in fading light, should I take a companion/s with me planning to split the hunting opportunities.
My cold slowed me down somewhat and robbed me of energy so that I did not cover much new country. I continued to observe though that some much less ethical tally hunter had (again) followed my instructions to this spot and had been shooting numerous deer and leaving them quite otherwise untouched to rot mostly along the riverbank: half a dozen at least! Spot was keen to roll in them but was sternly rebuked for his ambitions as I certainly did not want to share a small even open tent with a foul-smelling canine. All the dead deer I found could have been shot with a telescopic sight from the other side of the river, perhaps explaining why they had been left (but not why they had been shot!) Some would have been very long shots.
The quite numerous remaining deer have quite naturally become a little warier! Except perhaps for this youngster stalking Spot and I as I went for water at sunset. So often I see deer whilst about this chore. It is next to impossible to 'bag' a decent trophy armed only with a billy and water bottle! She was just crossing the river towards me and was quite taken by Spot's fetching new Tyvek raincoat which I had just put on him against the descending evening chill. (http://www.theultralighthiker.com/tyvek-jack-russell-rain-coat-13-grams/)
She had certainly never seen anything like that and was keen to get a closer look. She approached to less than 3 metres from us before fleeing in alarm. I was keenly snapping away with my new camera, and was so assured of some great shots I failed to snap his mother afterwards honking at us from the opposite shore from amidst some shrubbery as I reckoned (probably correctly) that the light was against me. When I returned to my tent's glowing firelight I was appalled to find that the control knob on the camera was somewhere between 'Auto' and 'Short Movie' so all I had except these blurry shots was even worse blur of a deer face to face. Dammit! I will have to decide on a strategy to prevent this in future! Imagine how badly I would feel though if this had been the first NZ moose photo in @ 50 years!
<![if !vml]>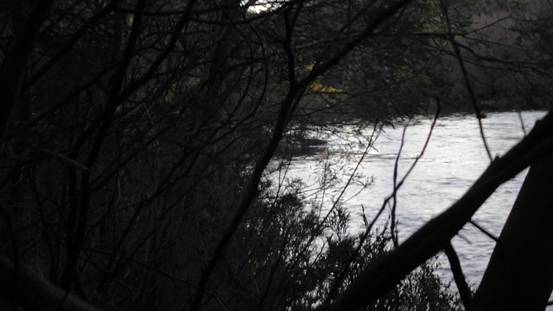 <![endif]>
Young deer @ 10 metres crossing river centre just below bank and right of overhanging tree.
<![if !vml]>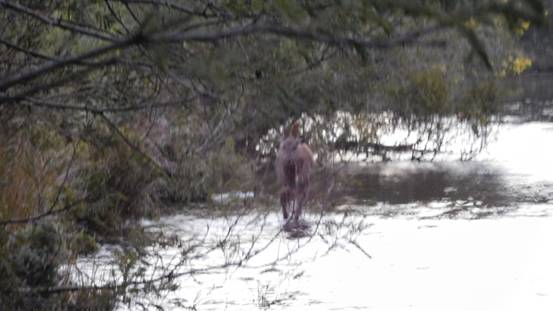 <![endif]>
Deer (centre) approaching Spot @ 5 metres with ears held upright in a questioning manner.
<![if !vml]>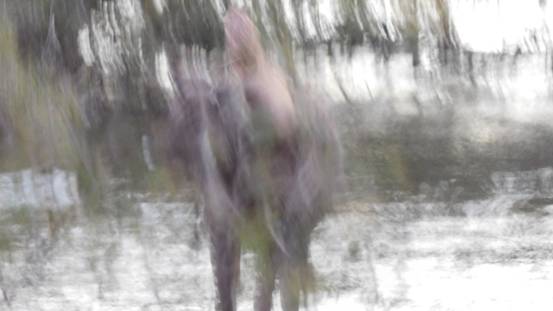 <![endif]>
The same deer ears straight up @ 2.4 metres about to bolt.
The deer's ear language is interesting. This deer is curious and determined . So many critters with mobile ears and tails express interesting nuances with them. I have spent thirty years observing body language in sheep, which is much the same. Everyone understands the meaning of a 'hang dog' look. You can certainly judge whether you have been 'made' (out) by a deer by paying attention to its ears. I maintain that looking it straight in the eyes is a dead-set giveaway. For example, a dog will wag his tail to his right side when he is feeling happy, positive or confident about approaching something. On the other hand, the dog will wag his tail to the left if he feels scared or wants to bolt from the situation. When observing deer, keep your attention on their ears and tails.
<![if !vml]>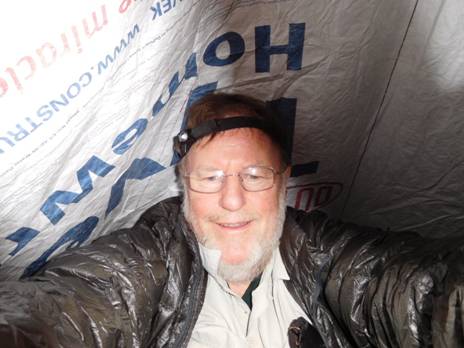 <![endif]>
I just could not believe what my camera had taken!
<![if !vml]>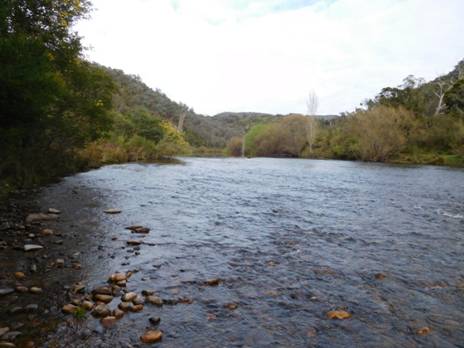 <![endif]>
The same spot next morning - it is a beautiful river!
During the night a very large deer approached quite near our camp (perhaps 3 metres away) before it honked deafeningly and bolted for the river. I caught a glimpse of its derriere in my torchlight before it hit the screen of shrubbery along the river's margin, which is why I know that this shot is a deer print next to my glasses case – else I would have had to suspect a moose (!) or cattle. There is a small herd of wild cattle about. I saw a mob of approx six (didn't think to photograph them). None had ear tags, and they were a long way from someone's farmland, but may be rounded up some time I guess, if anyone suspects they are there. I would guess this print belongs to a resident stag who most like is only out and about at night, as is their wont. If his rack is anything like his feet, he is a monster. Mind you I have shot does with feet near as big as this. Foot shape and size is one of those myths of the tracking world: like people deer have different foot sizes and shapes. There is some correlation between size and gender, but the notion that rounded tips are stags and pointed ones does (or vice versa) is down to someone who has not paid any attention to the feet of the deer they have shot, or they have not shot many. I did once start on a collection of deer's feet, but they were smelly things to have around and the dogs were apt to find and eat them! Clearly though a long stride bespeaks greater height, and splayed toes indicate flight (or downhilling). They will use their feet as tools betimes: to gouge out a lick or a bedding spot, or when jousting, preaching etc. Likewise their antlers.
<![if !vml]>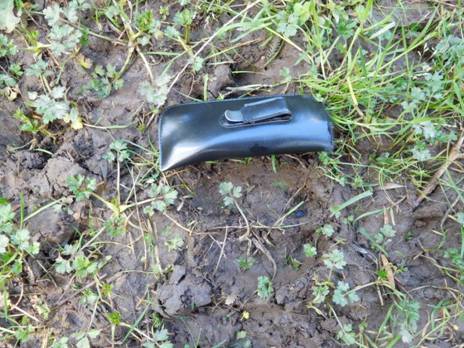 <![endif]>
There is a VERY large deer FOOT around there somewhere!
This was our comfy little camp for a couple of nights by the river. Amazing that all that gear can fit in such as mall, lightweight pack. As usual I took too much food and came home with it. Exercise diminishes my appetite for some reason. I need urgently to undertake a very long journey…well, I am working on it!
<![if !vml]>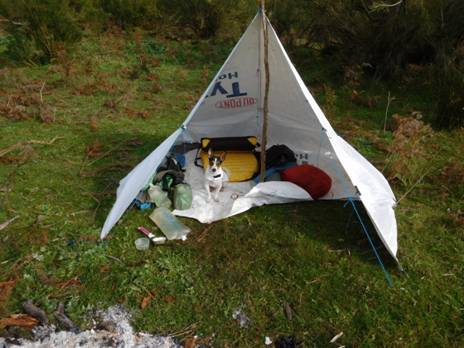 <![endif]>
Hard to believe all of this fits in the small grey-green pack right.
<![if !vml]>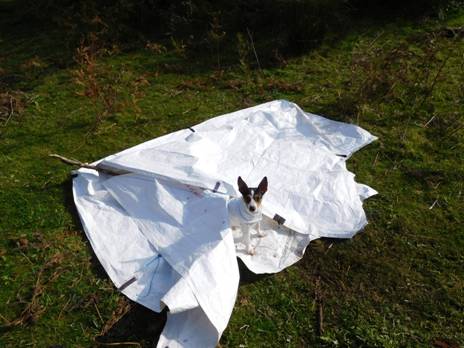 <![endif]>
Spot likes to help with packing away!
The second day I decided to explore the pack track downriver I had stumbled upon before. I had decided to camp the second night on a river flat I had glimpsed from a hilltop in the distance previously, so I eschewed just taking my daypack (worse luck!) and set out with all my gear. I had a detour of a couple of kms exploring a nice clear double gully system: there is some beautiful grazing around there. Clearly in the past there was a grazing licence or private property which has reverted to the Crown as evidence of this old fence shows:
<![if !vml]>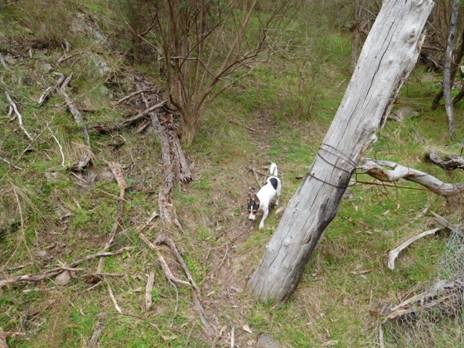 <![endif]>
Historic remnants - hard to believe someone once building a rabbit proof fence in this terrain. A good deer trail Spot found.
Mostly I was marking the pack track (perhaps for a later machete clearing job so I can bring Della with me) by breaking the odd dogwood or manuka branch off along my route. It is very overgrown (mostly due to the fires a few years back), and seriously eroded and hard to follow in places, but altogether worth it on balance. Eventually after a few kms it met an old overgrown vehicular track heading downriver whose gentle gradient made easy walking. I guess I had proceeded along it a couple of kms before I noticed that one of my hearing aids was missing. These (Siemens Aquaris waterproof – highly recommended!) cost upwards of $7,000 each in Oz (though I bought mine from this guy in America for @US1600 each: (http://www.thehearingcompany.com/AQUARIS-Models_c_124.html) I guessed that I had flicked it out on some of the whippy undergrowth I had been pushing through. Even though I was nearing my goal, I had to make an attempt to find it before I forgot exactly where I had been, even though they are made deliberately of a size and colour that makes for easy concealment, and as it was likely it was whipped off my route entirely as happened to one of my hiking poles during my Snowy Bluff walk: (http://www.theultralighthiker.com/snowy-bluff-mt-darling-wilderness/).
So, instead of proceeding forward to a nearby camp and rest (!) I headed back whence I had come thanking my lucky stars I had been breaking trail as I went so that I could be assured I was looking in the right place (except for one enormous detour though mostly over clearish country). I had Spot sniff my remaining hearing aid in the hope he would get the message I was looking for one of them. Unfortunately hearing aids do not have four legs! In the end he walked right over it as I nearly did too. I had been expecting it might be hung up in one of the whippy branches but in the end it was lying on quite a clear patch of ground, still very hard to spot. It must have come off my ear and balanced on my pack for a time before sliding off. It was hard enough to find on clear ground; I would never have found it in a worse situation – though you can be sure I would still be looking!
Spot's nose (or his training) might have failed him in the hearing aid hunt, but his breed (Jack Russell) really is a scent trailing type. I have noticed many times him ignore the clear sight of some game at distance whilst he proceeded to follow their scent instead. Mind you what passes for 'clear sight' to me might be quite different when your eyes are less than a foot off the ground! On the way in on the first day we put up a large animal on a stag's rub line. These are boundary lines anyway, so it could be that it was a doe, though it no doubt adds a tingle of excitement to imagine it has a large tempting rack! There had been some rain recently, though the bush is becoming surprisingly dry and 'crunchy' underfoot, so its tracks were not so hard to follow. I showed his nose the marks and indicated 'fetch' (which would be no mean feat!). He led me on its trail a couple of kms downhill, (every now and again accompanied by a distant thump as it struck the ground in warning with its forefoot, or the crack of a distant twig) until it finally crossed the river and eluded us. I am certain that (properly trained – this may never happen to mine!) Jack Russells will make excellent deer dogs – their keenness would be accentuated wonderfully by shooting a few deer off them now and then, if only I had the enthusiasm (or hunger)to do so. They are wonderfully compact dogs who can fit inside your shirt or balance on your shoulders on difficult river crossings; their gear and food weigh so little, yet they are just as great a companion as bigger dogs, and just as useful in the hunt.
<![if !vml]>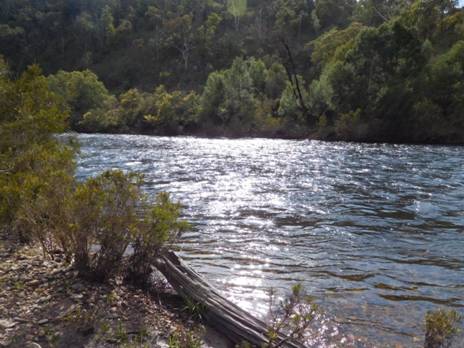 <![endif]>
Downstream a step or two: Another beautiful river shot!
When I found it, I confess it felt a bit like winning the lottery. I have just become used to hearing 'properly' again having found some wonderful people who WILL tune my hearing aids even if I bought them more cheaply overseas (http://www.hearingsavers.com.au/). Most won't. Audiology is a huge scam costing the Federal Government billions – but I can assure you the pollies don't want to know! I had been tuning them (poorly) myself these last several years. Only a couple of weeks ago these folk had tuned my aids for me - and I can hear all sorts of things now/again.
The birds, for example. Maybe when I was young I would have heard the very high pitched warblers which abound along this stretch of river. Small dun-coloured sparrow-sized birds they are. I was never able to get a good look at them (or a photo), though I tried, so I don't know their species. They have clearly been breeding very successfully as there was one every 20 metres or so, but always concealed in dense vegetation. They must be more aggressive to each other than Isis - if the stridency of their singing is any indication. The riverbank also abounds once more with wrens, though in general the birdlife is much diminished especially further away from the river (on the ridges etc) since the fires of a few years ago. If conservationists would only join the Country Fire Authority they would 'save' much more of the bush than all their special pleading for National Parks etc ever will! I doubt they will though, as it would require work and effort, risk even, and indeed their presence in the bush they pretend to love so much – for too distant from the nearest latte really!
The search for my hearing aid was the reason I camped again in the same spot as the first night, the deer now giving me a wider berth. I only stayed the two nights as the temperature was warming too much, and I did not look forward to the danger of snakes to Spot or having to haul myself vertically the few hundred metres to my waiting vehicle in temps in the twenties. And of course at home, there are still plenty of weeds to attack & etc. Also my cold was dragging my energy levels down after a longer than anticipated day carrying my full pack. But, I shall return. I daresay come summer we will venture carefully down this river in our canoes. It is a big river with lots of water at the moment, though the rapids I have seen look manageable. We will have to feel it out carefully as my wife's failing eyesight make negotiating large rapids treacherous for her nowadays. We have canoed much in the past, and expect a few riverine adventures yet. Hopefully the most dangerous rapids can be safely portaged. I may have to do the trip by myself the first time to check it out – or perhaps I can enlist one of my ever-diminishing group of friends to accompany me; though so many folk my age seem to feel they are safer home in their beds – 'most people die in bed, therefore bed is a dangerous place and should be avoided,' my grandfather used to say. Give me the safety of wild places any day!
<![if !vml]>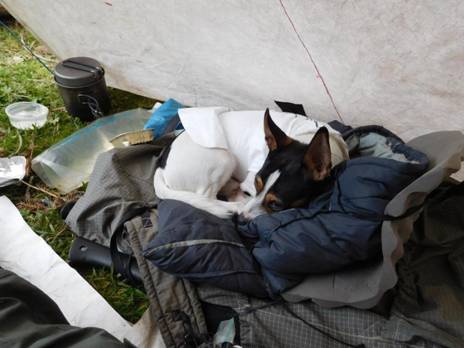 <![endif]>
Spot does enjoy his sleeping bag atop my pack! Of course, at night he nestles inside his sleeping bag: this one weighs 200 grams: he is soon to get a new one which will weigh 102 grams! Every little bit helps! This lady is a useful resource for those who enjoy making their own gear: http://www.questoutfitters.com/index.html You might think about making the 'Bilgy' tent and G4 pack or insulated clothing pattern, for example.
See also: http://www.theultralighthiker.com/spots-hunting-adventures-1-mystery-river/ & http://www.theultralighthiker.com/spots-adventures-mystery-river-2/
09/09/2015: Birds in our garden: My new camera is allowing me to make a bit of a collection/study of these guys. We are lucky enough to have over a hundred species of birds visit our garden fro time to time, so it will take a while o get a )complete) collection together, but here's a start:
<![if !vml]>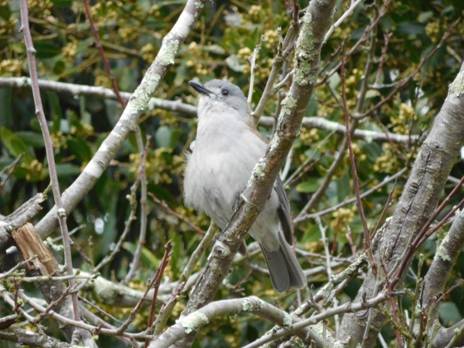 <![endif]>
Grey Thrush 6/09/2015
<![if !vml]>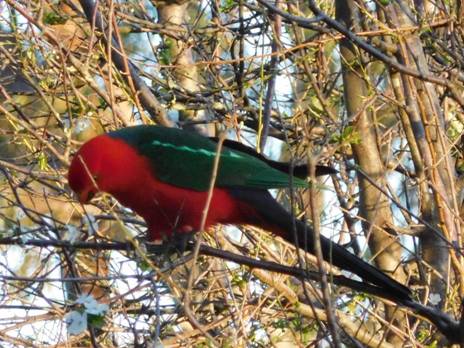 <![endif]>
King Parrot 06/09/2015
<![if !vml]>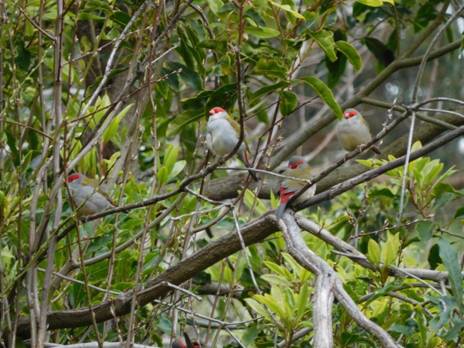 <![endif]>
Firetail Finches 06/09/2015
<![if !vml]>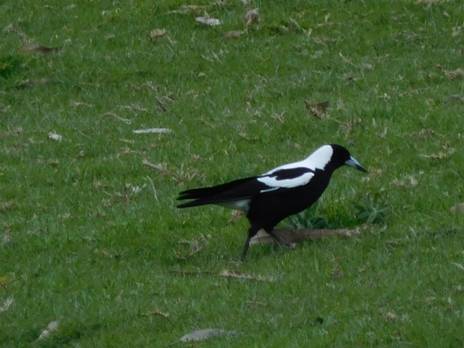 <![endif]>
White Backed Magpie 08/09/2015
<![if !vml]>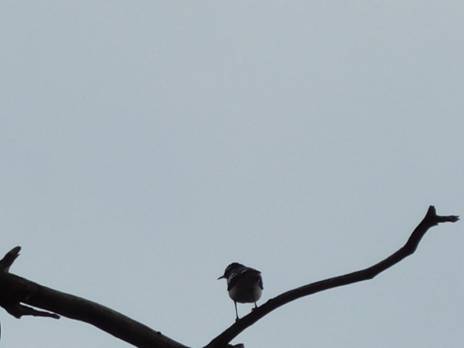 <![endif]>
Pee-wit or Mudlark 07/09/2015
<![if !vml]>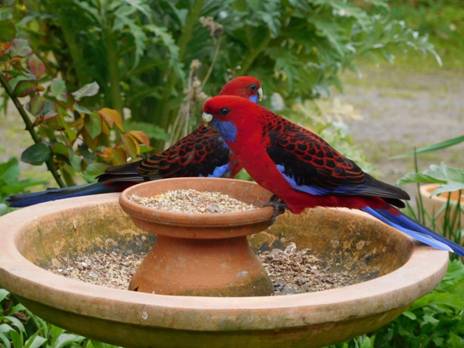 <![endif]>
Crimson Rosellas 07/09/2015
<![if !vml]>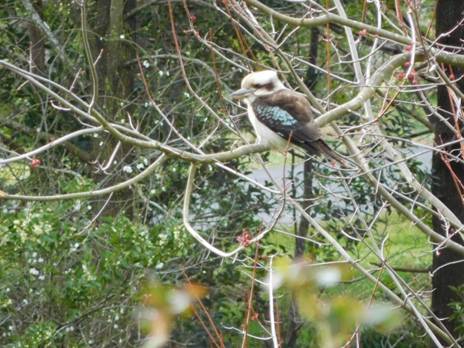 <![endif]>
Kookaburra 07/09/2015
<![if !vml]>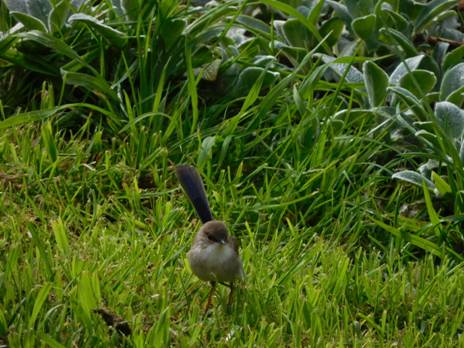 <![endif]>
Jenny Wren 07/09/2015
<![if !vml]>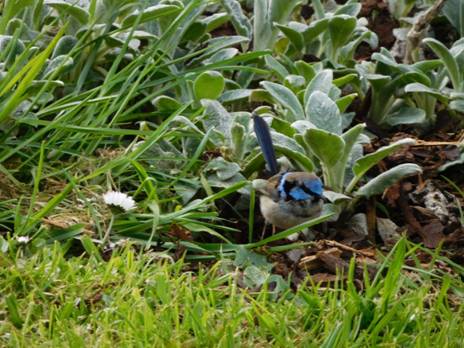 <![endif]>
Blue Wren 07/09/2015
09/09/2015: Last night I learned of the death of one of my oldest friends, John Seamer whom I have known since we were in Year 10 (1964), so 51 years! We were very close at University and in our twenties. Having now lived most of our lives half a continent apart with irregular phone calls and even more irregular visits, I am surprised at the depth of feeling of loss I have this morning: You may guess I 'hear Time's wing'd chariot hurrying near' – and it is true. You may well think there is time aplenty to do all those things you dream of, but for John there is no more time at all, so I hope he did not die with many regrets of things left undone. I had planned a three day hike with Spot in my beloved Gippsland mountains starting this morning, so I will waste no time leaving that particular ambition undone…
07/09/2015: Another lovely Father's Day. Thanks to my wonderful family.
<![if !vml]>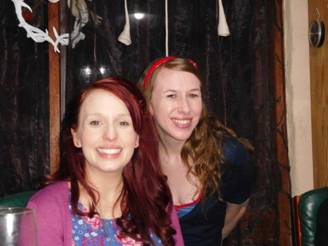 <![endif]><![if !vml]>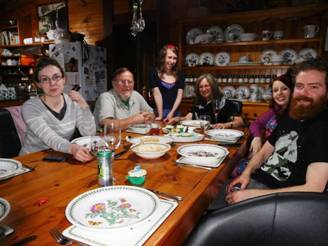 <![endif]><![if !vml]>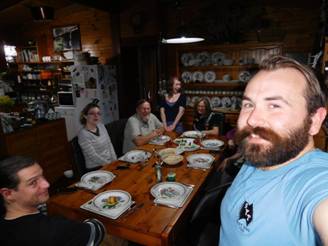 <![endif]><![if !vml]>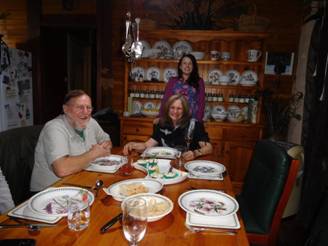 <![endif]><![if !vml]>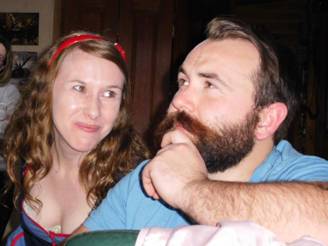 <![endif]>
06/09/2015: Poverty/Disadvantage: This supposed connection is highly spurious: As a child I grew up in what could only be described as a 'poor' family. We had no running water or electricity, no heating, no sewerage or septic tank, no 'family' car, no television, no 'made' road, adequate but (likely) protein poor diet, no 'holidays', very few toys, no 'treats', second-hand/repaired/home-made clothing, (I personally wore no shoes until I was in High School), haircuts performed at home, we grew most of our own food (so nothing out of season); we all suffered from boils (Vitamin deficiency or inadequate washing facilities?)…the list goes on. We never felt ANY sense of disadvantage. Certainly there was nothing about this situation which prevented us from excelling. Both my parents were quite literate, had beautiful flawless copperplate handwriting and were well informed about world events and the progress of ideas. 'The Poor' today are rich beyond my parents' dreams of avarice (not that they had them anyway), their homes and lives crammed with sci-fi gadgets and robots beyond imagining, their stomachs full of a cornucopia of overly nutritious goodies…their minds and spirits are unbelievably vacuous however, and they are unable to do anything – as the recent SBS programme 'Struggle Street' so tellingly illustrated. 'Disadvantage' is all in the mind.
06/09/2015: Phosphorus: In the 1960s I was a shift worker for years in a superphosphate plant (Sulphide Corp Cockle Creek Newcastle) and in one of the acid plants, the 'C" for clean Acid plant, in contrast to the 'D' for dirty Acid Plant. REALLY! The 'clean' (battery, etc) acid we made by burning sulphur; the ('industrial') acid used to make 'super' was a by-product of lead smelting. It did contain quite a lot of (radioactive) cadmium. Enough that certain plants (tobacco, for example) concentrate it to dangerous levels if a lot was used on the crop (which is probably why lung cancers are radioactive). That being said, it made the phosphorus soluble and available for plant use. As many Oz soils are seriously depleted of phosphorus (due to centuries of wanton burning) we need to add it to soils to produce a decent crop. Otherwise nothing would grow but inedible grasses (such as poa) and similar 'weeds' such as gums/wattles!
05/09/2015: PLEASE SHARE! Tonight my daughter Merrin's handbag and phone (as well as Matt's wallet) were stolen from our car parked in a friends driveway in Traralgon (Donegal Avenue near Bank Street) between 6:40pm and 7:00pm. One of the car doors hadn't locked properly. The handbag was a special gift and is irreplaceable and the phone was a Christmas present, it is also quite rare and has special photos of Merrin's pregnancy on it. The bag also had a purple wallet in it and some important medical documents inside. We would really appreciate if you could share this photo far and wide and hopefully someone has spotted it in the hands of someone else or has found it dumped somewhere. It is very unlikely that anyone in the Latrobe Valley would own this same bag and phone so if you see them please contact the Traralgon Police Station Ph.51722700. If you have these items in your possession please find it in your heart to hand them into the Traralgon Police Station or return them to Yinnar General Store 44 Main Street Yinnar 3869, we don't care about the cash just the sentimental value of the phone's memory card and the bag. Thank you.
<![if !vml]>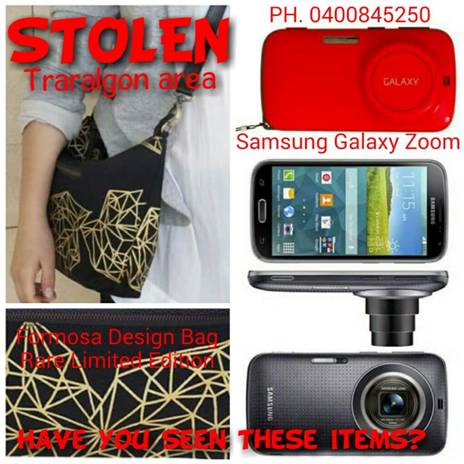 <![endif]>
05/09/2015: Water Anyone? 'Many people believe that the source of this myth was a 1945 Food and Nutrition Board recommendation that said people need about 2.5 litres of water a day. But they ignored the sentence that followed closely behind. It read, "Most of this quantity is contained in prepared foods."': http://www.nytimes.com/2015/08/25/upshot/no-you-do-not-have-to-drink-8-glasses-of-water-a-day.html?_r=0
04/09/2015: New Camera: Thanks to my children I received a new (birthday) pocket camera, a Nikon S7000 with 16 Megapixels and 20X zoom which weighs 162 grams complete with battery, micro sd card and wrist strap. I may now get a chance to take (& post) some snaps of astonishing things I sometimes see in the bush which I could never bring into clear enough resolution before. Here for example, is a pair of Yellow-tailed Black Cockies seen at sunset on our walk last night; (more to follow):
<![if !vml]>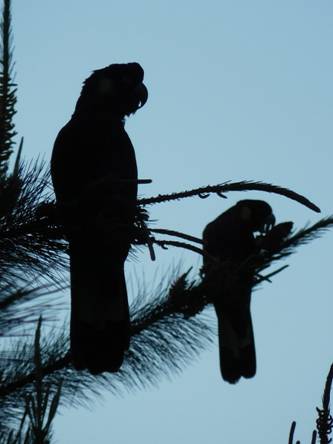 <![endif]>
03/09/2015: Upper Yarra Track Mementoes: A Big Tree Nr Mt Horsefall (before the 1939 fires!) Thanks to Thomas Osburg for the wonderful photo. I love the dog. I wonder are there still a few of these hiding in the catchment somewhere? Won't know unless I take a look!
Note to camping at Mt Horsefall: Mt Horsefall has a beautiful @ 5 acre grassy clearing at its summit with @360 degree views so on still days it is a beautiful spot to camp. Unfortunately there is no water. There is water at the Penny Falls about 1 km South-East (see map) down a closed track obscured by a logging coup. I will try to mark the route when next I'm there. You can also camp at the Falls – space for 1-2 tents on the side of the unused track. I imagine there is also water at the Davis No2 Mill Site approx 2.5 km West if you are coming the other way.
<![if !vml]>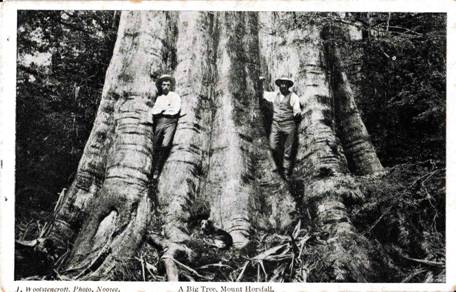 <![endif]>
<![if !vml]>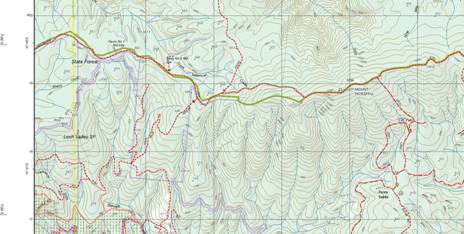 <![endif]>
02/09/2015: Food Dehydration: As mentioned before we have a food dehydrator, so Della often dries some of her superb meals for our later delectation on the trail (her Shepherd's Pie, for example). I know some of you are not so lucky (as to have either a dehydrator or a Della!). You will just have to do without the latter, and if you can't afford a dehydrator, you can, very carefully - perhaps with the oven slightly open, and on the lowest setting, and checking and stirring very regularly, dry food on a dish/tray in the oven. See: Google. I have just dried some Campbell's Spaghetti sauce and Edgell's Aussie Super Kernels.  The 410 gram Sauce came down to 85.5 grams, the 420 grams corn to 50! Rice (see: http://www.theultralighthiker.com/dellas-coconut-rice-hiking-food/) is about 3.5 calories per gram Probably a bit more with the coconut milk added; the Edgell's dried corn works out at 3.4 calories per gram and the Campbell's Spaghetti sauce at 5.32 calories per gram; Maggi's two minute noodles: 4.6 calories per gram. I figure 20-30 grams of Cambell's sauce to a pack of noodles would be an adequate meal for me for a meal (ie just under 500 calories). These are all good numbers. With a bit of  forethought you can bring your hiking diet to 4+ calories per gram, maybe even 5, meaning in our case that we need less than <500 grams of food per day each. You may need more (or need to lose less weight than me, at least!)
<![if !vml]>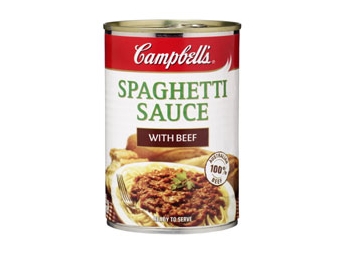 <![endif]> <![if !vml]>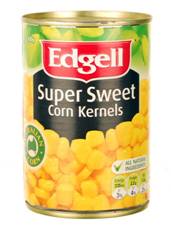 <![endif]>
<![if !vml]>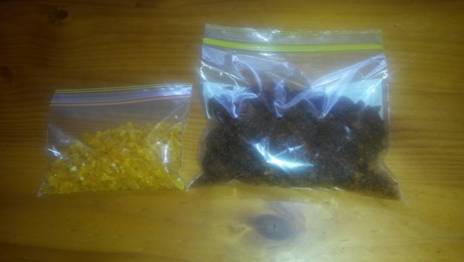 <![endif]>
1 can corn left, 2 cans sauce right.
01/09/2015: Tick removal: Spot's First Tick: This is the very first tick either myself or one of my animals has acquired in Southern Victoria – even though I hunted with hounds here for over thirty years and have owned as many as a dozen and a half dogs at a time. I used to see tiny ticks infecting the ears of Bluetongue lizards probably causing the deafness which results in their suffering from so many road casualties. It is possible to tediously remove them – an operation they lizards do not appreciate – but I have long since given up on it: in no time they find some more anyway.
Spot acquired this particular tick West of Yinnar yesterday when he was trying out his handsome new raincoat (http://www.theultralighthiker.com/tyvek-jack-russell-rain-coat-13-grams/) . I can report I have discovered yet another reason for preferring methylated spirits as a hiking fuel. After dousing the parasite liberally with it (from a teaspoon), and waiting about a minute, it was easy to pull the dead tick out complete with its head (as you can see) leaving nothing to cause an infection or irritation. I used a fine pair of tweezers gripping it just above its head. Easier than pulling a tooth! I have no idea whether it is a paralysis tick (probably not), but you do have to be careful to check your pets for the blighters as they can cause death!
In the US ticks have been implicated in the spread of Lyme Disease (a real nasty previously mostly an occupational hazard to rat-catchers!), so apart from the fact that they will create a very nasty itchy spot, and maybe an infection, it is important to get them out (particularly of yourself) as quickly and safely as possible. The meths is also a good antiseptic.
<![if !vml]>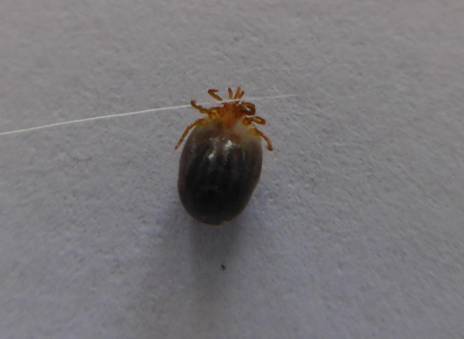 <![endif]>
31/08/2015: Tyvek Jack Russell (Rain) Coat: 13 grams! My little chaps can get quite wet and cold if we are in the bush for long days in the winter so I thought I would treat them to some waterproofing. Surprisingly, my first effort worked very well - you can see Spot modelling it here. He was quite happy wearing it for all of our 5km walk (run for him!) this afternoon and didn't want me to take it off when we came home and I wanted to make Marque #2 using it as a pattern. He needed a little more cover at the rump, along the back of his neck and along his sides. I will just keep using the last one as a pattern for the next one until I get it just right, then  will post the pattern, so be sure to come back and check, but you can probably figure it out from the pix. I just used stick-on Velcro for the four attachment points: seemed to work OK.
<![if !vml]>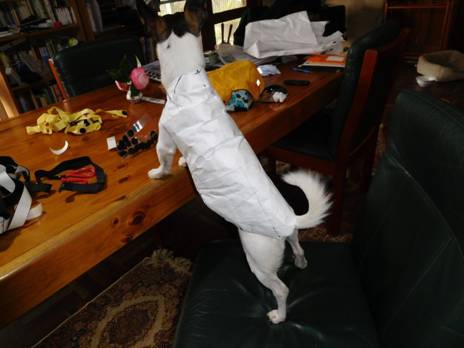 <![endif]>
Stand up & show off Spot. OK!
<![if !vml]>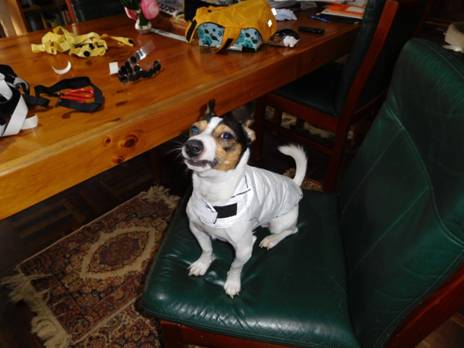 <![endif]>
Do you like it Spot? Yes, Sir!
<![if !vml]>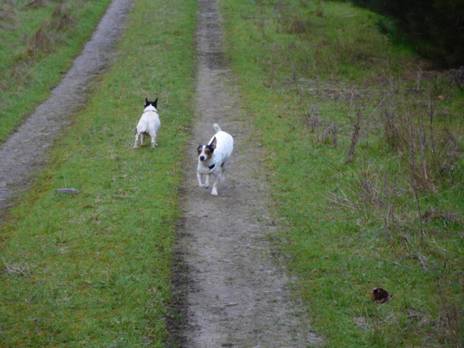 <![endif]>
Can you still run fast in it Spot? My Word!
<![if !vml]>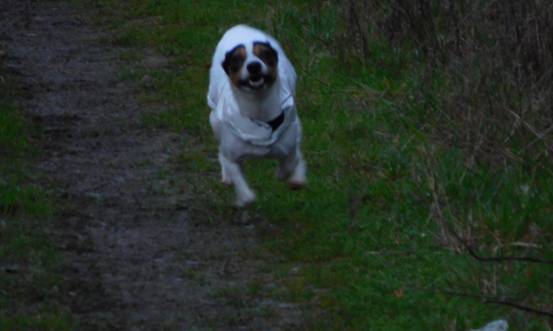 <![endif]>
In my Superdog Cape I can really fly!
<![if !vml]>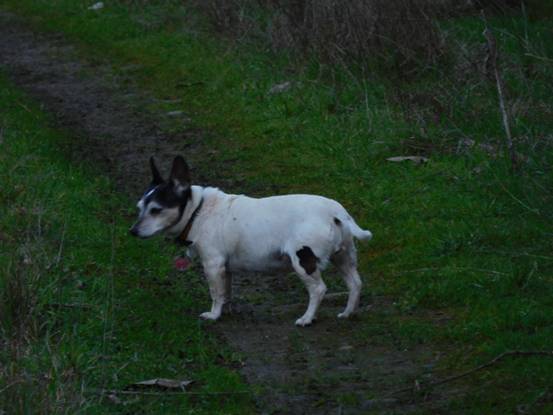 <![endif]>
Tiny: I am not amused. Where's my magic cape?
<![if !vml]>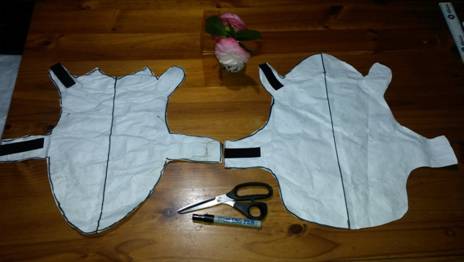 <![endif]>
Left: Marque#1, Right Marque#2.
30/08/2015: Duct Tape Fire Starter: 
Fire starters are easily lit and are created to sustain a flame while the tinder placed above it catches fire. In lieu of fire starters, selecting a good material for tinder can be an asset. Small strips of tire inner-tube work well. I have carried one for more years than I can recall. Surprisingly you can use of duct tape for this purpose.
You can take a 2 inch square of tape and drape it over a piece of tinder and place more tinder over it. Then you can light an edge with a match or lighter. Once it catches on fire it burns with a sooty but strong flame. To provide a longer burn time you can create a free-standing candle with it.
You can carry a length eg spooled on your water bottle. If it doesn't get used for fire starting it may have some other use for repairs. I I imagine other tape (Tyvek, Cuben, etc) burns quite well too.
<![if !vml]>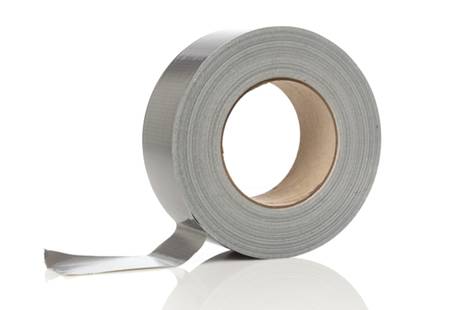 <![endif]>
29/08/2015: Fishing with Floss: It comes in a small plastic box that fits comfortably in your pocket. The 50 metres of cordage inside can be completely withdrawn and tied onto a pole for conventional fishing. Alternatively you can tie an overhand knot on the end and slip it onto your finger or wrist.
Take your floss box and have a rummage through your tackle to see what hooks and sinkers will fit inside the container and if possible look for flies or plastic nymphs too. However there is no substitute for live bait such as bugs or worms that you can find under a stone or log. For a float you can use a length of stick or the polystyrene balls I mentioned here: http://www.theultralighthiker.com/worlds-lightest-tarp-clip/ .
I usually carry it for emergency use (repairs/first aid) http://www.theultralighthiker.com/rope-dont-leave-home-without-it/ but it would come in handy for a spot of emergency fishing too. You will notice that there are (amazingly) several kinds of self-threading needle you can use for repairs. I know the Clayxeye fits in a floss container as I have had mine there for over twenty years (and effected many repairs with it in that time!)
<![if !vml]>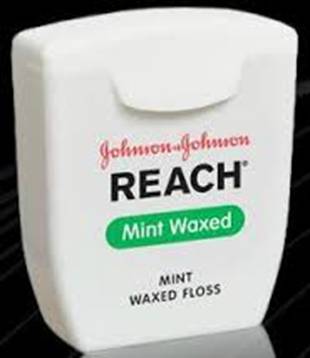 <![endif]>
50 metres o floss weighs @ 10 grams
<![if !vml]>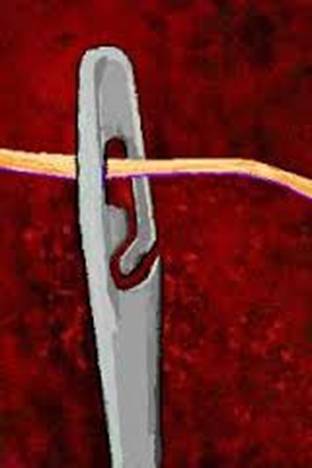 <![endif]>
Spiral eye needle
<![if !vml]>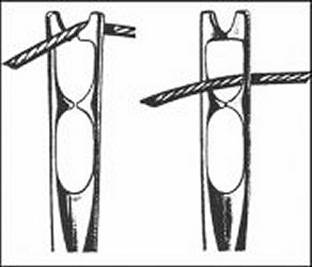 <![endif]>
Calyxeye Needle
<![if !vml]>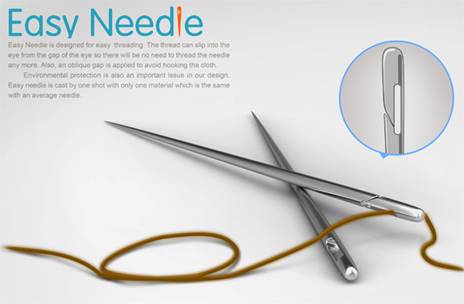 <![endif]>
Easy needle
28/08/2015: Finding Your Way: You don't really need a compass (and you may not always have one - though a compass and a self-winding watch are a good idea as they are two of the most reliable aids you can have). In the Southern Hemisphere the sun is always in the Northern (third) of the sky. At mid-day it should be pretty much due North.
You can estimate how far it has to travel (or has travelled) by measuring finger widths to the horizon, each finger representing approximately a quarter hour (at arm's length). (This is just one of my 'rules of thumb'). Usually it won't matter if you are a few degrees off your route: you can't travel very far in a single day anyway, and if you are lost for more than one day, something is seriously wrong, but if so, think about either heading in one direction (the closest known civilisation and/or following water downstream. If you were paying attention when you set out, and as you travelled along, you should always be able to find your way back to where you started that day. Just keeping in mind where a generally Northerly direction is, by the end of the day you should not be more than a couple of hundred metres from any destination you have chosen for the day. If you are not, you have not been paying attention.
You should note important landmarks on the way out, and turn around as you go out so that you can remember what they will look like on your return trip. This is VERY important and should never be ignored.
When you are walking you don't need any more directions than (at most) the eight cardinal points of the compass. Usually your direction at any given time is determined by topography anyway, so that if you DO want to generally head in a particular direction, necessity will bend your course away from it either to the right or left. You will need to walk for approximately the same amount of time in the opposite (left or right) tendency to keep to your course anyway.
If you need to think more precisely about direction than that, here is another 'rule of thumb': the palm of your hand (at arm's length) is approximately 15 degrees. The tip of your little finger at arm's length is approximately 1 degree). Should you really need to know (precisely) where East and West are, shove a stick into the ground and mark the spot where the end of its shadow touches the ground. Mark the same spot say 15 minutes later. Draw a line between the two. That line is precisely East-West. Obviously North-South is precisely perpendicular to it.
If you cannot SEE the sun (because it is cloudy etc) often a stick will still cast a faint shadow on pale ground. If not a very small hole (eg made in  a leaf) will 'project' the sun's disc onto the ground. Looking around through such a small hole should enable you to work out where the brightest spot in the sky is.
A thumbdial, when you know the time of day tells you the direction of the sun, thus providing orientation. The secret of the thumbdial is that it reveals the sun's location by revealing its shadow. Begin by standing in an open area and placing the tip of a knife blade on top of your thumbnail and rotate it slowly, watching for a slight shadow to be revealed on the matte textured surface. The location of the sun of course is on the opposite side of the knife blade from the shadow. The wide and narrow silhouette of the blade helps to accent this. The sun's brightness is defused in fog but still maintains a brighter presence which is revealed by the very slight shadow.
<![if !vml]>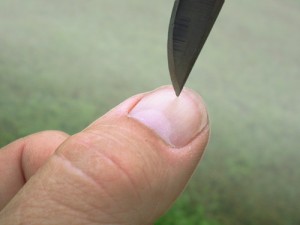 <![endif]>
If all else fails moss/lichen grows on the South side of trees/rocks in the Southern Hemisphere and on the opposite side (the one which gets least sunlight) in the Northern. Really though, if you can't work out where the sun is, you probably shouldn't be out there unchaperoned!
I bought these watch bands on eBay for $1.99. I think they are great because you don't lose the watch if you snag it on some brush or a vine and tear out one of the pins (which happens). I also added a wrist compass ($3.99) which makes this Seiko auto-winder ($49.99) set-up just about perfect:
<![if !vml]>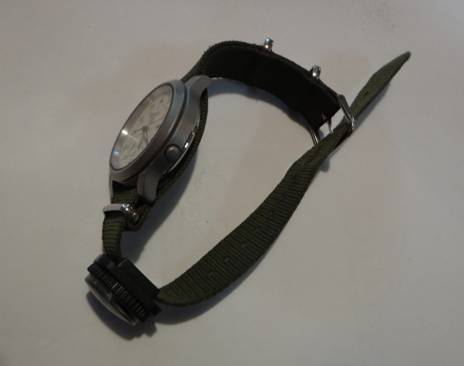 <![endif]>
27/08/2015: World's Lightest Tarp Clip: You can buy these approx 1" polystyrene balls from Spotlight for @ $2.40 for 20. They weigh about .2 gram each. You can carry a few of these in your repair/fishing kit (along with some string, eg 1-2mm Dyneema) for use at need, eg when you need some additional tie-downs for your tent/tarp or when you have torn one out. They also come in handy as fishing floats for use with your http://www.theultralighthiker.com/bcb-fishing-kit/ You could use them to attach the bottom reinforcing tarp to your faux packraft http://www.theultralighthiker.com/home-made-pack-raft/ first tying them to the material as shown below (on the emergency mylar tent http://www.theultralighthiker.com/pitching-the-poncho-warning-this-may-save-your-life/), then tying an overhand knot in the remaining 'tail' and joining all the tieouts together with another length of string and pulling it tight so as to secure it to the raft.
<![if !vml]>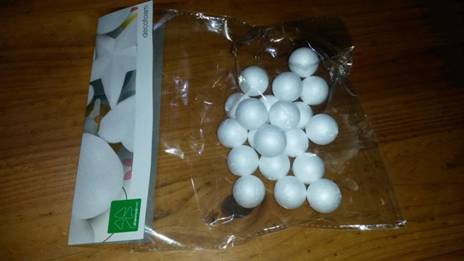 <![endif]>
World's lightest tarp clips
<![if !vml]>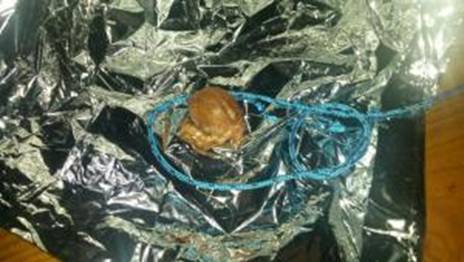 <![endif]>
Tie the slip knot like this:
24/08/2015: Merrin: 'Not a bad day for building a fence! Mum's garden was looking amazing as usual.' Steve: We are stealing a patch of flat ground below our driveway from the sheep to increase our orchard. We already have the plumcots, crab apples, fujis, etc ready to go in as soon as I have finished the fence. I have to build a new fence anyway to keep the wayward JRs in (http://www.theultralighthiker.com/spot/) so it is a case of opportunity. We still have over 100 trees to plant before Spring (?) so we will be busy! Those we planted last year have been doing very well.
<![if !vml]>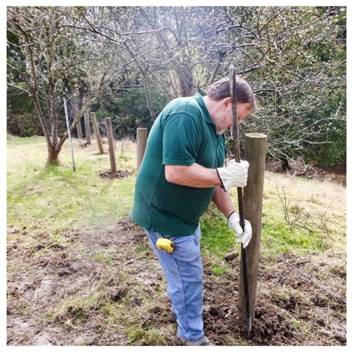 <![endif]><![if !vml]>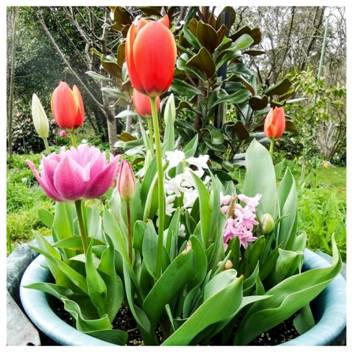 <![endif]><![if !vml]>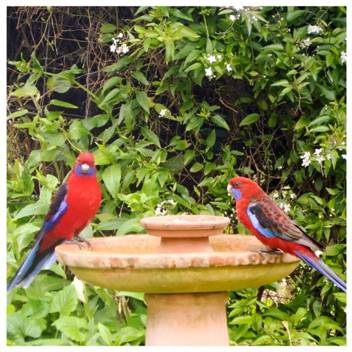 <![endif]>
23/08/2015: If you had dined at the Pratt St Alehouse in Baltimore as a friend of mine Steve Hutcheson recently did, you could have had me for lunch!
<![if !vml]>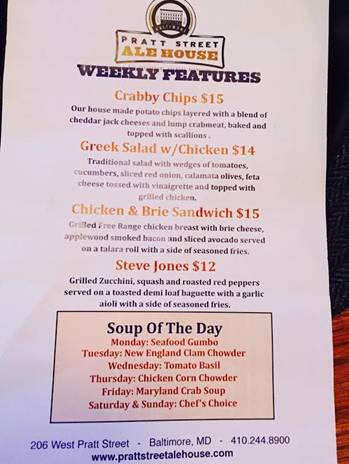 <![endif]>
22/08/2015: Victorian Hiking Circuits:  The Bundian Way: I have been 'working' on ideas for some other Victorian long distance 'circuits' for some time, eg see my page: http://www.finnsheep.com/THE%20UPPER%20YARRA%20WALKING%20TRACK.htm . Thomas Osburg has drawn my attention to this 'new' one, 'the Bundian Way' which travels from @ Mt Kosciusko to Eden. This 'new' path would fit in nicely with those ideas. For example, starting eg from Lilydale Railway Station, ityou could begin with part of The Upper Yarra Track  then a section of the Australian Alps Walking Track, then the Bundian Way then the Wilderness Coast Walk back from Eden to Bemm River from where you could make your way to Orbost, then join the various rail trails to make a circuit back to public transport again eg at Traralgon Railway Station. The Bundian way has not been completed yet, but I'm sure it could nonetheless be walked by intrepid folk. I have also been giving consideration to the fact that many of the existing tracks go nowhere near resupply points. Some (minor) changes to their routes could correct this. I will post about this more extensively later. Meanwhile check out this excellent book by John Blay: http://www.newsouthpublishing.com/articles/track-and-bundian-way/ & http://www.bundianway.com.au/Bundian_Survey_Public.pdf etc.
<![if !vml]>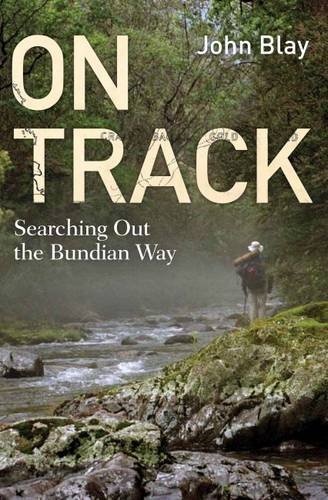 <![endif]>
23/08/2015: Della's Coconut Rice. (Hiking Food): People so often ask me this question, 'But what do you eat…? I hope you will forgive me if I post about it fairly often and repeat myself…We have a home dehydrator, so this gives us a few more options, but you CAN dehydrate things in your home oven (if you are careful). Dehydrating cooked rice which then rehydrates simply by adding boiling water is a case in point - I am really surprised that no-one sells 'instant' (dehydrated) rice; maybe that's a business idea for you.
Here is our recipe for 'Coconut Rice' which works well as a lunch mixed eg with a Sweet Chilli Tuna or as an accompaniment to the evening meal. (We add the boiling water at breakfast to a snap lock bag and eat it cold for lunch). As you can see from the picture Della vacuum seals the rice (you need to double bag it eg with a freezer bag to prevent it from piercing the outer bag) and adds her own label for when we take these meals eg to NZ. NB: we need to add country of origin barcodes in future; see: http://www.theultralighthiker.com/hiking-food-customs-gestapo/
DELLA'S COCONUT RICE
Ingredients: