Ultralight Hiking:
See also:
NEW MOBILE FRIENDLY SITE: THE ULTRALIGHT HIKER
<![if !vml]>

<![endif]>
Della & I (combined age then 120) heading off from Freney Lagoon on the second day of our walk across Tasmania in 2011. We took seven days. Between us we were carrying @ 20 kilos & enough food (& booze!) for 10 days. These zpacks 'Blast' packs are 52 litres including pockets. Today we would be carrying several kilos LESS.
All about light weight, ultra light hiking, backpacking, bushwalking, hunting, tracks, trails, adventures, gear, reviews…
I have been hiking/hunting now for over sixty years, a little more slowly than I once did, walking in the Victorian Alps & elsewhere often in winter and in all weathers. I have camped out a lot, more than two years of my life in toto. I have seen the failure of just about every type of gear, and experienced most disasters which can befall you in the wilderness, and survived. So, if you dream of doing a bit of camping/hiking, maybe I can offer some useful advice?
This is a 'work in progress'. I will be adding to it on a regular basis adding new photos, adventures, product/ideas, suggestions, etc. You should also look at HIKING ADVICE also a section of gear advice for my son written in 2011 WORLD TRAVEL KIT FOR SON. You can also see my older posts here: Hiking 2014.htm & Hiking 2013 & Earlier. Hope you find something interesting.
PS: UPPER YARRA TRACK: I have recently created this site The Upper Yarra Walking Track Australia's oldest (& best), an approx. 10-14 day walk with numerous resupply points, plentiful water and camping spots now extending from Moe railway Station @ 150 kilometres up the Latrobe, Tyers & Thomson River valleys, via Yallourn North, Erica & Walhalla, across the Baw Baw Plateau, along the Upper Thomson River, past the Yarra Falls & Mt Horsefall, along the Little Ada, Ada and Yarra valleys via Warburton to Lilydale Railway Station. Now, complete with Track Instructions
ULTRALIGHT HIKING BLOG:
09/07/2017: Bathtub Groundsheet Chair: As you can see I have completed the first prototype of this project which I have long threatened. I learned a lot in the process, so that there will be substantial changes between where it is at now and the completed project. Still, you can see that it works. I created four 'sleeves' along the sides of the chair, back and seat) which you can slip lengths of dead sticks in for stiffening. I used some slats I had lying around from a broken door. You can see the end of one sticking up on the top right of the third photo.
There are three horizontal pieces of fabric which hold the infated pad in the two positions, one at each end and one (nearly) in the centre. I sewed the centre one at each end but I think I will unpick one line of stitching (as it might not be necessary, then when I want to configure the chair as a bed I can slip the mattress underneath it which will pull the sides up more to create a bathtub effect. If I make the two webbing straps a little longer they can also be clicked together criss-crossed to accentuate this effect. I think I will need a piece of elastic around about where my knees are in the second photo to firm up the 'bathtub' effect there.
I am thinking 3.5 oz Dyneema for the sleeves and triangular tie-outs the webbing is attached to. A lighter Robic material might work well here. The bottoms of the back sleeves may need some reinforcing as that seems to be where the most stress occurs. I am thinking 1.3 oz silnylon for the floor. I know that this will wear through over time, but should last for many nights until then. You can also re-waterproof the silicon side as explained here: http://www.theultralighthiker.com/waterproofing-tent-floors-and-ground-sheets/ I am thinking that the completed chair will weigh perhaps less then 90 grams! As you can see the prototype weighs 138 (but that is with 1.85 oz/yd2 Tyvek and 3/4″ buckles and webbing instead of 1/2″).
<![if !vml]>
<![endif]>
Ready for bed:
<![if !vml]>
<![endif]>
Detailed view:
<![if !vml]>
<![endif]>
Prototype size and weight:
<![if !vml]>
<![endif]>
You can see how unpicking the middle horizontal (which made no difference to the performance of the chair) pulls the sides up in groundsheet mode. Clipping the webbing diagonally will also help. <![if !vml]>
<![endif]>
It's quite comfy too if you configure it as a lounger like this. The Klymit Ultralight Pillow (http://www.theultralighthiker.com/klymit-ultralight-pillow/) can be used as a seat to boost height if required:
<![if !vml]>
<![endif]>
PS: Only the back sticks seem to be necessary, though the bottom sticks may add some minimal comfort. I will experiment with this. If so, I can reduce the weight by omitting the bottom sleeves.
See Also:
http://www.theultralighthiker.com/inflatable-bathtub-groundsheet/
http://www.theultralighthiker.com/ultralight-chairgrounsheet/
http://www.theultralighthiker.com/tarp-bathtub-groundsheet/
08/07/2017: Leatherman Juice B2: Leatherman just keep coming up with entrancing products to separate us from our hard-earned. Here's a nice example, the Leatherman Juice B2:
'Sometimes, all you need is a knife. The Juice B2 has one serrated and one straight-edge knife made from high quality steel and backed by our 25 year warranty.
<![if !vml]>
<![endif]>
Closed Length 3.2 in | 8.2 cm
Weight 1.3 oz | 36.8 g
Blade Length 2.2 in | 5.6 cm'
See Also:
http://www.theultralighthiker.com/leatherman-micra-multitool/
http://www.theultralighthiker.com/leatherman_squirt/
http://www.theultralighthiker.com/my-top-five-knives/
08/07/2017: Never buy clothes again! These folks are making garments they reckon you can't wear out (from Kevlar). For example their 100 Year Hoodie: They've taken aramid fibres with a strength to weight ratio five times stronger than steel and spun them into a super soft knit to make the most indestructible hoodie you've ever worn.
<![if !vml]>
<![endif]>
They also sell undergarments: https://www.vollebak.com/product/100-year-hoodie-raw/
Pair them with these dyneema jeans and you will never need to buy clothes again: https://www.kickstarter.com/projects/791166183/backcountry-denim-cotm-most-durable-jeans-ever-mad
<![if !vml]>
<![endif]>
07/07/2017: Poncho Tent Update: Today my waterproof zippers arrived so I sewed them on (and they work a treat!) I also made up the small extra piece which can be used to close the tent up completely. This piece will weigh just less than 30 grams in silnylon on the completed tent bringing its total weight to approx 180 grams or about 240 grams with titanium stakes, guys etc. You have to admit that this is pretty good for a tent which is also a raincoat! With the extra piece sewn in and zipped up the tent would make emergency accommodation for two (lying down) or probably four sitting up, so it could certainly save lives in unexpected bad weather.
Spot helping me measure and cut out the extra door piece:
<![if !vml]>
<![endif]>
And here it is with the almost invisible #3 waterproof zips sewn on:
<![if !vml]>
<![endif]>
And zipped in:
<![if !vml]>
<![endif]>
Della sitting in the tent - to give you some idea of how roomy it is:
<![if !vml]>
<![endif]>
The tent is plenty big enough for her to sit up with legs stretched out.
<![if !vml]>
<![endif]>
I admit I could have pitched it a bit tauter. I may put large ribber bands on each of the tie-outs to facilitate this. My sole concern with a tent actually is that it goes up easily, stays up and keeps you dry. prettiness is not part of my lexicon:
<![if !vml]>
<![endif]>
You can stake the door flap out like this to create even more space:
<![if !vml]>
<![endif]>
And it works as a raincoat:
<![if !vml]>
<![endif]>
It is 8' long at the widest point, so a large person can sleep in it without touching any of the sides - and you can have a fire out the front to warm it. Dogs love it!
<![if !vml]>
<![endif]>
Now to move on to the silnylon version - and complete my <100 gram bathtub-groundsheet-chair to use with it.
See Also: http://www.theultralighthiker.com/ultralight-poncho-tent/
04/07/2017: Black Diamond Storm Waterproof Headlamp: A year ago I though this was the greatest head torch ever: http://www.theultralighthiker.com/let-there-be-light-great-new-head-torch/
<![if !vml]>
<![endif]>
Now, Black Diamond has a new model which blows it out of the water literally – being waterproof! their new model boasts an incredible 350 lumens though it uses an extra AAA battery (4 rather than 3). It still has superb run time and functionality though. This should be a good head torch for a bit of nighttime bunny busting (with a range on High of 80 metres). It lasts on High for 22 hours, and on Low for 160 – a full week, and weighs 110 grams including batteries! It is available on Massdrop at the moment for US$35.95 and I have found it on eBay this morning for US$39.95 (free shipping) which is about the same. Isn't it 'Xmas in July' just now?
'Specs
Black Diamond
Lumens: 350
LED types: 1 QuadPower, 2 DoublePower, 3 SinglePower
Settings: Full strength in proximity and distance modes; dimming; strobe; red, green, and blue night vision; lock mode
Rated IPX67: Tested to operate up to 3.3 ft (1 m) underwater for 30 mins
Maximum distance, high: 262.5 ft (80 m)
Maximum distance, low: 36 ft (11 m)
Maximum burn time, high: 22 hrs
Maximum burn time, low: 160 hrs
Batteries: 4 AAA (included)
PowerTap technology
Brightness Memory
Waterproof and dustproof
Weight with batteries: 3.9 oz (110 g)'
03/07/2017: Hardtack: A recipe for folks who want to experience just how hard life was in the past. I think you should try it. I used to eat it with relish when I was a kid, but back then kids were always hungry and would eat just about anything. You only have to notice how much taller youths are today than the average height of folks over 60 to see that this was true! The virtue that it certainly has is that it lasts in storage for years as the photo below amply illustrates.
<![if !vml]>
<![endif]>
If you want to eat flour based food (which is quite economic weight and space wise), maybe 'Johnny Cakes' (or fried scones) a traditional Australian favourite is more 'for you'. I used to make these all the time when I was hiking, but I have come up with so many other recipes over the years that I usually don't bother any more, mostly as they were a bit fiddly. You need to carry some fat for the frying for one thing. Once this had leaked all over my pack once or twice it put me off. Using dripping or tallow (as explained in yesterday's post) would obviate this: http://www.theultralighthiker.com/out-of-the-frying-pan/ I developed a recipe wihich was a bit more interesting than the traditional water, flour, salt one. The addition of eg some milk powder, some desiccated cocnut, a little sugar, some slivered almonds – even a few sultanas – makes the cakes into something quite pleasant and entertaining to enjoy. Here are a couple of recipes you might try from: http://thesurvivalmom.com/hardtack/ & http://www.wikihow.com/Make-Hardtack
<![if !vml]>
<![endif]>
02/07/2017: First Bag Your Omelet: Long ago I noticed that powdered eggs are once again available in Australia: Coles Supermarkket, Cake aisle: http://www.theultralighthiker.com/hormel-real-bacon-pieces/) and that they would go well with the Hormel's Bacon Pieces (Dehydrated).
<![if !vml]>
<![endif]>
It's a bit like noticing that dehydrated French Onion Soup ought to be a great resource and meal base but then never getting around to inventing a meal which uses it. Well I did with the onion soup, see for example: http://www.theultralighthiker.com/hiking-crayfish-bisque/
Now it is the powdered eggs' turn. Of course I have already tried them out as reconstituted scrambled eggs and they make a fine breakfast, particularly if you fry some Chinese sausage with them (it doesn't require refrigeration until after the packet is opened, so you have to eat itall. Oh Dear! It comes in approx 155 gram packets, so it's not too much) The sausage also gives you the oil to cook the eggs in. A little bit of powdered milk in with the powdered eggs makes them fluffier and tastier, just like with fresh ingredients at home!
You can bring along some tallow to fry your omelet in (as described here http://www.theultralighthiker.com/out-of-the-frying-pan/) or you can bring along the omelet ingredients mixed together in a ziplock bag, add enough water to reconstitute them then simmer the bag in your cookpot - which means you don't need oil, and you don't have to wash up either!
I would definitely want some onion and garlic powder in my omelet, and some bacon pieces. If you have brought some dried tomatoes, they would go well too. There are a number of other interesting dried herbs you might add, eg thyme, basil, oregano. Salt and pepper to taste. I also enjoy curried eggs. I'm sure you have your own favourite omelet recipes. Oh, I always have some cheese along (for lunches). A little bit of shaved cheese always goes nicely on an omelet. As I have some salami (also for lunch) ditto!
Some other recipes from folks who find it easier to find dehydrated vegies than we do in Australia!
http://honeyvillefarms.blogspot.com/2012/04/omelet-in-bag-recipe.html#.WVh_oVFLfcs
http://www.carolinafoodstorage.com/2012/02/powdered-egg-omelet.html
https://atablespoonofoil.wordpress.com/2010/09/19/dried-herb-omelet/
Or you can cook your at home then dehydrate it, eg: http://www.frugalvillage.com/forums/homesteading-gardening/146087-dehydrated-omelette.html
30/06/2017: Multiple Use: There is no doubt that one of the best ways to achieve ultralight hiking weight savings is if gear you carry serves several purposes. Thus for example, the Poncho tent I am working on (http://www.theultralighthiker.com/ultralight-poncho-tent/ and likewise the bathtub floor groundsheet/chair I am also working on below (coming soon).
<![if !vml]>
<![endif]>
However, I finished these 12 gram (ea) shoes way back in April. They worked wonderfully well for my Fiordland Moose Hunting expedition on this year's Dusky Track walk (http://www.theultralighthiker.com/from-dawn-to-dusky/ & ff), and I had already posted a photo of what they weighed with and without the shoe inserts, yet somehow it had not occurred to me that I need not carry inserts specially for them when I could use the inserts from my shoes which I had definitely tested to make sure they absorbed no water after last year's shoe disaster on the South Coast track walk with Della: http://www.theultralighthiker.com/westies-hut/.
Clearly though, all I need to do is dry my shoes' inserts put them inside my hut booties and I have saved an ounce! Twice as much as I could save by switching to the lighter containers I wrote about in my last post: http://www.theultralighthiker.com/small-is-beautiful/ Still, every gram makes a difference.
PS: You will notice that in the second photo the draw string tightens only around the heel. The reason for this is to allow maximum air flow out the top of the shoe so that it doesn't get clammy. I chose waterproof material so that I could walk through wet grass (as you need to do in camp, eg to put wood on the fire). It is really nice to have dry feet at the end of a day's walking, but you don't need to carry a brick around to make it so.
Weight of the shoe bare:
<![if !vml]>
<![endif]>
With blue foam inserts. (Not very serviceable):
<![if !vml]>
<![endif]>
With proprietary urethane inserts:
<![if !vml]>
<![endif]>
The shoe in the photo has been used for over a week on the trail so that you can see how tough the material is. You could make them last longer by painting some liquid latex on the sole (for wear) every so often, but this would increase the weight too.
See: http://www.theultralighthiker.com/19-gram-dyneema-camp-shoes/
PS: I know I haven't finished posting the patterns, instructions, etc. Please be patient. I am busy. I still have kilometres of fencing to build (another awful section through a dreadful slip completed yesterday) - and it is cold and wet, and I am old!
29/06/2017: I have trouble finding my glasses yet Mars Rover Opportunity has found a bit of man-made space junk on the surface of that vast empty desert, larger than the land surface of the Earth. We should have set this little guy to looking for MH370!
<![if !vml]>
<![endif]>
27/06/2017: A Spot of Solitude: My back and knee are still giving me trouble but the Meniers which has plagued me for the last fortnight seems to have taken a holiday, so I wanted to get away for a couple of days to see whether I was still up to some gentler country. I may need another back operation and I don't look forward to that. The knee I hurt looking for moose back in April in the Henry Burn near Supper Cove, Dusky Sound Fiordland NZ (See: http://www.theultralighthiker.com/from-dawn-to-dusky/ & ff. The tyranny of aging really.
This is a new spot for me, so I did not know what to expect, for example would there be few deer as it had been badly burned out a few years ago? It might have been too thick or would it be impossibly crowded being relatively easy to access, and only gentle walking? Usually I would need my pack raft to get across this river to where I intended to camp and hunt but it has been so dry this winter I could simply walk across with Spot the Jack Russell riding on my pack, of course! I guess most people don't do much canoe hunting (http://www.theultralighthiker.com/you-take-the-high-road-and-ill-take-the-low/) and don't pay attention to the BOM's River Heights http://www.bom.gov.au/cgi-bin/wrap_fwo.pl?IDV60154.html as there was no-one at all about, even though it was a lovely sunny weekend in the High Country. Suits me!
<![if !vml]>
<![endif]>
I was surprised at once by how chewed out the bush was along the river. All the available grass and forbs were chewed right down to the ground, and they had been gnawing at this nasty prickly wattle.
<![if !vml]>
<![endif]>
And the many stags are smashing them to bits! Good riddance!
<![if !vml]>
<![endif]>
This tiny gully had been thoroughly scoured. There are too many deer here actually. It is wonderful though how the large herbivores create the clearings, isn't it? Did you realise that tens of millions of years ago grass made an alliance with the herbivores and declared war on the forests? The result is the pattern of great plains and receding forests we see on the planet today. Once the word for world was 'forest'. Now it is 'earth'. Grasslands store several times as much carbon (in their soil) per acre as forests do in total. They do this to prevent the trees from having it. They feed the herbivores and the herbivores keep the forest at bay and nourish the grasslands with their dung and dead bodies. A tiny part of that great battle is what we see in this small valley.
<![if !vml]>
<![endif]>
I only had a little time to look around as I needed to make camp and gather some firewood. This trip had been a 'spur of the moment' decision. I had not decided to go until well after breakfast or started out much before lunch - and I needed to be back tomorrow night! Still, little trips are sweet! I very hastily erected my tent, as it was getting dark. No great wind was expected so I did not peg it out properly. It would still keep what little rain was expected off me. A large tree had fallen and shattered so I had more than a ute load of firewood ready in no time - and I needed it. The night was cold! Spot chased a stag away through the wattles as I was gathering wood. I could hear his antlers clattering against the saplings.
Spot enjoys the fire, and my sleeping bag. Always hard to get him off/out of it and into his own at bedtime.
<![if !vml]>
<![endif]>
A fire is such a lovely thing!
<![if !vml]>
<![endif]>
It's certainly warm enough inside though in that lovely warm yellow glow. I hope you like my new Deerhunter's Shirt. Kathmandu had a sale on these wonderful 'Tomar' wool shirts last week for $89. They still do: http://www.kathmandu.com.au/mens/clothing/tomar-men-s-merino-long-sleeve-shirt.html A great colour. So much better, and more practical than all that silly camo! Wool is just great!
<![if !vml]>
<![endif]>
Spledid to just stretch your feet out towards the fire and watch the greatest show in town:
<![if !vml]>
<![endif]>
Isn't it grand?
[video width="1920" height="1080" mp4="http://www.theultralighthiker.com/wp-content/uploads/2017/06/DSCN4685.mp4"][/video]
I also finished the fourteenth volume of Poul Anderson's 'Flandry' ebooks on my phone while listening to some soothing music. What a cracker of a read they all are. So long as you love Sci-Fi as I do, anyway. Anderson is a genius!
In the morning Spot's bowl was quite iced up. It is the container of one of those Sirena Tuna meals, probably the Mexican Beans which are my favourite. It makes for a good ultralight cereal bowl, if you are looking for one! You will have to fight the dog for this one!
<![if !vml]>
<![endif]>
I just love watching the mist rising from the river in the dawn when I am doing the dishes:
<![if !vml]>
<![endif]>
Like this. Just so magical!
[video width="1920" height="1080" mp4="http://www.theultralighthiker.com/wp-content/uploads/2017/06/DSCN4705.mp4"][/video]
Looking back at my peaceful camp among the wattles. What an idyllic scene! In other countries you would have to pay thousands to find such peace and tranquility. So far in Australia we are still blessed. In Victoria at least.
<![if !vml]>
<![endif]>
But, time to take a look around...It is easy and instructive to follow a game trail like this:
<![if !vml]>
<![endif]>
It will lead you past preaching trees such as this and deer bedding areas, sometimes a wallow. As you can see, as soon as you get away from the river, the fire regrowth is pretty thick - and already starting to die from overmuch competition. You will not be able to see a deer far off in this sort of country. A telescopic site, (a culler's tool really) would be no use here. This is the sort of country where the lever action comes into its own. You can carry it unloaded (as you should any gun) but you can quickly throw it to your shoulder as you load for a quick snap shot at a fleeing deer. You must always be aware of what is behind the deer though. There must be solid earth or else you must not fire. A .30 calibre round can easily kill someone a couple of kms away!
<![if !vml]>
<![endif]>
This deer path up this small valley is pretty easy to follow. 'They went thataway' says Spot. Well, actually they came from thataway. I am hoping they circled around back to where they came from, and will be looking the other way! Sometimes this is a better strategy than following them. There is a cold wind blowing from that way, and the sun is shining from this way, so they will be bedded in a warm spot out of the wind over there.
<![if !vml]>
<![endif]>
You can see it gets quite thick. Plenty of private bedding areas, but you will not see a deer faraway. Very chewed out - both a good and bad sign.
<![if !vml]>
<![endif]>
Here are a couple of nice fresh rubs. The path between them marks the edge of this stag's territory. He will prowl this regularly scent marking and thrashing like this to warn others off his hinds. I will follow his line and see where it leads. He is along it somewhere.
<![if !vml]>
<![endif]>
And it leads into very thick stuff indeed with just the occasional small clearing and bedding spot. This old doe had just lain down here and never got back up. She might have starved, died from old age - or worse still carried a bullet all the way from the road perhaps. On this occasion a herd of other deer (doubtless her relatives) had been sleeping contentedly beside her remains. I have seen this before. I canoed down the Macalister after the devastating fires there a few years ago when the river was still full of dead eels as thick as your legs and as long as you are, and the banks still strewn with the carcasses of innumerable wallabies etc which had starved.The place reeked and the river water was nearly one-half mud by volume. I filled an empty drink bottle which stood on our window ledge for many years to illustrate this. It's no wonder all the fish died.
There is a spot in the bush there (on the true left bank) where there is an ancient quince tree, a reminder folks lived there once long ago - during the gold rushes perhaps. Such wonderfully productive trees can live for 800 years and produce over a tonne of fruit each year. How much better than gum trees is that? Right under the tree was the mummified body of a hind, and camping right next to her were her twins who yelped an raced off as I approached. She had died trying to keep them alive and they had stayed with her body for weeks. I noticed that a few minutes after they thought the coast was clear they crept back to be by her side. And 'they' say that animals don't have souls or (human) feelings! I hoped they would survive to carry on her legacy.
<![if !vml]>
<![endif]>
The deer had even been chewing at this inedible stuff, doing a good job of clearing it perhaps, but getting little nutrition. A group of deer was bedded here. One honked at me and several others exploded off in all directions. It was just too thick to see any of them.
<![if !vml]>
<![endif]>
This drier ridge downhill provides a little further viewing than the thick stuff. This particular trail is incredibly well traveled. It has a raised edge nearly six inches high! A deer highway!
<![if !vml]>
<![endif]>
I wanted to get a good photo of Spot, the rubs and the pronounced deer trail. I was concentrating on that, whilst Spot was looking at something else. I guess you could see about thirty metres through this stuff.
<![if !vml]>
<![endif]>
What he could see was a young stag's legs. After a while I saw them too. By this time unfortunately my back was starting to kill me again (not to mention my knee) so I was not wanting to carry out a mess of dead deer anyway. I thought I would just sling my gun and see if I could get a photo of the bit of the deer you could see for illustrative purposes. If you are looking for a whole deer, you will likely not see one in such thick bush. An ankle, an ear, a nose, a bright eye, a tail going up (How the eye is attracted to movement!). That is what you see.
Unfortunately, as I moved the gun, he saw that movement, and giving me a very loud 'Hello' or 'Goodbye' he was off. I could have knocked him over with a snap shot chancing that the bullet would not be deflected by such whippy undergrowth, but that is certainly the way to produce a wounded deer such as the skeleton I had found before. He would be there (and bigger) another day. Mostly, for me, deer hunting is an excuse to be wandering around in our wonderful bush. I certainly don't need the meat - I have a flock of sheep, and I prefer lamb anyway.
I walked back down to the river. I was probably less than 200 yards from it. The deer in this place are not retreating very far at night from their favourite feeding grounds, but they are having to travel more and more each night for a feed. Along the river the going is flatter and it is generally much clearer. Most places you would get a shot up to 100 yards. Ideal country for hammock hunting really: http://www.theultralighthiker.com/hammock-hunting-till-dark/ You could wander along the river flats until just before dark, noting spots where there are two suitable trees (or a flat enough spot for your tent) and plenty of firewood (and access to the river for water for your billy). Or, if you were hunting it regularly, you could mark a route along the river back to your pre-chosen camping spots with these sweet little thumbtack reflectors which would allow you to find your way easily with your head torch in the total darkness: http://www.theultralighthiker.com/hunting-thumbtack-reflectors/
I have all these fences to build at home, so I headed home. Unfortunately, on my way, I saw the butchered carcass of a deer not ten foot off the main road, a road which hundreds of tourist vehicles traveled each day. Obviously shot in the lights! So completely unnecessary. The country is crawling with deer. But how many photos have you seen of guys with whole deer carcasses on the back of their trucks in hunting magazines? How far do you think they could have carried a whole sambar? Of course I was disgusted, and of course I moved it further back into the bush. But you see this sort of thing too often. You have to think what folks who aren't hunters will think. 'Expletive deleted Hunters!' is what. And right after that that 'hunting' should be banned! Despite the fact that then there would be a plague of deer, and tens of thousands of them would starve, and the bush be wholly devastated by their presence. We have to eliminate the rogue element.
As hunters we need to be much more careful about the ethics of what we do, or we will lose our sport. People do not need to see hunters wearing lots of camo, carrying great big guns. You can wear much more suitable wool clothing as I do, which will attract no attention. You can carry a take down gun which is in your pack when you leave and arrive at your car so that people will not be the least alarmed. Any bits of deer you bring back can be discreetly inside your pack. And you can give the deer a chance by not using telescopic sights or shooting deer which cannot see you. Your quarry ought to be able to use the senses nature provided it with to avoid being killed. You have all the unfair advantage you need by being able to use a gun instead of a spear or knife. You need to use just your own senses and knowledge (plus hard work) to harvest the deer you take. You should not be relying on any electronic aids such as deer finders, radios or trail cameras. Just your eyes and ears, especially your nose - and your strong legs and back - which I wish mine were at the moment! Still I have had nearly seventy quite good years, and I imagine the neurologist will be able to tweak my back a bit so I can have a few more years wandering around the bush. I must ring him this morning.
27/06/2017: Small is Beautiful: Tiny Containers: The search for small receptacles to stow various necessities is ongoing. My friend Meg loaned me these lovely aluminium 'tins' to evaluate. She uses them for some of her tiny art works such as her fabulous ear-rings & etc. The smallest one here is perhaps a 10 ml model (and weighs less than 2 grams). There is a 5 ml model which no doubt weighs even less, probably not much more than 1 gram. Either of these would be very good for small quantities of cream such as heel balm, hand cream, sunblock, etc – or for fish hooks, swivels, sinkers, etc. You can find them for sale on eBay if you do a search such as '5 ml cosmetic containers' priced from probably about 50 cents each.
<![if !vml]>
<![endif]>
I usually carry about four similar small Coghlans plastic containers which weigh 6 grams each, so I have a saving of 8 grams (or half an ounce) in switching to these ones. Every little bit helps.
The three pictured Sizes are: 1. 3.7 wide x 1.6 = 17 ml, 2. 5 x 1.8 = 35ml, 3. 7.1 x3.65 = 150 ml. They weigh 2, 5 and 13 grams respectively. Various sizes are available apart from those shown above: 5, 10, 15, 20, 25, 30, 40 50, 100, 150, 250 etc. There may even be one big enough to use as a cook pot!
Of course they look better with Meg's hand-made ear-rings in them:
<![if !vml]>
<![endif]>
I have tried using drinking straws as containers (as here: http://www.theultralighthiker.com/single-use-antibiotic-packs/ & http://www.theultralighthiker.com/a-further-use-for-drinking-straws/ - an even better use!) but have not found them very satisfactory, especially if you need to reseal them. They probably do suit for one-offs such as single doses of iodine.
'Micro dropper bottles' such as eye drops come in are handy for all sorts of things – a small quantity of 'wilderness wash' type soap for example. You will find plenty available for sale from about 3 ml up to say 20 ml if you search. They weigh from about 3 grams.
<![if !vml]>
<![endif]>
One of these vials is ideal for your sewing needle. You can wind some thread around them. They weigh about 2 grams. I am still searching for lighter - meanwhile my needle lives in my fishing hand line bottle.
https://www.survivalresources.com/3-mini-plastic-vials.html?category_id=133 They have many other useful containers – as well as other neat stuff!
If you wear glasses (as I do), you could slip a needle into your eyeglass repair kit: https://www.survivalresources.com/eyeglass-repair-kit.html?category_id=139
PS: These are the best needles: https://www.survivalresources.com/eyeglass-repair-kit.html?category_id=139 And this is the most useful thread http://www.theultralighthiker.com/dyneema-braid/ (just last weekend I affected a repair on my daypack somewhere in the Gippsland forest with some). If you wind some onto a small plastic (medicine) bottle you will have a handy ultralight (fly) fishing kit: http://www.theultralighthiker.com/the-ultralight-fisherman/ Of course you always need a blade too. It doesn't get much better than this: http://www.theultralighthiker.com/ultralight-ultra-sharp-knives-3-grams/
See Meg: For fancy ear-rings and other beaut stuff: https://www.facebook.com/madebyemegbye/ & https://www.instagram.com/p/BVd48naHWex/
26/06/2017: Fire from a Can of Coke and a Chocolate Bar: This is just about my favourite fire starting tip: It is surprising the out of the way places you can find a humble aluminium can and beleive it or not, you can polish the bottom brightly enough that it will focus the sun's rays hot enough to ignite combustible material. Full instructions here (and many other interesting things): http://www.wildwoodsurvival.com/survival/fire/cokeandchocolatebar/
<![if !vml]>
<![endif]>
<![if !vml]>
<![endif]>
<![if !vml]>
<![endif]>
22/06/2017: Adventures in Stoving: I really liked the title of this guy's website, apart from the interesting information it contains. Two selections: the world's smallest, lightest gas stove, and how to refill hiking gas canisters:
World's Lightest Gas Stove – 25 grams: You can find this little guy available in a variety of places under different pseudonyms. I don't know whether they are all the same. it has had mixed reviews. Folks who haven't stressed it out too much seem satisfied it will do the job.
<![if !vml]>
<![endif]>
https://www.amazon.com/Ubens-Ultralight-Camping-Outdoor-Cooking/dp/B00NNMF70U
https://adventuresinstoving.blogspot.com.au/2017/02/the-brs-3000t-worlds-lightest-stove.html
Refilling gas canisters: https://adventuresinstoving.blogspot.com.au/2017/03/the-g-works-r1-gas-saver-refilling.html
The gadget which will do this is probably illegal in Australia (what isn't?), but would probably work, and save you money. Howevr, LPG is highly explosive, and gas canister stoves have other drawbacks, so maybe proceed with caution:
<![if !vml]>
<![endif]>
For most trips the weight of teh emty gas canister, (and not knowing how much fuel it has left) precludes using them at all. Esbit is the most weight efficient system (and I have pointed out a way to simmer with it here: ). My personal choice is meths (aka alcohol stoves). If you are only boiling then Minibull's 'Elite' stove is impossible to beat. Mine weighs <7 grams (https://www.minibulldesign.com/productcart/pc/viewPrd.asp?idproduct=195&idcategory=2 ). Otherwise you can try the 'Supercat stove ( ). The advantage of meths is that you can calculate (before you leave exactly how much fuel you will need to cook all the things you are taking and only take that amount of fuel (I usually carry it in a small platypus bottle).
Minibull Elite Stove
<![if !vml]>
<![endif]> Supercat Stove
<![if !vml]>
<![endif]>
Also worth considering is a wood fuelled stove. I have both the Bushbuddy and the Suluk (as you will see here http://www.theultralighthiker.com/bushbuddy-stove/ and here http://www.theultralighthiker.com/suluk-stove/. I also have a Caldera Cone: http://www.theultralighthiker.com/cookset-woes/
You could try making my Egg-Ring Stove http://www.theultralighthiker.com/the-egg-ring-ultralight-wood-burner-stove/as it only weighs 7 grams and makes a stable emergency stove in case you ever run out of fuel (or your jet blocks up if you are using a canister stove).
Bushbuddy Stove:
<![if !vml]>
<![endif]>
Caldera Cone:
<![if !vml]>
<![endif]>
Suluk Stove:
<![if !vml]>
<![endif]>
Egg Ring Stove:
<![if !vml]>
<![endif]>
22/06/2017: DIY Glasses. You don't even need an eye test! http://optifocus.ecommroad.com/
21/06/2017: World's tallest tree: who would have believed that this 154 metre mountain ash felled at Healesville in 1872 was 40 metres taller than the largest Californian redwood ever recorded: http://baddevelopers.nfshost.com/Docs/talltrees.htm
20/06/2017: Weather Lore: An infallible weather forecast, if a change of weather is coming up:
'Wind then rain. No pain.
Rain then wind, stay in!'
<![if !vml]>
<![endif]>
In plain words this says that when rain comes first without wind then expect a long period of bad weather with high winds and heavy rain. But when wind comes first and is followed immediately by rain, then fine weather will follow at short notice.
Many people are trapped by bad weather in the bush every year, and if they but knew of this simple weather sign they could be prepared, and get out to a position of safety before really bad weather sets in.
Another infallible weather signal is the appearance of cumulus nimbus cloud, a foreteller of thunderstorms. While a greenish light in the sky preceding a thunderstorm is an almost certain sign of heavy hail. Halos (or circles) around the sun or moon also almost invariably mean rain is on its way.
Red sky at night, shepherd's delight.
Red sky in the morning, shepherd's warning.
A red sky - in the morning or evening, is a result of high pressure air in the atmosphere trapping particles of dust or soot. Air molecules scatter the shorter blue wavelengths of sunlight, but particles of dust, soot and other aerosols scatter the longer red wavelength of sunlight in a process called Rayleigh scattering. At sunrise and sunset, the sun is lower in the sky causing the sunlight to travel through more of the atmosphere so scattering more light.This effect is further enhanced when there are at least some high level clouds to reflect this light back to the ground.
When weather systems predominantly move from west to east. A red sky at night indicates that the high pressure air (and better weather) is westwards. In the morning the light is eastwards, and so a red sky then indicates the high pressure (and better weather) has already passed, and an area of low pressure is following behind.
Clouds And Their Reading
Cirrus: This is the "mare's tail" sky of the landsman, shows as long threads or wisps of cloud. This is the highest of all cloud formations, and is a sign of a "high" barometric pressure, which means fine weather.
Cirro Stratus, and Cirro Cumulus: In these clouds the former is long wispy, cloud, and in the latter rounded small cloud the typical "mackerel" sky. Both are indicators of a high barometric pressure, and fine weather.
Cumulus and Cumulus Nimbus: Cumulus is the high white piled-up masses of cloud seen in summer. When streaked with horizontal bands it is Cumulus Nimbus, or thunder cloud, a sign of coming storms, which may be of short duration, or may indicate a change in the weather generally.
Nimbus: This is the grey ragged cloud which uniformly covers the sky. It is the true rain cloud, and an indication of low barometric pressure and rainy weather.
Storm Scud: This is formless masses of very low cloud driven fast before the wind. It is a sign of very low barometric pressure, and continuing bad weather.
A light-weight radio (such as this: http://www.theultralighthiker.com/backcountry-radio/) might be a good way to keep up with the weather forecast as well as providing other entertainment. I have not been able to find a better than this one at 91 grams.
Tip: When heading up the bush it is particularly important to check the wind forecast. You need to know which way the prevailing wind is going to be coming from (You can't just rely on the observation that it 'always' comes from the West - no matter that this is true most of the time). A sudden change to0 the east will mean your tent is pitched the wrong way around. This is particularly important if the wind change is going to occur in the middle of the night in which case you need to pitch it so that it suits both wind directions - if possible. (it usually is!)
19/06/2017: Working on my next ultralight project. This time it is a bathtub goundsheet which doubles as a chair. In Tyvek this will weigh around 120 grams. I am hopeful I can duplicate it in a lighter material at around 80 grams. Add this to my poncho tent at 160 grams and you have a wonderful camping combo!
<![if !vml]>
<![endif]>
19/06/2017: Anderson's Inlet: What a beautiful shallow bird-filled inlet where the splendid Tarwin River meets the Southern Ocean (Sth Gippsland Victoria). Having already walked from San Remo or Rye (Phillip Island) along the coast.you can now walk from Inverloch along the shoreline, cross Screw Creek (on a bridge) then continue on, sometimes on the shoreline, sometimes on the levee bank (depending on the tide). You may get your feet wet a couple of times as you cross small creeks (Pound Creek, Cheery Tree, etc – fresh preferably filtered water for your solitary camp) but you can walk out eventually at the bridge at Tarwin Lower. NB: The trip is better at low(ish) tide. Then you can walk through the wonderful mangroves!
Maher's Landing:
<![if !vml]>
<![endif]>
You will see more birds than you thought was possible anywhere in Victoria – and you will likely see a hog deer too, though you may not hunt it!. Lots of koalas amid the sugar gums close to shore. (These are so named because the gum is sweet and edible). Cross the bridge across the Tarwin, a quick walk along the river bank past the shops, supermarket, hotel etc and you are then on a path that becomes a cycle track after the jetty which you follow to Lees Rd, Venus Bay. Walk along Lees Rd a couple of kms to Fishermans Rd where there is a boat ramp and you can once again walk along the shore of the inlet, eventually walking right around Point Smythe and continuing on along the beach back to Venus Bay No1 Beach where you can come inland again for supplies at the local shops if you want – or you can continue on along the coast all the way to Darby River on Wilsons Promontory, days away. Just the beginning of the wonderful http://www.theultralighthiker.com/the-great-gippsland-circuit/
Straw Necked Ibis hunt the shallows
<![if !vml]>
<![endif]>
There are more bait worms and bivalves in these mud flats than you can imagine!
<![if !vml]>
<![endif]>
The inlet is also a great fishing spot. Key species are Australian salmon and garfish.
<![if !vml]>
<![endif]>
Tarwin Lower Jetty:
<![if !vml]>
<![endif]>
Fishermans Rd Boat ramp Venus Bay:
<![if !vml]>
<![endif]>
See Also:
http://www.theultralighthiker.com/george-bass-coastal-walk/
http://www.theultralighthiker.com/george-bass-coastal-walk-2/
http://www.theultralighthiker.com/a-walk-on-the-wild-side/
http://www.theultralighthiker.com/venus-bay-no-4-beach-gippsland-victoria/
http://www.theultralighthiker.com/to-the-lighthouse/
http://www.theultralighthiker.com/blond-bay-roseneath-reserve-hollands-landing/
http://www.theultralighthiker.com/there-is-simply-nothing-like-an-old-port-walking-trail/
http://www.theultralighthiker.com/sale-common/
http://www.theultralighthiker.com/blond-bay-lake-tyers/
http://www.theultralighthiker.com/beautiful-east-gippsland/
18/06/2017: Lighter, Brighter, Better: Three great new Maratac flashlights:
Anodized Aluminium Tactical Personal Flood TPF AAA Light by Maratac 160 lumens - US$40.95 (June 2017).
A 14-15 gram head torch which produces 160 lumens will be hard to beat!
<![if !vml]>
<![endif]>
'The Maratac™ AAA Stainless Steel flashlight was so popular, we had it made in a right angle varient. The same great light in a right angle form factor, featuring a 105 degree beam of projected light for increased field of use and a glow in the dark reflector. Checkout this AAA powerhouse now with many new upgrades:
The reflector glows after the light turns off so it's easy to find in the night.
Specifications:
Length: 2.65"
Diameter: .57"
Weight 14 Grams / .35 Ounces without battery ( Incredibly lightweight )
Stainless Steel Pocket Clip ( Easy to clip onto a hat, MOLLE gear or shirt pocket )
Glow In the Dark Built In reflector ( Easy to find in the dark )
LED Type: Cree G2 Emitter ( High Output ) with a life span up to 50,000 hours.
Flashlight body is made of Aircraft Grade Aluminum
Stainless Steel ring around the dome lens for added durability
The dome lens has been treated with an AR (Anti-Reflective) coating.
Proprietary circuit design features reverse polarity protection and runs off of one AAA battery that provides 3 levels of brightness ( Low /Medium / High).
Using a single Duracell AAA battery we got the following results:
Low Mode, 5 lumen output for up to 60 Hours ( Diffused Light )
Medium Mode, 48 lumen output for up to 4 Hours
High Mode, 160 lumen output for up to 75 Minutes'
https://countycomm.com/collections/aaa-flashlights/products/anodized-aluminium-tactical-personal-flood-tpf-aaa-light-by-maratac
Inspection : AAAx2 Extreme - Tactical Light by Maratac 385 lumens - US$ 42.50 June 2917)
<![if !vml]>
<![endif]>
'The Maratac™ Inspection AAAx2 Extreme LED flashlight is made to be both tactical and practical. The light is straightforward to use and has friendly ergonomics. The Maratac AAAx2 Extreme features an advance Cree XP-G2(R5) LED for greater brightness and efficiency.
Medium 45 Lumens / Low 5 lumens / High 385 lumens mode brightness control (Simple 3 mode switching)
Operation:
Press and click the back thumb switch to turn on the light into Medium mode. Lightly press again for Low mode and once more for High. Press and click anytime to turn the light off.
SPECIFICATIONS:
22.8 grams or .8 oz (without battery)
5.0" O.A.L. x .58" inch width
Type 3 Military Grade Anodizing ( Matte Finish )
Utilizes 2 Standard AA Batteries ( 1.2-1.7 Volts each )
Standard Modes ( Pressing Tail Cap Through Modes )
<![if !supportLists]>· <![endif]>
Medium ( 6 Hours )
Low ( 90 hours )
High ( 1.65 hours )'
https://countycomm.com/collections/aaa-flashlights/products/aaax2-extreme-glow-tactical-light-by-maratac-rev
Anodized Aluminum AAA Flashlight by Maratac™ Rev 4 now 145 lumens - US$41.50
<![if !vml]>
<![endif]>
'Worlds first production LED AL flashlight...the smallest, brightest, AAA flashlight? We think so!
Check out this AAA powerhouse.
After thousands of Request ( Medium / Low / High )
Specifications:
Premier Series
Glow in the dark Diffuser ( New for Rev 4 )
Glow in the Dark front o-ring around reflector ( New for Rev 4 )
Each light is hand finished.
Length: 2.6" ( Smaller than Rev 1 )
Diameter: .5"
Weight with battery is 37.3 grams ( 28.1 grams without battery )
LED Type: Cree XP-G2 S4 with a life span up to 50,000 hours. ( Newest & Brightest Emitter REV 4 )
with a life span up to 50,000 hours. ( Newest & Brightest Emitter )
The New Orange Peel Reflector is aluminum alloy.
Flashlight body is machined of Aircraft Grade Aluminum
The lens has been treated with an AR (anti-reflective) coating.
Its proprietary circuit design features reverse polarity protection and runs off of one AAA battery that provides
Now with 3 levels of brightness ( Medium / Low / High ).
Comes with clip & o-rings
Clip installed from factory to preserve finish
New Stronger Clip
Using a single Duracell AAA battery we got the following results:
Medium mode, 40 lumens output for up to 7 hours
Low mode, 1.5 lumens output for up to 55 hours
High mode, 145 lumens output for up to 70 minutes
( Rev 1 model was 80 Lumens and 48 minutes) ( Rev 2 model was 115 Lumens and 60 minutes)'
https://countycomm.com/collections/view-all-light-products/products/aluminium-anodized-aaa-flashlight-by-maratac-rev-3
Of course each of them can easily be made into a head torch with two o rings, a bit of cord and a micro cord lock:
<![if !vml]>
<![endif]>
<![if !vml]>
<![endif]>
See Also:
http://www.theultralighthiker.com/11-gram-rechargeable-head-torch/
15/06/2017: NZ Moose: Ken & Marg Tustin have been hunting these beasts in Fiordland's forests since the 1970s. The creatures are enormously elusive. Of course there are lots of browse, prints, droppings but so far they have managed to come up with a single cast antler, two positive DNA samples and a couple of (unfortunately) poor quality photos of them. Not much return for a lifetime of hard work, but an enormous, 'Well Done Ken & Marg!' for such a Herculean effort. They must have spent literally years of their lives living in these remote sodden forests!
For example, when I talked to them in Te Anau in April 2017, Ken had just come back from a six week stint in Herrick Creek, Wet Jacket Arm, Dusky Sound. Like me, Ken is nearly 70! No-one who has never ventured into these wet, cold, dense, dangerous forests (as I have - though much more briefly) has any idea of the effort involved. They could be literally swarming with moose yet it would be unlikely you would ever find one.
Here is a link to an interesting article about them, and the Tustin's quest: https://www.nzgeo.com/stories/shadow-theatre/?utm_source=Facebook&utm_medium=cpc&utm_campaign=ShadowTheatre (You can read it for free once at least, but you cannot copy and paste any of it).
I suspect the moose are quite widespread throughout Fiordland National Park. I too have found moose sign in very widely separate areas, but they are present at very low rates per square kilometre (almost certainly well less than one) mainly due to the absence of really suitable feed. Nonetheless, it is a huge (largely unexplored, and unexplorable) area, so that there could still even be more than a thousand of them (unlikely), yet no-one would ever see them!
Books by Ken Tustin: 'A Wild Moose Chas'e & 'A Nearly Complete History of the Moose in New Zealand'. Films: 'A Wild Moose Chase and 'New Zealand's Fiordland Moose': https://www.youtube.com/watch?v=9yyGCqWhbjI All highly recommended.
Other books about Fiordland Moose: Ken Tinsley 'Call of the Moose'. Max Curtis 'Around the River's Bend' - this last tells the story of the last successful moose hunt in NZ in the early 1950s. If you are going to become a NZ moose hunter, I suggest you devour all the above material!
<![if !vml]>
<![endif]>
This is Jim Mackintosh beside a female moose he shot at Herrick Creek in 1951. Other moose were shot and photographed in the area in 1952, the last certain sightings. Only about a dozen moose have ever been taken in NZ, three of them by the 'legendary' Eddie Herrick who spent nearly ten years of his life in toto hunting them!
PS: The type of river flat forest Jim has shot this moose in is quite rare in Fiordland. There is some (for example) across Supper Cove from the hut, at the mouth of the Seaforth River and then along the river to the Henry Burn and here and there all the way up to the Kintail, but it was mostly all well eaten out by moose a long time ago. All the same you can see old broken branches about 8-9' up where they have been, and they may still use such patches for shelter in dreadful weather. I have stalked through some of it many times. Sometimes you even find a recent print. Considering that it rains on average over 25mm (1") per day in Fiordland, a print does not last long!
Mostly you would be looking for them in much worse terrain than this, up the steep valleys and along the incredibly precipitous forested sides. PS: Even in this sort of country you would have to be very watchful for the dangers of morasses! PPS: 'Normally' when moose hunting you are looking for their 'signature' branch breaking at that 8-9' height, but you should also make yourself aware of their 'browse line' at that height - where they have eaten practically every leaf they can eat of their favourite food plants. This is far more ubiquitous, but perhaps less obvious.
PPS: AS I say in the first link below, I believe I had a close encounter with a moose back in April 2017 in the upper Hauroko Burn, yet there was very little available moose browse in the Hauroko, (but plentiful old moose sign), whereas coming down the slope from Lake Roe to Loch Marie for example there were lots of 'moose plants', but much less moose sign. Moose are where you find them!
See also:
http://www.theultralighthiker.com/follow-your-nose/
http://www.theultralighthiker.com/fiordland-moose/
http://www.theultralighthiker.com/moose-hunting/
http://www.theultralighthiker.com/eddie-herrick-moose-hunting-at-dusky-sound/
http://www.theultralighthiker.com/fiordland-moose-2/
15/06/2017: Shoelace Reinvented: I went to this site looking for a new pair of shoes. The Men's Topo Terradventure has been recommended to me as a wide-fit ultralight shoe with superior grip and wear characteristics weighing 294 grams. I am keen to try out a pair, but I need to see whether they fit first. However I was struck by the offer on the site of a new, superior lacing system. Also note they sell Aloksak waterproof bags: https://www.injinjiperformanceshop.com.au/collections/topo-athletic-footwear
'The Terraventure pushes the limits of lightweight performance and rugged durability. This platform features an aggressive lug design providing better traction and mid-foot stability. A flexible ESS forefoot rock plate protects the foot from stone-bruising while the ghillie lacing system insures a secure midfoot fit.
<![if !vml]>
<![endif]>
The Terraventure runs half a size small, so we recommend sizing up half a size from your current running shoe fit. ~15mm of room around the outside of the toebox is a perfect fit, allowing your foot to splay naturally. A full size chart is available below.
Technology/Specifications
// 6 mm rubber outsole
// 14 mm (heel) // 11 mm (ball) midsole
// 5 mm footbed
// Total stack height 25 mm x 22 mm (3 mm drop)
// Weight: 294g. (size 9)
Slacklaces are flat elastic shoelaces that you truly have to try to believe. You will feel the difference with your very first step. Slacklaces are perfectly designed to eliminate any tight spots, banding, and pressure points that can improve circulation, comfort and performance . They are flat, wide, very light and have the perfect combination of stretch and stability. SLACKLACES are so simple to use and are great for triathletes, kids, elderly and even more useful for individuals with disabilities. SLACKLACES are designed with the ability to change with the constantly changing contours of your feet and they look as good as they feel! Slacklaces come in a variety of bright colors, and lengths to fit every shoe and every style! https://www.injinjiperformanceshop.com.au/collections/yankz/products/yankz-slacklace
<![if !vml]>
<![endif]>
Surelace System: A Better Fit that You Never Have to Tie Again Yankz! Sure Lace System is the most comfortable and innovative lacing system available.
The unique design is ideal for walking, running, hiking, gym class, biking and other athletic activities.
Expandable cords provide an unsurpassed level of fit and comfort. No more tying, retying, double knots or frazzled dirty laces. Slip on your shoe with Yankz!
Many important factors make the Yankz! Sure Lace distinct:
A personalized fit with two different points of adjustment on the shoe, creating the most comfortable fit.
Expandable lace cords form to your foot and reduce blistering and bruising.
Available in many color combinations, including reflective colors for early morning and night activity.
Uniquely designed for many different sports such as walking, running, aerobics, biking and other sports.
And finally, you never tie laces again https://www.injinjiperformanceshop.com.au/collections/yankz/products/yankz-surelace-system?variant=6051490947
<![if !vml]><![endif]>
14/06/2017: Drop Bear: Found this poor little fellow dead in the paddock this morning. Looks to be a victim of the dread Chlamydia (They also call it, 'Wet Bum') which is so prevalent amongst them, though s/he had also been fighting and had a number of nasty scratches - unsurprising when you see the size of their claws. I had noticed it roaming from blue gum to blue gum just the other day but had taken no notice as they are quite prevalent here, though not in epidemic proportions yet as they are in so many places, poor things. It is horrific to see them starving to death en masse, as they are/were eg at Cape Otway last time we were there in 2013.
<![if !vml]>
<![endif]>
Rear claw - quite a thumb:
<![if !vml]>
<![endif]>
Front claw - imagine being slashed by that. Those claws are over an inch (2.5cm) long!:
<![if !vml]>
<![endif]>
If you catch one that is in distress (eg after being hit by a car) it is quite difficult to handle them (you need a thick blanket or coat which you have no further use for!) as they will attach themselves firmly to your arm, those claws penetrating quite clear through your biceps etc, so that very soon you will be sorry you had picked it up. I saw a man in this state one day at Tarwin Lower one Sunday when we were out fox hunting along the Inverloch Rd - you could do that sort of thing then. We used even to hunt foxes out of the graves in the local cemetery (My hunting mate, the late Dick Davies was chairman of the Cemetery Trust). Some graves were quite prolific. I wondered whether richer people attracted a better class of fox! The local Leongatha vet had to euthenise the bear to get it off the poor chap it was attached to! Of course being such dreadful venal types as fox hunters (as we were) we thought the whole incident quite funny - except for the koala!
I do prefer seeing them alive, like this one, though he has pretty much eaten out his tree too, as you can see. Apparently once you start to see them, they are already too numerous for the good of the forest, like the little guy above. It was nearly thirty years before anyone first saw one after the First Fleet!
<![if !vml]>
<![endif]>
Curiously the foxes had not touched him. They must not taste anywhere near as good as sheep. A dead sheep would be scattered all over the paddock by the next day! This guy had been there about three days. He was a bit too far gone for me to try! I am not 'Bear' Grylls! No doubt so named because he usually eats them!
Interestingly enough, we used to skin all the foxes we shot, (we usually had a few dozen after a day's hunt - the proceeds paid for everyone's family's Xmas presents) and throw their skun corpses into the blackberry patches. Nothing ever ate a fox. I am certainly never going to start if even crows eschew them. They are vilely malodourous - as are koalas actually!
Apparently long ago there was a marsupial lion very much larger than these little guys. Thylacoleo Carnifex (http://www.megafauna.com.au/view/megafauna/thylacoleo-carnifex & http://www.news.com.au/technology/science/scratch-marks-in-a-wa-cave-show-the-drop-bear-thylacoleo-carnifex-could-climb-particularly-well/news-story/5f6af36d077aa792e55239c41a814ecd). Some cryptozoolgical types (or not so logical types) avow that these critters were arboreal (indeed that they still exist!) and that there is some danger of them dropping from trees and devouring you. I have spent a lot of time under trees and it has not happened to me yet. Neither is irt stopping me from heading 'up the bush' this week - though some much needed fencing is, Alas!
13/06/2017: A Walk on the Wild Side: You can set off from Rye or San Remo (Phillip Island, Gippsland Victoria - public transport available) and walk all the way along the beach to Screw Creek, Inverloch. This comprises the beginning of the magical http://www.theultralighthiker.com/the-great-gippsland-circuit/ which will be a hiking holiday that takes a couple of months to complete exploring many of Victoria's scenic wonders.The section we were looking at yesterday afternoon after closing the shop (https://www.facebook.com/yinnargeneralstore/?ref=br_rs) was at Harmers Haven near Wonthaggi. Take a left hand turn near the end of the main street into Cameron Street and follow it past Harmer's Haven to a car-park and the beginning of this enchanting beach exploration walk Just a few steps along the path you come to this beautiful bridge across the lagoon:
<![if !vml]>
<![endif]>
Of course I was lucky enough to be accompanied by this beautiful lady (as I have been for 47 wonderful years) and her astonishing dog:
<![if !vml]>
<![endif]>
Here is that outstanding dog, Spot again. How he loves the beach!
<![if !vml]>
<![endif]>
A blue crane was busy fishing in the lagoon:
<![if !vml]>
<![endif]>
A pair of delightful sandpipers let us get very close to them:
<![if !vml]>
<![endif]>
As did this red-billed shearwater:
<![if !vml]>
<![endif]>
Even on a holiday weekend the deserted beach stretched on and on towards Cape Paterson (shop/s, hotel, etc) and Inverloch (even more amenities)
<![if !vml]>
<![endif]>
Looking back into the sunset towards Kilcunda:
<![if !vml]>
<![endif]>
Della managed to take an even better photograph:
<![if !vml]>
<![endif]>
And again:
<![if !vml]>
<![endif]>
So many enchanting skerries:
<![if !vml]>
<![endif]>
And other beauties bathed in the golden light of dusk:
<![if !vml]>
<![endif]>
And here is another beauty - as my mother used to say, 'A frog's pretty in a cat's eye'!
<![if !vml]>
<![endif]>
Twilight combs the skerries:
 <![if !vml]>
<![endif]>
The last blush of day to the east:
<![if !vml]>
<![endif]>
After Screw Creek you need to get across or around Andersons Inlet (I am working on that - I hunted foxes ) whence you can walk all the way along Venus Bay Beach to Cape Liptrap. It is possible to climb around the lighthouse and descend again on the other side whence you can walk along to Bear Gully (a truly magical camping spot), Walkerville South, Walkerville, Sandy Point, Yanakie, Wilsons Prom...and so on and on - to Eden, Mt Kosciusko, then back along the Alps to Lilydale!
12/06/2017: Follow Your Nose: I have failed to follow my own advice on this one more than once to my regret as you can read in my account of my recent Dusky walk below. Trust your nose, Somewhere upwind possibly just in sight is something important you need to pay attention to. For example, you may wonder how ancient mariners unerringly managed to find remote islands when a failure to do so might have meant all would perish. At sea there is little scent. The great variety of scents comes instead from land animals and flowering plants whose varied odours drift on the wind detectable many kilometres downwind. Our mariners, knowing from their pennants the direction of the wind, and using their nose could tack back and forth heading infallibly for the source of the endless wonder that assailed their noses.
Of course at sea there are other clues to indicate the direction of the land. The wind and tides drive floating objects outwards in a pre-determined direction which you can follow back. Leaves, grass, flowers, spiders etc are a giveaway. The story of Noah and his dove is a charming metaphor (and of course it is unlikely a dove would bring back a twig unless it was nesting - but pigeons and doves do, so who knows?), but clearly the presence of a floating twig (or one in a bird's maw) certainly does indicate the proximity of land. Again, clouds build up against islands. The Maori did not call NZ 'The Land of the Long White Cloud' for no reason. Islands also disturb the movement of waves and currents. This disturbance can be detected by the observant mariner.
Similarly, in the desert there are few scents - again because of the scarcity of life. Where there is life in profusion is near water sources in such arid wildernesses. The scents from all the life around such oases wafts on the wind and can be detected 10, 20 kilometres away. It is how desert dwellers found them in the first place.
If you are out hunting and you smell an unusual odour (eg your quarry) don't ignore it. Investigate. And get to know the peculiar scents of the animals you hunt. Knowing the musky stench of a stag in rut is a valuable piece of information. Your nose can lead you to many other food sources. The scent of honey is unmistakable. A wild bees' hive is a treasure if you know how to safely rob it. If you do not the scent of the honey (or nectar) in bottle brushes can lead you to a sweet treat particularly in the morning. Ripe fruit, such as lily-pilies wafts out a delectable fragrance that should earn you a feast in some cool valley.
On our afternoon walks around Yinnar and Jeeralang, I am forever saying to Della, 'Smell that fox, wallaby, deer, pig', etc. It has taken her a while to learn to pay attention to her nose. She grew up in the city, and hasn't been a hunter all her life like me, but she is now noticing those most pungent odours at least. Pig and fox scent are very strong. We have seen four sambar deer on our afternoon walks just in the last week. The pig sign is becoming very prevalent. Another season of breeding and I fear they will be invading the local backyards and stealing babies from their prams!
<![if !vml]>
<![endif]>
Note: I have a confession (of stupidity) to make. Somewhere during this section between the two upper walk wires on the Hauroko Burn Fiordland NZ (You can imagine it is in the photo above) I encountered quite a strong 'animal' smell not unlike a goat. I thought to myself at the time, 'Well, it's not a deer'. Then I thought, 'Could it be a plant'. You know how Dogwood in Australasia is so named because it smells somewhat like wet dog. I thought to myself 'I wonder whether the Leather Wood which you encounter just before the tops in NZ (and which is redolent with the musty odour of countless deer) is so called because it smells of leather?' There is a sweet cloying honey-like smell you sometimes encounter in these Fiordland forests I have never been able to identify, nor has anyone else I have spoken to been able to pick it for me. (it is not the flower of the ubiquitous tiny epiphytic orchid). I scanned the forest about. Saw nothing. Thought to myself, 'I do not want to arrive at Lake Roe in the dark' (The hut is hard enough to find), and carried on. Since then, I have bothered to check what a moose smells like. You guessed it. Just like what I was smelling on the Hauroko that day. There was a moose not 200 metres upwind from me, and I walked on. Despite having a tarp and hammock and weeks of food, so that I could have spent days hunting it! And I would have doubtless 'put it up' withing ten minutes! Despite the fact that one of the important reasons I go there is to see a moose. Despite the fact that I had photographed fresh moose barking just back there a little (See: http://www.theultralighthiker.com/from-dawn-to-dusky/). Despite the fact there is a $100,000 reward for a photo of a NZ moose, I walked on! : Lesson: Trust your nose!
http://www.theultralighthiker.com/fiordland-moose/
http://www.theultralighthiker.com/moose-hunting/
http://www.theultralighthiker.com/eddie-herrick-moose-hunting-at-dusky-sound/
http://www.theultralighthiker.com/fiordland-moose-2/
11/06/2017: Interesting DIY 3D Printing Project:
<![if !vml]>
<![endif]>
https://i.redd.it/zgnriuut23ny.gif
https://laughingsquid.com/3d-printed-open-closed-sign/
10/06/2017: Walking in a Straight Line: You have one leg slightly shorter than the other. Therefore if you are blindfolded you will walk in a circle. Clearly you need some other clue to stop yourself from doing this in the wild. There are a number of 'tricks' to learn. I have already mentioned how to use your observations of the 'lie of the land' to find your way: http://www.theultralighthiker.com/the-lie-of-the-land/.
I have mentioned before many times how you should train the tools you were born with (which you can count on having with you, hopefully in a working condition) whereas artificial aids (such as GPS, PLB and etc) can all too easily fail. Using the outstanding features of the landscape as a guide to your location is an obvious and necessary skill to develop.
I cannot tell you how many times I have been asked by a person with a GPS in their hand where they are (were), to which my reply has always been (simply looking around), 'Isn't it obvious?'
As I have mentioned before it is especially important every time you stop for a breather (at least every fifteen minutes let's say) to spend that time looking behind you so as to memorise the prominent features of the landscape in your return direction.
Of course there are times when the prominent features of the landscape are not visible (or there simply aren't many). This can happen in flatter terrain (even on plateaus, in heavily wooded areas, in fog or cloud, etc. Then you need to keep s a sequence of smaller features in mind in order to keep to a chosen route (eg I want to continue in a generally North-Easterly direction until I hit the 'Divide').
The most common method used to keep to a straight course is to note a particular tree in the correct direction of travel, and head towards this (Below, top left).
<![if !vml]>
<![endif]>
When it is reached a new tree is selected, and so on (above top right).
Although this will lead to a straight line between the trees sighted, it can also lead to a wrong course as shown in figure A
Having arrived at the first tree it is possible for the traveler to sight the next tree incorrectly and so gradually proceed to lose your correct direction.
You can avoid this error as shown in figure B. Moving from point 1 you sight tree 2 and head for it. However before reaching it you line up tree 3. Similarly you sight up tree 4 when you is part way between points 2 and 3, and in this way your line is always correct.
This method is good for open forest country, but does not work on featureless plains. There are two systems that have been common eg among the Aborigines for centuries.
In the first method, one person would always go ahead of the others, heading in the direction of travel indicated. No matter how featureless the country might appear to be, there would always be some small feature, perhaps just a particular clump of grass, beyond the leading person, and as soon as he appeared to be veering off course it would become obvious to those following and they would then signal him back to the correct line.
Many 'primitive' people (such as those from the eponymous 'Canary' Islands for example) had a 'whistling language' for use in such long distance communication. The Canary Islanders could communicate thus at a distance of several kilometers - at least from mountain top to mountain top! it is why the small birds of the same name are so called, not because of their song, but because they sounded like the islanders' whistling language. One useful feature of such a system of communication is that it does not scare the 'game' which is why it was used by so-called 'primitive' people who had to rely on the success of their hunt to live.
It is interesting is it not, that ever since the invention of farming (approx 9,000 years ago) the average human brain has been shrinking. The less intelligent can be feather-bedded by the food surplus, whereas in a hunting culture they would simply have failed to reproduce. As they would have starved to death!
The second method could be used by a lone traveler, and consisted of lighting two small fires which would give off a quantity of smoke for some time. The first would be lit at the camp site and you would set out in the required direction. After a short time, and before there was any chance of having altered direction, you would select a clearing and light another fire.
You could now proceed with confidence, knowing that as long as you kept the two smokes in line then you were going in a straight line. If you had a long way to travel you might light more fires as you went on, so that as the original smoke died down you would be able to continue with the directions maintained by the newer ones. Lots of early Australian explorers observed such lines of fires - then began to implement the strategy themselves.
You should also read:
http://www.theultralighthiker.com/finding-your-way/
http://www.theultralighthiker.com/fire-on-the-snow/
http://www.theultralighthiker.com/how-to-light-a-fire-in-the-wet/
http://www.theultralighthiker.com/carry-a-knife/
http://www.theultralighthiker.com/river-crossings/
http://www.theultralighthiker.com/an-open-shelter/
http://www.theultralighthiker.com/man-is-the-measure-of-all-things-pythagoras-some-handy-estimation-tricks/
http://www.theultralighthiker.com/how-long-till-sundown/
http://www.theultralighthiker.com/how-to-avoid-being-wet-cold-while-camping/
http://www.theultralighthiker.com/new-ultralight-survival-shelter/
http://www.theultralighthiker.com/survival-still/
http://www.theultralighthiker.com/collecting-water/
http://www.theultralighthiker.com/dehydrated-water/
http://www.theultralighthiker.com/the-twelve-woodlores-ray-mears/
http://www.theultralighthiker.com/if-you-could-only-carry-two-things-in-the-bush-what-would-they-be/
http://www.theultralighthiker.com/inflatable-insulated-clothing/
http://www.theultralighthiker.com/the-importance-of-a-roof/
http://www.theultralighthiker.com/pitching-the-poncho-warning-this-may-save-your-life/
http://www.theultralighthiker.com/fun-with-sticky-tape-mylar-poncho/
http://www.theultralighthiker.com/worlds-lightest-tarp-clip/
09/06/2017: Ultralight Poncho Tent: This is going to be a 160 gram poncho which is also an excellent single person tent. It doesn't get much better than that. This is my second prototype of this wonderful piece of equipment. I have altered the dimensions slightly and changed the taper so it is long enough to lie out in without touching the sides. It is (usually) open at the front so you can enjoy a warming fire. There is plenty enough overhang so you are going to stay dry in a heavy downpour. Its dimensions are approximately 5' x 8'.
All the sides are catenary cut so it pitches tight and easily, and stands up to any weather. I have added a hood which centres the single pole (which can be a bush stick) and which acts as verandah and vent. There will be a small reinforcing patch inside it which will double as a pocket to take the two guys when not in use. There will be a couple of breast pockets to take the tent stake bag (11 stakes will make it well-nigh impregnable) and a couple of emergency mylar space blankets and a mini bic lighter in case you have no other preparation for your night outdoors.
My prototype is made of Tyvek as usual. I will be replacing the zips with waterproof ones as soon as they arrive. I will be adding another (optional) triangle of silnylon material which will zip in to completely close the front in the event of extreme wet weather - adding about 50 grams to the weight. I will be creating a groundsheet with a bathtub floor which can be modified with an inflatable mat and four short sticks to make a comfy chair from which you can watch your campfire. At a pinch you could shelter two people so there is ample room for one plus all gear and a dog (as you can see)!
The final model may be a couple more weeks in the making, likewise the chair. When I have completed these two projects I will be offering to sell patterns. There will also be an alternative model which has an extra approx 3' x 8' added which will add 75 grams. Though it can still be worn as a poncho it will be big enough for a shelter for two. Its dimensions are approximately 8' x 8'. It can also double as a hammock tarp.
This poncho will also form the floor of either/both of my final models of my Deer Hunter's tent and my 'Honey I Shrank' Tent or for the double model of this tent. If a couple carry one of these each they will have two raincoats plus a tent and a groundsheet for a total weight of 472 grams. Also coming soon!
http://www.theultralighthiker.com/the-deer-hunters-tent/
http://www.theultralighthiker.com/the-last-of-the-mountain-men/
http://www.theultralighthiker.com/honey-i-shrank-the-tent/
<![if !vml]>
<![endif]>
298 grams in Tyvek, smaller than a shoe or box of tissues. The silnylon model will be about the size of a small bottle of coke.
<![if !vml]>
<![endif]>
It may be an ungainly looking poncho but it will keep you and your pack completely dry. Spot thinks it will keep him dry too if he stays close.
<![if !vml]>
<![endif]>
This was my first attempt at pitching it before i added the hood. I hastily put it up in the dark the night before. It rained and blew all night but it was taut and sound the following morning.
<![if !vml]>
<![endif]>
Side view.
<![if !vml]>
<![endif]>
You can see all the ridges stay taut.
<![if !vml]>
<![endif]>
Plenty of room to stretch out.
<![if !vml]>
<![endif]>
And room for a dog or two!
I will be making this out of 1 oz/yd2 silnylon with a 4,000mm head. It will weigh 160 grams plus 77 grams for the tent stakes, so a total tent and raincoat combo of 237 grams. If I made it out of .35oz/yd2 cuben fibre and used 1 gram pegs for every second one, it would sneak in at 100 grams total weight! To my mind it would be too fragile then, but might interest some people. I will opt for the more durable model which (with the addition of a bit of Tenacious tape in case of emergencies should last me many years.
See also:
http://www.theultralighthiker.com/hole-less-ponchoshelter/
http://www.theultralighthiker.com/pitching-the-poncho-warning-this-may-save-your-life/
http://www.theultralighthiker.com/ultralight-chairgrounsheet/
http://www.theultralighthiker.com/gear-repairs-tape/
05/06/2017: Tier Gear Catenary Cut Hex Tarp: Thanks to Aussie Outfitter and hammock maker Tier Gear http://www.tiergear.com.au/ for allowing me to repost DIY instructions for this excellent tarp. You can purchase all the items you need to build it and the 'Netless Hammock' http://www.theultralighthiker.com/diy-netless-hammock/ from them at a very good price with excellent service and speedy delivery. These instructions detail one way to make a light weight hex shaped tarp with catenary cut sides. It incorporates a ridge line which is sewn using polyester binding tape. The binding tape ridge line is strong, should not need seam sealing, and adds very little extra weight. If you cannot sew you can buy the tarp ready-made from them for a very reasonable A$160 (2017): http://www.tiergear.com.au/11/products/torrent-hammock-tarps
<![if !vml]>
<![endif]>
Length of ridgeline is 335cm
Weight is 324grams
Fabric used: Xenon Sil fabric - 7 metres needed
Hardware used: Split rings (4), and Silkworms (4).
Ridgeline binding: 25mm Polyester binding tape - approx 4 metres needed
Tie outs: 13mm grosgrain ribbon and Silkworms.
Thread used: Serafil 60 continuous filament polyester thread but most good quality outdoor threads will do the job.
Needle: Size 12
Step 1:
Lay out your fabric on a large flat surface, measure and cut two pieces 3460mm long.
Step 2:
On bottom long edge measure in 900mm at either end, and mark. Draw a line from these marks to the top corner. Repeat at both ends of each piece of fabric.
<![if !vml]>
<![endif]>
Step 3:
Now we are going to mark out the catenary cuts. On the lines you have just drawn, measure and mark the mid-point. Also do this on the bottom edge.
Step 4:
Using a set square measure from the mid-point up 100mm and draw a line. Repeat on all sides and bottom edge.
<![if !vml]>
<![endif]>
Step 5:
Now using a length of 6mm dowel (or some other equivalent), and some heavy weights to keep it in place position the dowel so that it intersects the two corners and the mid catenary cut mark, and draw a line along the dowel. Repeat on all sides
<![if !vml]>
<![endif]>
Step 6:
Cut out the catenary cuts.
<![if !vml]>
<![endif]>
Step 7:
Sew a rolled hem along 3 sides of each piece of fabric but not the ridgeline. Pin where needed. Double stitched is preferable so a sew another line of stitching on the outer edge of the hem. Due to the cat cuts you will find the material will want to twist in places but work carefully and manipulate it as best you can. It won't be perfect.
The width of my rolled hem is about 12-13mm which is needed due to my tie out configuration. If you choose to go with a different tie out configuration you may use a narrower hem width.
<![if !vml]>
<![endif]>
<![if !vml]>
<![endif]>
Step 8:
Now take both pieces and pin the ridgeline together, making sure that the ends line up, and the sewn rolled hem is oriented to the inside.
<![if !vml]>
<![endif]>
Step 9:
Sew one line of stitching about 6mm from the edge along the length of the ridgeline. This is used just to hold the fabric prior to binding the ridgeline.
<![if !vml]>
<![endif]>
Step 10:
Using the polyester binding tape bind the ridgeline either by hand folding or utilising a binding attachment suited to your machine. Make sure you leave about 100mm at either end, though I recommend cutting it longer than needed now and you can trim to size later. You can also double stitch the ridgeline if you choose - which is what I did.
<![if !vml]>
<![endif]>
<![if !vml]>
<![endif]>
Step 11:
Fold the ends of the binding tape over, and stitch back onto itself on the ridgeline, leaving a loop of about 25-30mm at each end. I use a basic straight stitch bar tack with a z pattern which I have found to be more than strong enough. I measure and mark 10mm lines for the bar tacks, and sew a few times back and forth with a shorter stitch length than used on the tarp hem.
Also make sure you melt the ends of the binding tape to prevent it from fraying later on.
I use 2 split rings but you can use whichever hardware you like, or none at all.
<![if !vml]>
<![endif]>
<![if !vml]>
<![endif]>
Step 12:
For the tie outs I chose a minimal lightweight design which incorporates no extra reinforcing as the stitching is kept within the hemmed edge of the tarp material only.
Firstly I folded back a small section of the corner and stitched it down with a basting stitch - just to hold it in place.
<![if !vml]>
<![endif]>
Step 13:
I then used 13mm grosgrain which was cut to a length of 120mm, and sewn to each corner using the same bar tack z stitch pattern as used on the ridgeline with 10mm spacing. These were sewn on the inside of the tarp, and a loop left in the middle which your hardware is attached to or you can tie your guylines straight to this loop. Repeat on all 4 corners.
In this instance I used Silkworm hardware which are extremely lightweight but again you can use what ever you choose or nothing at all.
<![if !vml]>
<![endif]>
<![if !vml]>
<![endif]>
Step 14:
Once both sides of the tie out are sewn, its important to lay down a reinforcing stitch along edge of the corner. Flip the material over, with the grosgrain situated on the bottom and make sure you capture the grosgrain on the under side. A few stitches back and forth should do it. Repeat on all 4 corners and you are done.
<![if !vml]>
<![endif]>
<![if !vml]>
<![endif]>
Step 15:
Go hang it and admire your handy work.
<![if !vml]>
<![endif]>
04/06/2017: Continuous Loop: Another Great Hammock Idea: This is just a much better way of attaching your hammock to your suspension system. it really protects the material of the hammock so it will last much, much longer: http://www.tiergear.com.au/11/products/continuous-loop As you can see it goes through the seam you sewed in the end of your hammock, then loops back through itself so imposing much less stress on the hammock material.
<![if !vml]>
<![endif]>
The hook you see in the photo is a 3.4 gram 'whoopie hook' another genius idea for simplified hammock set-up. Also available from Tier Gear: http://www.tiergear.com.au/11/products/whoopie-hooks
The continuous loop should be used in conjunction with the 'whoopie slings: http://www.theultralighthiker.com/whoopie-slings-what-a-great-idea/
See also: Titanium Dutch Hook for attaching your tarp ridgeline: http://www.tiergear.com.au/11/products/titanium-dutch-hook
03/06/2017: Whoopie Slings - Great Hammock Idea! Hummingbird Hammocks have one of the lightest suspension systems around (2.3 oz - 66 grams per hammock). The genius idea about them is the whoopie sling tension adjustment system. Here's a little video I took showing how they work. Setting up your hammock just perfectly is literally a breeze and the work of a minute: http://www.theultralighthiker.com/whoopie-slings-what-a-great-idea/
<![if !vml]>
<![endif]>
It is a little hard to see how they work, but basically the end of the rope is passed up through the hollow centre of itself, forming a loop at one end) so that it can slide fairly freely through when there is no tension but as the tension increases the outside of the rope (tube) holds on harder and harder to the length that is passing through it. It is an ingenious idea (probably familiar to riggers), and would also work well for tent guys. In the pictured example there is a handy knot at one end to hold on to whilst pulling the end through and so tightening up the 'hang' of the hammock. These would work with any kind of hammock, and can be bought separately from them (see below)
Tier gear also a make an adjustable centre line (using the whoopie sling principle) which helps your hammock to hang flat. They certainly do that, and only add 6 grams to the weight of your set up Well worth it as it also gives you somewhere to hang a few things. You can make a small silnylon bag (like a miniature saddle bag) to hang from the centre line so that you can easily reach things like your glasses or head torch in the middle of the night.
I usually add a gear hook at each end of my hammock(s) so I can attach things out of the weather at the ends of my hammock.This only adds a couple of grams too.
Available here:
https://hummingbirdhammocks.com/tree-straps/
http://www.tiergear.com.au/11/products/adjustable-hammock-ridgeline
see Also:
http://www.theultralighthiker.com/a-hummingbird-in-the-hand/
http://www.theultralighthiker.com/australian-outfitter/
http://www.theultralighthiker.com/make-your-own-tarp-or-hammock/
http://www.theultralighthiker.com/diy-netless-hammock/
02/06/2017: The Lie of the Land:
If you want to move around in the bush with confidence without getting lost (and without artificial aids (except for noting the general northerly direction from the sun (or its shadow - eg on your thumbnail: http://www.theultralighthiker.com/finding-your-way/) You should always take note of the 'fall' of the country. The fall is the slope of the country; if you follows this slope, however slight, you will come to a watercourse in time, even if it is only a small dry gully. This in turn will lead down, getting larger as it is joined by other gullies and creeks until it reaches the river, and the fall of the land will continue until the sea is reached.
So as you move about you always have this fall as a reference point in the back of you mind. You might say you are on the 'southern fall of Rocky Creek' or the 'west fall of Little Sandy'. Starting from a known point you will move about quite freely,confident that all the little gullies and creeks that you may cross lead back to the river system that you are using as a reference.
Whichever way you move, whether up or down, or in any direction, you are always conscious of being in a sort of bowl, and at the very bottom of the bowl is the river.
If you move on to higher ground, when you reach the highest point you will look for a change in the fall of the land. The next slope will lead to a different creek, and this may join the earlier river that you are using as a point of reference, or it may run into a totally different river system. If you can deduce this information then you can move around this basin with the same confidence that you used to traverse the first.
Suppose you are travelling from A to C below
<![if !vml]>
<![endif]>
While you are moving around A you should be conscious of the fact that all the fall of the land is towards creek A, and know that this will eventually join the main river.
As you move up to the highest point, you should realise that as this is the highest point it must be the divide between area A and area B. Usually this is called simply the 'divide'. You should then try and establish a mental picture of the new system which you have to cross. Is the fall in the same general direction? If so then it may well be a creek system that will in turn join back to the main river. If not then what is its general direction?
Having established the general direction of the fall, the you will be able to proceed with confidence. In this case you will have noted that the general direction of the main creek is the same as the previous one, and will therefore assume that they are both tributaries of the same river.
As you proceed you will also be taking into account the fact that the small gullies feeding into the main creek do so at an angle to that creek, and you will also use this to help you keep your directions. Because you have formed a mental picture of the creek system A and have related this to the new creek system B, you can now move across this new creek system with confidence, secure in the knowledge that as long as you continue to keep the fall of the land to your right side, then you will be travelling in the correct general direction.
In time you begins to climb, and once more reaches a new divide. Before moving on you establishe that in this case the new creek system is running at an angle to the previous one, and in order to keep to the correct course you must travel in the same direction as the small tributaries of this creek. In this way yoou will arrive at the general position of your objective.
Usually you only attempt to travel in such a straight line if the country is gently undulating. If you encounters steep gullies and deep creeks you would simply follow the divide itself, following the course indicated by the heavy dotted line. You would still locate yourself mentally by comparing the direction of the creek A with creek B, and in turn their relation to creek C, but will have the added advantage of being able to keep two creek systems in sight all the time, thus allowing greater precision in your pathfinding.
Notice how the early explorers used this system to move with confidence over unknown territory. Kennedy for instance made constant reference to the 'Divide' when he explored Cape York. He knew that if the rivers that he crossed were flowing to the East then he was not very far from the coast, but if they flowed to the West then the Divide must be on his right side. Similarly Mitchell crossed all the westward flowing rivers on huis ay to Victoria. It was only when the rivers began to flow away to the South or east that he knew that he had crossed the Divide. By observing the lie of the land (and his compass) he was then able to make hs way back again
NB: So that your return jouney will be easy and you will not 'get bushed' you should fall into the habit of taking a brief spell every few minutes and turn and face your rstarting point while you 'catch your breath' observing carefull what the country looks like from that direction and particularly how your route proceeded in comparison to the lie of the land. This way you will easily be able to make your way back. This is even the case if you do not return by the same route, but usually walk a circuit (as I normally do when hunting in order to cover the most country). If you have looked back and noted where your starting point was and how you got where you are you should have no difficulty returning to your starting point even by a different route. Usually following the ridges (or the divides) is the easiest route.
See Also:
http://www.theultralighthiker.com/finding-your-way/
http://www.theultralighthiker.com/fire-on-the-snow/
http://www.theultralighthiker.com/how-to-light-a-fire-in-the-wet/
http://www.theultralighthiker.com/carry-a-knife/
http://www.theultralighthiker.com/new-ultralight-survival-shelter/
http://www.theultralighthiker.com/survival-still/
http://www.theultralighthiker.com/collecting-water/
http://www.theultralighthiker.com/the-twelve-woodlores-ray-mears/
http://www.theultralighthiker.com/if-you-could-only-carry-two-things-in-the-bush-what-would-they-be/
http://www.theultralighthiker.com/inflatable-insulated-clothing/
http://www.theultralighthiker.com/the-importance-of-a-roof/
http://www.theultralighthiker.com/pitching-the-poncho-warning-this-may-save-your-life/
http://www.theultralighthiker.com/fun-with-sticky-tape-mylar-poncho/
http://www.theultralighthiker.com/worlds-lightest-tarp-clip/
02/06/2017: Astonishing light show: http://www.thisiscolossal.com/2017/05/light-barrier-kimchi-and-chips/
31/05/2017: Things that keep you from hiking, hunting…
<![if !vml]>
<![endif]>
I am really keen to return to my beloved Gippsland mountains for some hiking, fishing, hunting but I still have so many jobs to do around the farm. We have been 'fixing' two dams damaged by last year's floods (hopefully they will hold now); we have a new boundary fence with two neighbours to construct in a terribly difficult situation; we have had sheep to sell and transport; we have hundreds more trees to plant; sometimes we have a bit of baby-sitting to do, and we have done a 'Spot' of burning off (just like this: http://www.theultralighthiker.com/repurposing-camping-gear/) as you can see. Life is such a serious business! Must stock that dam behind me with some fish at least!
30/05/2017: A Wild River Stag: I know lots of you have seen this photo before as I have used it as a signature image for some time. Unsurprisingly a number have asked, 'There must be a story behind that stag, Steve. Tell us about it'. Well, here goes...You can no doubt tell by how much I have aged that it was a number of years ago. I was working my way up an overgrown, neglected river in East Gippsland making a trail, opening up some country that had pretty much closed over with regrowth and blackberries. (No, I am not going to tell you which one - go find your own river!)
<![if !vml]>
<![endif]>
I live two hours from the city, yet I had had over four hours of comfortable driving in the old Land Rover Defender and then a couple more of rough 4WD scrambling to arrive at the end of the track where a relatively popular vehicle hunter's camp was to be found. There would be no point in hunting anywhere within half a day's walk of it if I wanted to see undisturbed deer. There was no-one there - one of the advantages of being a shift worker, farmer or retired is that you can hunt during the week when pretty much no-one else is about. It takes the deer a couple of days to settle down after they have been quite stirred up by the weekend warriors - even longer now that so many are wearing the dreadful camo clothing which is so impractical, unnecessary, even dangerous unless it is blaze orange, which looks just as silly though.
Other folk had pretty much pushed and broken a path up along the river through the predominantly black wattle regrowth to the intersection with a small river flowing in on the true right bank where most had turned off. I was enlarging this with my machete in case I wanted to bring my wife with me on a future expedition as she is partially sighted, so needing a pretty clear path to follow. I had this small river to cross on the first day and a number of side gullies. The little river looked promising, and was clearly where most people go to hunt, as their paths led that way - but I was heading up the main one.
<![if !vml]>
<![endif]>
This is what the side river looked like a little further up after you had cleared the thicker stuff. Worth some exploration on another occasion perhaps, except that was where most folk were going. The lie of the land tells me there are some good flats up there somewhere, mostly where those big side gullies you can see come in. It is much more gentle country than where I was going. I have always preferred the harder country because of the lack of company you can enjoy there. 'No company is better than bad company,' I always say. And there are so many good books still to read - which are so light now that the e-book has been invented! I now read them on my phone.
Those bluffs you can see mean you would have to cross and recross the river or climb deer paths over them. Of course, this is a very easy river to cross. (See: http://www.theultralighthiker.com/river-crossings/) Still, a lesson is in order: Can you see where you should cross this river? No, you don't try boulder hopping eg top centre. Forget about having dry feet if you are hiking, fishing or deer hunting. You can make a pair of ultralight camp shoes so you will have dry feet of a night (such as these: http://www.theultralighthiker.com/19-gram-dyneema-camp-shoes/); that is all you need. Or a pair of Crocs if you aren't handy.
Boulder hopping or log walking will just get you a nasty fall sometime far from help, perhaps a broken leg or fractured skull, or even death if you get swept away under a log jam. You should cross where the current is least (not necessarily where it is shallowest - do not worry about getting your thermometer wet; it will still work!), and where the bottom is not rock, but sand and gravel so you don't slip - so step between the two large boulders centre left and work your way across above the two small rocks centre. That is where the water is slowest and you can see soft bottom between the rocks. You should try to cross facing upriver or downriver to minimise being knocked off your feet by the current. I find upriver best.
A stout stick (or hiking poles) will provide you with a third or fourth leg to help with balance. Many people say you should hold the pole upstream, but I favour downstream. Always undo your chest and hip belt, no matter how small the crossing. It is a good habit which will one day save your life. If you are swept away with your pack cinched up, you are in dire trouble. If the current is clearly such that you will likely be swept off your feet, either don't cross at all or find a very long straight section where you can paddle across using your inflated sleeping mat as a kick board with your pack tied on top. You may have to walk quite a ways up or down a river to find such a spot. I have sometimes spent most of a day about finding just such a suitable crossing point in swollen rivers. And I have camped out for the better part of a week, waiting. So, don't you be impatient with your life! You may not get another! Certainly you would be lucky to get another half so good as the one we have!
After the crossing there were a number of flats and bluffy ridges to cross, an interesting anabranch with numerous wallows, one containing a large stag which fled noisily and precipitously, his klaxon on full volume. It was a fine warm day in late autumn and I was walking into the westering sun so that the sun winked endless reflections off the rippling water. I do love the echoic roar of fast white water. There were numerous rapids but nothing above Grade 2 and there was plenty of water for a future packrafting trip, which I have subsequently made. Delightful. I wish I had had my Klymit pack raft with me on this occasion: http://www.theultralighthiker.com/klymit-packraft/ (but...'If wishes were fishes...')
The autumn break had long since arrived, so there was feed aplenty in the bush, such that any game was like to be in good condition. The wombats and wallabies were fat enough you had nearly to kick them out of the way. The air was alive with the beat of bronze-wing pigeon's wings, wood swallows' curving flight, currawongs calling. Wrens and sitellas crept along every branch rattling the bark. The tree fern gullies rang with lyrebird song... Below, a honeyeater taking the sun:
<![if !vml]>
<![endif]>
And above, a wood swallow, such a lambent grey:
<![if !vml]>
<![endif]>
As you push along a river, you scatter the riverfolk before you. Time and again a blue crane croaks and rises awkwardly to claw his way pterodactyl-like upstream. Black and wood ducks scatter or loudly clap away around a bend. Every so often there is the soft dipping graceful flight of a blue jay, my favourite. And then I hear the whistle and click and I see the painted beauty of a bee-eater scything through the sky. Water dragons flop into the river; every so often a water rat glides off a wet bank otter-like. You can sometimes see the painted shards on the shingle where they have feasted on molluscs or small crustaceans.
This first trip here I only got about as far the first day as you could get in a half day if you were vehicle camping (way back there) and the track was already clear. I camped the night on the ground under my old home made 7' by 7' two ounce weight nylon tarp (below), as I was tired and there just weren't any suitable trees in the only suitable spot close to water. This is sometimes the case with hammock camping, so you should be flexible enough that you can camp on the ground. See: http://www.theultralighthiker.com/hammock-hunting-till-dark/. This tarp cost me $7 a metre to make many years ago, so it cost less than $30 intoto , and I have had about a thousand dollars use out of it!
<![if !vml]>
<![endif]>
A tarp of these dimensions is pretty much the minimum for shelter for one person. For two you need something slightly bigger, such as my 8' x 8' 'winged' 200 gram cuben tarp I have mentioned many times. You can sleep sideways in it under the overhang and stay quite dry unless the weather circles the compass, in which case you will have to swing it round too - but that just about never happens. You worry too much!. You can have a nice cheery fire out the front, like this. You can instead use it as a hammock tarp and it will still keep you quite dry. In silnylon it would weigh about 220 grams. In cuben even less. I am going to make up my poncho in this 7'x7' configuration soon, as it will be even handier if it is your raincoat too: http://www.theultralighthiker.com/hole-less-ponchoshelter/. The waterproof zios now available are quite magical.
I cooked my meal on the Bushbuddy stove (shown): http://www.theultralighthiker.com/bushbuddy-stove/, some Chinese sausage with mash and Surprise peas. A fair meal, but I have better. (Try a search above for 'Food')
<![if !vml]>
<![endif]>
The cuben tarp with one 'wing' closed. You can see it again here: http://www.theultralighthiker.com/hammock-camping-double-bunking/
I can tell you are thinking I haven't got enough gear for a few night's camping in the bush when temperatures may fall to freezing. That (230 gram cuben fibre) pack looks just too small to contain a change of (warm) clothes, a raincoat, sleeping bag, food, etc. However, I can see that I even had enough space for a small quantity of Bacardi 151 rum in case the nights got just too cold! You take too much! By the time I was sitting down to tea in the tarp (as you see me) the temperature was already falling down to 5C or less, but I am still in my shirtsleeves. This is what having a warm open shelter with a fire out the front is all about! You really need one of those Big Agnes Cyclone chairs I have got (http://www.theultralighthiker.com/cyclone-chair/) and the Thermarest Neoair mat if you haven't already got one to be really comfy. I see from the photo that this was before they came up with the women's model (http://www.theultralighthiker.com/womens-are-great-in-bed/), or perhaps I took the one with the rectangular corners as it is more suitable for hammock camping. I have not bothered with a ground sheet as the ground was nice and dry after that warm sunny day. I had an emergency space blanket I could use ( 50 grams - as above) if it rained. If you want an idea of what I carry for a fair expedition, have a look at the list here: http://www.theultralighthiker.com/a-gorilla-in-the-hand/
I had stopped at this spot where a tree-choked blackberry gully entered the river because the way ahead was closed by bluffs on each side of the river and a hugely dense blackberry thicket. There were good numbers of deer up the side gully and a dozen or so came down just after dusk to serenade me as I cooked my supper. You could see their eyes winking like fireflies in the light of my head torch just outside the circle of the firelight. They usually vent their disapproval like busy traffic for five minutes or so, then move on about their own cervine business.
It looked too thick to hunt up the side gully though. Perhaps it opens up further up. On the map it is many kilometres long, and carries a lot of water in a wet season judging by the debris where it joins the river. This is sometimes the case. I still haven't checked it out. There are many such stream bends to peer around whose surprises I may never see. The far horizon retreats just as quickly as your footsteps advance. And time waits for no man.
<![if !vml]>
<![endif]>
In the morning I put off work long enough to snag a trout for my breakfast on a hand line (See: http://www.theultralighthiker.com/the-ultralight-fisherman/) Alfoil grilled trout with muesli might not be everyone's view of ambrosia, but I felt they were pretty good. These East Gippsland rivers are alive with trout. You should always bring a line. Bait is easy: trout will eat anything. When I went to wash the dishes I noticed signs of an old hand's camp I had missed the night before in much the same spot from years' ago. The remains of a rusted hurricane lamp hung from a nail driven into a tree branch, and there was an old handle-less frypan scattered amid the tussocks. I bet they had heard a tale or two in times gone by.
The next day I had nearly 200 metres of blackberry regrowth to hack a tunnel through almost straightaway. In places it was 12' high and thick as your wrist, so it was hard going., and as a result I did not get very far the second day. Not even a deer had penetrated this thicket. It was a narrow gorgy section both sides of the river at this point so it was clear no-one had penetrated further for some years either. Of course I was using this: http://www.theultralighthiker.com/the-worlds-greatest-machete/ You should get one(or two). Up to this point, the first day and a half's hacking had seemed pretty unpromising. Sure, there were deer about. I had several honk at me and a few others crash away into the bush. One had even ploughed across the swollen river, unseen because of the thick regrowth, but you have to be able to actually see them if you are going to take one home.
The bush is sprinkled with scenes of great beauty, yet it can be improved: here a bower bird has scoured the bush to find blue coloured objects (as they do). No other colour stands out quite so well in our forests. He has made a pretty spot for himself underneath the blackberry and dogwood fronds and amongst the wild marshmallow. You hope his efforts were rewarded with a doting mate!
<![if !vml]>
<![endif]>
I guess other people had expected that the thick stuff would go on forever and had given up on this particular valley which is why I had it pretty much to myself. I was beginning to think so too, I must confess but once clear of this horror patch of blackberries the river flats on both sides started to open up a bit. Sometimes you could see a hundred yards through the trees, plenty enough to encourage me further on. Also, the deer I was beginning to see were now much less spooky. Instead of honking and crashing off, I was at least getting to see them for a bit. After lunch (http://www.theultralighthiker.com/lunch-on-the-trail/) I watched a doe with twin poddies (very unusual) for a few minutes before she grazed off around the corner of a side gully.
If you are watching deer, or any other animal never look them in the eye. Indeed, when they look at you, lower your gaze, or even bend double as if grazing. If you continue to ignore them in this way, they will usually ignore you too so long as you don't move quickly. Just watch one of Attenborough's documentaries how slowly a tiger for example stalks his prey even though he is always in broad daylight. You can stalk right up to a black wallaby, for example like this without spooking them. I have often demonstrated this to disbelievers, usually concluding the demonstration by snatching the startled hopper up by his tail, something which I do not recommend with a full size kangaroo - or a sambar deer! I have tried - both!
I love to watch the does gliding with their young, and the young gamboling like little lambs, running in circles, climbing and jumping from anthills, while the does move.ever.so.slowly - almost like wind-up deer, always with a front hoof poised quivering in the air, ready for a warning stomp telling the small flock: 'Fly. Danger! And, in the wink of an eye they all disappear into the hushed silence of the bush.
Kookaburras delight in warning you that deer are moving just ahead: 'Up this side gully. Quickly!' Their raucous cries echo off the ridges. Of course they have their dawn and evening chorus. That's not what I mean. How often have they alerted me to a big doe or stag just out of sight, but which I can then stalk. When I am chain-sawing firewood at home they will swoop between my face and the saw, their wings almost beating against my nose to snatch a grub or a wood roach my sawing has just revealed. Maybe they have feasted oft enough on venison, they are encouraging us onwards, 'Feed me' they call. Anyway, their daytime chorus ought not be ignored. I have followed their advice successfully many times.
As dusk swiftly approached the clearings on the other side of the river at this point were becoming a little more interesting, whereas I was walking along a narrow strip beside the river on mine, with just a thin string of spindly bushes along the river bank. I admit I was concentrating on the other side (though I had no intention of shooting something on the far side) as it seemed there was no cover to hide a deer on mine - only a bit of tussock and the low bushes. Yet suddenly this lovely stag stood right up from among the tussock, appearing as if from nowhere under the overhanging branches of a large bedraggled gum. There he stood glowing with robust health in his glory, framed by the westering sun and the succulent native willow. There was no skillful stalk or triumph of trick shooting in this encounter. It was just a second's effort to throw my lever action up and send a bullet into his chest.
Somehow, no matter how many times you do this, you always expect that the loud report will drop them like a stone - and perhaps half the time this is so, but this guy just steamed off through the river like a locomotive. The water was shoulder high, yet he must have made a bow-wave three feet high as he clove the torrent. I drove another round into his chest as he crossed the river, but he showed no slackening. When he hit the other bank he turned 90 degrees and ran up it at a gallop, quickly disappearing from sight round a slight bend through the thick undergrowth. You always think, 'Damn. Another miss', but your confidence in your practiced skill tells you that both those rounds went soundly home, and this big guy has to be lying dead just around the corner very soon.
It doesn't pay to rush ahead to check though, as likely this will just spook him further if he has any puff left at all, making him just that much harder to find if he manages to run off further, maybe into an acre or two of thick man-ferns. If you give him a spell, he will stop to try and understand what all the noise was, but when he stops he will just lie down quietly and die. So, that's how I found him, just around the corner: he had crashed through that thick stuff behind him, and as soon as he was free and clear he paused an instant, crumpled and was gone. I always feel a terrible sense of loss when I kill anything. I will probably just stop someday when the pain of spoiled beauty becomes too great. But it was not this day!
<![if !vml]>
<![endif]>
And there he lies, still. In the photo the river doesn't look all that deep,or the current very great, but it is and it was. It was getting along at quite a fast walking pace here, so would have bowled me over like a straw man had I tried to cross, and swept me over rapids and what I would describe as 'an entertaining drop' if I was white water canoeing! And of course the water was icy. I had also seen nowhere I could have crossed safely either the previous day or this. And there was only a little over an hour of daylight left, as there usually is.
I headed upriver, hoping for a crossing, but I soon concluded I would have to camp and find a way across on the next day. I found a couple of suitable saplings to swing my hammock right next to a splendid sandy beach on the riverbank. Here it is in the morning light. Nothing better than this on the Riviera! You can probably figure I had a tranquil relaxed sleep wrapped in my hammock camped in such an idyllic place (and I did, except for troubled thoughts about having lost my trophy to the river - and time). As you can see, the weather was quite warm, and by now the stag had been lying out on the river shingle amid the native willows for 12 hours. I would need to find a safe way across the river very quickly if I was to recover anything.
If you have not tried hammock camping, you should. I was using a homemade hammock back then made of the same 2 oz stuff (coated ripstop nylon) as the tarp. It weighed around 350 grams including the dyneema suspension 'ropes'. I am currently trialing one of these: http://www.theultralighthiker.com/a-hummingbird-in-the-hand/ which weighs less than 150. They are truly splendid hammocks.
<![if !vml]>
<![endif]>
Here is a snap of me taking the sun in one on the shores of Dusky Sound Fiordland last month (April, 2017) while I watched some miniature (Hector's) dolphins playing and frolicking in the limpid waters of the fiord. If you have not yet been there, put it on your 'bucket list'. See: http://www.theultralighthiker.com/from-dawn-to-dusky/ BTW: I have now realised that I just missed a moose in the Hauroko Burn on my second day out. A photo would have been rewarded by a $100,000 prize, but would have been worth far more in achievement and memory than any money. Whether I will live to have another such opportunity, who can tell? Never ignore your sense of smell! - see Dusky 2.
<![if !vml]>
<![endif]>
The moving light-play over the embers in the fire, the soft roar of the river, the mournful note of the mopoke and the moonlight creeping low over the frosty mountains are better than any entertainment on TV. What need is there of other company? You can safely give your heart to the mountains, knowing you will need no other friend. The awesome stillness of solitude is all the balm the troubled soul hearkens for. You can still fairly feel the warmth glowing out at you from the colas of my modest campfire. It was a colder night than my first and quickly fell to freezing, yet I was warm, sheltered in my hammock by the tarp, listening to some pleasant music and enjoying a quiet tipple of rum, some macadamias, beef jerky - and a hearty trail soup, such as this: http://www.theultralighthiker.com/ultralight-coconut-fish-curry/
I always sleep on my back in the hammock (insulated by my Neoair sleeping mat and a couple of small pieces of closed cell foam for my elbows. I have a small pillow which I put under my knees, not under my head; this is necessary: http://www.theultralighthiker.com/exped-ultralight-pillow/. It is more comfortable than any bed. There are no lumps or sticks to poke at you, and no creepy-crawlies running over your face as sometimes happens on the ground. A gentle, rhythmic sway quickly eases you to sleep, and you wake free of aches and pains which hard ground sometimes brings. There is also no danger your bed will get inundated if it rains in torrents, and you don't need a flat spot. There is also no danger of being struck by lightning!
<![if !vml]>
<![endif]>
I was moving in the dawn after a breakfast just of muesli chased down with a cup of black coffee next morning. Not long afterwards I tripped over this heavy hunting stand in the long tussocks. It had clearly lain there these twenty years or more. What an incredible thing to have lugged so far through the wild bush! The placid bend where I had camped had it seems many times before been the camp of others - as it will doubtless be in future when I too am dust. In Fiordland, moose hunting I had tripped over a barbed wire fence deep in the near impenetrable jungle. There are few places others have not trod before, yet it is the feeling of solitude, of being the first, of being quite alone in the wilderness which leads us back again and again to push on and explore the wild places by ourselves.
<![if !vml]>
<![endif]>
There were plenty of other deer about in the dawn, as indeed there had been in the gathering dusk the night before. I had watched a pair of does with their young frolicking and grazing not 200 yards from where I had shot the stag, and not half an hour afterwards! This is quite normal in undisturbed country. I passed a much better stag busy in a wallow right out in the open on the river margin next morning, again something you frequently see in undisturbed habitat, but not so much elsewhere. I had pretty much walked right by him (no more than twenty metres away) before he deigned to abandon his joyful smelly excesses, let forth a desultory bugle at me and rush off into the whippy undergrowth. Soon I discovered a truly beautiful flat, and clearly an old route once 'properly' blazed. Look at that feed! Note also the coprosma have been stripped of berries, yet it is fruit time! A promising sign. Deer do love mast.
Many wild fruits are edible (some even palatable). Both prickly (shown here) and sweet coprosma are quite pleasant. Also lillypilly, pittosporum and wild cherry. (I doubt deer get many wild cherry as they usually browse it as high as they can reach - if you are ever in Fiordland 'moose hunting' as I am fond of doing, you will notice the browse line is nearly 3' higher. Those guys really are monsters!). Contrary to popular belief plants which ooze white sap are not universally poisonous (though the sap may be) . Figs are a case in point, though there are not many wild figs in Victoria, save in far East Gippsland. Similarly the belief that red fruits should not be eaten is completely wrong, as the majority of fruits are red (especially the edible ones!) The clear to yellowish sap especially of wattles is quite edible and nutritious. We used to often eat it as children. Pretty much all fish, crustaceans and molluscs found in Victoria are not only edible, but delicious. So too are pretty much any animal or insect you will find if you roll over a log or stone, though a little roasting improves their taste I find. The heart of tree ferns is pure carbohydrate and has kept many folks well filed for protracted periods in the bush. It is better baked. All the rushes and sedges, including cumbungi have edible tubers, also best baked. There is no need to go hungry if you happen to find yourself lost in the bush. Nor need you be wet or cold. I will do some posts about such matters soon. Meanwhile, it is always worth practicing such survival skills as you never know when you will need them, and it boosts your self-confidence - particularly if, like me you prefer to hunt alone.
These fruits are fine (providing you have correctly identified them), but if you are tempted to try an unfamiliar fruit, you should first split it and touch the damp flesh to your lip, then wait five minutes. If nothing untoward happens, then touch it to your tongue and wait again. Next chew it a couple of times, then spit it out. If nothing at all has happened it is almost certainly fine to eat, though some things can make you scour especially in large doses. Interestingly enough, we know a lot about the edibility of many Australian plants from the likes of Sir Joseph Banks who was always keen to try eating new things. Again, the colony nearly starved a number of times (particularly 1791), so lots of plants were tried perforce, sea purslane and pigface for example. Europeans rapidly discovered just about as many edible plants in a decade as the previous inhabitants had in a much longer time. The latter were masters though at extracting poisons from otherwise inedible things, like cycads. Don't even try.
<![if !vml]>
<![endif]>
As the morning wore on, the river continued deep and swift with nothing in the way of a single safe crossing. The flats on the other side were truly beautiful though. Like a manicured park sprinkled with ash and peppermint gums. They would make good hunting once I discovered the fords the deer used. Fords are one of the best spots to lie in wait for them actually (if you are an ambush predator, which I am not; I get bored waiting, ever eager for new sights and sounds, and not much worried whether I ever take another deer). You can use the westering sun as a kind of spotlight to get a clear shot at the deer as they tiptoe across. This way you can (legally) take them quite close to dark. You need to position yourself though so that your shot will impact a river bank upstream and not skate along the river perhaps endangering someone else kilometres away. And, ideally you need to have already established a campsite quite close by. At least there will be plenty of water for your billy. There is also plenty of fallen timber for your campfire opposite. You could camp there for a year without using it all up, by the looks. Notice the animal drinking spot, centre. That would be a great side gully beyond. I bet there are many adventures to be had there.
<![if !vml]>
<![endif]>
Look at this beautiful wallow I found. You can see how the stag has been using the trunks of the trees as his towel. They are well coated with malodourous mud. Here would be a good spot to search for a cast antler, or to wait for him to return as dusk or dawn. You should drag a branch through the bottom if you want to find one,as they are usually found rolled into it. If you find one it will give you a good indication of the size of the resident stag.
<![if !vml]>
<![endif]>
Finally I found just such a crossing: the water is slower and shallower here, but still waist deep. You can just make out a deer path on the opposite bank. The bracken flats opposite would make a sheltered 'nursery' area. It had taken nearly half a day to find a suitable crossing. I still needed a stout branch as a prop to prevent myself from being toppled over. I took another three hours to walk back to 'my' stag by which time I was long dry. Unfortunately he had now been lying there for a full twenty-four hours, all day in quite hot sun. His skin would 'slip' and I could not trust the meat would not have begun to spoil since he had not even been gutted. A sad waste really.
I deeply regretted my precipitate action in shooting him in the first place now. So often it is just much better to admire and wonder. I have done so many times since. Deer hunting is mostly an excuse for me to get out hiking and camping (sometimes into places you otherwise could not go, such as our 'National Parks' which are being saved for future generations, rather than ourselves).
<![if !vml]>
<![endif]>
And here he is, lying as he fell (with my gun tangled in his rack!) I know the river looks as if you might cross there, but I can assure you I would have been swept away - and there were some particularly nasty rapids downstream. You just can't take such a chance particularly when you are all alone in the wilderness. He was, as you can see, as fat as mud!
<![if !vml]>
<![endif]>
On another trip I found these (two) beautiful crossing points a further hour's walk up the river. If only they had been a bit closer to where the stag had fallen, I could have had his meat and cape in the cold water of the river overnight, and back to my car before mid-day the next day if I had hurried - or if I had had my pack raft with me. Life is replete with 'what-ifs'. You just can't let them trouble you. The dice falls as it falls. That is all. You should have 'no regrets', as Edith Piaf said so mellifluously. We are just passing quietly through life. We arrive with nothing, and leave with nothing. Hopefully, you accumulate a few special memories along the way, such as the photo below, taken by my lovely wife Della on my next trip.
<![if !vml]>
<![endif]>
And mine of her: There she is, taking her ease on the riverbank opposite me. While we were camping there, a platypus swam around and around this huge pool for half an hour i guess. Such an enchanting sight.
<![if !vml]>
<![endif]>
On an even later trip, the river came down in an awesome torrent, and did this whilst I was there. This was just around the corner from the photo above. I just had to wait it out. It pays to have a cache of food in a canoe drum (or similar) against such eventualities; anyway to have enough spare tucker. Tie it under a log well out of reach of any potential floodwaters, so the wombats and possums don't p[lay games with it! You can easily see you could be trapped by floodwaters for a week or more. Half the forest must have ended up at this spot. I know the roar and grinding of the river overnight and sounds like gunshots as vast logs snapped like kindling when this happened was ominous in the extreme
<![if !vml]>
<![endif]>
We have explored much further up the river since on a number of trips - and of course, now we can take the dogs. There are many splendors further up. We have gone five more days up. I know most folks find one day's walk away from their vehicle quite enough, mainly because they carry too much, but the further you go the more fascinating things you see. Always, the Victorian bush is a riot of wildflowers, even in winter when I most love to enjoy ot. That's why we have so many honeyeaters such that our State bird is one - I have even seen a little 'helmeted' guy here, though I never tell 'the powers that be' anything they don't need to know! On this occasion every gully was bedecked with snowy clematis, and there were any number of parti-coloured wild peas in bloom.
We have found a truly splendid flat on a magnificent sweeping bend. It must be close to 100 hectares (as square kilometre) where we love to camp. the fishing and swimming is even good in summer. It resembles one of those beauteous English parks, the deer have done such a fine job manicuring it. Further on there is a wonderful hidden valley which you would just about step across without even noticing, but a day's exploration up it will bring many delights: waterfalls, orchids, postcard-perfect clearings...Further on a second small river joins this one. It has a small plain a kilometre or so up which in the summer is a riot of everlasting daisies.
The best part is that when we want to head back to the car we can just blow up the packrafts and enjoy a delightful day or two (like Huck and Tom - or Ratty and Mole) just drifting and 'mucking about' on the river.
Of course this was not the end even of this trip. I was in no hurry to get back and had two days' walk in any case, so I took my ease for a couple or three of delightful days lying about in my hammock in the sun, fishing, nosing up a side gully or two... Just in general really enjoying our beautiful Australian bush - and my solitude!
Alas, this is pretty much all I managed to recover from the stag. This was also just about the only time I have left meat in the bush. I had forgotten to pack my 'embryo wire' or even a folding meat saw, so I had to take the antlers off one at a time (I could not even remove the skull cap whole). I only managed to do this by standing back a ways and putting a couple of shots into his skull so I could recover each antler with a shard of broken bone. Sometimes I am not so well organised either! Still, at least I have the antlers, arranged decoratively in a vase by Della as a reminder of a mountain adventure years ago. Hopefully, even at 68 there will yet be many more...
<![if !vml]>
<![endif]>
Unfortunately others have followed our trail, though most only travel one day upriver camping approximately where I crossed on this occasion, so that the deer thereabouts are much more skittish nowadays. Sometimes I venture a further five days upriver (as I said) where in winter there is never anyone about, and the deer are as common as rabbits!
27/05/2017: Hunting Thumbtack Reflectors: Thumbtack reflectors such as 'Fire Tacks' are a great way to mark any route you may need to travel after dark – eg after sitting up over a wallow or game trail for a sambar deer until the light fades and then wanting to get back safely and quickly to your camp. NB the Stealth ones visible only at night or in UV light. A search for 'hunting relectors' or 'reflective thumbtacks' will find you quite a range. They are usually only a few dollars for a pack of 25, so you can economically mark quite a long trail. Of course they have a million and one uses other than for hunting. See eg: https://www.firetacks.com/
<![if !vml]>
<![endif]>
At night they look like this. You shouldn't have any trouble following them!
<![if !vml]>
<![endif]>
26/05/2017: Happy Birthday Ultralight Hiker: My blog is two years old today. Many thanks to my daughter, Merrin for helping create and maintain it, and to my many readers and supporters for enjoying it. There are now 924 posts here, so plenty of things to enjoy! My post about canoeing the Seaforth River Fiordland is also two today, so I have moved it up the list so you could enjoy it again: http://www.theultralighthiker.com/dusky-track-canoeing-the-seaforth/
I also could not resist reposting two of my most popular photos, this wilderness river stag:
<![if !vml]>
<![endif]>
and this snap of us on Cox's Bight from our 2011 trans Tasmania hike:
<![if !vml]>
<![endif]>
26/05/2017: Dusky Track: Canoeing the Seaforth: Some folks are just downright suicidal, and sometimes I am one of them! In 2009 I had conceived a plan to be the first person (I think) to canoe the mighty remote Seaforth River in Fiordland NZ. I had a brand-new Alpacka 'Fjord Explorer' packraft (https://alpackarafts.com/product/fjord-explorer/) courtesy of Kevin Rudd's bushfire compensation scheme following the 2010 fires here which left us trapped at home for weeks with fires burning all around us.
That year I walked in from Lake Hauroko to Loch Marie (3 days) with my raft and gear in my trusty Gossamer gear G4 pack: http://gossamergear.com/g4-ultralight-backpack-all-bundle.html. On the fourth day I canoed across the lake, then walked down to just past the Bishop Burn and spent the rest of the day canoeing the Seaforth. I had carefully checked out the river from Google Earth which misses some big rapids -Trust Me! I had also walked around that lower section of the Seaforth quite a lot of times so I thought it was pretty safe. Well, I knew there were a couple of quite deadly rapids, but I was indecently confident I would hear them coming up and could safely portage them. (Every man has a plan which will not work!)
Most of the river is deep and wide and consists of pebble races or Grade 1-2 rapids at most. Unfortunately, there are 2-3 rapids which come up on you pretty quickly, which it would be death to attempt, and which are quite difficult to portage. The worst was in the general vicinity of the old Supper Cove Hut. Suddenly on a left-hand bend, there it was: with perpendicular river banks both sides, but no other option but to grasp a tree root on the right bank and hang on for dear life! I did manage to climb 5 metres up that vertical bank pulling myself up by the tree root, then haul up my pack and the raft (both of which I had tied to a line) after me. There was one other nasty rapid below this - which I had never seen even though I had walked that section near the mouth of the Henry Burn (Moose Creek) extensively.
Once I was in the flat water below I thought I was home safe. By then it was getting pretty cold and daylight was fading. I had realised that there were oodles of sharks in the Fiord but I thought to avoid them by paddling the shallows on the margins of Supper Cove. I had forgotten the 2-3 kilometres of tidal deep river above the Fiord, which teemed with them! They were mighty curious too, repeatedly cruising underneath the raft, gently lifting it as they rubbed underneath. It was a little unnerving!
Steve must not have been on their menu that day! I had this experience about twenty times before I made Supper Cove where you can be sure I hugged its margins like a drunken sailor! However, as you can see I made it – much to the astonishment of the (few) onlookers, including my daughter Irralee, who had been anxiously awaiting me there for three days! The Seaforth River is a beautiful and exhilarating trip. I somewhat regret I might not paddle it again though!
I have been back for other looks though, as recently as a month ago. See: http://www.theultralighthiker.com/from-dawn-to-dusky/ & ff.
<![if !vml]>
<![endif]>
Thousands of beautiful tarns on the way across from Lake Roe - Seaforth in the background
<![if !vml]>
<![endif]>
A very steep descent to Loch Marie
<![if !vml]>
<![endif]>
First view of the Seaforth coming across from Lake Roe
<![if !vml]>
<![endif]>
Putting in to cross Loch Marie
<![if !vml]>
<![endif]>
Some beautiful serene stretches of river along the way
<![if !vml]>
<![endif]>
Some awesome views
<![if !vml]>
<![endif]>
One of those vertical banks I had to climb
<![if !vml]>
<![endif]>
Quite a few log jams along the way
<![if !vml]>
<![endif]>
Some beautiful views along the river
<![if !vml]>
<![endif]>
One of those 'killer' rapids i avoided
<![if !vml]>
<![endif]>
Sunset over Supper Cove Hut
<![if !vml]>
<![endif]>
My daughter Irralee waiting for me on the Boat Shed beach at Supper Cove
<![if !vml]>
<![endif]>
Supper Cove Hut loomed a welcome sight after such a river journey
<![if !vml]>
<![endif]>
Packraft and Big Agnes mattress/floor inside Supper Cove Hut
<![if !vml]>
<![endif]>
Great fishing for Blue Cod at Supper Cove
See also:
http://www.theultralighthiker.com/dusky-track-canoeing-the-seaforth/
http://www.theultralighthiker.com/dusky-track-adventures-1/
http://www.theultralighthiker.com/eddie-herrick-moose-hunting-at-dusky-sound/
http://www.theultralighthiker.com/a-friend-i-met-on-the-dusky-track-fiordland-nz/
http://www.theultralighthiker.com/dusky-south-coast-tracks/
http://www.theultralighthiker.com/dreaming-of-the-dusky-track/
http://www.theultralighthiker.com/the-dusky/
http://www.theultralighthiker.com/moose-hunting/
http://www.theultralighthiker.com/fiordland-moose/
25/05/2017: How Long Till Sundown? Here is another neat trick. If you hold your hand out at arm's length, the width of your fingers approximates to 15 minutes. You can use this to judge how long it is till sundown (and remember you have approx half to an hour of usable light after sundown). Using this you can judge whether you will likely make your destination, or whether you need to make camp sooner.
<![if !vml]>
<![endif]>
25/05/2017: I Love to Go A'Wandering: Hiking Songs: Songs to maintain your walking tempo, if your spirits begin to flag or when hiking with children.
<![if !vml]>
<![endif]>
Since time immemorial people have walked (and marched) to the accompaniment of songs, and oft with fife and drum, so I when I took my infant grandson for a walk around to the weir the other day (http://www.theultralighthiker.com/invisible-worlds-the-weir/) and we needed to jolly him along a bit, we quickly ran through our rather short repertoire of readily remembered tunes.
When we got home I naturally thought I would try the internet for some more suggestions but Google drew (relatively) a blank on this one, no matter how I searched. Yet I am sure that when Alexander crossed the Hellespont or Caesar the Rubicon, or Napoleon marched on Marengo or Washington on Valley Forge (& etc) it seems vanishingly unlikely that the troops did not swing along with a rousing chorus on their lips – maybe their last words: 'Once more into the valley of death…' & so on.
The secret of (winning) infantry is to move large numbers of men (often along a narrow course) quickly and unexpectedly. The 'Little Drummer Boy' had several tempos in his repertoire: the slow march (often reserved today for ceremonial occasions – but more normally a resting beat), normal time and double time for example. As hikers we can add a few more to this list: skipping and polka for example, which might look a bit silly with a column of troops in full accoutrements!
Here are just a few which come to mind. You might use the first letter of the last word to 'trigger' the memory of which song to sing next. The first one is particularly evocative: it was sung by our brave First AIF as they went into battle at Gallipoli, Frommelles & etc.
A Long Way to Tipperary,
Be Kind to Your Web Footed Friends
Clip Clop My little Horse
Down by the Riverside
Five Hundred Miles
Found a Peanut
Frere Jacques
Grand Old Duke of York
Hey Let's Go
Hi Ho It's Off to Work We Go
I Want to Go Home
If I Had A Hammer
If You're Happy And You Know It
Irene Goodnight
John Browns Body
Kum Ba Yah
Loch Lomond
Mares Eat oats and Does Eat Oats
My Grandfather's Clock
Old Man River
Pack up your Troubles
Popeye
The Ants Go Marching
The British Grenadiers,
The Happy Wanderer
There's a Hole in the Bottom of the Sea
What Shall We Do With the Drunken Sailor
When Johnny Comes marching Home Again
When the Saints Go Marching In
You are My Sunshine
See Also: http://www.theultralighthiker.com/man-is-the-measure-of-all-things-pythagoras-some-handy-estimation-tricks/
24/05/2017: Man is the Measure of All Things (Protagoras) Some handy estimation tricks.
<![if !vml]>
<![endif]>
This astonishing Pre-Socratic was a brilliant mind. I guess everyone knows his 'Theorem" about right angle triangles. The saying above might not be quite so well known (or his enjoiner, 'Eschew beans'! I think I know why!), but we can use some of the proportions of the human body and the a property of an Isosceles Triangle (ie one with two equal sides) to do some pretty handy estimations.
You hold a stick at arm's length as shown in the drawing on the left so that the top of the branch exactly aligns with the top of the object whose height you want to measure. You can do one of two things: drop the stick over as in the drawing on the right, or pace the distance between you and the object. The height of the tree will be exactly the same as the distance from you to the object (Isosceles triangle, you see) Or the point on the ground where the stick on the right indicates.
You have formed a little isosceles triangle with your eye, your arm and the stick This triangle projects forward to the larger isosceles triangle formed by your feet, the distance to the base of the tree and the height of the tree itself, so the height of the tree is always exactly the distance from you to the tree..
<![if !vml]>
<![endif]>
Here is an interesting proportion. The distance between your eyes is almost exactly 1/9th of the length of your arm to the tip of your thumb (as shown below). By alternatively closing one eye and then the other, and estimating how far the object aimed at with your thumb 'jumps' sideways, then multiplying that estimated distance by 9 (it might be easier to multiply by ten which is close enough really) you can get a pretty good estimate of the distance to that remote object (ie it will be distant roughly ten times the distance your thumb jumps!) Neat eh?
This can be useful if you are taking a long shot (eg at a deer) with a rest, or eg if the object is your destination and you wish to know how far away it is, or if you need to cross a river and you want to know how wide it is so that you can judge how far upstream you need to start swimming or paddling (on your Thermarest Neoair mat) to safely get across. Always cross at the deepest, slowest straightest spot. You will already have measured the speed of the current by throwing s floating twig in and timing it.
<![if !vml]>
<![endif]>
If you dropped the stick to the side as in the right hand drawing in the first illustration, you can use the approximate number of tree lengths to estimate how far your thumb has jumped. If you assume that a similar tree near you which you measured by pacing is the same height as the one on the far bank, you will have a very clear idea of the distance to the remote object in tree lengths. From then on, it's only a matter of simple multiplication.
The featured image is Da Vinci's famous 'Vitruvian Man' where Da Vinci sets out his ideas of the ideal human proportion: https://en.wikipedia.org/wiki/Vitruvian_Man
23/05/2017: Epirbs are not Taxi Hailers: Lots of people are misusing these tiny devices. I guess because they are (relatively) cheap, but really if you want to spend time in the wilds, spend some money to get a decent communication system eg either a satellite messenger or a satellite phone – or both.
<![if !vml]>
<![endif]>
So many people are pressing the panic button because they have a sniffle or ran out of Oreos occasioning hugely expensive search and rescue operations for them that eventually governments are going to have to charge everyone for the thoughtlessness of the few. Mostly people just want a specific thing eg a helicopter pick-up from a specific point (which will be an extra for a search and rescue operation) but which is relatively inexpensive (say $1-2,000) and ought to come out of your own pocket. Often such a pick-up is non-urgent as well.
Val from Hauroko Tours related to me an example from a few years back. He had dropped a group off at the Hauroko Hut to begin the Dusky Track (See: http://www.theultralighthiker.com/from-dawn-to-dusky/). Later the very same day they hit their Epirb. Within an hour of starting out on the Dusky, they found the Hauroko Burn flooded. In my opinion they could have proceeded, but in any case it would likely have gone down by the next day (and they had a lovely dry hut to stay in whilst waiting it out).
Any walk on the Dusky is likely to encounter flooding/ waiting etc. Such is wilderness experience. Also, Val would have been back in three days, so they only had to wait. Clearly they had food for 8-10 days if walking the Dusky. Instead they hit the Epirb occasioning an urgent and expensive search which in my opinion they should have been charged for! Such 'Crying Wolf' behaviour is likely to cause the authorities to become less interested in launching into such wasteful exercises. The public purse is not infinite.
PS: Over reliance on electronic knick-knacks is problematic at best. before folks venture into the wild, they ought first have properly equipped themselves with a functioning set of the equipment they were born with: brain, eyes, ears, hand feet, back etc. The first of these needs some training. I will be posting some ideas about this soon, but in the meantime you might review this http://finnsheep.com/HIKING.htm
20/05/2017: Ultralight Ultra-Sharp Knives: Ceramic knives are sharper than metal ones and their edge can last 10 times longer. They can also be lighter. I have been thinking that this 'ceramic escape knife' would fit well in an ultralight fishing kit such as this: http://www.theultralighthiker.com/the-ultralight-fisherman/ This little guy weighs only 3 grams, has a blade 1.25" (3.175cm) and is 1.75" long  x .4" wide (4.445 cm x 1.016 cm) It may be illegal to import or sell this product in Australia. There is a metal version which weighs a colossal 8 grams: http://www.theultralighthiker.com/dermasafe-ultralight-knives-and-saws/
<![if !vml]>
<![endif]>
Some options:
http://www.dudeiwantthat.com/outdoors/tools/ceramic-escape-knife.asp
http://www.dudeiwantthat.com/outdoors/tools/covert-non-dulling-razor-blade.asp
http://www.derma-safe.com/product/the-derma-safe-folding-utility-knife/
This guy has an enchanting range of ceramic knives: http://ceramicknife.org/
19/05/2017: Antarctic Flights from $1199: Well $1999 if you want a better view, but really not bad for the visual feast of a lifetime. I know it's a lot of money to spend for a 12 hour flight where you end up right back in Melbourne where you began, but 'you can't take it with you', and it is unlikely you will be trudging across the icy wastes in pursuit of Scott and Amundsen. Della has already put her hand up for a flight when I find that tiny pot of gold I buried in the backyard some time – perhaps sooner: http://www.antarcticaflights.com.au/ https://www.youtube.com/watch?time_continue=70&v=TfprD5OVtPU
https://www.youtube.com/watch?time_continue=5&v=9qS_ShexHd0
<![if !vml]>
<![endif]>
18/05/2017: Wings and Water: My favourite airline operates out of Te Anau Fiordland, New Zealand: http://www.wingsandwater.co.nz/ I have flown in to or back from Supper Cove a number of times, so I have a collection of snaps which will maybe whet your appetite to the visual delights in store. It is almost impossible to take really good photos through a plane's windows (as I'm sure you know), but these will give you some idea of the magnificence of Fiordland from the air. Some of the beautiful views I have experienced from their plane over the years:
<![if !vml]>
<![endif]>
Their pilot, Kylie ready to take you on the flight of your life at the lake's edge, Te Anau.
<![if !vml]>
<![endif]>
Here is their plane at beautiful Supper Cove, Dusky Sound. The DOC hut is just a few steps up the path behind the plane.
<![if !vml]>
<![endif]>
And here it is taking off at Supper Cove
<![if !vml]>
<![endif]>
View of the Fiord
<![if !vml]>
<![endif]>
<![if !vml]>
<![endif]>
How steep the edges of the fiords are - notice all the fuschia regrowth (light green): this is a favourite moose food.
<![if !vml]>
<![endif]>
View of supper Cove Hut from the air.<![if !vml]>
<![endif]>
Me at Supper Cove.<![if !vml]>
<![endif]>
Leaving Supper Cove - view down the fiord.
<![if !vml]>
<![endif]>
A little further down the fiord.
<![if !vml]>
<![endif]>
Loch Marie - hut in centre.
<![if !vml]>
<![endif]>
Wet Jacket Arm.
<![if !vml]>
<![endif]>
Lake Manapouri.
<![if !vml]>
<![endif]>
Tarns in one of the passes probably Pillans.
<![if !vml]>
<![endif]>
Just look at this patch of fuschia regrowth - how many moose could such feed support? And how hard would it be to ever see one?
<![if !vml]>
<![endif]>
Pass.
<![if !vml]>
<![endif]>
Probably Doubtful Sound.
<![if !vml]>
<![endif]>
These new slips will regrow with Fuschia. Moose can travel around these steep sides, but I doubt you or I can!
<![if !vml]>
<![endif]>
Look at this wonderful perched lake. So many beautiful secret spots in Fiordland where no man's foot has ever trod.
<![if !vml]>
<![endif]>
Fiord after fiord after fiord.
<![if !vml]>
<![endif]>
Those mountains are certainly steep.
<![if !vml]>
<![endif]>
<![if !vml]>
<![endif]>
Looking up the Seaforth River, Supper Cove.
Trampers Transport : Supper Cove - Dusky Track. Take the easy way to the Dusky Track at 9am daily. Fly from Te Anau to Supper Cove or return. They can also ferry stores to and from Supper Cove. Duration: 30 Minutes flight time approximately - $330.00 per person (2017).
They also do a range of wonderful 'joy' or scenic flights. There are numerous places they can take you into the Fiordland National Park. Fancy a bit of hunting or maybe you are joining a cruise somewhere in the fiords - let them take you there!
Here are just some of their destinations: Blanket Bay (Doubtful Sound), Bligh Sound, Breaksea Sound, Caswell Sound, Chalky Inlet, Charles Sound, Charles Sound – Helipad, Dagg Sound, Deep Cove, Doubtful Sound, Dusky Sound / Supper Cove, Dusky Sound / Cascade / Luncheon, Earshell Cove, George Sound, Glade House, Te Anau Downs to Glade House, Glasinoch River, Gorge Burn, Junction Burn Hut, Lake Alabaster, Lake Hakapoua, Lake Hankinson, Lake Hauroko, Lake McIvor, Lake McKerrow, Lake Manapouri, Lake Marchant, Lake Mavora, Lake Monowai, Lake Poteriteri, Lake Rakatu, Lake Wapiti, Lake Wilmot, Long Sound, Martins Bay, Milford Sound, Nancy Sound, Preservation Inlet, Stewart Island, Sutherland Sound,Te Anau Downs, West Arm, Wet Jacket Arm, Worsley Arm,,Queenstown.
17/05/2017: Water from thin air: A New Dehumidifier: This device pulls water from dry air, powered only by the sun. It is still a long way off being available, but it may someday make long desert journeys much more possible: 'Imagine a future in which every home has an appliance that pulls all the water the household needs out of the air, even in dry or desert climates, using only the power of the sun...
The prototype, under conditions of 20-30 percent humidity, was able to pull 2.8 liters (3 quarts) of water from the air over a 12-hour period, using one kilogram (2.2 pounds) of MOF. Rooftop tests at MIT confirmed that the device works in real-world conditions.'
Read more at: https://phys.org/news/2017-04-device-air-powered-sun.html
  <![if !vml]>
<![endif]>
16/05/2017: Hiking Crayfish Bisque
<![if !vml]>
<![endif]>
First catch your crayfish...Once again here's a delicious soup to cook in the wild after you have been doing a spot of fishing. Naturally it uses only dried, concentrated and lightweight ingredients. I based it on a traditional bisque recipe we have eaten for years but with ultralight ingredients. My tastes run to peppery and my wife is a lover of tomato flavour, so at just these proportions the dish may be a little intense for you (or not enough), so you can play with the proportions a bit until you get it just right. I hope you enjoy it.
To 1 Litre of water add:
10 teaspoons of milk powder (add cold and stir in - it mixes better)
1 x 40 gram packet Continental French Onion Soup (NB low salt is good)
1-2 50 gram sachets of tomato puree (to taste)
1-2 small cubes or teaspoons of chicken stock
1/2 Teaspoon ground black pepper (to taste)
1 Teaspoon (to taste) of sweet paprika.
1/2 teaspoon garlic powder
Bring to the boil. Simmer 3-4 minutes Stir oiccasionally. Add:
200 gram can of shrimp (if you don't have a cray) A 100 gram can of tuna will do in a pinch!
1 x 85 gram packet of Magi 2 minute noodles well broken up (into 1 cm lengths)
Simmer a further 1-2 minutes, stirring occasionally.
Enjoy.
For other hiking food ideas, try a search for 'food' in the search bar at the top right hand corner of the page.
See Also:
http://www.theultralighthiker.com/steves-ultralight-fish-chowder/
http://www.theultralighthiker.com/hand-line-fly-fishing
http://www.theultralighthiker.com/hiking-crayfish-bisque/
http://www.theultralighthiker.com/the-ultralight-fisherman/
http://www.theultralighthiker.com/ultralight-coconut-fish-curry/
http://www.theultralighthiker.com/hand-line-fly-fishing/
http://www.theultralighthiker.com/a-ball-of-string-and-a-feed-of-cray/
If you enjoyed this post and would like to make a small donation to the upkeep of this page, you can do so by clicking the PayPal button below. Even a small amount would be appreciated.
Other Posts:
http://www.theultralighthiker.com/lightweight-fishing-rods-reels/
http://www.theultralighthiker.com/pen-fishing-rods/
http://www.theultralighthiker.com/3d-fishing/
http://www.theultralighthiker.com/four-gram-fishing-handlines/
http://www.theultralighthiker.com/fishing-with-floss/
http://www.theultralighthiker.com/bcb-fishing-kit/
http://www.theultralighthiker.com/bcb-fishing-kit-as-good-as-it-gets/
http://www.theultralighthiker.com/lightweight-fishing-rods-reels/
07/05/2017: From Dawn to Dusky # 8: Upper Spey to West Arm is somewhere between 4 and 6 hours, nearer six for me these days. There have been a number of contradictory signs over the years. As the last hour or so is on a hard gravel road, and much of the walk is along flattish river banks and this is your last day, there is a temptation to hurry. Most likely all this will achieve will be to finally tear your feet to pieces (especially your toenails) and you will miss or have to wait for the bus/boat anyway, so chill out and enjoy the scenery along the beautiful Spey River valley.
<![if !vml]>
<![endif]>
The mountain which hangs over Upper Spey resembles one of the Easter island heads.
<![if !vml]>
<![endif]>
Upper Spey sunset.
<![if !vml]>
<![endif]>
The colours are beautiful.
<![if !vml]>
<![endif]>
Leaving Upper Spey in a dewy dawn. The orb spiders have been hard at work on the coprosma.
<![if !vml]>
<![endif]>
Detail of the orbs and fruit.
<![if !vml]>
<![endif]>
Lots of duckboards at the beginning. This used to be quite swampy patch in years past.
<![if !vml]>
<![endif]>
All day is just a gentle incline following the Spey River valley downhill.
<![if !vml]>
<![endif]>
With some hobbity bits.
<![if !vml]>
<![endif]>
The Spey is a pretty little river. You can walk along in it for kilometres instead of on the track when the level is low. Good trout fishing too!
<![if !vml]>
<![endif]>
Bryn just could not resist the temptation to revel in some Fiordland mud one last time!
<![if !vml]>
<![endif]>
Eventually I tire of walkwires. There are three this day. The very last one over the Dashwood Stream I chose to wade.
<![if !vml]>
<![endif]>
But as I have said before, Bryn just loves them! That stream is really steaming...
<![if !vml]>
<![endif]>
A light in the forest.
<![if !vml]>
<![endif]>
Still a few muddy patches.
<![if !vml]>
<![endif]>
Spey river scene.
<![if !vml]>
<![endif]>
Lunch by the Spey River.
<![if !vml]>
<![endif]>
Easy fishing.
<![if !vml]>
<![endif]>
The very last walkwire over the Dashwood Stream.
<![if !vml]>
<![endif]>
One last glimpse of the Spey River
<![if !vml]>
<![endif]>
And we are out on the Wilmot Pass Rd - the end of the Dusky Track! We have made it!
<![if !vml]>
<![endif]>
Wilmot Passs Rd at the end of the track - with Steve Hutcheson 2012.
<![if !vml]>
<![endif]>
Bryn 2008.
<![if !vml]>
<![endif]>
An enigmatic Kiwi sign on the Wilmot Pass Rd echoes our feeling exactly!
<![if !vml]>
<![endif]>
Just in time to catch the Doubtful Sound bus - you wish!
<![if !vml]>
<![endif]>
Wilmot Pass - just a couple of kilometres off-route towards Doubtful Sound. When they were constructing this road in the 1970s a bulldozer driver saw a live moose cross right here.
<![if !vml]>
<![endif]>
View of Doubtful Sound from Wilmot Pass, not such a clear day, unfortunately.
<![if !vml]>
<![endif]>
The Mica Burn.
<![if !vml]>
<![endif]>
Likewise.
<![if !vml]>
<![endif]>
Here we are at West Arm. Methinks they have cold beer on that 'real journeys' boat.
<![if !vml]>
<![endif]>
Inside the Manapouri Power Station hundreds of metres underground at West Arm. Unfortunately you can no longer see this.
<![if !vml]>
<![endif]>
I was right: A well-earned beer on the boat across Lake Manapouri.
<![if !vml]>
<![endif]>
Heading back to 'civilisation'.
<![if !vml]>
<![endif]>
It is a beautiful lake.
<![if !vml]>
<![endif]>
Hitching back to Te Anau from Manapouri 2012.
Fiordland Birds: An Aside: If you thought it was quiet (and peaceful) walking the Dusky track and that you don not see anything but a handful of birds as you traversed it, that's because New Zealand has lost 99% of 99% of its birds. Most were eaten by stoats or possums. This is a stoat trap along the Spey River intended to catch some of these pests. in places where there are lots of such traps and they are regularly checked (such as the South Coast Track) the birds are very slowly making a comeback - but it will be touch and go. Do not interfere with a stoat trap as someone has done here.
<![if !vml]>
<![endif]>
You are lucky to get snaps of more than a handful of birds, such as these:
<![if !vml]>
<![endif]>
<![if !vml]>
<![endif]>
<![if !vml]>
<![endif]>
<![if !vml]>
<![endif]>
It is such an awful change from what I am used to in the Gippsland bush, Victoria where you are likely to see up to 500 bird species, and at any time walking =in the bush there are probably fifty birds visible and audible of probably upwards of a dozen species - almost more than you are likely to see in a lifetime in Fiordland. They have a plan t recover their bird life. I hope they succeed with it.
02/05/2017: From Dawn to Dusky #7: You have a big climb and descent today: over a kilometre up and then down again from the Kintail Hut to the Upper Spey Hut. You don't have to worry. Though it takes me longer now, I did this section in 2006 when I was a mere 58, the first time I walked over Centre Pass, in five hours. I'm afraid today it takes me nearer 7. Still good to be out there. If you are young and fit and get an early start it might be possible for you to walk all the way from here to West Arm and catch the last boat across Manapouri (about 5:15, but don't quote me). I know I just missed it in 2006, and I was really hanging out for a cold beer in the Moose bar Te Anau after nearly two weeks in the wet forests of Fiordland!
Resting in the Kintail Hut with Steve Hutcheson 2012.
<![if !vml]>
<![endif]>
<![if !vml]>
<![endif]>
Crossing the Seaforth: I usually walk across the river at this point, but Bryn actually prefers walk wires!
<![if !vml]>
<![endif]>
My turn.
<![if !vml]>
<![endif]>
Beautiful flat stalking to begin with: one of the denizens seems to have lost something.
The track follows the Kintail stream upwards towards Centre Pass.
<![if !vml]>
<![endif]>
The Kintail Stream is quite gorgey. There are many beautiful views of water crashing down.
<![if !vml]>
<![endif]>
Like this.
<![if !vml]>
<![endif]>
The walkwire across the Kintail Stream. I find this the most frightening of the trip. It is so long, such a long way down and car sized rocks below with water torrenting over them should you fall. Bryn just finds it fun! If the stream is low you can cross in the stream below.
<![if !vml]>
<![endif]>
High on the face overlooking Tripod Hill and the Gair Loch there is a huge 'new' slip. You can see plants are beginning to colonise it. look out for moose browse on fuchsia here in 20 years' time!
<![if !vml]>
<![endif]>
You would not want to be here when this slip formed. Unfortunately (or fortunately if you are a moose - due to the edible regrowth) slips in Fiordland are very frequent. The 'Christchurch' earthquake of a few years back created thousands of them. They are as unavoidable as being struck by lightning but if you can you should avoid overhangs. that being said, I have never walked the Dusky without hearing a number of them!
<![if !vml]>
<![endif]>The track becomes steeper.
<![if !vml]>
<![endif]>
A bit of a scramble in places.
<![if !vml]>
<![endif]>
And steeper. Some places it is so steep you have to climb up a chain for support. Bryn Jones. But it is nowhere near so bad as the descent from lake Roe to Loch Marie. Soon you break out into leatherwoods and then into extensive snowgrass tops.
<![if !vml]>
<![endif]>
The mountains tower over you. There are many beautiful views back down along the Seaforth whence you came. if you are like me you will wonder whether you will ever see this view again . In 2006 oI thought I would never see it again, yet as it turns out it has become almost routine. Still i wonder whether I will ever gaze down upon Tripod Hill and the Seaforth ever again - or hear a lonely moose call. As I am quite old now, and ought to go places where Della can accompany me, this may be my last Dusky trip.
<![if !vml]>
<![endif]>
The awesome view back down the Seaforth somewhat spoiled by Bryn And me. Tripod Hill on my left shoulder.
<![if !vml]>
<![endif]>
Here it is without us. You have followed the Seaforth up from Loch Marie which you can just make out left of centre behind the Tripod Hill to the right of the Gair Loch (at the right base of the hill, then pretty much straight up to where you are now.
<![if !vml]>
<![endif]>
Finally you break free of the leatherwoods and have a view of Centre Pass - still a long way up, another half an hour or more! Some of the younger folk leave their packs near Centre Pass and climb Mt Memphis - risking the keas! I must say I have never been tempted, but then I have seen the view many times flying over it.
<![if !vml]>
<![endif]>
The cliffs certainly beetle overhead.
<![if !vml]>
<![endif]>
There are many strange plants in these high alpine meadows.
<![if !vml]>
<![endif]>
<![if !vml]>
<![endif]>The last pinch is a bit of a climb - you wonder whether you will ever make it!
<![if !vml]>
<![endif]>Centre Pass.
<![if !vml]>
<![endif]>
Time for a drink. You will miss that beautiful cystal clear Seaforth River water.
<![if !vml]>
<![endif]>
Now you have all that way down again to go to the Spey.
<![if !vml]>
<![endif]>
In Centre Pass in 2008 Bryn and I were visited by a pair of Kea who entertained us for quite some time with their many tricks.
<![if !vml]>
<![endif]>
<![if !vml]>
<![endif]>
<![if !vml]>
<![endif]>
I suspect they would have eaten out of our hands - or nipped our fingers off!
<![if !vml]>
<![endif]>
Again the cliffs beetle overhead.
<![if !vml]>
<![endif]>
You feel quite small in this grand scenery.
<![if !vml]>
<![endif]>
Just before you enter the leatherwoods you can turn back and view Centre Pass one last time. There is an hour or so of tree-root hopping to go - nowhere near so bad as the descent from lake Roe to Loch Marie though.
<![if !vml]>
<![endif]>
<![if !vml]>
<![endif]>
There is a substantial slip to cross. You may not be able to see the markers on the other side - look out for the cairns.
<![if !vml]>
<![endif]>
Finally you are down to flat going along the Spey River.
<![if !vml]>
<![endif]>
The Dusky still has the odd muddy patch awaiting you.
<![if !vml]>
<![endif]>
Finally you arrive at the Upper Spey Hut. Your last night in the wilderness of Fiordland. Time for a feast on all your remaining food (except tomorrow's lunch and breakfast).
02/05/2017: From Dawn to Dusky #6: Loch Marie to Kintail is another long section much like coming up from Supper Cove. It takes me 7-8 hours, but I am not a racer. Much of the trip is walking along pleasant river flats. Some of the clearings are so big you have to look out for the (large) triangles on the other side. There would be pleasant camping along this section, as in similar parts of the trip up from Supper Cove. I have seen fish in the river above Loch Marie, and there is a mounted photo on the wall of the Loch Marie hut of one such caught in the upper reaches of the Seaforth River above Kintail. It would also be a fine area for deer hunting during the 'roar'.
The first approx 3/4 of an hour are not so pleasant, hillsiding, rocks and tree roots, etc. this can be avoided if the river is low. You can walk up along the other side (or in the river) and cross once it flattens out on the true right bank as I have done here:
<![if !vml]>
<![endif]>
Looking back towards the Loch Marie Hut (centre) you can see it was easier going walking up the river.
<![if !vml]>
<![endif]>
You can avoid this bit of difficult going at the start when the river is low.There are a couple of bits of hobbit country where you climb over tree roots for about an hour I guess, but it is very pretty, and not too bad.
<![if !vml]>
<![endif]>
This new bridge is a pleasant spot for a breather. It was not so nice wading across here up to your neck in the past.
<![if !vml]>
<![endif]>
There are some quite big clearings (more on the other side of the river - usually easily crossed in this section). this one complete with waterfall.
<![if !vml]>
<![endif]>
Hobbit country.
<![if !vml]>
<![endif]>
Some places you have to hang on so you don't fall in the river.
<![if !vml]>
<![endif]>
This debris gully is a good spot for a morning break.
<![if !vml]>
<![endif]>
And to check your map - you should have it laminated (as shown) for Fiordland weather.
<![if !vml]>
<![endif]>
You wouldn't want to be here when it was really raining though!
<![if !vml]>
<![endif]>
Lunch stop about half way you can get down onto these boulders and have lunch in the sunshine on a nice day.
<![if !vml]>
<![endif]>
Tripod Hill and waterfall.
<![if !vml]>
<![endif]>
We often stop for a break at the Kenneth Burn walk wire. Bryn taking it easy. Bryn and Irralee are both immune to sandflies. that would be nice!
<![if !vml]>
<![endif]>
Kenneth Burn.
After the Kenneth Burn there is a bit of a rocky climb around a giant slip and a bit of tree-root hopping going down to the head of the Gair Loch (which can be quite unpleasantly swampy when it is wet). After that it is easy river flat going to the Kintail Hut which is off the track a bit to the left. It is a very damp spot, so you probably won't be having a fire. You also have to walk back about fifty metres to get a sat phone signal.
The Kenneth Burn 'slip' has regrown with hundreds of acres of fuschia. This is a favourite food plant of the NZ moose, and you will see many examples (mostly old) of moose browse and barking if you keep an eye out. If you are very quiet and lucky you might even snap a photo of one -- there is reputed to still be a $100,000 prize! When I was walking out in 2012 there was one spot in particular to the right of the track just about the top where a moose had obviously stayed and grazed the tops of every plant for several days - just days before I passed, worse luck!
<![if !vml]>
<![endif]>
This is the Fuchsia slip I have been talking about. Hundreds of acres. You can imagine thousands such throughout the moose range in Fiordland.
<![if !vml]>
<![endif]>
Irralee pointing out some moose browse about 2.5 metres up a fuchsia on the Kenneth Burn slip.
<![if !vml]>
<![endif]>
Detail: You can see they have bitten through twigs between 1-2 cm in diameter and broken them off. Nothing else could do this 2.4-2.7 metres (8'-9')off the ground.
<![if !vml]>
<![endif]>
A bit of rougher going heading down to the Gair Loch.
<![if !vml]>
<![endif]>
A bit of swampy going near the Gair Loch.
<![if !vml]>
<![endif]>
Easy to go down to your hips!
<![if !vml]>
<![endif]>
<![if !vml]>
<![endif]>
Looking down on the Gair Loch from near Centre Pass. The track has circled behind the Tripod Hill(from left to right in the photo) then come along the right hand side of the Loch. There would be good fishing, I imagine.
And then pleasant walking for an hour or so until you come to the Seaforth walk wire and the Kintail Hut.
<![if !vml]>
<![endif]>
Like this.
<![if !vml]>
<![endif]>
Seaforth Walk Wire. The hut is a little further along about 200 metres back from the river on the true right bank
<![if !vml]>
<![endif]>
Kintail Hut.
<![if !vml]>
<![endif]>
28/04/2017: From Dawn to Dusky # 4 & 5: The trip to Supper Cove is a side trip taking two days - but really worth it! The walk up/down from Loch Marie to Supper Cove takes me 7-8 hours. I know you may be younger and in more of a hurry - who know why? Most of the distance is very pleasant, flat walking along a river/lake. There are two exceptions: the hour you have to spend climbing around the giant slip which created Loch Marie until after the Bishop Burn (which is not too bad actually), and the last hour if you cannot cross Supper Cove at low tide before you reach the Supper Cove Hut. It is one of the nastiest tree/rock hopping bits on the whole track, seeming doubly worse as it comes at the end of a long day. Many folks have turned their knee or ankle on this section (including me), so leave early enough you are not hurrying at the end of the day when you are tired.
Supper Cove itself is one of the pleasantest spots on earth, and you should plan to spend a few days there. It has likely got the very best toilet view in the world too! You might be able to prearrange (as I sometimes have) a helicopter or the float plane to leave some supplies tied up in a bag in the rafters of the boat shed so you can extend your stay. You will be able to have fresh fish three times a day if you have a hand line, some sinkers and hooks - or you may be lucky enough to find some there that the DOC has not confiscated. You should plan on this and have some oil/Alfoil (and a little salt to taste) to cook the fish with. The Blue Cod particularly, easily caught in the deeper water off the rocks behind the hut are perhaps the best eating fish in the world. Maybe include a cheap frying pan in that bag.
In 2009 I paddled this section with my Alpacka 'Fiord Explorer'. I am not going to do so again!
<![if !vml]>
<![endif]>
There it is on the shores of Loch Marie! See: http://www.theultralighthiker.com/dusky-track-canoeing-the-seaforth/
I even paddled across the lake itself though I can't imagine why now.
First the track follows the old miner's track along the edge of the lake. A few rocks, but easy going.
<![if !vml]>
<![endif]>The loch is beautiful in the dawn.
<![if !vml]>
<![endif]>
Everywhere there is the beauty of water moving.
<![if !vml]>
<![endif]>
My son Bryn crossing the first walk wire in 2008.
<![if !vml]>
<![endif]>Some beautiful views of the lake through the ancient trees.<![if !vml]>
<![endif]>
Sometimes when the lake is very low it is easier to walk along the edge of the lake. Look out fro moose tracks in the soft mud and sand. Such tracks have often been seen here.
<![if !vml]>
<![endif]>
At one point as you climb around the slip listening to the roar of the water as it crashes over the giant boulders and wondering that trout can find their way past it, you will come upon the remains of the iron tools C19th miners used to make this section of the track. What hardships they must have endured.
<![if !vml]>
<![endif]>
Lots of places DOC have put in new steel or wooden bridges (even a new walk wire) since I first walked it nearly twenty years ago. It certainly cuts out some difficult scrambling up and down.
<![if !vml]>
<![endif]>
Eventually you meet up with the Seaforth River again below the Bishop- Burn. This must be about where I put in on my raft trip in 2009. There are many beautiful river vistas ahead.
<![if !vml]>
<![endif]>
Mind you there were some rapids to avoid!
<![if !vml]>
<![endif]>
Real 'Huck Finn' stuff this.
<![if !vml]>
<![endif]>
The flat going is split by an unexpected ladder.
<![if !vml]>
<![endif]>
Crossing the Mcfarlane Burn 2008.
<![if !vml]>
<![endif]>
The Old Supper Cove Hut site. Just before you leave/join the river you will see (if you look carefully) the remains of the old hut. Right in the centre of the photo you can just make out the parallel lines of the tree fern trunks which formed its floor. It was the last point you could get to by boat. It would have been a useful shelter if the river and particularly the Henry Burn swamps were flooded. It would have been a cold, wet camp to have lived in whilst you were building the track in the C19th though!
<![if !vml]>
<![endif]>
My son Bryn demonstrating just how swampy it gets between the two arms of the Henry Burn in 2008.
<![if !vml]>
<![endif]>
My daughter Irralee crossing the 'Waterfall Burn' in 2007.
<![if !vml]>
<![endif]>
The Waterfall Burn. There is a 160 metre waterfall at the top of this unnamed stream. You can climb up with difficulty by following the next gully (ie on the true right down Fiord). in 2000 the top of this higher waterfall was shrouded in mist and it appear4ed to simply fall from the clouds. It was pouring with rain and photography was impossible/disappointing. There was fresh moose sign (tracks/droppings) up this burn then too.
<![if !vml]>
<![endif]>Easy walking, as you can see. If the tide is not so full you can still cut off a fair bit of nasty stuff. The track is usually not far from the shore (after crossing) the first ridge. If you are looking across the Cove facing the hut you will see some white rocks on the other side. if you aim for the right hand end of those rocks, you might still see a taped trail leading up to the main track when you get near. This is the view looking from the hut side towards the 'Waterfall Burn' side. The low tide at Supper Cove is approximately 2 1/2 hours earlier than Port Craig (so, if Port Craig's low was at 1:30 pm for example (as it was on 21/04/2017), Supper Cove's was at approximately 11:00 am.. You can check the tide info at the Met Service NZ before you start on the track to see whether you will be able to cross Supper Cove.
<![if !vml]>
<![endif]>
If the tide is fully low you can walk all the way across the cove. You can just walk out past the boat shed and helipad, cross the Hilda Burn, then head straight across the Supper Cove flats. Only 'thermometer deep' as you can see Bryn crossing in 2008.
<![if !vml]>
<![endif]>
This is the first view of Supper Cove looking towards the hut (unfortunately at high tide). The hut (invisible) would be almost exactly centre. See the white rocks on the shore opposite. You would aim just to the right of them if you were walking across at a lowish tide, then walk up (approx 50-100 metres to the true left bank of the Hilda Burn) to intersect with the track. I did mark the low tide trail in 2014 with tape and a buoy hung from a tree on the shore. You might still spot them.
<![if !vml]>
<![endif]>
First view of the hut from the air (with Della 2011: http://www.theultralighthiker.com/10-days-in-fiordland/)
<![if !vml]>
<![endif]>
My daughter Irralee crossing the Hilda Burn 2009.
<![if !vml]>
<![endif]>
Arriving at the Supper Cove Hut.
<![if !vml]>
<![endif]>
This is the beautiful view from the verandah looking up the Seaforth. The moose were released on that sandbar (centre) in 1905. Many delights await at Supper Cove.
<![if !vml]>
<![endif]>
Such as fishing off the rocks for blue cod: my son Bryn demonstrates.
<![if !vml]>
<![endif]>
A Hummingbird hammock comes in handy at Supper Cove 2017: http://www.theultralighthiker.com/a-hummingbird-in-the-hand/
<![if !vml]>
<![endif]>
It is becoming a busy switch over point for tour boat operators.
<![if !vml]>
<![endif]>
You can often 'catch a lift' to/from Supper Cove from a a helicopter:
<![if !vml]>
<![endif]>
Or a float plane.
<![if !vml]>
<![endif]>
About 100 metres behind the Supper Cove Hut there are the remains of another 'mystery' hut guarded by a fantail. You can continue up that ridge (past the cataract) and drop down into the Hilda Burn upstream (if you are intrepid/foolhardy). Just after where the Burn splits in two I glimpsed a cow moose in 2000.
27/04/2017: From Dawn to Dusky # 3: It will take you slightly longer to walk from Lake Roe to Loch Marie than it did from Halfway Hut, though this will come as a surprise when you seem to have walked 3/4 of the way there over pleasant snow-grass tops sprinkled with myriad jewel lakes and you are gazing down on the Loch and its tree trunks just a kilometre below you. That last kilometre is a doozy!
<![if !vml]>
<![endif]>
Looking back towards the hut from lake Roe look-out reveals the way ahead towards Loch Marie.
<![if !vml]>
<![endif]>
Looking down from the climb in the previous photo.
<![if !vml]>
<![endif]>
Last view of Lake Roe and its hut.
<![if !vml]>
<![endif]>
A myriad jewel lakes.
<![if !vml]>
<![endif]>
<![if !vml]>
<![endif]>
<![if !vml]>
<![endif]>
Mist magic.
<![if !vml]>
<![endif]>
Looking up the Seaforth towards Centre Pass.
<![if !vml]>
<![endif]>
First view of the Fiord and the sea faraway.
<![if !vml]>
<![endif]>
The last tarn before the perilous descent.
<![if !vml]>
<![endif]>
Loch Marie seems so close down there: It is. One false move and you will be there.
<![if !vml]>
<![endif]>
But it is not without its beauty.
<![if !vml]>
<![endif]>
It is horrendously steep. Not a track at all, but more like some horrific ladder mostly made of tree roots and rocks. Here and there a chain for support.
<![if !vml]>
<![endif]>
It is a nightmare descent which seems as if it will go on forever.
<![if !vml]>
<![endif]>
But finally it does come to an end (after 3+ hours!)
<![if !vml]>
<![endif]>
There is an emergency shelter in case the river is too high.
<![if !vml]>
<![endif]>
A very long, high walk wire if it is not quite so high, or you can cross below the walk wire if it is low, like this,
<![if !vml]>
<![endif]>
A very pretty waterfall to look at.
<![if !vml]>
<![endif]>
The lake of course with its many tree trunks.
<![if !vml]>
<![endif]>
And just a quarter hour's stroll from the walk wire the cosy Loch Marie hut on a n elevated peninsula overlooking the lake and the river - shown here with a fairly cold son Bryn in 2008.
27/04/2017: From Dawn to Dusky #2: If it took a little over 6 hours to walk from Hauroko to the Halfway Hut (as it did me this year - I was quicker seven years ago, no surprise), then it will take slightly longer to walk to Lake Roe Hut. Do not time yourself to arrive after dark. The hut would be very difficult to find in poor light as it is off-track to the right.
<![if !vml]>
<![endif]>
The view ahead out the front door of the Halfway Hut on a fine sunny Fiordland morning. Deer have kept the lawn well mown.
<![if !vml]>
<![endif]>
The same view from the air. It is a large valley. Room for a few moose there.
<![if !vml]>
<![endif]>
The trail begins: most of the day is tree root hopping (but it is not bad going) save between the two walk wires and after yoiu break out onto the snow grass tops for the last half hour or so.
<![if !vml]>
<![endif]>
Beautiful vistas.
<![if !vml]>
<![endif]>
Pretty views of the Hauroko Burn below.
<![if !vml]>
<![endif]>
Very roughly it is about one-third of the journey to the first walk wire, one third to the next, and the last third to lake Roe.
You could walk along the river fishing between the two walk wires. The track is almost always close by and in sight on the true right bank in this section.
<![if !vml]>
<![endif]>
Lunch at the first walk wire. I was in no hurry. My new Icebreaker 'Departure 2' wool shirt (http://au.icebreaker.com/en/midlayers/-departure-ii-long-sleeve-shirt-plaid/103036.html?dwvar_103036_color=301) worked wonderfully in Fiordland. It was soft and comfortable and protected me from sandflies. The breast pocket was just the right size for my pocket camera (Nikon Coolpix S7000). It was a beautiful temperature for the days' walking (about 15C) and had no unpleasant smell to it even after more than a week of wear without washing (it did get wet a couple of times though - as when I fell over in the Jane Burn for example). Once wet it did not strike cold after less than a minute, and dried out completely (from soaking) on my back in less than an hour. Highly recommended. It now comes in a beautiful green and black plaid - something for my Xmas list!
A note on sandflies: Generally they do not bother you when moving or of a night but some places especially near water they can be terrible. It is easy to believe that folks have been driven to suicide by them. Some places they will cover every exposed piece of skin in the blink of an eye. Most folks are allergic to their bites and come up like the surface of the moon in an agony of itching. There is a solution: http://www.theultralighthiker.com/insects-can-ruin-a-camping-trip/ Come prepared. I always carry extra repellent and ointment as it is easy to lose one from your pockets.
<![if !vml]>
<![endif]>
It is relatively easy flat going between the two walk wires; time for a spot of fly-fishing perhaps.
<![if !vml]>
<![endif]>
Through a serene and peaceful forest.
<![if !vml]>
<![endif]>
Until you come to the second walk wire.
After which the track starts to gradually rise until it eventually breaks out onto the snow grass tops. You know you are about there by the strong smell of deer in the leatherwood forests near this boundary.
<![if !vml]>
<![endif]>
You climb up the Hauroko Burn which becomes quite steep in places, falling in small cascades.
<![if !vml]>
<![endif]>
You begin to get views of the tops ahead and to the sides.
<![if !vml]>
<![endif]>
And the view behind down the valley is quite spectacular.
<![if !vml]>
<![endif]>
It is a pleasure though to at last start to break out into snow grass country.
<![if !vml]>
<![endif]>
The way ahead is now clear (if not well marked). it is straight over that hill in the centre.
<![if !vml]>
<![endif]>
Finally you come to Lake Laffy on your right. The hut is at the head of the lake behind those leatherwoods. As this lake empties into the Hauroko it may even hold trout. Worth a try at dusk.
<![if !vml]>
<![endif]>
First view of the hut.
<![if !vml]>
<![endif]>Lake Roe Hut is just off to the right behind Lake Laffy snuggled amongst the leatherwoods.
<![if !vml]>
<![endif]>
Just in front of the hut a comfy seat has been provided.
<![if !vml]>
<![endif]>
The view in front of the seat is quite spectacular.
<![if !vml]>
<![endif]>
You can walk up the hill behind the hut and get some spectacular views of Lake Roe after which the hut is named.
25/04/2017: From Dawn to Dusky #1: Regular readers will know I have just returned once more from hiking the Dusky Track, Fiordland New Zealand - probably NZ's toughest and most beautiful. I have now been on the Dusky nine times. For most of its length it is more a route than a track. Take away the track markers and it would disappear completely. So many places too it goes where no sane route would take you: straight down a drop-off in the section from Lake Roe to Loch Marie, for example when any experienced off-trail person (a hunter perhaps) would follow the easier route down the Jane Burn.
<![if !vml]>
<![endif]>
You need to beware of kea in the Lake Hauroko car park - and elsewhere. They will tear unatttended packs and tents to shreds.
Most sections take all day, so it pays to get started early (at dawn - as you will need to do on the first day if you are to catch the bus and boat) as many places it would be extremely dangerous to be walking in poor light or at night. Also, being one of the wettest places in the world and with lethal changes of weather, it is essential you have some kind of shelter as you may easily find yourself caught out at night. Rain strips heat from your body 25 times faster than dry air. See: http://www.theultralighthiker.com/the-importance-of-a-roof/ I chose a hammock and tarp as the often torrential rain may mean that it is impossible to find anywhere dry on the ground. At very least take a hiking umbrella: http://www.theultralighthiker.com/hiking-in-the-rain/ It might be even more desirable and less tiring to slow your pace and plan to camp put some nights instead of staying in the huts (if the weather is pleasant). Most places, except when journeying across the tops, there are plenty of trees to swing a hammock - and if you are near a stream, there is the likelihood of fresh fish for supper - or breakfast!
<![if !vml]>
<![endif]>
Dawn breaks through clouds over Lake Hauroko
I find the Backcountry Navigator App and the NZ Topo maps which are free, really useful for keeping track of just where you are: http://www.theultralighthiker.com/nz-topo-maps-app-for-hiking-in-nz/ You can switch the GPS on on your phone to check this from time to time, leaving it usually in the default GPS off and Flight mode to conserve batteries. This way you would not walk past the hut, and might have a feed of fish as well. The Halfway Hut may be the last hut in NZ which has the old-style open fire places which were so warming and efficient. The new 'green' stoves are absolutely hopeless. I am not convinced they put out any warmth at all for a large expense of effort and fuel. You certainly cannot cook anything on top of them, or even warm it.
You should also download (to your phone) the map here: http://www.doc.govt.nz/parks-and-recreation/places-to-go/fiordland/places/fiordland-national-park/things-to-do/tracks/dusky-track/ and the brochure here: http://www.doc.govt.nz/Documents/parks-and-recreation/tracks-and-walks/southland/dusky-track-brochure.pdf so that you can study them beforehand and refer to them as you go along.
<![if !vml]>
<![endif]>
Especially in autumn there are often long periods of high pressure where you can walk for days without taking your raincoat out of your pack. I have found Elders 28 day Rainfall forecast for the bottom of Tasmania (http://www.eldersweather.com.au/raindates.jsp?dc=disableCookies&lt=wzdist&lc=t03) to be a pretty good indicator of the onset of such periods (allowing three days for them to cross the Tasman). By paying careful attention I have managed to visit Fiordland many times without getting wet. The GFS and NOAA's Air Resources Laboratory also give a pretty good 16 day forecasts: http://ready.arl.noaa.gov/READYcmet.php
<![if !vml]>
<![endif]>
Finally a beautiful clear day as we chug North towards the Hauroko Hut and the beginning of the Dusky Track.
Most folk walk from South to North, ie from Lake Hauroko to Lake Manapouri. This is dictated by the availability of transport to begin/end the trek. Both ends are on a lake which has to be crossed, usually by boat. The regular Lake Hauroko boat drops off twice per week whilst there are several boats a day across Lake Manapouri. This means that if you wish to walk the track largely by yourself, you have only to wait at the Hauroko Hut for a day or two (fishing) whilst others get well ahead of you. I usually bring in some canned food to last these days, leaving them in the hut if I don't need them where they are available to others who might be stranded there for a few days - but without causing a rodent problem. Of course you can charter a boat, plane or helicopter anytime.
<![if !vml]>
<![endif]>
Johan & Namu tied up at the mouth of the Hauroko Burn
It is also possible to do shorter sections of the track by availing oneself of 'back loads' on helicopters or the 'Wings and Water' float plane (http://www.wingsandwater.co.nz/ ) which operates a 'regular' service to Supper Cove at the head of the Fiord. It can land in many other places in Fiordland too, such as Lake Hauroko in this example. Another brilliant spot it can take you is to Cromarty on Preservation Inlet from where if you are very intrepid you can walk back all the way to Tuatapere or Lake Hauroko. The float plane is cheaper per hour than a helicopter and can take five passengers, so the cost can be divided in such a way as to cost only $100-150 ea. perhaps less if there was a full load both ways. This flight from Te Anau to Supper Cove would have to rank as the most beautiful plane journey in the world! The various helicopter operators can also often provide discounted 'back load' type fares, so it is well worth asking them about availability: http://southernlakeshelicopters.co.nz/ & http://www.teanauhelicopters.com/ & http://www.fiordlandhelicopters.co.nz/ In any case you need to take their telephone numbers with you and a (hired) satellite phone so you can call them in if you ever need them.
<![if !vml]>
<![endif]>
The Hauroko Hut, a comfortable hut a minute's walk from the lake and the burn.
Boat transport to the Hauroko Hut is usually organised with Johan and Joyce at Lake Haoroko Tours https://www.wjet.co.nz/pages/lake-hauroko-tours/ and bus transport to meet with them at the Clifden suspension bridge with Trips and Tramps https://tripsandtramps.com/product-detail/dusky-track-transport Johna & Joyce also operate a jet boat on the Wairaurahiri River (as does another operator) which has to be just about the best jet boat ride in the world (and a convenient way to begin or end the wonderful South Coast Track (see eg: http://www.theultralighthiker.com/south-coast-track-fiordland-nz-dellas-version/) You would probably leave your car at the long-term car-park at View St, Pearl Harbour, Manapouri, or you can catch a bus back to Te Anau from there.
<![if !vml]>
<![endif]>
The Track begins.
Track times are pretty fluid as with many NZ tracks. For reasonable fit people of my age (68) it is rare for a section to take less than six hours, and some will take more than 8. If you have a late start here, it might be better to wait until next morning so you won't have to hurry. That way you could also do some trout fishing in the Burn which the track parallels for many hours. It is possible to walk along in the stream in many places, then rejoin the track - if the water levels are low. The sign on leaving the Lake reckons about 6 hours to the Halfway Hut, which I reckon is about right.
<![if !vml]>
<![endif]>
The Hauroko is a beautiful little trout stream.
<![if !vml]>
<![endif]>
With more delights around every corner.
The first 3/4 of an hour after leaving the hut you are walking along on basically river flats quite by the true right bank of the Burn more or less until you come to a walk wire on a side burn. After that the track climbs and the tree hopping begins. Nonetheless it is fairly easy going until you arrive at the walk wire near the junction of the Gardner Burn. After that the track climbs around a gorge and the going gets pretty rough for an hour or so until you come out onto the flats along the Burn again (now the true left). You have nearly two hours walking along here until you come to the hut, set back a little from the stream so that you might not see it if you were walking in the stream fishing, for example.
<![if !vml]>
<![endif]>
The track begins to climb after you cross this pretty side burn.
<![if !vml]>
<![endif]>
There are some lovely views still down to the river.
<![if !vml]>
<![endif]>
And it is not without beautiful 'ents'.
<![if !vml]>
<![endif]>
It is a magical path.
<![if !vml]>
<![endif]>
Then you come to the Gardner Burn confluence walk wire
<![if !vml]>
<![endif]>
After the Gardner Burn there is a rough section.
<![if !vml]>
<![endif]>
Once you break out onto the flats again you could easily walk along in the stream fishing for your tea.
<![if !vml]>
<![endif]>
Bracket fungi make excellent fire starters when dry: some fine examples.
<![if !vml]>
<![endif]>
My daughter Irralee at the Halfway Hut 2009.
A note on getting lost: From time to time you will lose the track markers. probably about twice a day! There are many deer paths, and many wrong turnings others have taken to follow. As soon as you realise you have lost sight of the markers, Stop. Before ever thinking of panicking, have a cup of tea. My mother Marie always advised this, and it is damned good advice. Spending s a little time doing something else, then being warmed by a refreshing 'cuppa' does wonders to allay fears and settle your thinking. Consult your map. Try to work out where the track must be. Often the track follows one side of a stream or another. Try to remember when you were last on track, and how far back you think you went wrong. Try to remember the last little bit of your path. Mark your current position so you can find it again, eg by a small cairn, breaking branches, etc. Backtrack to where you think you went wrong, marking or at least noting your route as you go (so you don't get even more lost). You shouldn't ever be more than a hundred metres from where the last marker was unless you were really wool gathering and there was a very pronounced deer path (or etc) you have followed.
Sometimes it will be the way ahead that is unclear (even if you have the markers behind you.) Again, try to work out (from your map and the lay of the land) where the track must go. Make little forays forward and back to your marked position along obvious routes until you find the path ahead. If this does not work, try forays (back and forth) a little further off what you thought was the 'line' of the track until you find it. If you are starting to panic, have another cuppa! Unfortunately the 'obvious routes' are not always correct There are a couple of places (eg one below Loch Marie as the track skirts the huge slip which created the Loch) where the track switchbacks unexpectedly, and the markers are missing or hard to see, yet lots of folks have forged straight ahead making a very pronounced path where the real path is just about impossible to see. Remember that whoever fixed the markers ensured that you could always see one before or behind when they nailed them to the trees. I know many will have fallen off, but if you are 'lost' and careful, you should after less than 100 metres find one leading one way or another. You should by now have refound the track.
If you really find it impossible to follow the track in one direction, then follow it in the other. It is better to give up the idea of completing the track than to die! In the (very) unlikely event that you cannot find the track in either direction, go back to the map and try to work out where the track must be (eg it is roughly following the true right bank of a stream. If you follow the stream you will find it again (eg at a walk wire where it crosses). Be very careful walking off-track as the ground often has large holes which can open up beneath you. This whole area is an ancient moraine. You are much better carefully trying to find your own way out of a situation like this than immediately setting off an Epirb/Plb which might not work from the location you find yourself in - or the batteries might be flat! I carry both a satellite phone and a satellite messenger/Epirb hybrid (such as this: http://www.theultralighthiker.com/the-poor-mans-satellite-phone/). However both may fail, whilst you should always have your wits about you! You should in any case have let someone know your intentions and when/where to start looking for you. If you have a shelter and warm clothing, and do not stray even further from the general position of the track, you will be found alive, or you will find your own way out.
Perhaps the worst places to get lost are on the tops (which are often not as well marked as they might be). Frequently you cannot see the way ahead (especially in heavy rain, fog or cloud). You need to take extra care in those sections as it is colder, windier and harder to find shelter. Some folks decide they will walk all the way from Lake Hauroko to lake Roe Hut on the first day, for example. Once you break out onto the tops the route is marked by snow poles or such but they are often far apart and you sometimes cannot see the next one. Try to make sure you don't get in a position where you can't see the last one too! As the lake Roe hut is not on the direct line of the track (but off it to the right - walking in this direction) you would pass it by in the dark (which could be quite disastrous on a cold, wet night). Try not to have a fire at Lake Roe. There is very little wood thereabouts which should be conserved for real emergencies. I strongly advise people to take each section a day at a time. This is not a race. Haste will only mean you see less of the outstanding beauty of Fiordland. No-one will appreciate that you are some super hero able to run the whole track in one day as some kind of super-marathon. Such haste will also only make it more likely that some disaster will befall you: a fall, serious injury, becoming lost or hyperthermic in the dark, or etc. Plan to take at least seven days to finish this track, and allow for more like ten. It is likely to be nicer than you thought, or nastier - in either case more time will be required.
The Elusive Fiordland Moose: Along the way there is sporadic moose sign if you are alert and keen eyed. Nothing else could reach up 2.5-2.7 metres (8-9'), break off branches as thick as your thumb and strip them, or devour all the lower vegetation of their favourite broadleaf plants, or systematically bark trees, or leave footprints as big as a cow's.These solitary leviathans yet roam these forests unseen.
<![if !vml]>
<![endif]>
This coprosma has been systematically broken off about 2.5 metres up.
<![if !vml]>
<![endif]>
And this.
<![if !vml]>
<![endif]>
Broadleafs have commonly been stripped to this height.
<![if !vml]>
<![endif]>
They like to snack on nutritious bark as they amble along.
<![if !vml]>
<![endif]>
Leaving footprints as long as my glasses case. Like this:
<![if !vml]>
<![endif]>
Or this.
Someday someone will stumble round a corner onto one and snap its pic. Already two confirmed C21st DNA samples have been collected, and one indistinct photo. It is only a matter of time...
You are now one seventh of the way - More installments to come...
See also:
http://www.theultralighthiker.com/insects-can-ruin-a-camping-trip/
http://www.theultralighthiker.com/dusky-track-canoeing-the-seaforth/
http://www.theultralighthiker.com/dusky-track-adventures-1/
http://www.theultralighthiker.com/eddie-herrick-moose-hunting-at-dusky-sound/
http://www.theultralighthiker.com/eddie-herrick-moose-hunting-at-dusky-sound/
http://www.theultralighthiker.com/a-friend-i-met-on-the-dusky-track-fiordland-nz/
http://www.theultralighthiker.com/dusky-south-coast-tracks/
http://www.theultralighthiker.com/dreaming-of-the-dusky-track/
http://www.theultralighthiker.com/the-dusky/
http://www.theultralighthiker.com/moose-hunting/
http://www.theultralighthiker.com/fiordland-moose/
http://www.theultralighthiker.com/fiordland-moose-2/
http://www.theultralighthiker.com/hunting-in-fiordland/
http://www.theultralighthiker.com/off-to-fiordland/
http://www.theultralighthiker.com/shadowland-fiordland-video/
http://www.theultralighthiker.com/the-best-toilet-view-in-the-world/
http://www.theultralighthiker.com/10-days-in-fiordland/
http://www.theultralighthiker.com/fiordland-2009/
http://www.theultralighthiker.com/fiordland-nz-with-bryn/
http://www.theultralighthiker.com/fiordland-april-2007/
http://www.theultralighthiker.com/weather-for-fiordland/
http://www.theultralighthiker.com/more-dusky-adventures/
05/05/2017: Jelly, The Smallest 4G Smartphone. This is a neat little phone – fits in your fob pocket, but has all the functionality of your regular smart phone. Only 60 grams, less than $100. It would be excellent for ultralight hiking. You might also consider it as a spare phone – if only you could have duplicate sim cards. Well, you can illegally, actually. Try Google. Personally, I am tired of phones being too big, and getting lost, broken or in the way. This is the solution: https://www.kickstarter.com/projects/jellyphone/jelly-the-smallest-4g-smartphone?_ga=2.148572213.380118193.1493830329-1204359062.1493816838
<![if !vml]>
<![endif]>
15/04/2017: A Hummingbird in the Hand: I just took delivery of these fabulous new ultralight hammocks. One, (the lightest of course -147 grams) will be coming with me on my upcoming Dusky Track adventure. I would not be 'betting my life' on one for ten days in the wilderness unless I had every confidence they are a superior product.
<![if !vml]>
<![endif]>These are the cleverest and best engineered hammocks I have seen – and I've seen (and made!) a lot of hammocks. They are made from reserve grade parachute nylon and are designed, engineered and built to rigging specifications - meaning you can be confident their weight ratings will not fail you.
<![if !vml]>
<![endif]>Button End.
The suspension system and button-link connectors are brilliant. The suspension system weighs just two ounces (60 grams) and is easily attached with the button-links. I know I could probably reduce the weight a fraction (maybe 20 grams) by replacing the ultra-light webbing with dyneema, but as this would harm the trees more, I hardly think it is worth it. Chris & Kathy have worked out the design and parameters of these hammocks just about perfectly. They have also ensured that everything packs down into the smallest imaginable packages for stowing in your ultralight pack.
<![if !vml]>
<![endif]>
Ultralight Whoopie Sling.
However, you know I can't stop tinkering: I have already added dyneema gear loops to each end of mine so I can attach bits and pieces there instead of leaving them on the ground overnight – and I have added an adjustable centre line (these added 8 grams) to a see if I can achieve 'the perfect hang', though I am pretty sure the folks at 'Hummingbird' have so designed the hammock that you lie pretty flat in it, and the sides don't press in too much – more about that later.
<![if !vml]>
<![endif]>
Ultralight Tree Strap Suspension System - 30 grams/1 oz each end!
They have three sizes of ultralight hammocks: Single 147 grams/5.2 oz - weight rated: 136 kg/300lb, Single + 210 grams/7.6oz – weight rated: 158kg/350lb, and Double 289 grams/10.2oz weight rated: 181kg/400lb. I will be using their Single ultralight hammock as emergency sleeping quarters in Fiordland (in case of flooding), and I might do some off-trail camps as well, as I usually do. It will also be excellent (along with my cuben tarp) for eating lunch on those (inevitable) wet days. Look out for a full(er) review on my return home.
Chris & Kathy also sell many hammock accessories (such as tarps eg 'Heron' from 243 grams/8.6oz) to complete your hammock home. All their gear is competitively priced given the high quality of their products.
<![if !vml]>
<![endif]>
'Heron' tarp.
Check out their page here: https://hummingbirdhammocks.com/
15/04/2017: 19 Gram Dyneema Camp Shoes: I just finished making this pair of ultralight camp shoes for my Dusky track walk which I start on Monday. They are made from 3.6oz/yd2 Dyneema fabric. Paired with a pair of down socks from https://goosefeetgear.com/products/down-socks/ (approx 50 grams per pair), I should have nice dry, warm feet at the end of what is usually a fairly wet slog each day. I will post the pattern and instructions when I get back (promise).
<![if !vml]>
<![endif]>
<![if !vml]>
<![endif]>
<![if !vml]>
<![endif]>
See also: http://www.theultralighthiker.com/fifteen-gram-blue-foam-flip-flop/
14/04/2017: Camper Crane: As you know we have a slide on camper for our Defender. These usually come with detachable wind-up legs which are quite awkward to operate. I decided to instead suspend the camper on this crane arrangement in the old dairy for easy installation/removal. In addition, I bolted some 4"x4"s to the floor so that the truck would be forced into exactly the right position when I wanted to place the camper on it, then it is a quick and simple matter to bolt it to the deck. A couple of minutes and we are off on our next trip . See you!
<![if !vml]>
<![endif]>
Camper suspended above tray height. There is a crane (red above) at each of four corners.
<![if !vml]>
<![endif]>
The camper is connected to the crane with eye bolts and chain.
<![if !vml]>
<![endif]>
Detail from above.
This is quite a simple arrangement and really makes it enormously easier to fit the camper to the truck. I recommend you do something similar. I bought these cranes from eBay for about $150 each.
12/04/2017: Yarra Falls Shelter House: A reader has located the ruins of this magical place and forwarded some wonderful photos: 'It is on the SouthWest side of the junction fairly high up, where the treeferns diminish (beneath one of the highest on the edge of the spur). It is extremely difficult to find and you could walk within a few metres and pass it.'
<![if !vml]>
<![endif]>
The chimney. The blue and white "Gentlemen" sign was found in the debris on the concrete slab and is fired enamel on steel.
<![if !vml]>
<![endif]>
The Fireplace.
<![if !vml]>
<![endif]>
Tag inside chimney.
<![if !vml]>
<![endif]>
Evidence of split timber formwork in chimney construction. Fireplace.
<![if !vml]>
<![endif]>Henry Short and Robert Hoddles oil and water colour paintings of Upper Yarra Falls. Short incorrectly assumes this is Starvation Creek.
<![if !vml]>
<![endif]>
Main falls 2011.
<![if !vml]>
<![endif]>
Main fall Upper Yarra Falls 1910 and 2011
11/04/2017: More Dusky Adventures: I start on the track on Monday for ten days. As you travel to work on Monday, you can imagine me at the same time standing on the deck of a small boat (Nimu) chugging across beautiful Lake Hauroko en route to the Dusky. Walking the track takes seven days though if you are young and very fit, you might double up a couple of shorter sections into one day reducing the trip to five days or less. If you do not travel to Supper Cove (sheer insanity – it is the most beautiful part of the trip), it could be shorter yet. I will be taking my time, spending a couple of days at Supper Cove fishing and moose 'hunting'.
<![if !vml]>
<![endif]>
See also:
http://www.theultralighthiker.com/insects-can-ruin-a-camping-trip/
http://www.theultralighthiker.com/dusky-track-canoeing-the-seaforth/
http://www.theultralighthiker.com/dusky-track-adventures-1/
http://www.theultralighthiker.com/eddie-herrick-moose-hunting-at-dusky-sound/
http://www.theultralighthiker.com/eddie-herrick-moose-hunting-at-dusky-sound/
http://www.theultralighthiker.com/a-friend-i-met-on-the-dusky-track-fiordland-nz/
http://www.theultralighthiker.com/dusky-south-coast-tracks/
http://www.theultralighthiker.com/dreaming-of-the-dusky-track/
http://www.theultralighthiker.com/the-dusky/
http://www.theultralighthiker.com/moose-hunting/
http://www.theultralighthiker.com/fiordland-moose/
http://www.theultralighthiker.com/fiordland-moose-2/
http://www.theultralighthiker.com/hunting-in-fiordland/
http://www.theultralighthiker.com/off-to-fiordland/
http://www.theultralighthiker.com/shadowland-fiordland-video/
http://www.theultralighthiker.com/the-best-toilet-view-in-the-world/
http://www.theultralighthiker.com/10-days-in-fiordland/
http://www.theultralighthiker.com/fiordland-2009/
http://www.theultralighthiker.com/fiordland-nz-with-bryn/
http://www.theultralighthiker.com/fiordland-april-2007/
http://www.theultralighthiker.com/weather-for-fiordland/
11/04/2017: Ultralight Travel Toothbrush: Not an ultralight hiking toothbrush perhaps. For that most folks cut their standard toothbrush in half, but this one is really good for travel, being very slim, compact and light and giving very nearly as good a result as a rechargeable such as the Braun or OralB, but without needing a power socket or all that extra space/weight. It is also very comfortable and non-slippery to the hand.  Colgate® 360°® Optic White™ Battery-Powered Toothbrush: 36 grams inc battery, comes in Soft and Medium. I have tried a heap of battery powered toothbrushes over the years: this one is by far the best, smallest and lightest. At that weight too I have no doubt some people will take it (and some floss) hiking too. The floss can come in handy for repairs, or for fishing: http://www.colgate.com.au/en/au/oc/products/toothbrush/colgate-360-optic-white-battery-powered-toothbrush
<![if !vml]>
<![endif]>
See also:
http://www.theultralighthiker.com/self-threading-needles/
http://www.theultralighthiker.com/fishing-with-floss/
http://www.theultralighthiker.com/four-gram-fishing-handlines/
10/04/2017: You may want to get a pet raccoon after this: https://laughingsquid.com/two-raccoons-hilariously-playing-with-soap-bubbles/
10/04/2017: Guy Builds Water Cooled, 72,000 Lumen LED Flashlight and Takes it for a Nighttime Stroll: http://twistedsifter.com/videos/water-cooled-72000-lumen-led-flashlight/
09/04/2017: Super Simple Trail Meal: Take one packet of Ainsley Harriot's Spice Sensation Cous Cous (100 grams) 1492 kj (352 calories) plus ½ packet (65 grams) Craisins Fruit & Nut Trail Mix 1389 kj(332 calories) Totals (165 grams) 2881 kj (684 calories) = 4.14 calories per gram. Just boil 2/3 of a cup of water (approx 6 mls meths) and add to the couscous, stir and wait a couple of minutes for it to fluff up, toss through the trail mix. Eat. Delicious!
<![if !vml]>
<![endif]>
<![if !vml]>
<![endif]>
08/04/2017: The Thylacine Returns: Here's hoping that 'Tassie' follows the Night Parrot and other such 'beasties' back from extinction. We once tried to hunt 'The Inverloch Tiger' with hounds, but the hounds just would not give chase, and only behaved very strangely. Perhaps this was because it really was something different (from the foxes and deer they were used to trailing) - as I understand hounds have to be specially trained eg to hunt big cats such as mountain lions in the US. On the oher hand I have encountered both a striped fox and a striped dingo over the years, so I will wait until they have the 'snark' in their hands before I agree 'Tassie' is back from the dead: http://www.abc.net.au/news/2017-03-24/tasmanian-tiger-sightings-spark-scientific-study/8383884
<![if !vml]>
<![endif]>
06/04/2017: Catching Your Breath - Walking Uphill: I am often gob-smacked by just how bright Willis Eschenbach is, but THIS observation was astonishing. Could breathing OUT more combat the breathlessness you get by strenuous walking uphill. I tried this out on my recent hunting trip, and it's TRUE. I was able to walk in one go to the top of hills I normally have to pause several times to ascend and arrive completely NOT out of breath. Try it yourself: http://wattsupwiththat.com/2013/09/23/catching-my-breath/
<![if !vml]>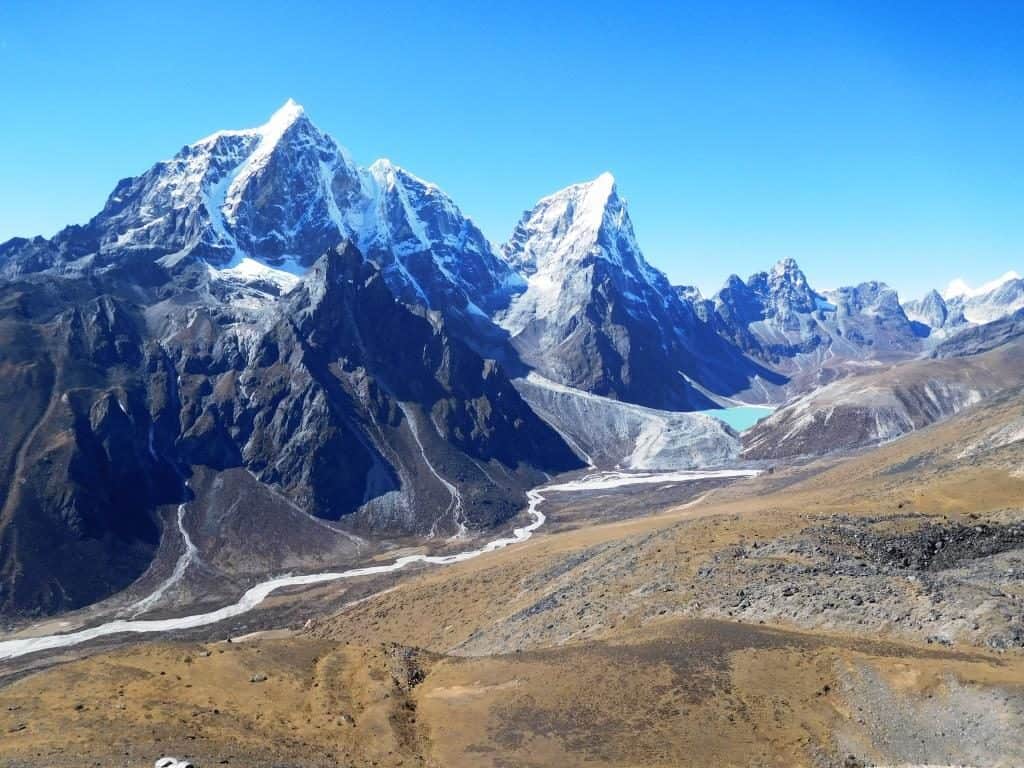 <![endif]>
The 'Road' to Lobuche.
'He said "You're not breathing out enough."
He explained that particularly when we're swimming, but also with any exercise, people usually end up panting, taking very rapid, shallow breaths. We focus on breathing in, on forcing more air into our lungs. He said that the way to break that habit was simple—when you start running short of air, don't mess with the in-breath, just breathe out for one count longer.
He pointed out that when we swim or run, we usually fall into a pattern. With me, when I swam I breathed out and then took an in-breath with every alternate stroke of my arms. He said when I ran short of air, there was no need to mess with the in-breath—what I had to do was just add one more beat to the out-breath. So for example, if I was running, I was in the habit of breathing in for two steps and out for two steps. When I started running out of breath, I needed to lengthen my out-breath to three steps … and then if that wasn't enough, lengthen the out-breath to four steps, and so on.
And that was it. There's no need to make any alteration to the in-breath, we're all really good at that part. Filling up the lungs isn't the problem, it's emptying the lungs.'
Another useful breathing technique: http://www.theultralighthiker.com/breathing-trick-that-puts-you-to-sleep-in-seconds/
First Published on: Sep 29, 2013
06/04/2017: Breathes There The Man... from The Lay Of The Last Minstrel
Sir Walter Scott (1771-1832)
Breathes there the man, with soul so dead,
Who never to himself hath said,
'This is my own, my native land!'
Whose heart hath ne'er within him burned,
As home his footsteps he hath turned,
From wandering on a foreign strand!
If such there breathe, go, mark him well;
For him no Minstrel raptures swell;
High though his titles, proud his name,
Boundless his wealth as wish can claim;
Despite those titles, power, and pelf,
The wretch, concentred all in self,
Living, shall forfeit fair renown,
And, doubly dying, shall go down
To the vile dust, from whence he sprung,
Unwept, unhonoured, and unsung.
05/04/2017: Breathing Trick That Puts You to Sleep in Seconds: I always go straight to sleep as soon as my head hits the pillow, but I know some people toss and turn, especially in the wilds. Here's how to go out to it just like flicking a switch:
<![if !vml]>
<![endif]>
1. Before you begin, place the tip of your tongue on the roof of your mouth just above your teeth and keep it there throughout the exercise.
2. Exhale completely through your mouth quite forcefully so you make a "whoosh" sound.
3. Close your mouth and inhale quietly and softly through your nose for a mental count of four.
4. Hold your breath and count to seven.
5. Next, exhale completely through your mouth, making another whoosh sound for eight seconds in one large breath.
6. Now inhale again and repeat the cycle three times for a total of four breaths.
http://www.popularmechanics.com/home/how-to/a15524/sleep-breathing-technique/
A good pillow is a big help. here's one I use:
http://www.theultralighthiker.com/exped-ultralight-pillow/
Another useful breathing technique: http://www.theultralighthiker.com/catching-your-breath-walking-uphill/
03/04/2017: An early morning reflection:
<![if !vml]>
<![endif]>
<![if !vml]>
<![endif]>
02/04/2017: Saw my first waterspout today! It was only a small one, about a metre high, and it appeared suddenly while we were gazing at the Mitchell River, at the Mitchell River Silt Jetties where the river flows into Lake King. Of course, I didn't have my camera to hand and this picture was taken after the event....and no doubt I missed the only chance I will ever have to photograph one...but it was so exciting! There was no wind detectable and I heard a sound very similar to leaves in a willy willy. Then the spout appeared, a twirling vortex of misty spray dancing about a metre high above the water surface. I stood mesmerized (well, apart from calling to Steve to "Look at that" without any indication of what "that" was). We both gazed transfixed as it danced on past us and then meandered over to the other side of the river, taking about 2 minutes or so before it disappeared. I was sure that it was a "watersprite ", a word that came go me from Shakespeare, I suspect. My googling of the phenomenon threw up the more mundane term "spout", but it will always be a magical sprite to me after taking 63 years to show itself! Must be time for a unicorn sighting next!
<![if !vml]>
<![endif]>
01/04/2017: Blond Bay, Roseneath Reserve, Hollands Landing…Gippsland is just magical. Where else can you drive right to a wild lakeshore amongst the banksias to camp for the night, be serenaded by vast flocks of black swans (and the occasional bark of a hog deer) then be woken to a glorious sunrise where waterbirds hunt the dawn? (And with an internet connection!)
Spot is mesmerised by it too.
<![if !vml]>
<![endif]>
<![if !supportLineBreakNewLine]>
<![endif]>
Pelican at Holland's Landing.
<![if !vml]>
<![endif]>
Gulls scour the surface watching for minnows rising.
<![if !vml]>
<![endif]>
<![if !supportLineBreakNewLine]>
<![endif]>
<![if !vml]>
<![endif]>
Then drop and pounce.
<![if !vml]>
<![endif]>
A family of divers on their morning swim.
<![if !vml]>
<![endif]>
A gull combs the surface: So many birds.
<![if !vml]>
<![endif]>
31/03/2017: More Gippsland Secrets: Here are another half dozen beautiful Gippsland places that I love
 <![if !vml]>
<![endif]>
Sale Common: This is a truly wonderful walk starting at the old Port (on the right as you enter Sale from the West). You can easily spend a whole day meandering along its many paths and enjoying breathtaking wildlife views just a toddle from the town centre.
<![if !vml]>
<![endif]>
Ross Creek: A little more out-of-the-way. As you travel up from Erica/Walhalla to Woods Point, after you pass the Mt Victor Spout on your left you will see a number of tracks marked Ross Creek. You should take the last (third) of these (which has the gentlest incline). At the end of the track walk up the creek to the ruins of this delightful C19th mining settlement. This is a huge boiler which the forest is making its own.
<![if !vml]>
<![endif]>
Macailster Gorge: You will have to canoe down the Macalister from Basin Flat to Cheynes Bridge river height permitting (or walk downstream from Burgoyne's Track). The cliffs which mark the beginning of the gorge have a distinctive Chinese look.
<![if !vml]>
<![endif]>
Snowy Bluff: Again this is a walk into one of our fabled 'wilderness areas'. The Mt Darling-Snowy Bluff Wilderness was set aside by Joan Kirner back in the 1980s. Few people visit. You walk in from Dimmock's Lookout on the Mt Howitt Rd above Arbuckle Junction. The going is thick in places as the road has overgrown (this will lessen as more people make their way to it). It is better treated as an overnight trip. There is water in the Mt Darling creek (right of photo). So many things named after Governor Darling.
<![if !vml]>
<![endif]>
Wingan Inlet: Little Cormorants make their home right at the inlet's mouth. You access this trip (on good gravel roads) from Cann River. So many beautiful things to see along the Croajinalong Coast.
<![if !vml]>
<![endif]>
Combienbar: In East Gippsland is one of those places you have often seen the turn-off to but never ventured nearer. Do! It is a place of utterly astounding beauty.
See also:
http://www.theultralighthiker.com/gippslands-hidden-secrets/
http://www.theultralighthiker.com/the-great-gippsland-circuit/
http://www.theultralighthiker.com/gippsland-pack-rafting-routes/
http://www.theultralighthiker.com/beautiful-east-gippsland/
http://www.theultralighthiker.com/canoeing-the-thomson-river-gippsland-victoria/
30/03/2017: Cooking for men? Or you could try Steve's Nepali Dahl Soup. Now with Della's 'seal of approval'!
<![if !vml]>
<![endif]>
29/03/2017: From Shirt To Puffy: Imagine a light shirt that automatically puffs out into a jacket when the temperatures drop. A textile lab is working on a fabric to do just that. This is a step upwards from the inflatable clothing I have written about before. I think it still has a way to go before it replaces wonderful down garmens such as Montbell's, but it sure is an interesting development: https://gearjunkie.com/watch-fabric-transform-t-shirt-puffy
<![if !vml]>
<![endif]>
Like this: https://www.youtube.com/watch?v=e-shuegwsrI
See also:
http://www.theultralighthiker.com/unbearable-lightness-of-being/
http://www.theultralighthiker.com/inflatable-insulated-clothing/
http://www.theultralighthiker.com/montbell/
29/03/2017: Some good news: Brownie The Town Dog's Grave.
Owned by no one but beloved by all, Brownie was a good dog: http://www.atlasobscura.com/places/brownie-the-town-dog-grave  
28/03/2017: New Ultralight Survival Shelter: Terra Nova Superlite Bothy Bags. There are occasions when you just may not survive unless you have a roof, even when you are planning to arrive at a hut or paid accommodation (See: http://www.theultralighthiker.com/the-importance-of-a-roof/) If you are not carrying a tent (or even an umbrella See eg http://www.theultralighthiker.com/hiking-in-the-rain/ or http://www.theultralighthiker.com/the-umbrella-redesigned/) you should think about one off these. This new model from Terra Nova weighs only 253 grams, shaving 100 grams off the one I own. I carried this one: http://www.theultralighthiker.com/survival-shelter/ on my Everest Base Camp walk (see eg: http://www.theultralighthiker.com/i-saw-below-me-that-golden-valley/)
It weighed 350 grams which may seem a lot to haul 5 ½ kilometers into the sky when I didn't need it! Then again, I haven't needed a funeral plan yet either, and I'm not complaining! http://www.terra-nova.co.uk/tarps-bivis-bothies/all-bothies-bothy-bags/superlite-bothy-2/
Available at Massdrop right now for US$79.99: Superlite Bothy Bag
<![if !vml]>
<![endif]>
Superlite Bothy 2
For 2 people
Fabric: 70gsm polyester with PU coating
Silicone-coated fabrics
Dimensions, packed: 5.1 x 4.3 in (13 x 11 cm)
Weight: 8.9 oz (253 g)
If you were sitting on your Neoair Xlite Women's in there on your CycloneChair you should survive the night in warm clothes even if it gets down well below freezing, and the rain is pouring down - otherwise you would die!
Superlite Bothy 4
For 4 people
Dimensions, packed: 7.9 x 4.7 in (20 x 12 cm)
Weight: 14.1 oz (400 g)
28/03/2017: Snow Goose is Good food: Absolutely. I'm sure there are many interesting 'bush meats' might be added to that cornucopia too here in Oz. Throw for koala, echidna, platypus…on the barbie: http://maggiesfarm.anotherdotcom.com/archives/29657-A-Snow-Goose-is-good-food.html Includes recipes!
27/03/2017: Astronaut who walked on the moon: 'why I know aliens haven't visited Earth'. I thought it was a great headline too. I really liked his argument. But there is much more to Alan bean than that. He is also a gifted artist who encompasses real moon dust in his works: http://www.news.com.au/technology/science/space/astronaut-who-walked-on-the-moon-why-i-know-aliens-havent-visited-earth/news-story/cf021030a1a1b21d712512eb118d6b61
27/03/2017: Ultralight Keyboard Warriors: I took a side-trip to Reddit to re-post some of my ideas/adventures thinking 'like minded' people there might be interested, people at such sub-reddits as Bushcraft, Ultralight, Wilderness Backpacking, Camping and Hiking for example. You would think so, wouldn't you? There was considerable interest from the readership, as you might imagine.
<![if !vml]>
<![endif]>
Unfortunately, like much of the media, these 'sub-reddits' are controlled by a small clique of control-freaks and extremists – by and large very rude people as well! Even though I sought (and gained) prior approval to share these posts from their 'moderators', nonetheless they were universally condemned and/or removed by the moderators and their extremist allies even though clearly the great majority of Reddit readers (ie 19 out of every 20) just came over for a look and most stayed for a much longer visit –and I thank them for it! The clique staged a massed campaign of 'down-voting' as well as frivolous, rude and contemptuous commenting – this from folk who have not a shadow of our bush experience - and much of it carried on in secret (from the 'community') in that it occurred after my posts were taken down in contravention of an expressed promise otherwise. I should mention that neither the moderator at MYOG or Trail Meals acted like this, indeed quite the contrary (and thank you) - but there are many negative commentators nonetheless who serve only to alienate people like me from engaging with Reddit.
If such social media is to persist, the 95% need to wrest control from the 5%, else it will ultimately fail, or society itself will fail. This extremist 'cell' revolutionary method has ever been the means by which democracy has been overthrown by fascists, communists and other enemies of society. Evidently much the same behaviour applies also at Twitter. Facebook (with its emphasis on 'liking') seems much friendlier. Pinterest and Instagram even moreso.
Needless to say, I will be abandoning Reddit. It is (at least as presently constituted) a quite anti-social 'social medium', and I suggest you also avoid it, as it is likely only to upset you, as it has me. I will concentrate on improving the acessability of my site.
I noticed, whilst this was going on, that for some mysterious reason Word Press has shrunk nearly all my photos (some so that they are almost impossible to make out). It is a mysterious vehicle. Apparently you can click on them to see a larger version, but I'm sure people would like a larger, clearer image at the outset – so, I will work my way gradually through the nearly 900 posts and enlarge all the photos, many thousands of them. This may take some time, and naturally posting will be a bit lighter while I get this done.
I also noticed that the meta tags (at the bottom of each post - which is what helps the search engine find the post when you do a search for a particular topic) are missing on most of my posts. A search engine therefore might not find some of my 'camp shoe'  or 'South Coast track Fiordland' & etc posts (to give an example), even though there might not be any other appropriate posts anywhere on the net on that topic. This is an even bigger job and will take some time. Please bear with me.
Oh, and thank you for your continuing support (including many messages of such) here at 'The Ultralight Hiker'. So far I have only ever had one slightly negative comment which was down to poor wording rather than malice – which is nice. As I'm sure you understand, this blog is 'a labour of love'. Such support is appreciated.
Meanwhile, my wonderful new NBN interent connection is playing up again (as always) and is just so slow. I need to see if I can negotiate with the ISP/NBN to get this improved. The 'information super highway' is just crawling along here…No doubt others have the same problem.
23/03/2017: Breakfast this morning: Growlers on the Western Tyers: even with an internet connection (external antenna) so that I could send these pics! The two river views are outside my 'bedroom window'. With Spot & Tiny. Off to Kirchubel today!
The river is just outside the window:
<![if !vml]>
<![endif]>
View upstream:
<![if !vml]>
<![endif]>
View downstream:
<![if !vml]>
<![endif]>
23/03/2017: Ultralight Glasses Case: 12 grams: If you have got to my age (or had other bad luck) you no doubt need glasses. I now wear progressive frameless titanium glasses (14 grams) all the time, but I also need a spare pair in case I lose or break them. The quite lightweight case they came in from Zenni weighs 47 grams (blue below). I knew I could do better. Like this:
<![if !vml]>
<![endif]>
As you can see I have also managed to fit in a pair of clip on sunglasses, Weight 4.5 grams eg to prevent snow blindness!
<![if !vml]>
<![endif]>
This is 350 ml (12 oz) PET drink bottle I cut down with a craft knife (I should have left a tiny bit more of the neck) and some bubble wrap = 12 grams, a saving over over an ounce ie more than the weight of a muesli bar on the trail, or more than enough weight of fuel (metho) to cook a meal. Every little bit of weight saved helps lighten the load and means you can go a little bit further, easier. I could have even cut down on the (used) bubble wrap a little more.
Here it is compared with my old glasses case.
<![if !vml]>
<![endif]>
Indeed switching to these frameless glasses (two pairs) also saved me over an ounce (28.5 grams)! I have simply rolled the glasses up in the bubble wrap and squeezed them through the neck. These flexible titanium frames are quite difficult to break anyway: you can just about stand on them, so they will be fine in the 'possibles' bag in my pack.
This ultralight glasses case has been safely stowed (without any due care) in my pack now for over a year and maybe a thousand miles. All its contents came out perfectly for a photo this morning.
See also:
http://www.theultralighthiker.com/ultralight-spare-glasses/
http://www.theultralighthiker.com/zenni-the-hearing-company/
http://www.theultralighthiker.com/securing-hearing-aids/
22/03/2017: O'Shanessy Aquaduct Trail:
Upper Yarra Track Side Trip: This excellent trail which parallels the Warburton-Lilydale Rail Trail for most of its length is an alternative way to begin or end the fabulous Upper Yarra Track.
It starts/ends at the original weir built in 1914 just below the current large dam which is probably 20 times the original size. Then continues for about 40 km until it meets up with the aqueduct from Badger weir Healesville. You can now walk along the decommissioned section. There is an internet page about the story. http://oshannassyaqueduct.weebly.com/
<![if !vml]>
<![endif]>
'The trail runs in parallel with the Warburton Rail Trail, however, the O'Shannassy Trail is set into the mountain ranges, and therefore provides a different perspective to the environment. Surrounded by tall trees, and ferns, the trail follows the historic open channelled O'Shannassy Aqueduct, and allows for spectacular views of the Yarra Valley.'
<![if !vml]>
<![endif]>
Warburton is in the middle of the trail. The trail is on the north side of the Yarra. About 700 metres from the Yarra to the aqueduct on a well marked path. It's a good alternative to the rail trail and you can also access the weir from the Warburton -Woods Point Road about 15 km east of Warburton. There is a locked gate there which was closed to walkers until about 4 years ago but now there is a 6 km walk, that goes along a road then follows a pipeline.
<![if !vml]>
<![endif]>
If you finished the Upper Yarra Track at Big Pats Creek, you could walk into Warburton, then cross the Yarra and go up hill on Yuonga Rd to the trail. At the other end you would get off at Parrot Rd, walk along McMahons Rd, Healesville-Dalry Rd and Koo Wee Rup Rd and rejoin the Warburton-Lilydale Rail Trail for the walk in to Lilydale Railway Station.
<![if !vml]>
<![endif]>
If you are exiting the Upper Yarra Track from Big Pat's Creek Road you could instead of walking towards Warburton turn right and head upriver for a couple of kilometres to Cement Creek road and that takes you to the aqueduct via a place called Redwood Forest that has become really popular and has a huge cleared area for camping plus the clear cement creek. Map available here: http://www.visitwarburton.com.au/activity/oshannassy-aqueduct-trail '
20/03/2017: The Ultralight Trail Baker: You can make a baking stand ('the Flashbaker') out of aluminium flashing. You just need to cut a circle a little smaller than your pot and leave three approx 1 ½" 'legs' on the outside of the disc which you fold down to support whatever you are cooking. (OK, this one has four legs!) This works well with a thick dough. I have often made 'damper' in my cook pot with such an arrangement. My original flashing 'baker' weighs 13.5 grams.
<![if !vml]>
<![endif]>
L to R: Snowpeak 1400 ml Titanium Cook pot Frypan Lid, Brasslite Turbo 1D Stove, Brasslite Traillbaker, 'Flashbaker', Evernew Titanium Sierra Cup, Snowpeak 1400 ml Titanium Cook Pot
Or you can also buy Brasslite's excellent 'Trailbaker' here: http://brasslite.com/products/brasslite-trailbaker/ which weighs 50.5 grams. It would be possible to make a suspension system for an Evernew Titanium Sierra Cup (Weight 63.5 grams) which does the same thing – and doubles as a cup (Remember the 'Hot Lips' though: http://www.theultralighthiker.com/hot-lips/). Some titanium windscreen material (if it had enough holes in it) or lightweight weldmesh rolled into a cylinder ends joined with a paper clip would probably 'do the trick' or a circle of thin wire with three attached hooks for suspension from the top of the billy.
I gave up cooking 'bread' on the trail maybe ten years ago - just got so many other recipes happening I guess, and was finding it a bit tedious, especially due to advancing arthritis. I find these good for: http://www.theultralighthiker.com/lunch-on-the-trail/ Of course another alternative is 'Johnny Cakes' or 'fried scones' - a great colonial Australian favourite, and a favourite with me for many years too!
The 'Flashbaker' just goes in your normal cook pot. This is all you need (except for a simmer stove. I use these: http://www.theultralighthiker.com/alcohol-simmer-stoves/) You don't need two pots at all, one inside the other. Of course this only worked with a stiff dough which sits on the baking disc or stand. If you want to bake a cake, or something with a runny dough, you will need something like the Trailbaker or Sierra Cup (above)
PS: Use a wad punch to make the baking disc even lighter. I figure you could take off at least 1/3 of its weight to bring it down to say 8 grams! Or you could make the baking disc (The Meshbaker') out of 1 cm stainless steel weld mesh. The holes would distribute the heat better too when baking bread.
I only ever baked bread (or 'damper' usually) usually to use for my lunch the next day, along with eg a sachet of tuna or some peanut butter. It is actually just as easy (and quicker) to make 'Johnny Cakes' or 'Bannock', maybe in the traditional way: on a stick! More about them, later…and my damper recipe!
19/03/2017: 2WD Folding Motorbike: Here's just the thing to cut up those bush tracks even more – or you could think about walking, and saving both your money and the bush! http://www.moto2x2.com/en/  & http://newatlas.com/taurus-2x2-2wd-fat-wheel-motorcycle/44616/?li_source=LI&li_medium=default-widget
<![if !vml]>
<![endif]>
<![if !vml]>
<![endif]>
See also; http://www.theultralighthiker.com/rokon-scout-a-2wd-motorbike/
18/03/2017: Steve's Nepali Dahl Soup: I made this dahl entirely with dried ingredients so I could make it on the trail. It made over a litre. I had trouble eating half. Very filling, tasty and nutritious. Do try it at home first. I would put the lentils in one small snap-lock bag and all the other dried ingredients in another. This soup will make a welcome change from whatever you are eating now and is very light and cheap to make.
<![if !vml]>
<![endif]>
Ingredients:
1 cup red lentils
 3 ½ cups water
20 grams Hormel dried bacon pieces
1 table milk powder
2 teaas powdered/dried onion
½ packet Tomato cupasoup
½ teas turmeric
1 teas ground gunger
½ teas hot paprika
½ teas garam masala
½ teas coriander
Pinch groundblack papper
2 teas dried chives
1 teas garlic powder
1 teas cumin
Instructions:
Soak lentils 10 + minutes
Add ingredients
Bring to boil, then simmer 20 minutes.
Salt/pepper &/or curry powder (not needed) to taste
Thicken continental deb mash (not needed)
Comment: Delicious!
17/03/2017: Hoons: Recently we were up near Toorongo trying to work out a hiking route from Noojee to Tanjil Bren &/or to Mt Horsefall. (More about that soon!) We walked along this 'closed' road from the Toorongo No 3 Bridge to 'Rabbit Flat' (an interesting part of the world). The road had been ruined by dozens of these huge bog holes caused jointly by folks not owning a shovel (with which to drain them), no maintenance by the DOC, and sub-human 4WD 'hoons' entertaining themselves with plowing the road. The puddles were so deep poor Tiny had to swim them.
This kind of madness has to end. So does the policy of the DOC closing roads rather than maintaining them – a situation caused by their employing an army of university 'educated' bludgers who want to spend all day in offices having meetings or playing at computer screens or driving round in Hiluxes. Instead they should employ folks who actually want to do (physical) work (the only kind really) such as driving 4WD tractors and actually fixing the roads and/or creating and maintaining firebreaks (we have an out of control fire near Caringal this morning in an area where the tracks have also become impassable) also spraying noxious weeds and eradicating pest animals.
Neither the 'hoons' behaviour, nor the DOC's strikes me as 'conservation' – if the greenies have not made that a dirty word for you too!
<![if !vml]>
<![endif]>
There was also some Himalayan Honeysuckle fringing parts of this track, a beautiful invasive plant much to be preferred to the 'usual' blackberries (also present):
<![if !vml]>
<![endif]>
16/03/2017: Weird and wonderful: the Strandbeest, a new life form:  https://www.youtube.com/watch?v=gPbWSx_FW9E & www.strandbeest.com
<![if !vml]>
<![endif]>
15/03/2017: Canada's Great Trail: Canada has quietly been linking and constructing walking trails so that now it has a continuous trail that is over 20,000km long! We could so easily employ otherwise indoolent folk on such a worthy national project here in Australia. Much as I have been doing with this: http://www.theultralighthiker.com/upper-yarra-track-map/ or plan to do with this: http://www.theultralighthiker.com/the-great-gippsland-circuit/ See: https://thegreattrail.ca/
<![if !vml]>
<![endif]>
14/03/2017: Upper Yarra Track Map: Here is a map showing the whole of the (Extended) Upper Yarra Track from Lilydale all the way to Moe, approximately 250 km and 8-10 days: Australia's oldest and best long distance hiking track. It could be a better map, but it is better than no map. You should be able to zoom in on it if you (Right Click) 'View Image', then Zoom (Control +) a few times. In the Track Instructions you can find suggested maps (and Apps) you should buy for walking the track. I am working on a better map which will be posted on the Track Instructions page in the near future. For further information go to: http://finnsheep.com/THE%20UPPER%20YARRA%20WALKING%20TRACK.htm 
<![if !vml]>
<![endif]>
14/03/2017: Canoe/ Motorbike Trailer: I modified our ancient 6' x 4' 'box' trailer to carry our two Old Town Pack Angler canoes and my 225 cc Yamaha Serow motorcycle. I achieved this with three simple 'drop-in' welded steel sections which come out/in in a minute when you need the trailer for something else -  such as transporting sheep. It may not be apparent that I have welded four pieces of box section to the corners of the trailer so that the two end steel pieces simply slide in (and hold down the motorcycle track). It is a simple and effective arrangement.
I can tie the second canoe right side up on top of the first one (shown). This arrangement proved perfectly sound even on rough 4WD tracks such as we often frequent. It gives us single car access to sections of river which we want to canoe together. I realise some aspects of it could be done much better (and the whole arrangement could be finished (and painted), but I don't need to 'get a life'. I already have one!
It was all done somewhat hastily so we could complete our Wonnangatta canoe trip – whilst there was water. See eg: http://www.theultralighthiker.com/wonnangatta-waterford-to-angusvale-day-one/
<![if !vml]>
<![endif]>
<![if !vml]>
<![endif]>
13/03/2017: Killer Bees: Yesterday afternoon we took a drive to Yanakie just doing some research for an idea of mind which I will call 'The Great Gippsland Circuit', a hiking trail which 'circumnavigates Gippsland.
We drove down Red Bluffs Road to the beginning of the Marine & Coastal Park, took the track to the right, parked the car at a turning circle about 100 metres in.and got out. We were instantly attacked by these vicious black bees which we at first mistook for March flies. They just wanted to sting and sting for no reason at all. We desperately leapt back into the car. If we had been on foot I hate to think what would have happened – we probably wouldn't be here to tell the tale!
<![if !vml]>
<![endif]>
Not a pretty sight (at best)!
My parents were apiarists, so I have had a lot to do with bees, but I have never encountered anything like this before. They just attacked and attacked – even though we were nowhere near their hive. At least it was not in clear sight of the car. It was just like when you knock a paper wasps' nest down accidentally and they all go for you – but these were not wasps. They were bees. They left black stings in the bites. I did not notice any gold colour to them at all.
I will report this tomorrow to Parks Victoria. If this is some new type of bee, they need to be curtailed before they spread more widely.
Our bee attack wasn't quite as bad as this one though: Dangerous Swarms - 'Africanized Bees Attack and Kill Man': https://www.youtube.com/watch?v=lkkUYvn0VPs&spfreload=10
13/03/2017: The Great Gippsland Circuit: A hiking trail which 'circumnavigates Gippsland. This is an idea I have been turning over in my mind for some time. Much of it is already in place, but someone (me?) needs to 'join the dots', work out connection water and resupply points, camping spots, track instructions, times and a map. It will take some time – and may be revised a number of times.
<![if !vml]>
<![endif]>
Thurra River Mouth
Gippsland is unquestionable the most beautiful area in Australia (perhaps in the world) and deserves a wider'audience'. This trail will create it. There is an immense amount of work to be done, so it will take me some time (I have not yet finished work on the Upper Yarra Track yet (http://finnsheep.com/THE%20UPPER%20YARRA%20WALKING%20TRACK.htm) – but keep coming back. I will add details over time.
The Alpine Walking Track (Kosciosko to Mt Whitelaw) and Upper Yarra Track (Mt Whitelaw to lilydale) constitute one long leg of the trail. Other 'bits' in place include the Bundian Way (Bega to Kosciosko), the Wilderness Coast Walk (Bemm River to Eden), the Bruthen to Orbost Rail Trail, the Traralgon to Maffra Rail trail, The Grand Strzelecki Track, The Great Southern and Tarra Rail Trail (eg Fish Creek to Yarram), the Old Port Walking Track (Port Albert), various hiking circuits in Wilsons Prom (eg Tidal River to Sealers Cove, Sealers Cove to Five Mile Beach? Five Mile Beach to Johnny Souey to Tin Mine Cove, etc), existing beach walks (eg Waratah Bay, Cape Liptrap to Bear Gully, Point Smyth Reserve (Venus Bay) to Cape Liptrap, Screw Creek Walk (Inverloch), Inverloch to Cape Paterson, the Bass Coast Walk (Phillip Island to Wonthaggi), etc.
Clearly the walk will be over 1,000 km long and will take 2-3 months. There will be many resupply points and many (public transport) connection points, so that shorter sections of the track can obviously be undertaken. There will be many places you can find paid accommodation, restaurants etc as well as camping spots. It will take some time to work this all out but you will survive and enjoy even if you just begin tomorrow and carry on following your nose (and a map of Victoria)!
08/03/2017: Hiking With Dogs #1: I am heading up the bush for a week soon with the two JRs, Spot and Tiny. Tiny is now 17, has slowed down a fair bit  and has failing eyesight and hearing, so that she gets left behind a bit. She still has a good nose, so she is not going to get lost permanently. As she cannot hear me call, she can be a bit hard to find, so I decided I would buy one (actually three – for US$59!) of these: https://buy.thetrackr.com/ to help me find her.
<![if !vml]>
<![endif]>
They work off Bluetooth and are connected via an App to your phone, so that you can make them sound a beep when you are looking for them &/or your phone can also indicate direction/distance. If you are somewhere the phone will actually work, they also have many other useful features too numerous to mention. They can utilize the SMS service, for example. They would also be great for keeping track of small children, motor cars, keys, etc.
At the moment they only have a range of 30-50 metres, but that is better than nothing (especially when I am deaf too!) Soon there will be a new Bluetooth Standard: Bluetooth 5 will have four times the range and twice the speed of Bluetooth 4.2: http://www.pcworld.idg.com.au/article/606609/faster-longer-range-bluetooth-5-reach-devices-soon/ which will have a working range of 120 metres and a maximum range of 400. This will make such devices really useful.
Of course the dogs have their own Tyvek raincoats (http://www.theultralighthiker.com/tyvek-jack-russell-rain-coat-13-grams/), down beds, groundsheets, ultra light bowls, dehydrated mince, Smackos & etc, etc. So far they have not been called upon to carry any of this gear (They are busy pointing out the deer!), but I could construct little packs for them I suppose. These ;little guys are so small I have to portage them across rivers as they would be swept away. I carry Tiny in an ultralight day pack worn pack to front (http://www.theultralighthiker.com/osprey-ultralight-stuff-pack/), Spot has mastered a trick of riding on my shoulders, like this:
 <![if !vml]>
<![endif]>
07/03/2017: Side Insulation: Gossamer Gear's Sitlight Pads are just great for this if you cut them in half lengthwise. They can be still used in your pack's pad sleeve but when it comes time to make your bed, either on the ground or in your hammock, these little fellows will keep your elbows and shoulders toasty warm.
<![if !vml]>
<![endif]>
You lay them egg-crate side down to get maximum insulation. The egg-carton shape makes them effectively 2 cm or nearly an inch of foam, and all those little hills and hollows makes them 'stick' to your groundsheet or hammock so they don't move around.
There are three sizes available now. Mine don't seem to be any of those. Mine are 9 ¾ x 18 ¾ ( 25 x 48 cm) and weigh 34.5 grams. This is a pretty small weight penalty for the comfort they bring – and they still do double duty as a pack frame and a trail seat! Mine are also used as my dog's mattresses, but you pretty much need to have a JR(as you should) if this is going to work for you.
<![if !vml]>
<![endif]>
See also:
http://gossamergear.com/sitlight-sit-pad-group.html
http://www.theultralighthiker.com/womens-are-great-in-bed/
http://www.theultralighthiker.com/does-spot-like-to-hunt-deer/
05/03/2017: Womens Are Great in Bed: You have probably noticed before how much I have extolled the virtues of Thermarest's wonderful sleeping pads. I particularly adore this one (the Noeair XLite Womens) as it as light as a feather (340 grams), 'fits' me perfectly at 20" x 66" (51 x 168 cm) and is superbly comfortable (moreso I think than my own bed) at 2.5" thick (6.3 cm) and warm enough to sleep on a block of ice (I have) with an R-rating of 3.9! https://www.thermarest.com/mattresses/womens-neoair-xlite
<![if !vml]>
<![endif]>
You will probably have glimpsed this little piece of yellow in many of my hiking photos, often folded up into a chair, eg here: http://www.theultralighthiker.com/the-last-of-the-mountain-men/
<![if !vml]>
<![endif]>
I am about 5'8" so my heels just hang over the edge, and the rest of my body fits its mummy shape just about perfectly – which is what you want to make an inflatable pad super-comfy. I also think the horizontal tubes have an edge comfort wise over longitudinal ones but this may well be a subjective thing.
The first point is the most important one anyway: If you have surplus mat at the ends, sides or corners your weight will drive the air there and you will sink further into the mat. This means that the mat has to be inflated more to support your weight from sinking to the ground (usually your buttocks or hips) at the heaviest point.
To me a tightly inflated mat is less comfortable than one that is less so. I prefer a softer bed. I realise this may not be so for everyone, just most people, but if you are like me you will want to chose a mummy shaped pad and cut it to just 2" shorter than your actual height (as I explain how to do here: http://www.theultralighthiker.com/modifyingshortening-hiking-mats/) so that it is both exquisitely comfortable and the minimum weight!
From Thermarest's page:
'Product Details
The women's NeoAir XLite mattress delivers more warmth and comfort per ounce than any other three-season air mattress available. Cold sleepers will appreciate our Women's version, featuring an added layer of our reflective ThermaCapture™ technology for added warmth. New softer fabrics bring better next-to-skin comfort and boost in durability with no added weight. For the discerning alpinist, thru-hiker or backcountry minimalist who's counting every ounce, there is simply no better choice to assure the kind of rest you need to get done what you've got planned for tomorrow. Stuff sack and repair kit included.
Ultralight: Advanced fabrics and a tapered design make this the lightest 3-season backpacking air mattresses available, with no peer in its warmth-to-weight ratio.
Warm: Multiple ThermaCapture™ layers trap extra radiant heat for cold sleepers, without the bulk, weight or durability issues of down and synthetic fills.
Comfortable: 2.5" (6 cm)-thickness, soft-touch fabrics and baffled Triangular Core Matrix™ structure provide unrivaled stability and support.
Ultra-Packable: Low-bulk materials make the XLite mattress the most compact NeoAir mattress ever – as packable as a water bottle.'
PS: Repairs: Though they are quite tough you will inevitably manage to puncture your pad. Mine was punctured within a day of my having bought it by a certain puppy (you will have met Spot if you have been here before) grabbing it in his needle teeth and dragging it backwards out the dog door onto the front lawn where he engaged in a full-blown mock battle with it until I intervened. I have found that nothing beats cuben tape (http://www.theultralighthiker.com/cuben-tape/) for patching holes in them, The cure is instantaneous, efficacious and has not had to be repeated (Spot is now four years old). This tape is also excellent for a wide range of other repairs (raincoats, tents etc) and should always be carried!
PPS: Thermarest also have a chair which will do this but I own the Big Agnes Cyclone Chair ( I think slightly lighter) which has served me as furniture for many years in many wild places: http://www.theultralighthiker.com/cyclone-chair/
<![if !vml]>
<![endif]>
PPPS: Another feature of inflatable mats is that you can get yourself and your pack (dry) across swollen rivers relatively safely with them by using them as a kick board. I have had to do this numerous times. Usually it is winter, so it's not much fun, but if you need to cross...I usually take all my clothes and my shoes off first and put them inside my pack liner.
PPPPS:The RRP for this pad is US$159.95 if you buy it from the States and use (eg) Shipito (https://www.shipito.com/en/?id_affiliate=5249&countrycode=AU) to get it to Oz (Recommended).
See also: http://www.theultralighthiker.com/a-soft-pillow-and-a-warm-bed-under-the-stars/
05/03/2017: I know I probably shouldn't like this, but I do: William Wordsworth:
'The World Is Too Much With Us'

The world is too much with us; late and soon,
Getting and spending, we lay waste our powers;—
Little we see in Nature that is ours;
We have given our hearts away, a sordid boon!
This Sea that bares her bosom to the moon;
The winds that will be howling at all hours,
And are up-gathered now like sleeping flowers;
For this, for everything, we are out of tune;
It moves us not. Great God! I'd rather be
A Pagan suckled in a creed outworn;
So might I, standing on this pleasant lea,
Have glimpses that would make me less forlorn;
Have sight of Proteus rising from the sea;
Or hear old Triton blow his wreathèd horn.
<![if !supportLineBreakNewLine]>
<![endif]>
05/03/2017: Fire Tent:
<![if !vml]>
<![endif]>
Further to my post about being able to light a fire in the rain, (http://www.theultralighthiker.com/how-to-light-a-fire-in-the-wet/) I have also long toyed with the idea of carrying/constructing a fire rain hat or raincoat so that heavy rain doesn't put out your fire.
The two occasions when it is really important to be able to light a fire are when it is very wet and cold and when there is a bushfire approaching (so that you can create burned ground as a refuge!) On such occasions if you don't have a lighter, or can't light a fire you're a dead duck. Smokers clearly have an advantage here over more sanctimonious folk, and even though I gave up smoking more than a generation ago (! – there is an interesting method of measuring time) I still always carry a 'Mini-Bic').
Above: Steve Hutcheson and myself Wonnangatta-Moroka Winter 2012
See also: http://www.theultralighthiker.com/fire-on-the-snow/
We always camp in a shelter which allows a fire outside. A tent is a cold, creeping thing to have to retreat to when you can sit/stand in a warm open shelter, drink rum, play games, read etc in front of a cheery fire – and with a warm back! If you pitch any rectangular tarp high you can have a (small) fire at one end (though the wind tends to catch the tarp if it isn't pegged to the ground on at least 2/3 sides).
I think it should be possible to suspend over the fire (eg a 1 metre square) diamond of eg 'Tyvek' @ 1.75 ounces /square yard and a melting point of 800C. You need to be careful that the fire can't ignite its 'roof' or use it as a wick to ignite your tent, but this shouldn't be much of a problem in the rain. Set-up obviously needs to be when furled (a couple of rubber bands should achieve this) so you can pitch it over the fire when it is already lit. Weight should be able to be kept to less than 3 ounces (90 grams) including stakes and guys. Tyvek, with its 800C melting point should make a good material for this 'rain hat'. It might be better to use the material that fire blankets are made from for this purpose.
A 'Standard' Australian Fire Blanket (cost approx A$20 such as has lived in our kitchen for 20+ years) appears to be made of woven fibreglass and measures exactly 1 metre by one metre and weighs 427 grams, so it will (pitched diagonally - like the tyvek shelter in the photo) make an excellent small waterproof shelter for a fire. The fact that it will reflect otherwise wasted heat straight back into your tent will also mean you use much less fuel and can have a much smaller, safer fire. I would use a stainless steel fishing 'leader' as the guy on that side of the tent (with a ring at an appropriate point on it to secure the top corner of the blanket) and pitch the fire tent over it and pegged to th ground on the other three sides.
I see now that someone is selling just such an idea, the Fire Defender (They even have an 'ultralight' version):
http://theupscout.com/gear/campfire-defender/
https://www.amazon.com/dp/B01N4RRYM5?m=A2CWO6R96322MU&ref_=v_sp_widget_detail_page
https://www.amazon.com/Campfire-Defender-Complete-Kit/dp/B01M046H56/ref=sr_1_1?m=A2CWO6R96322MU&s=merchant-items&ie=UTF8&qid=1488582890&sr=1-1
<![if !vml]>
<![endif]>
Above, their 'ultralight' version
You might be interested in buying some flame resistant fabric to make your own. You could look eg here; http://www.auburnmfg.com/product-category/mro/heat-resistant-cloth/
Tyvek Fire Tent': We always camp in an open shelter (something like the one above in he photo) with an open fire out the front. So warm and cozy even on cold,wet days. This shelter is very easy to make. It consists of a square of Tyvek 'Homewrap' (available Bunnings in 30 metre rolls for a bit over $150) 8' x 8' square. The 'wings' consist of another square the same size cut in half. One of these can be cut right off the roll; the other has to be sewn or stuck on (using Tyvek tape). (You end up with an isosceles triangle @ 16' x 23' x 16' on which you pitch like this. You can bring the 'wings' in towards the tree if rain/wind moves around to that direction - which it almost never does!) The tie-outs are tarp holders from Aussie's.
I have a more compact model (shorter wings) made out of .48oz/yd2 cuben fibre which weighs 200 grams (as seen here: http://www.theultralighthiker.com/hammock-camping-double-bunking/)! This is my 'always' emergency tent which goes with me everywhere – even on day walks: so often these can turn into an overnight trip
I have spent a night sitting (on a piece of thick bark) in front of a fire in the open on frozen ground, in a light snowstorm wrapped only in one of those mylar 'space blankets which fit inside your breast pocket (Never be without one!). It wasn't very comfortable, and I didn't get a lot of sleep – but I am still here to tell the tale. Expect things like this to happen to you, and be prepared!
Two of those 'blankets' can make quite a serviceable tent and a sleeping bag. You will need some dental floss or similar to make tie-outs: simply lasso (& capture with the material) a rolled up ball of earth or a gum nut etc with the floss and you can tie out to trees, rocks or sticks driven into the ground. I always carry some dental floss/Dyneema fishing line in my first aid kit (and a self-threading needle – old eyes, you see) for making repairs to my clothes, (hounds sometimes!) – or myself! See: http://www.theultralighthiker.com/pitching-the-poncho-warning-this-may-save-your-life/
03/03/2017: Backcountry Radio: Most radios on offer will just not cut it at all once you get a few miles from the broadcast tower. This little gem has amazing sensitivity and will pull in stations from all over the world. I have owned this little guy for over 10 years (and it looks like it). It has been everywhere with me, provided me with countless hours of listening pleasure (I'm not sure whether I have ever changed the two Duracell batteries) and kept me in touch with world affairs, weather & etc. it is the Grundig Mini 300 World band Receiver at 127 grams bare and takes two AA batteries.
<![if !vml]>
<![endif]>
It has now been replaced by the 400 mini weighing 91 grams using two AAA batteries, a significant weight saving. Here is its Amazon listing: Pricey at US$129.99 but it works, is durable, so it is worth it. https://www.amazon.com/Grundig-Compact-Shortwave-Digital-Display/dp/B001QTXKFG
Grundig Mini GM400 Super Compact AM/FM Shortwave Radio with Digital Display (NGM400B)
More details: AM/FM-stereo and shortwave bands
Analog tuner, with digital display
Digital display shows frequency, time, and alarm activation
Clock and alarm function
Product Description
The ETON Mini GM400 Super Compact AM/FM shortwave radio features AM/FM-stereo and shortwave bands and an analog tuner with digital display. The digital display shows frequency, time, and alarm activation.Clock and alarm functions are also included. It runs on two AAA batteries (not included). Other features include: 3.5 mm headphone output; telescopic antenna for FM and SW reception; internal ferrite bar antenna for AM reception; DC input (5V). Includes: owner's manual, warranty card, carrying case, and earphones. Dimensions: 2.75 inches x 4.3 inches x .472 inches.
From the Manufacturer
<![if !vml]>
<![endif]>
Grundig Super Compact AM/FM Shortwave Radio with Digital Display M400
A powerful shortwave radio with awesome features!
Super compact and light weight, the Mini 400 features AM/FM and shortwave radio frequencies. The analog tuner and easy-to-read digital display completes the simplicity of enjoying shortwave listening. Extend the telescopic antenna for better FM and SW reception and plug in a pair of headphones (included) to get a personal experience. It even has a clock and alarm function.
It's portable and versatile
The Mini 400 is a super compact radio that is perfect for all your adventures. Small enough to slip into a shirt pocket or backpack you can take it on your world travels or your daily hike. It keeps you informed and entertained with Shortwave as well as AM/FM and includes a sleep timer with alarm so you can wake to your favorite radio station. Digital display shows frequency, time and alarm activation. It even includes a telescopic antenna for FM and SW reception.
<![if !vml]>
<![endif]>
Anywhere is your playground with the MINI 400
It has an internal ferrite bar antenna for crisp and clear AM reception, anytime, anywhere. It has dual power sources: 2 AAA batteries (not included) and included DC input (5V). So the MINI 400 is the perfect companion for wild adventures or simple use at home.
<![if !vml]>
<![endif]>
Features:
AM/FM-stereo and shortwave bands
Analog tuner, with digital display
Digital display shows frequency, time, and alarm activation
Clock and alarm function
3.5 mm headphone output
Telescopic antenna for FM and SW reception
Internal ferrite bar antenna for AM reception
Power source: 2 AAA batteries (not included)
DC input (5V)
Includes: owner's manual, warranty card, carrying case, earphones
Another offering: https://countycomm.com/collections/radio/products/countycomm-gp-5-ssb-general-purpose-radio 85 grams plus 3 AA batteries.
02/03/2017: My Top Five Knives
<![if !vml]>
<![endif]>1. Gerber: 'LST Ultralight'
2. Outdoor Edge: 'Razor Blaze'
3. Deejo: '27g Minimalist 3in'
4. Leatherman: 'Micra'
5. Spyderco 'Honeybee'
<![if !vml]>
<![endif]>I've purchased and tested numerous pocket knives over the years. This is my current top five that I use day to day (as you can see from the photo these aren't brand new and have been used a countless number of times). Each has it's own advantages depending on your need. You can read more about each of these knives on my blog by following the links below. All are modesty priced workaday tools which have served me very well...
1. Gerber: 'LST Ultralight'
http://www.theultralighthiker.com/gerber-knives-light-cheap/
<![if !vml]>
<![endif]>
2. Outdoor Edge: 'Razor Blaze'
http://www.theultralighthiker.com/never-have-to-sharpen-yo…/
<![if !vml]>
<![endif]>
3. Deejo: '27g Minimalist 3in'
http://www.theultralighthiker.com/deejo-minimalist-3in-fol…/
<![if !vml]>
<![endif]>
4. Leatherman: 'Micra'
http://www.theultralighthiker.com/leatherman-micra-multito…/
<![if !vml]>
<![endif]>
5. Spyderco 'Honeybee'
http://www.theultralighthiker.com/the-perfect-keychain-kni…/
<![if !vml]>
<![endif]>
02/03/2017: Deejo Minimalist 3in Folder 27grams
<![if !vml]>
<![endif]>
This is the Deejo Minimalist 3 inch Folder weighing 27 grams (as configured). You could probably shave 3-5 grams off that by deleting the pocket clip, but you might also just ruin the knife, so don't. The pocket clip comes in handy anyway as it allows the knife to be worn on the outside of your clothing or pack where it is always ready for immediate use.
There is a bit of a story behind this particular knife. When Della and I traveled to NZ to walk the South Coast Track back in April 2016 (see: http://www.theultralighthiker.com/a-walk-in-fiordland/ and etc: Oh, Wow, It was so good!) when I went through the scanner I had forgotten that I had a credit card knife in my wallet, (one of these: http://www.theultralighthiker.com/small-thin-pocket-knives/ and they picked up on it - something which had not happened the last 2-3 times I had flown!
I always carry a knife - i have been a farmer for 40 years). It is just such a normal part of my life, of course I forget that I am carrying it. I just automatically put it on with my trousers every morning. I probably use a knife over ten times a day! When this has happened to me before (twice) they just let me check in my carry on luggage. This time I encountered the Gestapo. The airport police were called and they decided I had a concealed and prohibited weapon and were going to charge me. They kept me stressed out and on tenterhooks for three months over it despite my pointing out to them that they had mistaken a nearly 70 year old retired farmer for someone else entirely: a young thug or a potential terrorist perhaps. I suspect they are afraid to challenge these types and that I was an easy target.
Anyway, I found myself in NZ in the market for an ultralight knife to replace the wonderful Clive Sinclair Cardsharp (recommended, but maybe not legal!) so I just happened to buy the Deejo, and it has been in my pocket ever since. Its only disadvantage is that it is so small and light I sometimes have trouble finding it, but it works really well, and holds an edge brilliantly. Get one.
See also: http://www.theultralighthiker.com/my-top-five-knives/
Some more details:
'Light as a feather with the strength of a pocket sword, the Deejo is wildly efficient in action, in weight, in use and in portability. It's the pleasure of a perfect fit and performance in the service of utility. Select one to suit your specific needs, taste or personality.
The Deejo Naked is the famous ultra-light design in its purest form. Three exclusive weights, 15g, 27g and 37g, in mirror-finished steel or in tinted shades of matte titanium, in three ranges of varying materials. The Deejo Wood comes in 3 species of precious wood with beautiful grain designs. From the deep black of the grenadilla to russet hues of rosewood and the curves of juniper wood, subtly peppery in scent. The Deejo Colors comes in 8 eye-catching hues, one for every style or occasion. Dress the Deejo in bright color and sharp flashes, get it in its minimalist version with the Naked, or it's most luxurious with the Wood.
Ultra-light, ultra-flat, with a 420 stainless steel blade with titanium finish. It has a comfortable Polycarbonate handle, secure liner lock system, belt clip, and ample sized chisel ground blade. Polycarbonate is a thermal-resistant plastic with excellent mechanical properties and able to withstand temperatures of -135° to 135°C. It has a high degree of transparency which filters light better than glass for deep, vibrant colors. Safely slips into any bag or pocket with ease.
Specifications
Blade Length: 3.0" (7.6 cm)
Closed Length: 3.5" (8.9 cm)
Blade Steel: 420 Stainless
Overall Length: 6.5" (16.5 cm)
Handle Material: 420 Stainless Steel and Black Polycarbonate
Weight: 0.95 oz. (27 g)'
27/02/2017: Adventure Unlimited: https://gearjunkie.com/mike-horne-pole2pole-expediton
26/02/2017: Inflatable Bathtub Groundsheet: The lack of a bathtub floor is one of the chiefest comparative drawbacks of tarp camping vs tenting. I have been toying with this idea for some time. I used to usually collect some suitably lengthed dead branches and drape the edges of the tarp over them on the appropriate uphill side if rain threatened to inundate the ground.
<![if !vml]>
<![endif]>
I played with various means of suspending the edges of the tarp with mitten hooks attached to the tarp. This works but is awkward and slow with my arthritic fingers, then I thought, what if I made an inflatable tube which circumnavigates the tarp? I thought this was a genius idea till I Googled it and found someone else had already been there before me. https://www.esvocampingshop.com/en/air-barrier-tent-ground-sheet-inflatable/ Imitation is the sincerest form of flattery. I did come up with the idea independently though. Theirs is quite heavy and only really suited to car camping not hiking.
Before I ever looked to see if there was such a thing I was thinking mylar or silnylon (both possibilities still – further experimentation needed), then I hit on the DIY packraft site I posted about here: http://www.theultralighthiker.com/new-diy-pack-raft/ and realised they could supply the materials for the tube and valve and that I could simply sew this to the edge of my 1.3 oz/yd2 silnylon tarp then seam seal the join.
Unfortunately the lightest heat sealable material (eg from http://www.seattlefabrics.com/nylons.html) is (I believe) 3 oz/yd2. I would need a tube 22' long to circle double (7' x4') groundsheet. If I wanted the tube to be 2" in diameter, this would mean the tube would be in excess of 11ft2 or 1.3yds x 3 = 4 oz plus the 1.3 oz/yd2 silnylon 3yds x 1.3 = 3.9 Total 7.9oz or approx 240 grams. Good, but too heavy. If I can make the whole thing out of silnylon the first figure will become (1.3 x 1.3) 1.69 oz giving a total of 5.6 oz – or approx 160 grams. Much better.
A silnylon dry bag seems to hold air quite well though it is not designed to, so I suspect that if I glue up a tube of silnylon it will serve quite well, even if I have to add additional silicon as in this post: http://www.theultralighthiker.com/waterproofing-tent-floors-and-ground-sheets/
Why not try it yourself, and get back to me?
PS: This groundsheet will go very well with this tarp:
http://www.theultralighthiker.com/poly-tent-by-the-ultralight-hiker-on-the-cheap/
http://www.theultralighthiker.com/make-your-own-tarp-or-hammock/
http://www.theultralighthiker.com/henrys-original-tarptent-tarptent-for-2/
I realise this inflatable tube could be added to my Holeless poncho to make it into a better groundsheet: http://www.theultralighthiker.com/hole-less-ponchoshelter/ eg for my http://www.theultralighthiker.com/the-deer-hunters-tent/
PS: As with my other design ideas, feel free to make one yourself but if you want to manufacture them I would appreciate some credit.
26/02/2017: Waterproofing Tent Floors and Ground Sheets: I have mentioned this brilliant idea before but apparently I had not done a post about it. Jim Woods has this great treatment which dramatically increases the waterproofness of silnylon (or other) tent floors or groundsheets. It simply involves mixing some (tube) silicon with odourless turpentine (ratio approx 1:3), painting it on and waiting for it to dry. I have done this myself and it works well. Simple, but highly effective. More details here: A Treatment for Silnylon Floors: http://jwbasecamp.com/Articles/Silnylon1/index.html as mentioned here: http://www.theultralighthiker.com/trapped-by-flood-waters/
<![if !vml]>
<![endif]>
26/02/2017: The Silverback: This is the new Gossamer Gear 58 litre pack. Total weight (Medium) 1060 grams with removable options, ie bare = 595 grams (ie without lid, hipbelt pad and frame).
<![if !vml]>
<![endif]>
This new pack is the 'Big Daddy' of the Gossamer Gear Gorilla (48 litre total) pack which I reviewed some time ago eg here: http://www.theultralighthiker.com/a-gorilla-in-the-bush/ I also pointed out here http://www.theultralighthiker.com/pimping-a-gorilla/ that you could leave the aluminium pack frame at home and attach a much simpler hip belt and switch in the Air Beam pad for the Sitlight pad to reduce the weight to 644 grams, a very acceptable weight for a 48 litre pack.
If you performed the same mod on the Silverback you would have a 58 litre pack (and left the lid at home which weighed 651 grams, meaning the extra approx ten litres has cost you just 10 grams, not very much for all that space! If the Silverback lives up to the wonderful standards of past Gossamer gear packs – I started many years ago with their redoubtable G4 – and I'm sure it will, you will have an outstandingly robust and comfortable ultralight pack at a very reasonable price (from US$215) http://gossamergear.com/silverback.html
If you add some tie outs to this pack (as I did with my Gorilla: http://www.theultralighthiker.com/attaching-tie-downs-to-your-pack/) and you utilise some compression bags ( http://www.theultralighthiker.com/a-tardis-folding-space/) this pack will suit you for the longest expedition. I would be able to carry all my gear and supplies for an unsupported month with this pack.
More good news: Gossamer Gear have listened to my suggestion (above) about lowering the weight of the hipbelt and now offer a much lighter, simpler hipbelt with pockets http://gossamergear.com/fast-belt.html at 82 grams and US$21. It looks something like this:
<![if !vml]>
<![endif]>
See also:
http://www.theultralighthiker.com/diy-hiking-gear/
http://www.theultralighthiker.com/dusky-track-canoeing-the-seaforth/
http://www.theultralighthiker.com/hip-belts/
PS: If you find some discrepancy between Gossamer Gear's stated volumes for this pack and mine, note that GG do not state the volume any of its packs above the extension collar ( approx 8 litres) or in some cases the volumes of the pockets (my estimate: 13 litres).
25/02/2017: Ultralight Hiking USB cables, etc: This is my tiny bag of cables and other electronic goodies. The cable (17 grams) is only 6″ (15 cm) long and comes with interchangeable tips (5 grams each). Shown USB, micro USB (x2) and Sat Phone charger plug (comes with, so total = 27 grams) – this will get all my hiking devices charged on the trail: phone, camera, torches http://www.theultralighthiker.com/11-gram-rechargeable-head-torch/, sat phone, sat messenger, or etc). Also see below it a 5 gram white USB/Micro USB SD (& micro SD) card reader – great for sharing files on the trail (eg someone else's photos. Also a couple of spare micro SD cards and adapter/s and a 3 gram case for extra photo etc storage – just in case I get the opportunity to make a movie about Fiordland moose! Note to self: I can save 4 grams here! The solar set-up below can recharge a couple of AA/AAA batteries and all these devices as I walk along.
NB: Solar charging http://www.theultralighthiker.com/powerfilm-usb-aa-solar-charger/ (well charging in general) did not work at all well at high altitude (as on my Everest Base Camp trip), though it works fine at home in the Victorian mountains (never above 2,000 metres), and usually much less – there will be a future post about this, but to cut a long story short; everyone's batteries discharged (even when not in use) at at least twice the normal rate in Nepal, eg: http://www.theultralighthiker.com/i-saw-below-me-that-golden-valley/
<![if !vml]>
<![endif]>
Weights:
Cable inc sat phone tip 17 grams
2 x micro USB tips 5 grams ea
USB/Micro USB reader 5 grams
3 micros SD cards, adapter, case 5 grams
Cuben stuff sack 2 grams
Total 39 grams.
Solar pack setup. See also: http://www.theultralighthiker.com/attaching-tie-downs-to-your-pack/
<![if !vml]>
<![endif]>
I bought the cable and adapter tips from these folk: http://www.tekkeon.com/products.html
Some other Tekkeon tips: Adapter Tips: http://www.tekkeon.com/productcart/pc/viewCategories.asp?idCategory=15
<![if !vml]>
<![endif]>
They also sell this interesting AA charger: http://www.tekkeon.com/products-tekcharge1580.html 125 grams Uses AA alkaline or rechargeable batteries TekCharge MP1580 doubles as a battery charger, so you can charge your rechargeable NiMH or lithium batteries as needed.<![if !vml]>
<![endif]>
They also have a number of power banks such as this one: http://www.tekkeon.com/products-tekcharge1820-specs.html 125 grams for 4800 mAh<![if !vml]>
<![endif]>
This is a reasonable weight for a power bank (I will also have a later post about them), but my spare battery for my Samsung Galaxy S4 camera weighs 35 grams for 2900 mAh, so about 15 grams per each amp hour. At that rate of conversion a 4800 mAh power bank should weigh less than 90 grams! I need to walk around the city sometime with an electonic scales in my posket weighing these ubiquitous little guys. I have done very poorly searching eg for 'lightest power bank' on the net. Good luck with that! But, if you have better information, please let me know.
I figure you need a minimum of approx. twice the capacity of your phone, so likely over 6000mAh. This would need to weigh (much) less than the above solar setup or this lighter version, the Bushnell Solarwrap Mini: http://www.theultralighthiker.com/charging/ which can be cut down by about 7 grams and still attach to your pack (as above) so will weigh < 80 grams for 1,000 mAh, plus whatever the sun delivers!
25/02/2017:
<![if !vml]>
<![endif]>
18/02/2017: Found Space: Underneath our caravan sink was a mess of plumbing. As you can see a large fitting and poorly routed hose stole most of our already limited storage space. I purchased the much shorter and more compact fitting online and installed it myself (rerouting the drain hose in the process) and now have space for another storage box.
Before:
<![if !vml]>
<![endif]>
A comparison of the two fittings. The white one is nearly 120 mm tall and the one on the right is 35 mm.
<![if !vml]>
<![endif]>
Lots more space now:
<![if !vml]>
<![endif]>
The plumbing which remains still leaves much to be desired but it would be lots of work now for little gain (save neatness) but when the caravan was being manufactured it would have been (relatively) easy to install the plumbing in a workmanlike and tidy fashion and to have the caravan delivered with storage containers which actually fitted the space. Every caravan whose cupboards I have opened seems to have just the same issues – yet many folk paid tens of thousands of dollars (more) for their vans than we have.
See also:
http://www.theultralighthiker.com/girard-tankless-water-heater/
http://www.theultralighthiker.com/staircase-for-camper/
http://www.theultralighthiker.com/tray-top-camper/
http://www.theultralighthiker.com/tray-back-campers-and-other-heavy-loads/
http://www.theultralighthiker.com/twin-shock-absorbers/
http://www.theultralighthiker.com/second-air-bead-locks/
http://www.theultralighthiker.com/mobile-phone-antennae/
17/02/2017: Vargo Titanium Knives: Vargo now have a 2.7" (68mm) fixed blade knife which weighs 28 grams (inc sheath) and a 2 ¼" (57mm) folder at 30 grams. https://www.vargooutdoors.com/titanium-wharn-clip-knife.html & https://www.vargooutdoors.com/ti-carbon-folding-knife.html The RRP on these beauties is US$59.95 (though they are available on Massdrop for US$44.99). These knives would be hard to beat for the ultralight hiker.
PS: I always carry a fixed blade knife for its ability to split wet wood for emergency fire lighting. See: http://www.theultralighthiker.com/how-to-light-a-fire-in-the-wet/ & http://www.theultralighthiker.com/fire-on-the-snow/
Some more specs:
Fixed Blade:
Material, blade: Japanese titanium alloy
Single-bevel grind
Wharncliffe point
Integrated carrying clip
Hardness: Rockwell C 50
Sheath: Kydex
Blade length: 2.7 in (69 mm)
Blade thickness: 0.1 in (3 mm)
Overall length:: 5.4 in (138 mm)
Knife weight: 0.7 oz (20 g)
Overall weight: 1 oz (28 g)
<![if !vml]>
<![endif]>
Folder:
Material, blade: Japanese titanium alloy
Material, handle: Carbon fiber
Wharncliffe point
Double-bevel grind
Liner lock
Lanyard hole
Hardness: Rockwell C 50
Blade length: 2.25 in (5.7 cm)
Blade thickness: 0.1 in (0.25 cm)
Total length, opened: 5.5 in (14 cm)
Total length, closed: 3.3 in (8.4 cm)
Weight: 1 oz (30 g)
<![if !vml]>
<![endif]>
16/02/2017: Henry Shires' Tarptent: This is one of the best and cheapest DIY tents around. With Henry's permission I am reprinting his full instructions here: 'The following document has appeared in print since 1999 and details plans for making your own tarptent. While neither is as easy to set up, nor is as storm and wind resistant as the next generation Tarptents, these tents are excellent do-it-yourself projects for even the first-time sewer. We will be happy to offer tips and suggestions should you decide to make one.
The Tarptent sleeps 1+ (me, gear, +) and weighs 18 ounces complete with poles, stakes, tie lines etc. The Tarptent-for-2 sleeps 2 (or huge for one), weighs 24 ounces complete including generous beak, and has some additional room for gear. Both tents are floor-less, completely screened with zipper opening door and made from 1.1 oz silicone-coated nylon. Here's everything you need to know to make your own. https://www.tarptent.com/tarpdesign.html
<![if !vml]><![endif]>
Introduction
A goal of every ultralight backpacker is to carry a comfortable shelter that offers maximum protection from wet weather and bugs, while minimizing weight, difficulty of setup, and cost. The Tarptent is my solution to the problem.
<![if !vml]>
<![endif]>
Shelter Comparison
There are three traditional shelter types. Here is a summary of their relative performance. My rankings are subjective.
| | | | | | | |
| --- | --- | --- | --- | --- | --- | --- |
| Type | Rain | Bugs | Weight | *Setup | Cost | Space |
| tent | 4-3 | 4 | 3-1 | 3-1 | 3-1 | 4-3 |
| bivy | 3-2 | 4 | 3 | 4 | 3-2 | 1 |
| tarp | 4-3 | 1 | 4 | 4-2 | 4 | 4 |
4=excellent, 3= good, 2=fair, 1= poor
* setup for tarps is often a factor of available trees.
Each shelter type excels in certain categories. The tarp is at or near the top in all categories except bugs. My goal was to create a modified tarp that eliminated the bugs while maintaining excellence in all other categories. The Tarptent weighs about 18 ounces, sleeps one person plus gear, and costs about $60 to make. The Tarptent-for-2 costs costs a few dolllars more.
Disclaimer: Snowy, winter conditions create additional shelter needs. The Tarptent will be fine in light snowstorms but is NOT intended for winter use.
All in the Fabric
While researching tents for myPacific Crest Trail thru-hike, I found and subsequently purchased a tent from Stephenson (603-293-7016), a producer of very light, high quality, but expensive tents. This bug-tight, 4-season tent weighs just over 3 pounds (less if you don't get the extra window screening), sleeps 2 very comfortably, and offers easy setup. It would rate a "4" in nearly all categories except cost. At 1.5 lbs/person, it's hard to beat, except if you're hiking solo.
What really got me thinking about making my own tent was the Stephenson tent material. Stephenson tents are able to achieve their remarkable lightness because they use 1.4 oz./sq. yd. silicone coated ripstop nylon. Urethane coated nylons weigh well over 2 oz./sq. yd, some approaching 3 oz/sq. yd. While this may not sound like much of a savings, it really starts to add up when your tent contains 10+ sq. yds of material. The Stephenson catalog offers the 1.4 oz. fabric for sale. It also references the material that was used in previous model years but discontinued because of an apparent problem with the supplier's ability to meet demand. This material is 1.1-ounce silicone-coated nylon (silnylon). Silnylon is available now from several mail order suppliers, and it is the material I used to make my Tarptent. It is very strong, extremely lightweight and must, of course, be protected from abrasion to withstand extended use.
Update 9/5/01: "1.1-ounce" refers to the fabric weight before the coating is applied. Actual fabric weight is variable, depending on manufacturer, and can range from 1.3 to 1.5 ounces/ sq. yd. This variability will impact the final Tarptent weight by up to 1 ounce. Recently I have begun using a silicone-coated, "zero-porosity, high performance rip stop nylon fabric" from Aerodyne Research Corp that is used for parachutes. It's called Zero Porosity Fabric (ZPF) and the company claims that it weighs 1.3 ounces/ sq. yd. On my scale it weighed 1.5 ounces/sq yd. My last batch of "1.1-ounce" silnylon from Outdoor Wilderness Fabrics also weighed 1.5 ounces/sq yd. so either my scale is off or the variability is just to be expected. What's great about the ZPF fabric is that it has a smooth, rather than slippery, finish and is MUCH easier to sew than standard 1.1-ounce silnylon. Sort of like the difference between matte and glossy photographic paper. This fabric is extremely strong--you wouldn't want your parachute to be weak--but seems to have a bit more elasticity than standard silnylon. The 3-point rear pullout on the Tarptent-for-2 is designed to eliminate the small amount of extra sag caused by the increased elasticity. Your mileage will vary.
Anatomy of a Design
When I started working on this design, I began with an Integral Designs 8'x5' 1.1-ounce silicone coated tarp. It weighed about 6 oz, cost $50, and came with all the guyline pullouts already installed. I created a simple a-frame design, using 26" straight poles (I-poles) in the front and back. I sealed the triangular open ends with coated nylon doors, bounded at the apex by small mosquito netting vents for ventilation. I sewed one door edge to the tarp and used Velcro to attach the other edge for easy opening and closing . A groundcloth formed the floor of the enclosure. I attached guylines to the front and back and staked all 4 corners to the ground. There was just enough room to wriggle in and out of the tent and it kept the bugs out. Serviceable, cheap, lightweight, no view and no fun. It also suffered from condensation and showered on me when I brushed the material while exiting the tent. Next I decided to raise one long side of the tent and add mosquito netting along the entire length. This increased ventilation and provided a bit of a view. It also dramatically increased floor space while extending the drip line away from the interior.
Original Design Raised Side Modification
<![if !vml]>
<![endif]>
I modified the door and added guylines along the edge of the raised side at the corners and in the middle. While testing this tent I discovered that the netting actually blocks most of the driven rain. Small spray that gets through the netting will not reach more than a foot or so into the interior so as long as you keep the groundcloth/sleeping bag away from the netting you will stay dry. Subsequently I changed the front and back doors to all netting to increase ventilation and views with minimal increase to rain exposure. The original 8' x 5' tarp was then transformed into something like this:
<![if !vml]>
<![endif]>
I field tested this tent on a '98 JMT hike and it performed quite well. I still got a few drips of condensation when exiting the tent and I couldn't sit up to move around, eat, or put on a shirt. I yearned for more freedom of movement.
This time I needed my calculator and a little help from simple trigonometry. I wanted to maintain the floor space but increase the headroom without adding much to the overall weight. By raising the front and lowering the rear I added less than 7 sq. ft. (less than 1 ounce) but increased headroom by 1 foot. I'm 5'11" and can just sit up in the Tarptent. So without further ado, here's how to make your very own 18-ounce Tarptent™.
Materials
1.1-ounce, silicone-coated nylon (silnylon) - 6 yds.
No-see-um mosquito netting. Tarptent: 4 yds; Tarptent-for-2: 4 1/2 yds
3/4" nylon tape/webbing - 2 yds.
3/4" or 1" Velcro tape (both halves) - 7" (4" if not including beak)
Grommet kit - size 1. If you plan to use trekking poles, make sure the grommet diameter fits your pole tips (and you may need 1" or wider webbing for a wider grommet).
Easton aluminum poles (.340"). Tarptent: 36" front and 18" rear; Tarptent-for-2: 40" front and 20" rear. (Note: larger poles can also be used with the original Tarptent at some loss to interior space) Easton poles are extremely strong, slightly flexible, and very light. A set of poles weighs 2.5 ounces for the Tarptent or 3 ounces for the Tarptent-for-2. Poles should have grommet tip on one end and be capped on the other end. The front pole should be shock-corded to prevent losing a section and for easier and faster set-up. Trekking poles may also be substituted.
6-8 stakes. In the absence of trees, rocks, or other tie off points you will probably want all 8 stakes to pull out the midpoints on both long sides. I recommend titanium stakes as they are incredibly strong and weigh only 12 grams/stake (3.4 ounces/8 stakes).
#3 or #5 coil zipper w/double tab for opening from inside and out. Tarptent: 42"; Tarptent-for-2: 50".
Nylon cord for guylines. I recommend The Kelty "Triptease" ultralight spectra cord - 15'. Not only is it exceptionally strong and light but it's highly reflective and very easy to see. Burn the cut ends to prevent unravelling.
GE Silicone II Clear Sealer. Mix with some mineral spirits and paint on the seams, especially the outside (top side) of the main roof seam.
Scrap nylon for reinforcing pullouts. Use scrap from 1.1 oz. nylon or whatever else you have but uncoated ripstop is probably better to prevent water from getting trapped between the layers. Be sure to heat seal uncoated fabric with a match or soldering iron.
Home or industrial sewing machine. Be sure to use 100% polyester or spun nylon thread--I use polyester thread made by Guterman--and use a small needle size. Do NOT use heavy duty thread.
Pins for marking seams.
Measuring tape, yardstick, and scissors. Optional but very useful is a rotary fabric cutter and mat.
A good place to order materials is Outdoor Wilderness Fabrics (1-800-693-7467). Poles can be assembled from sections available at REI and other sources. My local REI did not have the grommet tips when I inquired so I had my poles custom made by TA Enterprises (1-800-266-9527) for about $10.
Pole Notes: Adjustable Trekking poles can also be used. If you turn the poles over you should be able to insert the pole tips into the existing grommets. Adjust the poles to match the specs for the front and rear heights (though most trekking poles will not collapse down to 20" and you'll have to get creative to use one for the rear).
For those using Glen Van Peski's G4 pack, the 18" or 20" Easton poles will double as excellent pack stays. Simply shove them down between the folds in the Z-Rest frame sheet. Using the Tarptent poles, I find the G4 comfort and load carrying capacity to be greatly improved
The Plans
The following designs are intended for 1 person and gear (Tarptent) or 2 people and some gear (Tarptent-for-2). The Tarptent can sleep two in a pinch but the Tarptent-for-2 is intended for extended 2-person use or as a more luxurious shelter for one.
<![if !vml]>
<![endif]>
Fabric Dimensions:
Cut 2 identical pieces of silnylon. Click here for printable pattern.
<![if !vml]>
<![endif]>
Cut 4 pieces of no-see-um netting. Click here for printable pattern.
Left Side (raised side)
<![if !vml]>
<![endif]>
Right Side (low side)
<![if !vml]>
<![endif]>
Front Door
<![if !vml]>
<![endif]>
Rear Door
<![if !vml]>
<![endif]>
Cut 8 identical pieces of nylon tape or webbing for pullouts.
<![if !vml]>
<![endif]>
Cut 1 piece of Velcro tape (both sides) for netting tie or 2 pieces if you're adding a beak.
<![if !vml]>
<![endif]>
Some Assembly Required
Place the two identical pieces of silicone-coated nylon together and stitch along the long horizontal side. Use a 0.5" inch seam allowance. The Tarptent should now look like this:
<![if !vml]>
<![endif]>
Now fold over each edge 3/4" and stitch to form a border. The Tarptent should now look like this:
<![if !vml]>
<![endif]>
The Pullouts
Pullouts are used to attach the Tarptent to the ground, via a stake or guyline.
<![if !vml]>
<![endif]>
The areas around the pullouts will be subject to stress and it is imperative that these areas be reinforced to spread the load. Cut scrap nylon and reinforce as shown :
<![if !vml]>
<![endif]>
You will need to cut scrap nylon to fit each corner and the midway point of each parallel side (the ridgeline pullouts). You can also add reinforcing patches along the midway point of each long side though those points do not experience much stress. Make each piece several inches wide/long and stitch along the direction of stress.
Front and Rear Pullouts
The front and pullouts are grommeted to support the Tarptent poles. Adjustable Trekking poles can also be used but be sure the grommet and associated webbing is large enough or just affix the trekking pole to the webbing loop and leave out the grommet.
<![if !vml]>
<![endif]>
Make two identical grommet loops as follows:
Fold a piece of nylon tape in half. Insert a #1 grommet near the end of the loop, through both pieces of tape, and spread the free ends as shown:
<![if !vml]>
<![endif]>
Repeat with a second piece of tape. Now, attach the grommet loops to the middle of the front and rear parallel sides. Be sure to spread out the tape so that there is more surface area to sew.
<![if !vml]>
<![endif]>
Side pullouts
Now attach the remaining webbing strips to the 4 corners and the two remaining midpoints. Fold each piece in half, turn it so it faces you edge on and then open it like a book to form a loop that looks like this:
<![if !vml]>
<![endif]>
Attach the loops to the remaining areas in the same manner as the grommet loops. Your Tarptent should now look like this:
<![if !vml]>
<![endif]>
Out, Damned Mosquitoes
Blessed be the ones inside the netting for they shall remain sane...
Before you attach the netting you should determine which long side of your Tarptent you want to raise up. If you sleep on your left side as I do you will want to raise up the left side (as viewed from the front) of the Tarptent so you can see out the side of the tent while lying down. Reverse the instructions for a "right-sided" design.
A Velcro closure is nice so that you can prop open the door when the bugs are low. Peel apart the two halves of the Velcro and stick them together again so that they form one long piece with about 1/2" overlap.
<![if !vml]>
<![endif]>
Sew the overlap area to the edge of the tarp, about 1/3 of the way up the fabric, so that it forms a right angle to the tarp.
Be sure to attach the Velcro to the left side of the Tarptent before you sew the netting. When the netting is held open by the Velcro it will look like this:
<![if !vml]>
<![endif]>
Now, sew each of the long pieces of netting to the edges of the Tarptent roof as shown below. Be sure to center each piece of netting so that there is enough material on both ends to overlap with the adjoining netting. For now, do not sew past the center of each corner.
<![if !vml]>
<![endif]>
Tip: The netting/nylon interface is slippery. You will want to use a short stitch length to prevent seam puckering. Practice with scrap before you proceed or you will have to rip out your first attempts. I also recommend cutting each long side netting in half and sewing each half separately. Once the tent is set up, pin and re-sew the break in the vertical wall. This will help eliminate the stretch in the netting.
You are now ready to set up the Tarptent and adjust the netting for good fit and finish. Be sure the Tarptent is taut before proceeding. Walk to the back of the Tarptent and pull the back window netting flap across until it's taut.
<![if !vml]>
<![endif]>
Pin the netting to the edge of the roof
Specifications
line. Now go the front of the Tarptent and repeat the sequence with the front door flap but leave a little slack to compensate for the zipper. Draw a line along the netting corresponding to the pins. This is the zipper line and you will need to trim the netting back to this line. Take down the Tarptent and sew the zipper to the right side of the Tarptent You will need to sew one side to the right edge of the roof and the other side to the edge of the netting.
<![if !vml]>
<![endif]>
Be sure to block the top of the zipper to prevent complete separation by sewing an extra piece of nylon tape across the zipper. Stitch over the area a few times. Do the same thing to the bottom of the zipper by separately taping each bottom edge and stitch to prevent unraveling.
Finish sewing the rear window along the pin line.
Set up the tent again and pin the corners of the netting so that they hang straight and slightly inward. Each corner should form a pocket (for placing rocks/shoes/etc. to hold the netting) and the netting should fold to the inside. There should be about 7 inches of netting to the inside of the tent. Trim the netting as desired. In the field, place objects along the netting border, as needed, to complete the bug seal.
When you have finished pinning the material, take the Tarptent down and sew the netting along the pin lines.
Options (Why? Because we got 'em.)
Sorry no moon roofs or 4-speaker stereos. But if it's beaks or floors you want, you came to the right place.
Adding a Beak
<![if !vml]>
<![endif]>
Tarptent with optional beak; beak rolls up and can be tied off with velcro
A beak is an awning that partially covers the front of the tent. I have made it a standard part of the Tarptent-for-2 and consider it optional for the original Tarptent. It adds about 1 ounce to the overall weight of the finished product. In either case, it will not be needed except when the tent front is aimed into the blowing rain. A beak will, however, allow the front netting to be left open during most storms--a benefit for increasing airflow in wet weather--and allow you to scootch up toward the front. Like the door netting, the beak is designed to be rolled up and stored with velcro when not needed.
Click here for printable pattern
<![if !vml]>
<![endif]>
Adding a Floor
The Tarptent is designed to have an open floor with netting border. Typically a groundcloth forms the interior. I always carry a groundcloth made of Tyvek Housewrap--a very tough and highly water resistant fabric used in building construction--and center it inside the Tarptent. My groundcloth measures 3 x 6 1/2 feet and weighs about 5 ounces.
<![if !vml]>
<![endif]>

Top-down view of Tarptent interior
Another option is to fill the space with a full netting, Tyvek, Silnylon, or combination floor.
<![if !vml]>
<![endif]>
A removable floor is the best of all worlds because it gives you flexibility to sleep out or in without having to carry an extra groundcloth. Here's how to make one.
Determine the dimensions of your groundcloth. Now cut or piece together a netting floor insert to match the interior dimensions of the "hole" in the Tarptent or Tarptent-for-2 (see above) and create a another hole in the middle of the netting insert that is an inch or two smaller than your groundcloth. Sew velcro to the corners and middle of the long sides as shown.
<![if !vml]>
<![endif]>

Note: The interior profile will appear slightly different, depending on the tension of the side pullouts. Actual profile will be more square across the front end (left end in this picture) and then taper toward the rear. Create the floor insert using the "stretched" dimensions so the netting insert will not be stretched during setup.
Sew corresponding velcro patches to your groundcloth as shown.
<![if !vml]>
<![endif]>
Sew the netting insert to the netting flaps on the tarptent (except the front door) and press the groundcloth velcro patches onto the netting insert. Your completed floor should now look like this,
<![if !vml]>
<![endif]>
A combination netting/removable floor should add 1-1.5 ounces to the overall Tarptent weight (not including the weight of the groundcloth). A full netting floor would add about 4 ounces.
Finishing Touches
Set up the Tarptent again and seam seal the main ridge seam and, if you wish, the seams around the pullouts. You may also wish to sew small loops at the front of ridgeline and about 1 foot toward the rear for use as a small clothesline or flashlight holder. An additional benefit of these two loops is that they double as a ridgeline tightener.
Click here for additional Tarptent-for-2 finishing touches.
But Do I Really Want to Make One...
Since I first published this document, many people have asked me if I have any original Tarptents to sell. The answer is no because the new, next generation Tarptents are so much better. If you'd still like an original Tarptent, I've authorized Moonbowgear to produce them.
Five Months on the PCT
<![if !vml]>
<![endif]>
Goat Rocks Wilderness, Washington
I put the Tarptent through an extensive field test during my hike. For nearly 5 months on the trail, the Tarptent was truly my home. Overall, it performed like a champ and I stayed exceptionally dry and warm during my walk. I do, however, have a few comments and suggestions for future Tarptent users.
Over time, thin poles will sink into wet or loose soil. To solve the problem, place small, flat rocks under each pole during set-up.
The original design called for 6" netting flaps around the perimeter. Despite security measures, there were still times when a few mosquitoes managed to evade the defenses. If you plan to camp in very buggy conditions I suggest another inch or two to the netting width. The key to whatever width you choose is to press the netting to the ground with rocks, sticks, shoes, overlapping ground cloth, etc. Properly pinned, the netting will stop all flying insects from entering. Ants are a bit more clever and a few will find their way in no matter what you do. If you must stop ants, a full netting floor will add about 4 ounces to the tent weight and is a reasonable ultralight solution. A full tyvek floor is only slightly heavier.
Update 9/5/01: I have ammended the plans in this document to include 7" flaps and suggestions for a full floor.
I sewed small velcro patches to the inside of the front door, two along each seam. Since I carried a poncho, I also sewed matching patches along the edges of the poncho. During windy storms, when I had neglected to aim the low end of the tent into the blowing rain, I attached the poncho to the velcro patches and was able to stop the mist and droplets from entering. Any piece of fabric, coated or otherwise, will accomplish the same thing. Another option would be to add a beak to the front entry area.
Update 9/5/01: I have included plans for a beak.
The Tarptent will be forever linked with the most incredible journey of my life.
That's it! I hope you enjoy your original Tarptent or Tarptent-for-2 and please feel free to contact me with comments or suggestions.
<![if !vml]>
<![endif]>
Henry Shires
info@tarptent.com
Tarptent is a trademark of Henry Shires. I assume no responsibility with regard to the Tarptent's performance or use.
© 1999-2016 by Henry Shires. All rights reserved.
16/02/2017: 'It is easy to forget that the memoirs of a little girl who watched Native Americans on horseback and saw herds of buffalo on the plains happened within living memory of my elders when I was born'.  Australia's history too is encapsulated in the memories of a very few generations: I remember my grandfather telling me he had known someone who was on the first Fleet. Della's grandmother certainly did, as her grandmother' grandmother gave birth to a son on the voyage out. (Her husband was a soldier in the NSW Corps): http://www.intellectualtakeout.org/blog/happy-150th-birthday-laura-ingalls-wilder
14/02/2017: An Excursion to the Upper Yarra Falls: This is the third part of a 3 part article. Leader (Melbourne, Vic, Saturday 22 November 1884, page 16 The Contributor: By G. Much of it is incredible, to say the least. The author has explained the value of solitude and the preservation of wilderness so well – his conclusion: 'It would seem well, therefore, that some steps should be taken permanently to preserve these forests in their present state.' Might have been written yesterday!
<![if !vml]>
<![endif]>
<![if !vml]>
<![endif]>
'After bathing in the Thompson, which we found about up to our waists, and very cold, we had breakfast, and made another start. We crossed the bridge and ascended the opposite hill. The track was good, and after a time we got among the green saplings and wattles. They were about 9 inches at the butt and about 30 feet high. They grew thickly on each side of the track, and were often fallen across it. So we continued for about 2 miles, apparently keeping near the ridge of a spur. At this point the track turned a little off the ridge to the right, crossing the head of a valley, which ran south, to join the Thompson.
Just as we got across this valley we came to a pile of huge granite holders, and from this spot we got a fine view down the valley, and up the Thompson, with Mount Baw Baw in the back ground. Just beyond there was a heavy fall of dead, timber, which we got past with some difficulty. The track was again clear for a little. It then crossed the ridge, and we got on to a sideling sloping to our left. Here we came to another heavy fall of dead timber. Some logs 100 feet long and several feet through at the butt had fallen across the track, bringing down with them great quantities of the sap-lings and wattles. The track was blocked in this way for 100 yards or more. We had to endeavor to carry our packs over the obstacle, and then find places where the horse would jump the logs, or they were sufficiently broken to enable him to scramble over them, and move the saplings for him to get there.
We loaded again, and proceeded a few hundred yards. Here we came to a worse block, and extending a long way ahead. It had taken us two hours hard work to traverse the eighth of a mile. We were then 12 miles from Mount Lookout, and at this stage R. advised that we should separate, the three of us returning with the horse to Reefton by the way we had come, he going on alone to Mount Lookout. This we consented to the more readiiy, as it would enable us to get another view of the Yarra Falls. We accordingly separated, R. taking with him a light swag, proceeding alone, and the three of us returning to our camp of the night before. R, expected to reach Mount Lookout that night. If he found that he would not get through he expected to be able to rejoin us before we left Mr. Thompson's the next morning. We could not but feel that R. had embarked on rather a perilous journey. On the other hand we did not doubt that he was well able to take care of himself. He had before travelled with me in the wilderness in a somewhat similar way. As to ourselves we felt that we had lost the best man of our party; it was due no doubt mainly to his excellent pioneering that we had got thus far.
On our return to the granite knoll we admired the view at greater leisure. The undulating ridge of the plateau, covered with foliage of diverse tints; the red of the gum saplings contrasting with the deep green of the wattles and the huge black and white trunks that at intervals towered above it. In the back ground were Mt. Baw Baw appearing as an isolated group of rounded pyramids or conical domes rising to a great height above the plateau on the south-east, and that notwithstanding that the granite knoll was 2600 feet above M'Mahon's, or between 3000 and 1000 feet above the sea, and the ground between us and Baw Baw was rising. We returned to the Thompson, and camped a second time upon the same spot.
The next day we left our camp standing and walked to the Yarra to have another cooler at the falls. We had a pleasant walk through the beech forest, the dark shade of which was set off by the straggling gleams of bright sunlight which found their way between the trees. We had lunch under a small fall. A little above this was a great fall, which was shaded by the ferns, and very pretty. We then began to descend the great fall from the top, keeping near the edge of the creek, and saw a fine series of cascades. Still, we could see but a small por-tion at once. After getting over 100 or 200 feet, we came to a high rock, jutting out on the left bank of the stream. To the top of this we climbed, and were rewarded with a magnificent view. The face of the fall was visible for 300 or 400 feet, the upper and lower portion gleaming through a pale green veil of ti-tree. Looking outwards, we could see far down the Yarra Valley a countless succession of wooded ridges, rising to the right and left, one behind the other, with tints varying with the distance.
The next day we struck our camp on the Thompson, and for the two succeeding days we proceeded without difficulty till we got to Mount Horsefall, where we found it impossible to retrace the track we had come by. After wasting some time in looking for it, we determined to act on R.'s advice and abandon the track, and try and make our way through the beech forest on the south side of the range. This we did, keeping under the beech trees, but in sight of the white logs on the top of the mount. The ground was so soft that the horse could keep his footing, not-withstanding the steepness of the incline, and in about twenty minutes we got round into our track again without any difficulty.
At tbe foot of Mount Horsefall we saw a track coming in from the south, which we had not noticed coming. We took it to be a a track marked on our tracings as Bennett's track. When as we returned to our old camp at the ten miles water, we had no oats for our horse, but he was sufficiently hungry to eat plenty of the rank grass, On reaching the top of hill where the finger post ought to have been we saw a track turning towards the south, A little after we plunged again into the dense scrub. We found it impossible to keep our former track, but finding ourselves by the ridge we fought our way through it as best we could.
We were not a little glad when we again made the Excelsior shaft. After this the travelling was easy. On reaching the place where the old track turned off to Alderman's Creek, we thought we would follow it and camp there. But finding the descent would be very great, we turned back and camped on the ridge, which the supply of water in the hut enabled us to do.
The next day we set out for Reefton. Not withstanding the rain which had taken place, the little water holes were quite dry. Going down the thick spur we had a fine view of a nameless mountain mass on the opposite side of the Yarra, whose steep and rugged sides were seamed with an irregular network of foliage. We descended the deep spur, and arrived at Reefton. We had eaten up all our provisions, our boots were nearly worn off our feet, our garments were ragged, but we were in good spirits, for we had seen the falls.
Here we met Mr. Lewis, and were hospitably entertained by him and his wife, which we thoroughly appreciated, and next day left for the metropolis. On reaching Melbourne I found a letter from R., narrating his adventures. He wrote : — " After I left you on Wednesday, I had a fearful rough walk for four miles. In fact the logs were lying so thickly together and the scrub so high that it looked as if it had never been cleared. After the first four miles or so the want of water caused me much delay, as I could not find the track, and had to guess where it was, and very nearly having to return; however, I guessed where it was, and followed it on till I come to a spur leading down to the river, when I picked it up again, the blazes being well marked here where they were not so much required.
When I arrived at the river, I saw cattle tracks along the bank and knew there must be somebody living not far off. After following it down for about three miles, I suddenly came upon a selector's bark mansion. To my surprise there were some girls outside, more surprised than I was, not only as to my state of dress, but as to where I had come from, as there had not been anybody through this part for about five years. After regaling myself with a delicious glass of gooseberry wine, I passed on to the next crossing, where a miner lives, who kindly gave me a good tea and put me on the track to Mount Lookout a distance of two miles, uphill all the way (by the clock), where I arrived at eleven o'clock at night, and was refused a bed till I convinced the proprietor that I was not a sun-downer on the wallaby track.
... It would have taken at least a week to do the four miles after I left you with the pack horse." We saw lyre birds at intervals all the way along the South Dividing Range of the Yarra, and thence as far as we went, and we also saw trace of wombats, and we killed a snake on Mount Horsefall, bnt we neither saw nor heard any other animals, whether birds or beasts. This absence of life made the part we passed through particularly silent, except for the sound of the wind among the trees, or of falling water when we were near the Yarra, Different members of the party drew com-parisons between the Yarra Falls and other waterfalls they had seen— the Stevenson, the Erskine, the Watts, the Eurobbin, the Wentworth, the Wannon.
In general character the Yarra Falls resemble those of the Stevenson more than any of the others. They are higher and have more water in them, but it is difficult to obtain a good sight of them. The views now to be got of the Yarra Falls more nearly resemble those to be got of the Stevenson before the new track was cut which exposed the entire face of the fall, I am not aware that the height of the falls of the Watts have ever been measured, but I should say from recollection that it is considerably greater than the height of the Yarra Falls, and that there is more water. On the other hand, the fall of the Watts is less abrupt, being interrupted by long slides, where the water, unbroken and transparent, comes down an excessively steep incline with a rapidity dazzling to look at.
I saw none of these slides on the Yarra, the fall being broken by short slopes only. While the Yarra falls over the edge of a precipitous and wooded declivity, the Watts rushes down the bottom of a vast and steep gorge between Mount Juliet and Mount Strickland, the wooded sides of which descend to the water's edge in steep unbroken slopes of, I should say, at least 2000 feet. As compared with the Eurobbin Falls in Victoria and the Wentworth in New South Wales, the Yarra Falls were considered to contain more water, but do not present the feature of an unbroken fall of vast height which distinguishes the former. As compared with the Loutit Bay Falls, I do not think I saw on the Yarra any one cascade unbroken by steps as high as the Splitter's Falls, or even as the falls of the Erskine. But both these latter falls are seen from valleys where the view is much shut in, and where consequently, the actual height is not liable to be dwarfed by comparison with greater heights or depths.
A further question that may arise is how far the Yarra Falls will repay a visit, and that is a matter that must depend much upon the idiosyncrasy of the questioner. The Stevenson, the Erskine or even the Wentworth Falls can be seen with much less expenditure of time and labor. On the other hand, a journey of 20 miles through virgin forests intersected by the Splitter's Creek would to many be an additional attraction. It is a great change for a man who passes his life in a large city to find himself in a few hours transferred into utter solitude. There is also a certain interest in seeing things which few people have seen, especially if they relate to something, as the River Yarra, with which we are all well acquainted.
There is a certain pleasure to be derived from encountering and surmounting difficulties. The mind is completely taken out of its accustomed train by the immediate necessity of devoting the whole attention to the passing incidents of the journey. The extent to which this is the case few people will conceive who have never taken a trip of the kind. One appears to forget, for the time, everyday life, as if he had been all his life a wanderer in the wilderness. To those who look at things in this light I would recommend a trip to the Yarra Falls. The high plateau from the opposite edge of which flow the Latrobe, is altogether uninhabited. In winter it is covered with deep snow, In spring the waters of the Goulburn, the Yarra and tbe back forests become swamps. During the summer the water sapped up by the ground will slowly drain off, making the streams perennial.
At the present time settlement is prevented by the inaccessible nature of the country, but this would not be a permanent obstacle ; a little engineering skill would no doubt carry a dray road on to the plateau, after which there would bo no further difficulty, except from vegetation. Some years hence, therefore, there may be a movement to take up this country. Since my return I have been questioned as to the character of the soil; I said it was good, but of course no grass would grow under the timber, "That," the answer was, "is a small matter. If the soil is good it is easy to ring the trees."
It is a matter, therefore, for consideration what ought to be done in anticipation of such a movement. It would add to the colony some square miles of summer pastures and perhaps of cornfields, but it would have other effects of a different character. The snow no longer shaded by the dark foliage of the beech trees would, melt more rapidly. The ground exposed to the summer sun would harden and absorb less water, and there would be a probable diminution of the rainfall, The result would be disastrous floods in the spring when the snow melted, followed by a quickly diminished pe-manent flow of the stream during the summer. It would seem well, therefore, that some steps should be taken permanently to preserve these forests in their present state. How far this is now done incidentally by reason of tbe country being included in auriferous reserves I do not know.'
Turns out there is still more to find out about the Yarra Falls hut:
'State Party Marooned. Trafalgar and Yarragon Times Friday 8th February 1918.
Tourist Hut Gives Shelter.
Under the above heading the Herald on Monday last says:-
When the storm broke on Saturday a Parliamentary and departmental party led by Mr. Barnes, M.L.A., which was returning on horseback from a trip to the head of the Yarra to inspect the district timber resources took shelter in the tourist hut near Yarra Falls.
"The rain fell in bucketsfull", said one member of the party today in describing his experience.
​"Men and horse soon looked as if they had been wading through a stream. Our boots were full of water. When we reached the tourist hut we had to strip off our clothes and dry them at a fire. While our clothes dried we had to be content with less raiment than is ordinarily worn in the busy haunts. We had a Railway Department photographer with us but he refrained from snapshoting us as we wore rags and other coverings, which are stored at the hut. We stayed all Saturday night at the hut, and left on Sunday morning."
The party, in addition to Mr. Barnes consisted of Mr. M. Hannah, M.L.A. vice-chairman, and members of the New Industries Institute.'
Once again I am grateful to Thomas Osburg for finding and sharing these historic treasures.
See also:
http://www.theultralighthiker.com/a-trip-to-the-upper-yarra-in-1907-camping-near-mcveighs/
http://www.theultralighthiker.com/yarra-falls-shelter-house/
http://www.theultralighthiker.com/from-1925-the-baw-baw-track-notes-of-a-recent-visit/
http://www.theultralighthiker.com/secrets-of-the-yarra-walshs-creek-yarra-falls/
http://www.theultralighthiker.com/yarra-falls-3/
13/02/2017: Don't like Google's intrusiveness? You can get most Apps here without a Google account: http://en.uptodown.com/android If you go to their site you will see that each App has already been checked by perhaps 50 Anti Virus programmes to be safe – no doubt you can also run it past your own. This may be the next best thing to outright 'jailbreaking' your phone, which you might alos consider if yout are obsessed by privacy issues.
For example you can download the old version of 'Pdf Maps' which allows you to open an infinite number of maps. You have to uncheck 'Update' to continue its functionality. This is really good for opening GPS enabled Vicmaps on your mobile phone.
<![if !vml]>
<![endif]>
12/02/2017: Tanjil River East Branch: We were up that way during the week and happened to cross the East Branch on Webbs Track which is a 2WD road. This branch would not need very much more water (< 5 cm) to make it canoeable. You might even get down it at this height. It would be fun trying anyway!
I would estimate it to take at least three hours from Webbs Track to Rowleys Hill Rd (See Vicmap Noojee South T8122-3-S). The gauge height at Tanjil Junction is .45 metres today which I have found makes the West branch canoeable (certainly from Rowleys Hill Rd down. See http://www.theultralighthiker.com/tanjil-river/.
You can also put in at the intermediate point Burns Track (just a km above the junction). This would be a good place to check the canoeability of the East branch before you try it from Webbs all the way down. Keep an eye on the river heights gauge http://www.bom.gov.au/cgi-bin/wrap_fwo.pl?IDV60154.html to see if there is enough water. A decent summer shower should provide you with some fun!
<![if !vml]>
<![endif]>
Webbs Rd bridge.
<![if !vml]>
<![endif]>
View downstream.
<![if !vml]>
<![endif]>
View upstream.
A PS: I had not thought about canoeing the section of the Tanjil downstream from Blue Rock but apparently they let out 'Environmental Flows' from time to time which makes this possible. I will post when I know more.
12/02/2017: What a great poem! Especially the last stanza, and the last line:
Ulysses - Tennyson
It little profits that an idle king,
By this still hearth, among these barren crags,
Match'd with an aged wife, I mete and dole
Unequal laws unto a savage race,
That hoard, and sleep, and feed, and know not me.

I cannot rest from travel: I will drink
Life to the lees: All times I have enjoy'd
Greatly, have suffer'd greatly, both with those
That loved me, and alone, on shore, and when
Thro' scudding drifts the rainy Hyades
Vext the dim sea: I am become a name;
For always roaming with a hungry heart
Much have I seen and known; cities of men
And manners, climates, councils, governments,
Myself not least, but honour'd of them all;
And drunk delight of battle with my peers,
Far on the ringing plains of windy Troy.
I am a part of all that I have met;
Yet all experience is an arch wherethro'
Gleams that untravell'd world whose margin fades
For ever and forever when I move.
How dull it is to pause, to make an end,
To rust unburnish'd, not to shine in use!
As tho' to breathe were life! Life piled on life
Were all too little, and of one to me
Little remains: but every hour is saved
From that eternal silence, something more,
A bringer of new things; and vile it were
For some three suns to store and hoard myself,
And this gray spirit yearning in desire
To follow knowledge like a sinking star,
Beyond the utmost bound of human thought.

This is my son, mine own Telemachus,
To whom I leave the sceptre and the isle,—
Well-loved of me, discerning to fulfil
This labour, by slow prudence to make mild
A rugged people, and thro' soft degrees
Subdue them to the useful and the good.
Most blameless is he, centred in the sphere
Of common duties, decent not to fail
In offices of tenderness, and pay
Meet adoration to my household gods,
When I am gone. He works his work, I mine.

There lies the port; the vessel puffs her sail:
There gloom the dark, broad seas. My mariners,
Souls that have toil'd, and wrought, and thought with me—
That ever with a frolic welcome took
The thunder and the sunshine, and opposed
Free hearts, free foreheads—you and I are old;
Old age hath yet his honour and his toil;
Death closes all: but something ere the end,
Some work of noble note, may yet be done,
Not unbecoming men that strove with Gods.
The lights begin to twinkle from the rocks:
The long day wanes: the slow moon climbs: the deep
Moans round with many voices. Come, my friends,
'Tis not too late to seek a newer world.
Push off, and sitting well in order smite
The sounding furrows; for my purpose holds
To sail beyond the sunset, and the baths
Of all the western stars, until I die.
It may be that the gulfs will wash us down:
It may be we shall touch the Happy Isles,
And see the great Achilles, whom we knew.
Tho' much is taken, much abides; and tho'
We are not now that strength which in old days
Moved earth and heaven, that which we are, we are;
One equal temper of heroic hearts,
Made weak by time and fate, but strong in will
To strive, to seek, to find, and not to yield.
11/02/2017: Strange Stone Circles: I am sick to death of seeing these ubiquitous idiotic 'structures'. They do nothing to contain the campfire – indeed they are likely to harbour smouldering embers which wind will later re-ignite into conflagrations. They are a tripping hazard responsible for many burns injuries. They are visual squalor. They are almost always in the wrong place. They are impossible to see once the grass has regrown. I hate to think how many times I have srubbed my toes on them or come close to damaging my vehicle with them. They make it almost impossible to slash the grass in summer to prevent bushfires and are annually responsible for thousands of dollars of damage to equipment. It is almost always better not to have the fire in the same place all the time. Individual small campfires cause interesting regrowth responsible for the propagation and preservation of many rare species, particularly orchids. Permanent campfires just sterilize that spot and create no renewal opportunities. In any case, they are almost always symptomatic of summer campers who should have no campfire at all given the likely enhanced wildfire danger, and that it is not cold enough to require a fire. You almost never see these structures erected by winter campers such as deer hunters. Let's stamp them out, please!
<![if !vml]>
<![endif]>
10/02/2017: Escaping the Heat: Who needs an air conditioner? Go up a thousand metres and you lose approx 8C. The Baw Baw Plateau this week has been beautiful with maximums in the low twenties whilst folks below in the Latrobe Valley or Melbourne sweltered in the high thirties. We are so lucky we have the Upper Yarra Track (http://www.finnsheep.com/THE%20UPPER%20YARRA%20WALKING%20TRACK.htm) to retreat to in these circumstances. We were camped on the top of Mt Horsefall during the worst of this 'heat wave' where there was also a lovely cool breeze.
There are lots of spots you can camp all along eg the Forty Mile Break Rd (North of Noojee) which is mown to a width of nearly two chains all around the magnificent mountain ash which form a broad avenue along it. Certainly one of the five most beautiful (2WD) roads in Australia (open November to May). Along the Baw Baw Plateau (4-600 metres higher) it was even cooler. How glorious to be camped eg at Mt Whitelaw or Mt St Phillack saddle in this weather.
Here we are set up in a sheltered shady spot atop Mt Horsefall – with even a mobile and internet connection!
<![if !vml]>
<![endif]>
The view out our front door.
<![if !vml]>
<![endif]>
Spot takes a closer look at that magnificent view over the Yarra Ranges National Park.
<![if !vml]>
<![endif]>
Of course we were even able to cool off on the way with a quick trip to the beautiful Toorongo Falls just outside Noojee on the way.
<![if !vml]>
<![endif]>
Map: See Rooftop's 'Yarra Valley –West Gippsland'.
08/02/2017: Hammock Pad Extender: Ed Speer hit on this lightweight way to ensure that you stay warm in your hammock many years ago. You could make this yourself in a lightweight nylon (eg .7 oz/yd2, such as this: http://www.tiergear.com.au/11/online-shop/argon-67) I don't need the insulation for my knees as I always sleep on my bnack in a hammock, so mine would weigh half of the one shown in the photo ie less than a square yard of fabric plus two pieces of evazote 1 ½' x 6", so less tha 2 ounces anyway.
<![if !vml]>
<![endif]>
https://web.archive.org/web/20060115191541/http://www.speerhammocks.com/Products/SPE.htm
08/02/2017: The secret of true happiness: Study, Majority Of Humans Happiest When Rest Of Family Still Asleep: http://www.theonion.com/article/study-majority-humans-happiest-when-rest-family-st-55243
07/02/2017: DIY Netless hammock: Over the years we have made lots of hammocks, but we would have made a better job of we had followed some expert instructions. The following instructions and photos were kindly provided by Simon McGuire at Tier Gear, Australia's own Hammock and Tarp manufacturer and Outfitter. See them for all the materials needed to build this and many other projects. If you do not feel up to building your own, you can purchase the completed items at a very reasonable price and with speedy delivery for your next big trip. This looks to me to be a very sound lightweight hammock and tarp duo - see: http://www.theultralighthiker.com/make-your-own-tarp-or-hammock/ which should serve you well on many a camping/hunting trip. I am particularly impressed by the suspension system. NB; the fixed or adjustable centre line is a great addition to comfort too.
Tier Gear: http://www.tiergear.com.au/
<![if !vml]>
<![endif]>
Above: the Goshawk hammock. This is what your completed hammock should look like (minus the insect netting).
'Part 1 - Sewing the hammock body
Tools required:
a. Sharp scissors or rotary cutter
b. Fabric marking pencil or similar
c. Measuring tape or ruler
d. Long straight edge
e. Sewing machine
Materials used:
A good quality polyester or nylon fabric. In this instance I used Argon 1.6 which is a ripstop nylon designed specifically for hammocks.
Good quality sewing thread. Gutermann's Mara 70 would be a popular choice for the DIYer as would Rasant 75.
Procedure
Cut your fabric to the length you require, taking into account the end channels and some loss of length when you gather the hammock. For a 3.3metres length hammock I start with 3.6 metres of fabric, as my end channels take up 100mm at each end and there is also some loss when the hammock is gathered. Fabric width is usually around 1500mm.
Sew a rolled hem along both long sides. Start by folding the edge over once, and then over again. My hems are usually around 10mm in width but you can go bigger or smaller. Start by sewing along the inside edge of your hem. A single line of stitching is adequate but a second line of stitching adds a professional touch, and some extra reinforcement to your hem. The second line of stitching should be just inside the outside edge of the fabric.
<![if !vml]><![endif]><![if !vml]><![endif]><![if !vml]><![endif]><![if !vml]><![endif]>
Repeat Step 2 on the other side of your fabric. Once finished the hem on both sides it's time for the end channels to be sewn on the short sides of the fabric.4. There are a number of ways to sew the end channels. I measure down 100mm from the end of the fabric and mark a line across the width of the fabric. I then take the end of the fabric and fold it over so that it is a couple of mm before the marked line. Now I fold the end of the fabric over again to just past the raw edge and this time right on the marked line. This hides the raw edge inside the channel, and gives you four layers of fabric making up your channel at a width of about 25mm. If you are going to use the end channels to run your suspension directly through then this end channel may be made larger if required.5. Now you are going to sew the end channel down. Depending on how you are going to gather the hammock you will need to sew at least 2 lines of stitching, though 1 would be adequate, or 3 if you are going to run the suspension through the channel and hence making the stitching on the end channel weight bearing. I do not run the suspension through the end channel so I only sew 2 lines of stitching.6. Sew the first line of stitching along the inside edge of the end channel, and then the second line of stitching 4-5mm inside of the this. This second line of stitching ensure you capture the raw edge of the fabric inside the end channel.
<![if !vml]><![endif]><![if !vml]><![endif]><![if !vml]><![endif]>
Repeat steps 4-6 at the other end of the fabric.8. Congratulations that is your hammock body sewn. Basically I could have broken it down to: sew a rolled hem on both long sides, then sew a bigger rolled hem along the short sides and then gather - job done! It really is that simple.
Part 2: Gathering the hammock, and attaching the suspension
Once your hammock is sewn the next step is gathering the ends. There are numerous ways to do this, including methods which don't require the sewing of end channels in your fabric but I will leave those methods to people who have experience with them. These methods require the sewing of an end channel as detailed in part 1 of making a net-less camping hammock.
Essentially when gathering the ends of your hammock, you are simply inserting something through the channel and tightening it in order to essentially a ball of fabric.
Method 1:
The first method involves running your suspension directly through the channel e.g. your whoopie sling or continuous loop, and cinching tight. This produces a clean looking finish, and is the method probably most commonly used by camping hammock manufacturers. This method places stress on the end channel stitching so you want to ensure you lay down some solid stitches, and have at least 3 parallel rows using quality sewing thread. It is not recommended for lightweight fabrics, where failures have been known to occur. It also produces a consistent gather of the hammock without much fuss.
If attaching a whoopie sling insert the fixed loop through the end channel
<![if !vml]>
<![endif]>
Run the adjustable loop of the whoopie through the fixed loop
<![if !vml]>
<![endif]>
Cinch tight and you are done. (Note: in the photo below there is only 2 rows of stitches, 3 are recommended for this method)
<![if !vml]>
<![endif]>
Method 2:
This method involves running a cord, or some people use a cable (zip) tie, to gather the ends. Your suspension, e.g. whoopie sling or fixed loop, is then girth hitched over the hammock fabric below the gather you have just created. The gather prevents the suspension from slipping off the end of the hammock. This method does not place any stress on your end channel stitching, and is fine to use on lightweight fabrics as well as heavier fabrics. There is some minor fiddling required when attaching your suspension to ensure a consistent gather of the fabric. If you like being able to change out your suspension quickly or play with different setups this is the method for you.
Insert cord through end channel. In this instance I am using 2mm VB cord.
<![if !vml]>
<![endif]>
Next you can tie a knot as per Knotty's method on Hammock Forums, insert a cable (zip) tie, or use a small cord lock as I have done below.
<![if !vml]>
<![endif]>
<![if !vml]>
<![endif]>
<![if !vml]>
<![endif]>
The cord lock method leaves a length of cord, depending on how long you cut it, I use around 600-650mm, which you can attach a mitten hook to the end and this gives you an attachement point for a peak bag, pillow of whatever you want at the ends of the hammock.
<![if !vml]>
<![endif]>
Next you need to attach your suspension by girth hitching to the fabric below the gather. If using a whoopie sling you simply run the adjustable loop of the whoopie sling through the fixed loop of the whoopie, and cinch tight. You may need to move the fabric around a little to ensure the fabric is gathered consistently.
<![if !vml]>
<![endif]>
You can run the suspension over the top of the gather as per below,
<![if !vml]>
<![endif]>
or run your suspension through the middle of the gather as per the photo below
<![if !vml]>
<![endif]>
<![if !vml]>
<![endif]>
Rather than attach the whoopie sling directly to the hammock, another option is use a continuous loop which allows you to disconnect your whoopie sling from the hammock, or allows you to easily change between whoopie slings or webbing based suspensions. Another advantage is if the distance between your two anchor points is too close then the loops can be attached directly to your tree straps through the use of a marlin spike hitch.
<![if !vml]>
<![endif]>
Whoopie hook spliced onto whoopie sling adjustable bury and attached to continuous loop.
<![if !vml]>
<![endif]>
Loop girth hitched to titanium cinch buckle for webbing suspension
<![if !vml]>
<![endif]>
Loop attached to TATO biner, Whoopie sling adjustable bury attaches to biner.
<![if !vml]>
<![endif]>
There are many options when making hammocks, and those options listed above are but a few.
Happy hanging.'
See also:
http://www.theultralighthiker.com/diy-netless-hammock/
http://www.theultralighthiker.com/make-your-own-tarp-or-hammock/
http://www.theultralighthiker.com/hammock-camping-double-bunking/
http://www.theultralighthiker.com/hammock-hunting-till-dark/
06/02/2017: If Bernardi does quit tomorrow, will there be a spill?
05/02/2017: I just love the wild places, and have long ago discovered Teddy's various books about hunting too; I think I started with a book about hound hunting mountain lions in what is now Yellowstone. It should never be forgotten that this, the first national park in the world was declared by this great Republican President - & famous hunter. One of my all-time favourite films is the one about him starring Sean Connery and Candice Bergman; 'The Wind & the Lion'. Do watch it. What a treat!
<![if !vml]>
<![endif]>
The most memorable photo in the book was of a treed 'lion' maybe 100' up a pinon pine with a huge hound baying at him from about 6' below: "The encouragement of a proper hunting spirit, a proper love of sport, instead of being incompatible with a love of nature and wild things, offers the best guaranty of their preservation." Theodore Roosevelt. Yes! You might begin your 'love affair' with Teddy perhaps with this book, 'The Wilderness Hunter' https://www.amazon.com/Wilderness-Hunter-Classic-Reprint/dp/1332803369
04/02/2017: How to fall and not break your bones: 'The other thing to avoid…is "foosh," an acronym for "falling onto outstretched hands." If you do that, all the force of impact will be concentrated there, raising the risk of breaking your wrist. You similarly don't want to come crashing down on your knee so you break your kneecap or do that manoeuvre where you kind of pedal with your feet to catch yourself, which can lead to broken bones in your foot and ankle. Instead, if you feel yourself falling, experts said you should bend your elbows and knees and try to take the hit on the fleshiest parts of your body, like the side of your thigh, buttocks and shoulder. "Aim for the meat, not bone," said Kevin Inouye, a stuntman and assistant professor of acting, movement and stage combat at the University of Wyoming…The key is to not fight the fall, but just to roll with it, as paratroopers do'. https://www.youtube.com/watch?v=kQtt2bCZdSU
03/02/2017: The Ethical Hunter: I really appreciate feedback such as this - and what a stunning photograph:
<![if !vml]>
<![endif]> 
'I recently read your sambar stalking articles and really appreciated your old school view point. I have been a hunter/bushy for most of my life, but what I haven't taught myself I learnt from my old man, who is very much and old school bushy. I've mostly traveled the bush on my own (in a 4x4) all through the Vic high country.
Although new to sambar stalking as such, ever since I was a kid, I used to try and stalk rabbits, read their body language, anticipate their next move, practice moving slowly, quietly, etc. I still need to pull my finger out and get a decent deer gun, and my game license, but I had a bit of a stalk while away over the Xmas break, and managed to get this photo of a doe and fawn.
I don't have the best camera gear yet so the longest focal length lens I have is 135mm. I stalked these two up to about 30 yards, got this one photo, and they bolted (I swear it was the sound of the shutter that set them off!) Had I had a 270 rather than a camera, I'd probably be butchering now rather than talking to you.
That said, its always been about the hunt for me, not the kill. I've taken 50 odd rabbits in a night, and not had the same feeling of accomplishment as I did after stalking these two deer. I couldn't agree more with the points you make (camo clothes, trail cameras, 500 yard shots, scopes, pretty much all of the points you make). I've always loved the elusive sambar stag, I guess I kind of relate to them, to their solidarity, the way everybody is gunning for them, the untamed country they call home, reminds me a lot of myself a bit.
<![if !supportLineBreakNewLine]>
<![endif]>
Anyway, I wanted to thank you for your articles. I have bookmarked your website, and I will no doubt refer to it many times in the future. I really appreciated your view, tips, tricks etc. Especially the iron sights, and no camo. Thank you very much for putting it out there, very much appreciated from a not so young bloke that's just getting into sambar, but trying to do it the right way, the respectful, ethical way...
Thank you. Thanks heaps mate.
I've spent way more time than I should have reading your articles the past day or so. For me at least, its great to read the ethical hunter point of view, and without firing a shot, I've learnt more from reading your website than I have from years of listening to others talk crap about the latest and greatest camo gear, or trail cameras. I genuinely do appreciate the info you have put out for us all. Any ethical, respectful (of the animal) hunter would be well advised to take the advise of blokes like you. Thank you,' Matt Elder. (And thank you, Matt Elder).
03/02/2017: Amazing Earth: a lava 'waterfall' in Hawaii! How close is that boat? https://www.youtube.com/watch?v=HzwuTBx93uA
03/02/2017: Bend That Knee to No Man: This was always bad advice: the reason old men and women shuffle is they have followed it, so that their legs have weakened and stiffened. They need to be doing really lots of squats and legwork in general if they are to remain decently mobile including at least 10,000 steps a day as I have recommended before here. Society would avoid the cots of lots of knee/hip operations and aged care if they did. Too many young people are also developing this stiff-legged shuffle after too many hours on the couch . The bad news: Nine Unexpected Things That Happen When You Abandon Your Workout Routine: Use it or lose it. Strength and power diminish measurably after two weeks, cardio fitness after one week without stress. The older you are, the quicker the loss. http://www.livestrong.com/article/1011617-9-unexpected-things-happen-abandon-workout-routine/
<![if !vml]>
<![endif]>
02/02/2017: Poly Tent by The Ultralight Hiker on the Cheap: As part of a series on economy backpacking, I bring you my new poly tent made from a 'standard 8' x 10' poly tarp bought from the local Churchill $2 shop. This one cost me A$7.99 and took only minutes to make. Mark out the tie-out positions as shown. Use Tarp clips or polystyrene balls as tie outs - so actual tie out position will be about 2" inside the fabric edge. Tie Apex to an extended hiking pole (4' height) as shown. Peg out Rear point, then two End points approx 6" forward. Then loosely toe out two Front points (as shown) then two Side points. Cut slit. Attach tie downs to Flaps for closure. Place ground sheet (and dog) inside. Enjoy.
<![if !vml]>
<![endif]>
As you can see, Spot is now an uncle.
<![if !vml]>
<![endif]>
Fully open.
<![if !vml]>
<![endif]>
Interior: inside 6' x 4' poly tarp ground sheet.
<![if !vml]>
<![endif]>
Fully open.
<![if !vml]>
<![endif]>
Storm mode.
<![if !vml]>
<![endif]>
Rear.
<![if !vml]>
<![endif]>
Made in minutes from one of these.
<![if !vml]>
<![endif]>
Plan.
See also:
http://www.theultralighthiker.com/the-egg-ring-ultralight-wood-burner-stove/
http://www.theultralighthiker.com/diy-side-burner-metho-stove/
http://www.theultralighthiker.com/super-cat-metho-stove/
01/02/2017: Yarra Falls Shelter House: Anyone searching for this 'lost' ruin may be helped by these 'new ' photos which have just come to light, and these wonderful historical accounts. The three photos show the old hut. I presume the new hut was built very close by it. They show the hut to be much further up the ridge (not near the flat at all!) and much further up the Falls Creek valley than one might have imagined. The remains of the concrete chimney of the 'new' hut should be fairly obvious – even though the timber there is quite thick! (Photos as usual courtesy of Thomas Osburg).
<![if !vml]>
<![endif]>
<![if !vml]>
<![endif]>
<![if !vml]>
<![endif]>
See: http://finnsheep.com/THE%20UPPER%20YARRA%20WALKING%20TRACK.htm
Early Trips to Upper Yarra Falls: This is from 1911 with the writer looking back many decades. Yarra Falls was known as Panton Falls, then Campbell Falls and Falls Creek was once called Queens Birthday Creek:
Upper Yarra Falls: To the Editor of the Argus: Sir, Mr. Panton's letter on the discovery of Mount Donna Buang, that appeared in "the Argus" of the lst inst, brought back to me recollections of the time-half a century ago when I was one of the many hardy prospectors who penetrated the dense scrubs and steep mountain ranges of the Upper Yarra, in search of gold. I have still a vivid recollection of the night -a most uncomfortable one-I passed with Mr. Panton on Queen's Birthday Creek, on May 24, 1866; but I think that gentleman makes an error when he alludes to me as the discoverer of the falls near the head of the river.
I am under the impression that they were visited by a party of surveyors in the year 1845. I certainly re-discovered them in 1867, and named the waterfall (there are several) after Mr. Panton. It would be a graceful act to abandon the present name (Campbell) bestowed on the lower fall, long after my visit, and revert to the original one, as it would keep green the memory of a gentleman who did much to open up the Upper Yarra valley, and develop their mineral and other resources. Yours, &c., July 19. J. Blackburne.
Yarra Falls 1888. This is the middle part of a 3 part article. Leader (Melbourne, Vic. 1862 - 1918), Saturday 22 November 1884, page 16 The Contributor: An Excursion to the Upper Yarra Falls By G. No. II:
We struck camp next morning at half-past nine. Just after starting we noticed a tree marked W. From this we understood that we had been encamped on the two mile water. This made our march of the previous day a little over 8 miIes, The height of our camp measured by the barometer was 1700 feet above McMahon's, We proceeded along the south watershed of the Yarra in a general easterly direction. The prevailing character of the country was the same as on the evening before, The track was often perceptible as a sort of avenue through the scrub, though in the clearest places knee deep in ferns and wire grass and obstructed by logs.
We passed through several saddles separated by small rills. At about twelve o'clock we could see a great spur coming in to join the ridge we were following from the north - that is on our left, This could be nothing else than the right watershed of Alderman's Creek. We were, therefore, making good progress, and might hope to reach the Yarra that night. So we went on for another half hour, when our horse, in getting over a log, slipped and fell. He could not rise again with the pack and we had to unload him, but he was none the worse.
As we began to ascend the hill we found the sides and top of it covered with huge logs hundreds of foot long, as if it had been cleared by a survey party, The interstices between them were filled with tall bracken and scrub with white flowers, and the track seemed altogether obliterated. We made our way very slowly round and over the logs, and presently the horse got another fall, and we had to unload and reload again.
There was a good look out from many places down the valley of Alderman's Creek and of the ranges across the Yarra, We found the top of this mountain was 1200 feet above our camp of the previous night, or about 4000 feet above the sea level. It is unnamed on the maps. We christened it Mount Horsefall. The fallen logs gave It a prevailing white appearance, but it contrasted with the pale green which had hitherto characterised the crest of 'the range.
At about four o'clock we began to descend a little, and get into a forest, in which the beech tree was the prevailing timber, though largely mixed with tall gums and messmates. But little vegetation grows under a beech tree; what there was was the blue gum fern with the crimped frond I have noticed before. Moreover, the beech tree is seldom uprooted. It slowly decays as it stands and falls piecemeal, The ground in a beech forest is therefore encumbered by but little fallen timber.
As soon as we got under the beech trees the track improved very much. They were mingled, however, with very tall messmates, from which large quantities of dry bark in strips 4 or 5 inches across and 30 or 40 feet long or more had fallen to the ground, and lay in large coils. These continually tangled our feet, and it was difficult to get free of them, One would continually find one was dragging a tail behind many feet long. On getting under the beech trees the prevailing tints again changed. The black earth was bare, and varied shades of brown or dark green met the eye in every direction.
Towards the south and east the slope was so steep that we got a look out over Gippsland as far as the ranges in the neighbourhood of Baw Baw. The earth seemed everywhere moist; in places one could hear the water under one's feet. The track continued slowly to descend, and our view became shut in on all sides. About six o'clock we found ourselves in a saddle. This we identified upon our tracing as about 6 miles from our camp of the night before And 4 miles from the Yarra. It seemed a likely place to find water. There were a few beech trees and messmates on the saddle, and a forest of white gums, tall, slender poles like the mast of a ship, 300 feet high at the least, with a tuft of foliage at the top. There was a fern tree gully coming up to the saddle on each side. The earth was black and moist, and for the most part bare.
R. found a good stream of water a little way down on the south side of the saddle, so we determined to camp. We pitched the tent under two beech trees, whose thick foliage would protect us from any sticks that might be blown off from the gums, and made our bed of fronds cut from the ferns. When we got up the next morning a strong north wind was blowing, shaking the tall, white ferns like corn stalks, bending them as if to break with a great roaring noise. We did not make a start until about half-past ten, when we at once began to ascend out of the saddle, and soon came out into the sunshine on to a hill covered with fallen timber and sword grass, and from which there was a good view of the opposite ranges. The logs had rotted and broken into fragments, and were therefore not the obstacle they had been on Mount Horsefall.
After a little we again descended into a beech forest. Here the track was clearer than we had yet found it. It was obstructed by little else than small sticks. There was a little of the usual green fern, but except for that the ground was clear of undergrowth on all sides. The dark foliage of the beech trees overhead shut out the sky. In order to keep the track it was necessary to keep a sharp look out for blazes.
After about a couple of miles gum trees again appeared mixed with the beech trees, and we were again troubled by fallen timber. About the same time we found growing in the track tall solitary stalks of grass like oats which shot up with a stem as thick as one's finger, seven or eight feet high. Finding the horse would eat the two gathered bundles of it, as we went along. A little after twelve o'clock the horse got another fall getting over a log. We had to unload, and determined to have lunch.
When we again made a start we found it had been raining heavily, and that the scrub was very wet. In a little while we got out of the beech forest, and began to ascend a hill covered with tall standing gums and thick bracken up to our shoulders. Through this we pushed our way, getting drenched through. When we gained the top of the hill we found our track appeared to leave the ridge, and turn down the sideling to the north-east. After turning down on the sideling we were soon again in a beech forest, and out of the high wet bracken.
In about half a mlle we came to tho creek, which was broad and shallow, scarcely covering the ground. It crossed the track from left to right- not from right to left, as marked in our tracing. The descent from the ridge to this creek was not more than 200 or 300 feet, and not at all steep, considering it was on a sideling. We crossed the creek and ascended to tho ridge on the opposite side. Crossing it we descended on a sideling to the Yarra, which we at once passed over. It was a much smaller stream than that we have left at McMahon's, being about 30 feet wide and about up to our ankles, with, however, a good current.
The scene was a peculiar one. It was still raining hard. Heavy clouds rested on the tops of the beech trees from 50 to 70 feet above us, which lined the river banks and covered the slopes, and hung in festoons between them, but below it was clear. We had no time to stand and watch it, however, being wet through. We had to get to work and camp at once. In about twenty minutes we had a fire big enough to roast an ox. Having pitched our tent we looked about for something to make a bed of, and the best thing we could find was a heap of bark at the foot of a neighbouring messmate. This we dragged in front of the fire and dried, after which we had our evening meal round the fire. We stood up round it for some time drying clothes, while the horse stood warming his nose on the opposite side of the fire. Finally we turned in.
We were up at six the next morning. There was still a slight rain, We had breakfast, and at half-past eight we started in search of the falls. Our camp was shown by the barometer to be 2100 foot above McMahon's or only 500 feet lower than the top of Mount Horsefall. It was distant from Reefton by the road we had come just 20 miles, or in a straight line about 15. Now, the Yarra did not change its level to any great extent between McMahon's and Reefton, or for some miles above the latter place. The difference in elevation therefore gave room for a high fall. Moreover, the country we were in appeared to be an elevated plateau, to which we had ascended abruptly at Mount Horsefall, and which would probably come to an abrupt termination.
We accordingly started down stream, crossing a considerable tributary on the right bank just below our camp, Tho river ran through a beech forest, and as nothing will grow under the beech trees, its banks were without that fringe of peculiar vegetation which is usually such a marked feature in an Australian river or creek. After a little we went over to the left bank, and crossed a small creek which joined the river on that bank, we then came upon a series of small hills, perhaps altogether fifty or sixty, There was, however, a good indication of something better. We could see a light through the trees ahead as from a largo clearing. This appearance could only be occasioned by the edge of an abrupt declivity.
We pushed on and soon began to get glimpses of a valley a long way below us, and to hear tho roar of a great fall. The beech forest ceased with the edge of that declivity, and the slopes below, when not too steep and bare for anything either to grow or stand on, were covered with undergrowth, mostly ti-tree. To see the fall we must get below it. We accordingly descended as rapidly as a regard for our necks would permit several hundred feet, and made our way on to a ledge down to the water. From this point we could see the water falling above and below us over a face of dark rocks in a series of steps. The fall was shaded by ti-tree, with occasional tree ferns on the ledges. The spray fell like rain. We were too close to the face of the fall, and tho ledge we were on would not permit us getting further out.
We were not the first persons who had viewed the Yarra falls from this spot, for we saw a tree with a blaze on it, on which was a name, partly overgrown with bark, which we mado out to be A. Burns. We then crossed over, scrambled along the face of the cliff and made our way down another hundred feet or two, and got another view of the falls, with, however, the disadvantage that we were too close to see far up or down. This point was by the barometer 550 feet below the top of tho fall. We could see the fall for about 50 feet below it. It was a continuous fall all the way, interrupted only by small ledges. There is, however, no reason to suppose that the lowest point to which we could see was anywhere near the bottom of the fall. Judging from the appearance of the valley it was far from being so. The total height of the fall therefore, can scarcely be less than 700 feet or 900 feet; it is probably 1000 feet.
We had not seen by any means as much of the falls as we should have liked, but we were compelled to return. It was Tuesday, and R. had to be In a distant part of Victoria by the following Monday morning. For this purpose it was necessary that he should be in Melbourne by Saturday. We could scarcely do this unless we moved on that day. Moreover, our oats were running out, and there was not a scrap of feed at our present camp, while our tracing showed that on the Thompson, 4 miles on, there was grass. We accordingly turned back towards our camp.
In returning we got a view of a great cascade, forming the top-most rip on the fall, which we had not seen going down. By half-past one we had regained our camp. We then bathed in the Yarra, had lunch, struck our camp, and started for the Thompson, where we hoped to camp that night. It was shown by our tracing to be 4 miles distant. The track in the first instance followed the ridge of the very low spur between the main arm of the Yarra and tho tributary that joined it just below our camp. After a little the track forked; we took, the left fork, which took us down to the tributary at a point where two creeks united to form it; beyond this the track was not apparent.
After a little we found a place where a tent had been pitched, with a rude platform of round timber to raise it off the ground. We had evidently come upon an old surveyor's camp. That explained how it was that the track ran out. We accordingly returned and took tho right hand fork of the track. After we had gone about three quarters of a mile the track turned down to and crossed the creek on our left, and shortly afterwards began to ascend a ridge on a sideling. The top of this ridge was not. more than 100 feet or so above our camp. On it we found white gum timber. The ridge was narrow, and the track immediately descended on a sideling on the other side, about 300 feet into a narrow valley containing a fine stream of water. The sides of the valley were lined with beech trees, with a few tree ferns. This creek must form the right fork of the Yarra as laid down on the maps; and as its level appeared lower than the top of the falls, must join, the left fork below them.
Crossing the creek we ascended on a steep sideling on the other side to a height somewhat greater than that from which we had descended, and found ourselves in a forest of white gums mixed with beech trees, with a good deal of undergrowth. The creek, however, continued tolerably clear. We were now upon the crest of the dividing range, between the waters of the Yarra and the Thompson, marked on the maps as Wright's Range. A little before seven o'clock the track began to descend gently, and we reached a fine stream of water crossing the track from north to south, spanned by a good log bridge. This stream, which was much larger than either fork of the Yarra, or, I should say, than both of them together, we made out to be the Thompson. Here we determined to camp.
A little way up from the river, to the right of the track we had come by we found an open glade carpeted with good grass. On this were the remains of an old survey camp, consisting of log platforms, similar to that we had noticed on the Yarra. There appeared to be a succession of rich glades along the river, divided only by low scrub, tall timber not being found till some little way up the slopes on either side. There was, therefore, a clear view up and down tho river for some way over the top of the scrub. We could see the sky, too, overhead and in front of us. All this was a change after the dense grass through which we had been travelling for the last four days, The edge of the other valley was lined with large white gums, say 100 foot high, with straight, thick limbs tapering to the top, and wide spreading arms a little more than half way up. The slopes behind were covered with a mass of plants of different kinds. Every here and there above this rose to a great height huge logs, white with age and black with fire, without limbs, broken at the top.
Though generally impressed by the view, there was a feeling of solitude connected with this camp not experienced elsewhere in the course of this trip. The height of this camp was 2300 feet above McMahon's, or only 100 feet lower than our camp on the Yarra. We were still, however, above a high plateau, as high or higher than the top of Mount Macedon. We were now about 23 miles from Reefton, and about 14 from Mount Lookout. (Thanks once again to Thomas Osburg for these accounts)
01/02/2017: This is truly astonishing: Images of giant planets orbiting a star 129 light years away. I do so love progress: https://astrobiology.nasa.gov/news/a-four-planet-system-in-orbit-directly-imaged-and-remarkable/
31/01/2017: Extreme kayaking: Watch Kayakers Take a Beating In 90-Foot Falls: https://gearjunkie.com/kayakers-take-beating-tomata-two

<![if !vml]>
<![endif]>
PS: This is not for me and Della!
If you liked this you might also enjoy reading this book: Hell or High Water, Surviving Tibet's Tsangpo  River by Peter Heller. The title is a bit of a misnomer as not all did survive. The surprise to me is that any did! https://www.amazon.com/Hell-High-Water-Surviving-Tsangpo/dp/B000776K1E
<![if !vml]>
<![endif]>
30/01/2017: Restore Pdf Maps Functionality: I recommended this App back in Nov '14: http://www.theultralighthiker.com/gps-phone-apps-25k-vicmaps/ Many folks have probably noticed that their Pdf Maps App has updated to Avenza and that now they are only able to open three maps for free instead of an unlimited number of maps, and that Avenza would like them to pay over $30 per year to restore the functionality they had before!
<![if !vml]>
<![endif]>
As I understand it, Pdf Maps (version 1.7.3) is free software – indeed it seems that its functionality may well have been created by someone else ie TerraGo – see this Wikipedia article: https://en.wikipedia.org/wiki/Geospatial_PDF. In any case you can download it for free from a variety of sources, eg https://allfreeapk.com/avenza-maps,407396/
This Youtube (and others) tells you how to uninstall Avenza and put Pdf Maps in its place. You have to be sure to cancel the 'Update' function so this doesn't happen to you again. Once again you will be able to open an unlimited number of Pdf maps for free - such as can be bought from: http://services.land.vic.gov.au/maps/imf/search/Topo30Front.jsp some of which you may need to walk The Upper Yarra Track, for example: http://finnsheep.com/THE%20UPPER%20YARRA%20WALKING%20TRACK.htm
Happy mapping!
29/01/2017: Wonnangatta: Waterford to Angusvale Day Three: We were so glad we stopped at the (first) Surprise rapid; The dawn was spectacular! As I went down to check the water just as the sun was lighting the hill to the East, its warmth caused the whole pool to 'boil' with mist. My eye was at first caught by a mysterious patch of foam drifting on the limpid pool, then I looked up and was enchanted by the dawn. I managed to catch it in the photo here. You have to be in the right place at the right time!
<![if !vml]>
<![endif]>
The strange circle of foam...
<![if !vml]>
<![endif]>
And then, the dawn:
<![if !vml]>
<![endif]>
We just could not stop snapping away at it.
<![if !vml]>
<![endif]>
Della of course took the best photo with her new birthday Galaxy S7.
<![if !vml]>
<![endif]>
Then I looked upstream to try to understand where the foam had come from. There was a weird gyre at the head of the pool.
<![if !vml]>
<![endif]>
Here it is in detail.
<![if !vml]>
<![endif]>
Della also took this photo of Spot and me examining the gyre. The river was so reflective in the early morning light.
<![if !vml]>
<![endif]>
Then a small black diver swirled through the mist.
<![if !vml]>
<![endif]>
Upstream the pool had become a magic mirror.
<![if !vml]>
<![endif]>
Whilst downstream it was a dream of silver...
<![if !vml]>
<![endif]>
Then to check out the first rapid. Churning away in a tumult. I opined I could shoot it with each boat in turn as I had the last but one grade 2 rapid (we had portaged the last). Della urged caution as we were far from help. We checked out an old pack track on the true right bank and decided we could carry the boats the 100 metres around it. So we did.
<![if !vml]>
<![endif]>
Then we came to the second 'Surprise rapid. A somewhat shorter portage over mostly flattish rocks. This one would definitely have you out. One rock would hurl you one way whilst instantly another would hurl you the other. Paradoxically it might be better with more water. We portaged three times in all, then after a tricky Grade 2 rapid with a sharp right turn in it we were mostly safe on placid waters. We should have portaged it as well as it gave Della quite a fright.
<![if !vml]>
<![endif]>
The calm after the storm.
<![if !vml]>
<![endif]>
And so it (mostly) went on.
<![if !vml]>
<![endif]>
Past these beautiful, interesting trees - the greenest, shadiest most luxuriant native tree I have ever seen in Victoria. They were 10 metres high, had smooth bark...
<![if !vml]>
<![endif]>
And these pretty sweet smelling yellow flowers - perhaps a reader can help me out. I would plant some.
<![if !vml]>
<![endif]>
Still half a dozen small rapids before Angusvale. Like this one...
<![if !vml]>
<![endif]>
And this.
<![if !vml]>
<![endif]>
A bee-eater (one of many we saw) atop this dead bush.
<![if !vml]>
<![endif]>
Della was still going strong even though she had quite a shock on the tricky Grade 2 rapid (which we ought have portaged)!
<![if !vml]>
<![endif]>
The dogs still showed a lot of interest in our progress...
<![if !vml]>
<![endif]>
These bushes are what we used to call 'native willow' They will not do such a good job of retaining the riverbanks though!
<![if !vml]>
<![endif]>
The second last rapid.
<![if !vml]>
<![endif]>
The last small drop (and Angusvale) are just around the bend. What a delightful three days' adventure. The Wonnangatta is certainly a river to dream of...
You can check the river heights here: http://www.bom.gov.au/fwo/IDV67202/IDV67202.084118.tbl.shtml
Check suggested river heights below. If you are unsure whether there is sufficient water, you can canoe the short (half-hour) section from Meyers Flat to the Cobbanah Creek confluence to check it out.
Appropriate Vicmaps: Cobannah North T8322-4-N and Tabberabbera North T8322-1-N available here: http://services.land.vic.gov.au/maps/imf/search/Topo30Front.jsp Use Avenza App.
See Also:
Section 1: http://www.theultralighthiker.com/wonnangatta-kingwell-bridge-to-black-snake-creek/
Section 2: http://www.theultralighthiker.com/wonnangatta-black-snake-to-hut-creek/
Section 3: http://www.theultralighthiker.com/wonnangatta-hut-creek-to-waterford-bridge/
http://www.theultralighthiker.com/canoe-wonnangatta/
For River Heights: http://www.theultralighthiker.com/canoeing-the-wonnangatta-catching-the-wave/
http://www.theultralighthiker.com/pack-rafting-the-wonnangatta-mitchell/
http://www.theultralighthiker.com/videos/dawn-surprise-rapid-wonnangatta-river-australia-day-2017/
http://www.theultralighthiker.com/wonnangatta-waterford-to-angusvale-day-one/
http://www.theultralighthiker.com/wonnangatta-waterford-to-angusvale-day-two/
http://www.theultralighthiker.com/wonnangatta-waterford-to-angusvale-day-three/
http://www.theultralighthiker.com/videos/canoe-wonnangatta-the-movie/
28/01/2017: Wonnangatta: Waterford to Angusvale Day Two: The second day we ventured as far as the 'Surprise Rapid' which took us five hours (this is including brief halts for lunch, snacks, etc - and at retiree speeds), but mostly speed is related to water flow, and we are canoeing the Wonnangatta this summer with very low flows because of the effects of the bushfires years ago.
We had camped the first night just before the complete end of private property on the right bank. In most cases there is a public margin where you can camp even though there is private property along the river. It was not long before I spied an enormous stag (without antlers) running with two wild cows and calves which I thought an amazing thing. He was too quick for a photo though! Not long afterwards though our passage was blocked by a party of wild bulls which we waited to disburse - as they were not behaving in the most friendly manner! I judged all of these stock to be wild as they were running on public land/National park and had no eartags and they were clearly all sorts of crossbreeds.
<![if !vml]>
<![endif]>
They do look daunting, don't they. I was pretty keen to stop Spot barking and antagonising them!
<![if !vml]>
<![endif]>
There were a few more interesting rapids in this section.
<![if !vml]>
<![endif]>
And we finally came to the end of the dread willow blight! The riverbanks resumed their beauty.
<![if !vml]>
<![endif]>
Some of these rapids would disappear at a greater river height - or become more difficult!
<![if !vml]>
<![endif]>
Della is hiding behind that island before she comes down this one:
<![if !vml]>
<![endif]>
With a very professional style!
<![if !vml]>
<![endif]>
Spot and Tiny look back towards her, most impressed.<![if !vml]>
<![endif]>
After an hour or two a break for a snack.
<![if !vml]>
<![endif]>
And then onwards again!
<![if !vml]>
<![endif]>
The various herbivores are keeping this national park well mown. There is much more grass on various private properties across the river.
<![if !vml]>
<![endif]>
A wedge-tailed eagle combs the cloudy sky.
<![if !vml]>
<![endif]>
Another pleasant rapid.
<![if !vml]>
<![endif]>
The remains of an old swing bridge I guess.
<![if !vml]>
<![endif]>
And Spot investigates a bathtub which may come in handy in case we lose our canoes!
<![if !vml]>
<![endif]>
There are some fearsome predators as in these waters (river monsters perhaps - well there are giant carp anyway, nearly a metre long). No carp chewed open this freshwater mussel though.
<![if !vml]>
<![endif]>
Paddling on.
<![if !vml]>
<![endif]>
You can see the damage the absence of willows creates!
<![if !vml]>
<![endif]>
The river has become wider.
<![if !vml]>
<![endif]>
Towards the end of the trip there were a couple of Grade 2 rapids, which we checked out before we committed ourselves. This one was OK, but another we portaged. there is no sense in getting yourself injured so far from help - and we are here for a good time.
<![if !vml]>
<![endif]>
After five hours we came to the (first of) the Surprise rapids. There are several in quick succession. I reckoned I could get down this one safely. Della demurred, so next day we portaged all of them (there is an old pack track) on the right bank.
<![if !vml]>
<![endif]>
Thre is a long languorous deep pool upstream the 'Surprise', a pleasant harbour and a shady spot to rest. We pitched our tent on a little flat about three metres just behind me to my right.
<![if !vml]>
<![endif]>
The residents began to come to check us out. Here is a wood duck. Then a giant carp began to repeatedly broach in the deep pool. I tried for an hour to snap a photo of him but to no avail.
<![if !vml]>
<![endif]>
You can see how close our tent was to the water. It was a lovely camp. The water was warm enough for a bath (as on the first night). The ground was soft and flat. We enjoyed a pleasant night's rest in the wild.
<![if !vml]>
<![endif]>
I went for a little walk back along the river for a couple of kilometres (there are substantial clearings all along it). I saw two does and a stag - again they departed too quickly to get a photo. Della utilised part of one of their relatives to make a 'Clan of the Cave Bear Mask'. Here, she is one of the 'People of the Deer'. Well, she is a dear person anyway to come with me on these wild adventures!
27/01/2017: Wonnangatta: Waterford to Angusvale Day One: This is a truly wonderful section of the river. One of Australia's greatest treasures and one of our last wild rivers! It took us fourteen hours (paddling and portaging) to make it from Meyers Flat (15 minutes below Waterford by canoe - but easier to put in) to the first take-out point at Angusvale. The car/bike shuttle took 50 minutes each way. We began the trip when the Waterford river height was 1.72 metres and finished it at 1.67 so would confidently say it would be fine at 1.65, probably even good at 1.6 with a few portages over pebble races. If you wonder whether you too can do this trip, may I remind you we are both retirees.
<![if !vml]>
<![endif]>
This is our rig. We spent the first night in the camper. I have arranged a simple drop-in frame which carries the motorbike on one side of our 6 x 4 trailer and the two canoes on the other. I will perfect this and do a separate post about it
. <![if !vml]>
<![endif]>
We begin the journey.
<![if !vml]>
<![endif]>
Many beautiful European trees in this first third.
<![if !vml]>
<![endif]>
The first two days were all just pebble races or Grade 1+ rapids. Really enjoyable. We never had to get out of the boats.
<![if !vml]>
<![endif]>
A heron watches us pass. The birdlife on the river is rich and varied. Unfortunately it is not possible to get very good photographs with a waterproof pocket camera.
<![if !vml]>
<![endif]>
Catleburn Creek confluence about half an hour in. It would be easy to put in here. there is also a lovely car camping spot. The dogs enjoy playing in the sand.
<![if !vml]>
<![endif]>
Leaving the Castleburn Creek confluence.
<![if !vml]>
<![endif]>
Just cruising.
<![if !vml]>
<![endif]>
A splendid long race.
<![if !vml]>
<![endif]>
Lots of fun Grade 1 rapids.
<![if !vml]>
<![endif]>
These wood ducks were playing 'hide the duckling'.
<![if !vml]>
<![endif]>
Some willows needed here.
<![if !vml]>
<![endif]>
Spot keeps a close check on Della's progress. Tiny is just' grocking'!
<![if !vml]>
<![endif]>
These relict brachychitons (kurrajongs) are a feature of the river (as are bee-eaters!)
<![if !vml]>
<![endif]>
Spot wondering whether Della is going to ever make it down this easy race. Here she comes.
<![if !vml]>
<![endif]>
The Dargo River confluence, lunch stop for us on a beautiful beach. The willow haters have been at work here.
<![if !vml]>
<![endif]>
Della powers along.
<![if !vml]>
<![endif]>
Spot surveys with distaste the kilometres of dead willows and wonders, 'Why?'
<![if !vml]>
<![endif]>
We usually approached complex rapids (eg this one with its many rocks) carefully, even getting out to check whether it was safe if necessary. This one is fine.
<![if !vml]>
<![endif]>
A pair of blue cranes sombrely watch us pass.
<![if !vml]>
<![endif]>
A dead tree kangaroo. Possibly a victim of the willow spray!
<![if !vml]>
<![endif]>
Just so many beautiful, easy sections of river. You could go to sleep. But don't!
<![if !vml]>
<![endif]>
This old-timer had a delightful garden. A good crop of prickly pears there. For the first 5-6 hours there are occasional patches of private land interspersed with bush on either side of the river.
<![if !vml]>
<![endif]>
Lichen has taken a lot of trouble to paint these cliffs. The deer are keeping the grass well mown.
<![if !vml]>
<![endif]>
I had stopped to look at something when Tiny (faintly) saw Della go past. Thinking she had been abandoned our 17 year old heroine Jack Russell (centre) swam clear across this mighty river to 'save' Della. Six hours in. Time to make camp, perhaps.
<![if !vml]>
<![endif]>
And what a delightful river bank camp it is. This is my 'Honey I Shrank' tent (http://www.theultralighthiker.com/honey-i-shrank-the-tent/). Della enjoys a well-deserved cuppa. Spot keeps her company. Tiny hits her bed. I quite agree with Ratty, 'There is simply nothing quite like messing about in boats'!
<![if !vml]>
<![endif]>
Right behind our camp (<20 yards away) there was this monstrous wallow, so you can be sure we were serenaded by sambar by moonlight! No cast antlers found unfortunately!
See Also:
Section 1: http://www.theultralighthiker.com/wonnangatta-kingwell-bridge-to-black-snake-creek/
Section 2: http://www.theultralighthiker.com/wonnangatta-black-snake-to-hut-creek/
Section 3: http://www.theultralighthiker.com/wonnangatta-hut-creek-to-waterford-bridge/
http://www.theultralighthiker.com/canoe-wonnangatta/
27/01/2017: Dawn, Surprise Rapid, Wonnangatta River, Australia Day 2017:
<![if !vml]>
<![endif]>
27/01/2017: A trip to the Upper Yarra in 1907, camping near McVeigh's:
 <![if !vml]>
<![endif]>
'On the morning of the 9th inst. a party of seven, consisting of a councillor (hereafter called " The General"), his two sons (" The Farrier" and "The Baker"), a local chemist (" Dr. Pills") and* his son (" Norme"), a contractor known as "The Champion" (tea drinker), and the son of one of Kew's oldest councillors (known as "Captain Moonlight"), left Kew at 8 P.m. with a caravan drawn by two small horses, and two bicycles, en route to the falls at the source of the Yarra River.
Brushy Creek (16 miles) was reached, and a halt was made for lunch, thence through Lilydale to Worri Yallock (32 miles), where the camp was pitched for the night. Fishing was indulged in at night and shooting in the morning.
January 10 -A start was made at 8.30, but at Oak Hill (a few miles further on) the hames broke, and a .new pair had to be purchased. Another start was proposed, but one of the horses objected; consequently, the services of a draught horse were called into requisition, and the whole caravan was safely towed up to the top of this steep hill. Launching Place was reached at 11.30, where the midday meal was disposed of. One thirty to 2 p.m. was occupied in covering the distance to Yarra Junction, where a halt was made until 4 30 p.m. There negotiations were made for the hire of a pair of heavier horses, which were secured at the exorbitant (save the mark !) fee of 10s per day for two horses, a driver, and the keep of the horses. The party then pushed on to the Little Yarra and camped for the night, and were joined at 9 p.m. by "The Measurer."
January 11 -We were met by the driver with the two hired horses, and a start was made at 7.40 a.m., and we passed through Old Warburton, the new township of Hillgrove, and thence along the banks of the Yarra to Warburton itself, the present terminus of the railway extension into this part of the state. The scenery here and further along the route is best described by the word, " Grand "- grandeur everywhere. From this point almost to the furthest point of our journey we have the beautiful ever-flowing rapid waters of the Yarra on our left, and steep, precipitous mountains on our right, lifting their heads up into the clouds.
Here and there bridges have been thrown across the river to connect the settlers on the far side of the river with civilisation on this. The whole scene is picturesque. The timber trade with this railway station is enormous - timber trains are sprung upon you at nearly every turn of the road, and the cartage from outlying districts by bullock wagons has cut the roads up terribly. For the past two years (so we were informed, and we could readily believe it) no attempt at repairs has been made. The consequence is that from this point onwards you have to keep your eyes open continuously for large holes and deep ruts. The balance of the roadway is covered inches deep in dust.
Having laid in a further supply of provisions, we pushed on to Sunnydale (3 miles), where we camped for dinner. This spot is as pleasant a one as the eye could rest upon. The river is almost horse-shoe shape, the soil is of a chocolate volcanic origin, planted with English grasses, and the cattle grazing thereon were in prime condition. The beautiful green tinge of the grass, contrasted very strongly with the brown, sunburnt, natural grasses hitherto met with. Having refreshed the inner man and consoled ourselves with a game of crib, we set out for Starvation Creek, where we purposed camping for the night.
Some three miles short of our destination we were overtaken by two young men on rather flash horses, from whom we made enquiries as to the distance yet to be covered. They were as deficient in knowledge of the locality (if not more so) as we were ourselves. At the conclusion of our inquiries our "corner man"- mounted on his white charger, wearing blue dungarees and leggings, minus a coat, shirt-sleeves rolled up, and hat well drawn down over his eyes - asked, in sonorous tones, " Have you got any money?" The elder youth laughed, but the younger lad's face blanched, and he edged his horse away quick and lively. Thereafter our corner man was known as "Captain Moonlight."
Starvation Creek was reached about 6 p.m., and immediately on passing over the bridge your eyes were drawn to a signboard affixed to a tree, bearing the name, "Starvation Creek" Fastened on to the sign-board was the dry thigh-bone of a bullock, indicative of miners' results in fossicking for gold at that place. We pitched our camp on the flat, and, after tea, went fishing.
At 10 30, when the last of us were retiring for the night, we were attracted by the sound of bullock teams approaching, and, shortly afterwards, two wagons, loaded with 1500 palings each, and drawn by 16 and 14 bullocks respectively, hove in sight. Here, also, the drivers camped for the night, the bullocks being let loose (each with a bell round its neck) to forage as best they may. The bullock drivers had been at work since 5 a.m. They made their bed on some dozen bags of chaff, under a tarpaulin covering, which had been left there by Mr Buller, of the store at McMahon's Creek, three miles further on. Mr Buller is accustomed to leaving half his load at this point on account of the steep hill between Starvation Creek and McMahon's Creek, and so great is the code of honesty in this part that he has never been known to lose a bag.
January 12 -Up at 5.30 a m., our usual hour, and after bathing, breakfast, and repairing punctured bicycle tyres, the two cyclists covered the three miles to McMahon's Creek in 25 minutes, notwithstanding the hills and dust. The peculiarity of this dust, viz., powdered schist rock was that no matter, what its depth you could always ride through it. A similar depth of dust around Kew would invariably bring you to a stand still. At Mr Buller's store at McMahon's Creek we laid in our stock of provisions, as this was the last store on our road, and we had still 26 miles to go and return before replenishing the larder.
By 12.30 we reached the old mining town of Reefton (which now consists of two houses), and camped for dinner. Whilst the meat, potatoes, and onions were cooking in the camp oven we adjourned to the river for a swim, but, so strong was the current, that not one of us could make any headway against the stream, and those who swam across made a decided diagonal course. Whilst at dinner, two cyclists rode up. They were the sons of Councillor Wilson, of the Lilydale shire, and were on their way to the Yarra Falls. Their tents, &c., had gone ahead of them in the coach. They had heard of us along the road, and had been keeping their weather eye open. We asked them to join our party, which they readily agreed to do, and right good campmates they were. The elder one is at the training college in Melbourne, and expects during this year to put in a portion of his time under our worthy friend, Mr McCrae, at the Kew East school.
McVeigh's hotel, at Walsh's Creek, was reached at 5 p.m., and our camp was pitched about a quarter of a mile beyond his house, at the junction of the Wood's Point and Clear Creek roads. Owing to the kindness of Mr McVeigh, five of our number (now increased to 11) were able to sleep in a tent he has had permanently erected on the roadside on a wooden floor, and under a bark roof instead of a fly. Here we met Jimmy Clark, the man who cut the track to the Falls, and received full instructions as to the route to be taken.
Here two curious incidents were noted. The whole of this portion of the country has been permanently reserved for future water supply purposes for Melbourne, yet Mr McVeigh has the pick of the land, and has erected a large hotel. He has been resident there for nine years, and his house is the only one for miles around. The other incident is a printed notice of the Education Department re "compulsory attendance at school." The youngest resident is the proprietor's daughter (about 22 summers), and the nearest state school is a single-roomed paling dwelling fully half way to Warburton.
January 13 -After an early breakfast we started to pack our four horses in a peculiarly up-to-date style of our own, and just before starting, at 10.55, a photo was taken of the turnout. It will be interesting to see how they develop. From this point to the Falls Creek (16 miles) a pack track is followed, which for the most part skirts the Yarra. It is good solid plugging following this track up hill and down dale. At first the four horses were led, but "The General" soon became full of "Captain Moonlight's" charger, and practised his 'prentice hand at bullock driving, and was successful in soon reducing his steed to a worthy pack-horse.
At 2.10 (7 miles) we reached Contention Camp (Bromley's Reef Goldmine), but of this you shall hear more later on. After dinner we caught a few fish, and then pushed on with the intention of camping at Fall's Creek, but at Poverty Bend (3 miles short) we were blocked by fallen timber and had to camp for the night on the track. Bed was sought at 9 p.m. About 11.30 p m. one of our number was awakened by a crashing sound, an